Chicken Teriyaki
---
September 3, 2023
---
This Chicken Teriyaki is so simple and easy to put together but comes out so juicy and flavorful. The best part is that is can be made all in one pan! Keep reading for my secret to no fail juicy chicken and how to make HOMEMADE teriyaki sauce – trust me, once you make this recipe, it's going to be one of your favorites!
Watch the Chicken Teriyaki Recipe Video Below!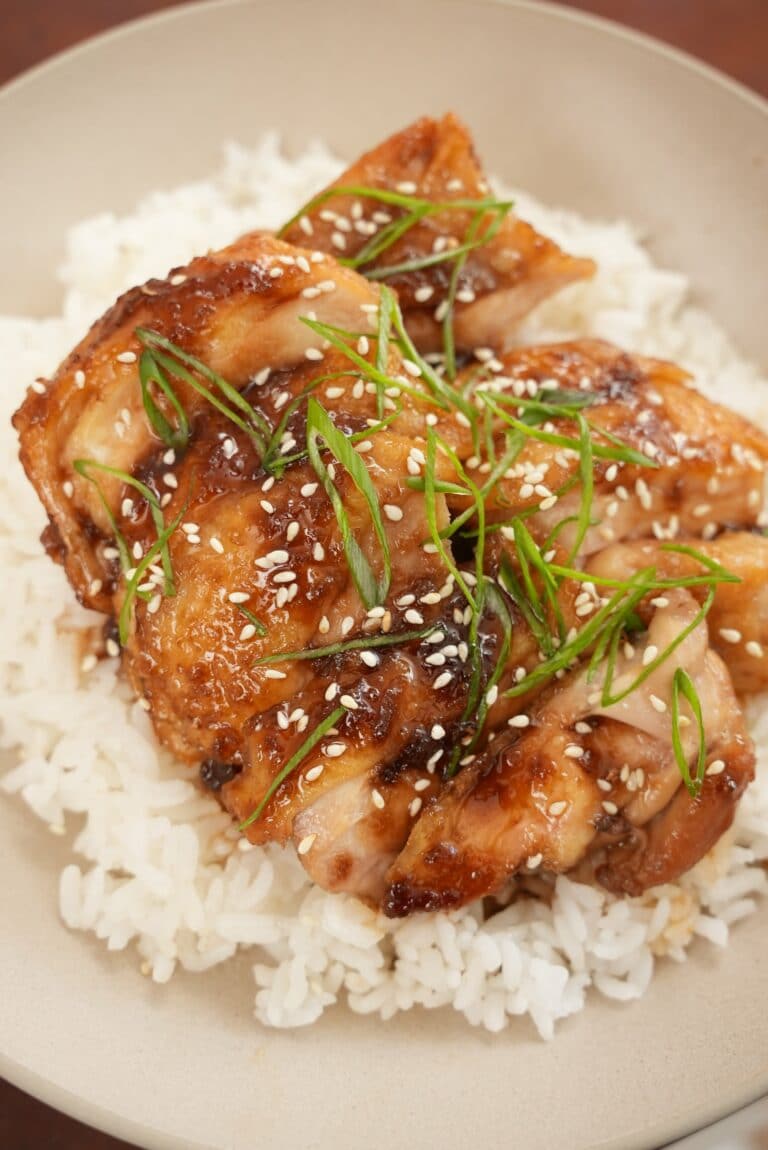 INGREDIENTS TIPS
CHICKEN
I personally used boneless skin-on chicken thighs, as it cooks quicker (and I love dark meat) but you can also use chicken breast (thinly sliced) or skinless thighs. Just make sure to adjust the cooking time to ensure the meat is cooked thoroughly!
MIRIN
You can sub mirin with rice vinegar – but since this recipe has so few ingredients, I highly recommend you use mirin. As an additional substitute, you can use 1 tbsp of honey mixed with 1/4 cup of water.
SAKE
You can sub sake with another dry cooking wine (such as white wine or sherry) – but since this recipe has so few ingredients, I highly recommend you use sake. As an additional substitute, you can use 1 tbsp of honey mixed with 1/4 cup of water (similar to the mirin substitute).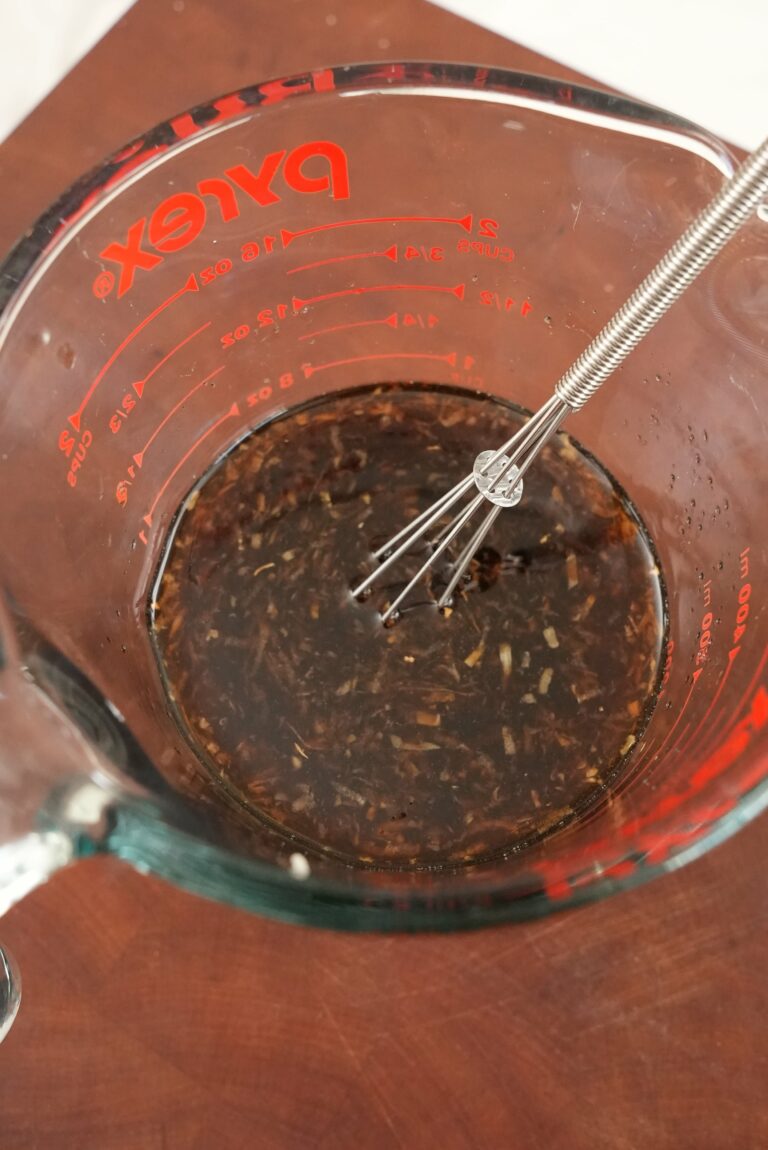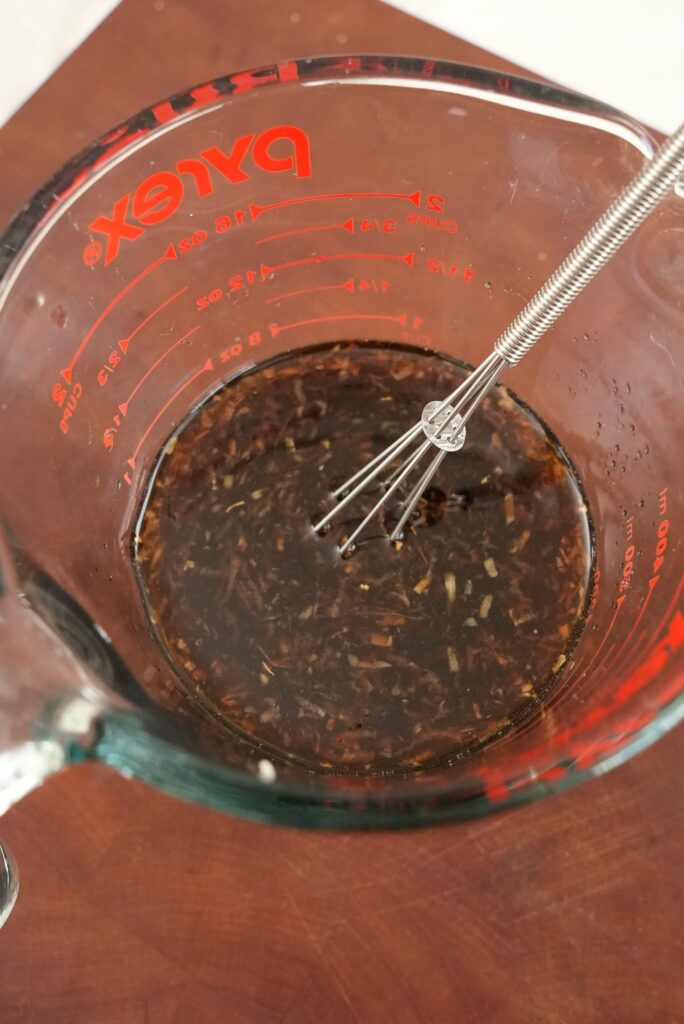 This home-made Teriyaki sauce is so simple to make and only needs a handful of ingredients! Feel free to double or triple the recipe for the sauce and store it an air tight container in the fridge for stir fries, yakisoba, or vegetables during the week! Here's what you'll need:
Soy Sauce
Mirin
Sake
Garlic
Ginger
Brown Sugar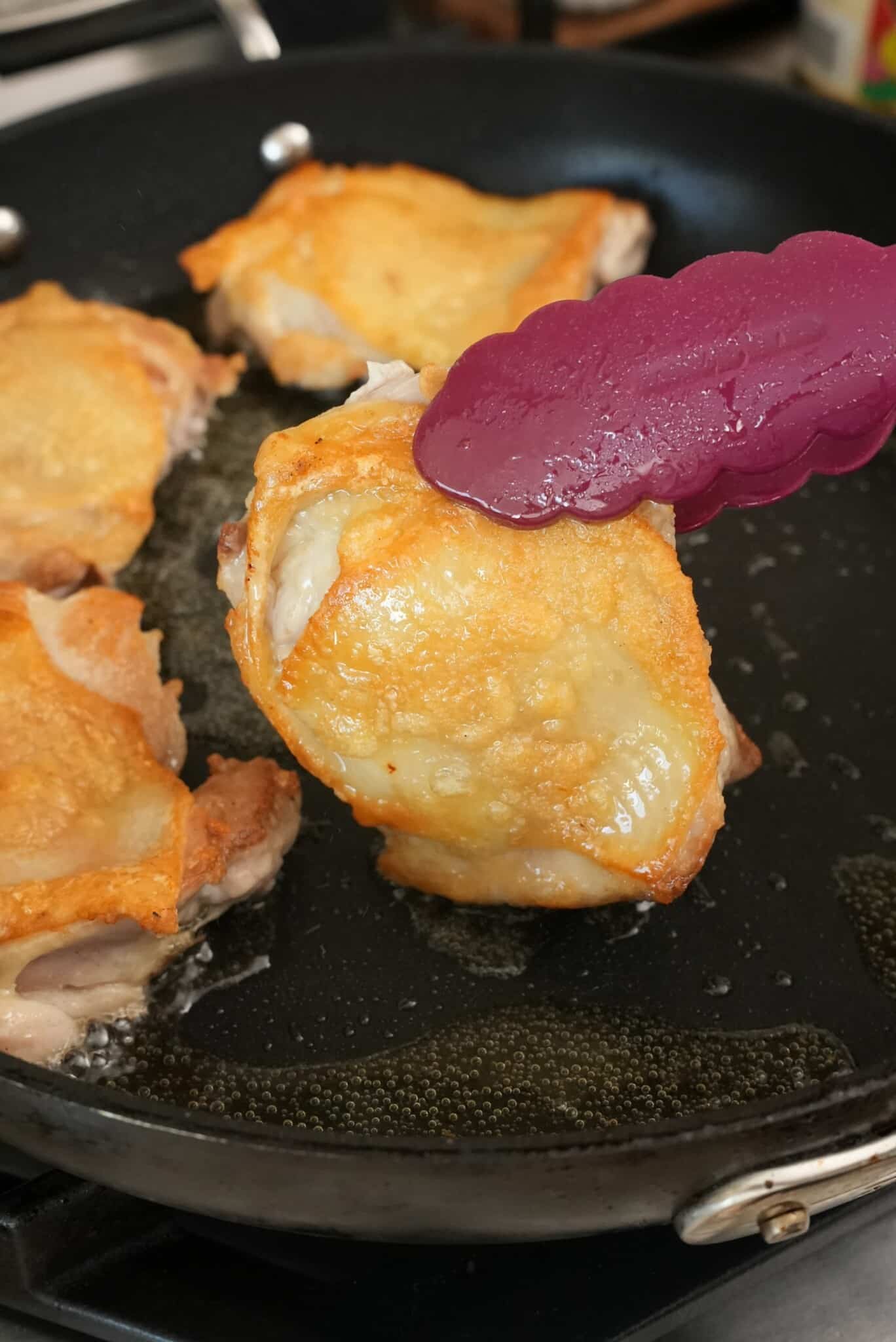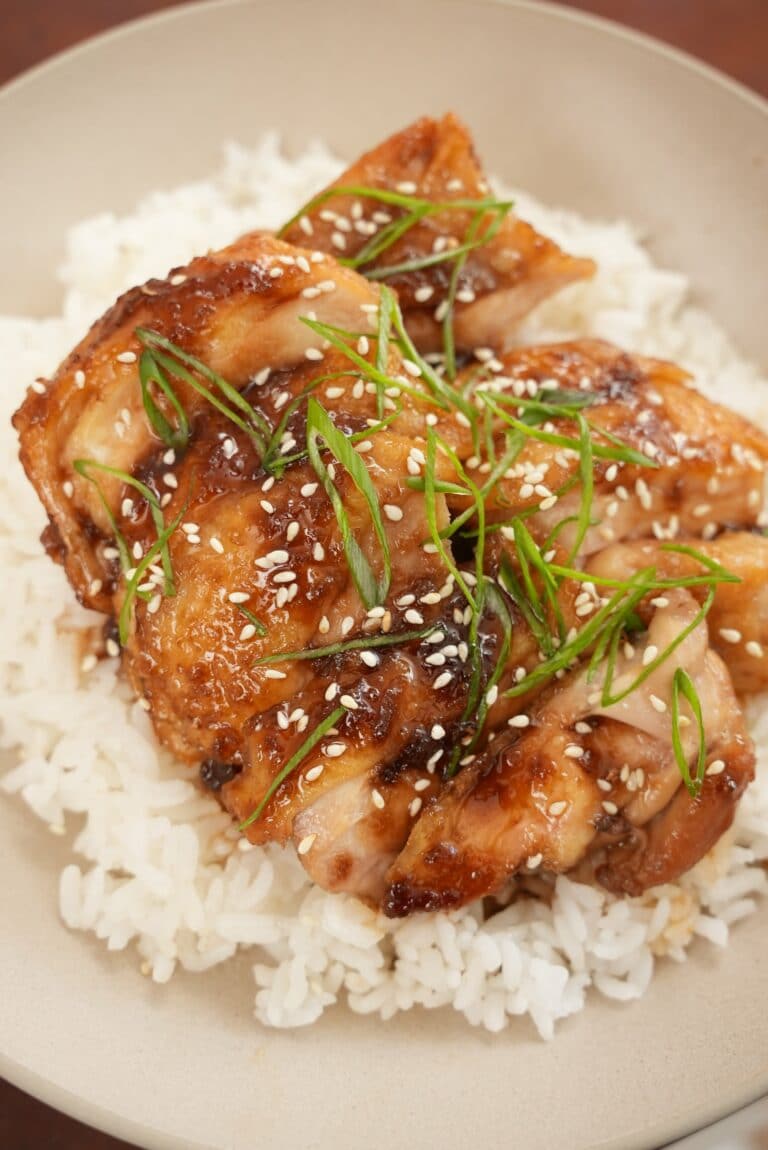 RECIPE TIPS
"DRY BRINE"
This is the KEY tip for quick but JUICY chicken! Season the chicken with salt & pepper for 15 minutes before cooking to allow the salt absorb into the meat. This "dry brine" will result in crispy skin and juicy meat. The salt will draw out some moisture, so make sure to pat the chicken as dry as possible with a paper towel prior to sauteing in the pan. (Otherwise your skin will not get as crispy!)
TERIYAKI SAUCE 101 – Trust me, HOMEMADE is 100% better in this case!
WATCH YOUR SAUCE – You want the sauce to be thick and syrupy, which will happen as it cooks down. HOWEVER, as the water cooks down, there is a higher chance of the sugar burning, so keep this on a simmer and watch it!
TERIYAKI SAUCE IS NOT A MARINADE – In this recipe, teriyaki sauce is used as more of a finishing sauce. You want to layer it on the chicken in the last couple minutes of cooking so it's cooked on the chicken, like a glaze.
YOU'LL WANT TO DOUBLE THIS SAUCE!
I personally double or triple the sauce, as I love it on EVERYTHING! You can save it in an airtight container for up to one week in the refrigerator.
If you liked this Chicken Teriyaki recipe, check out some of the most popular easy weeknight recipes on the blog!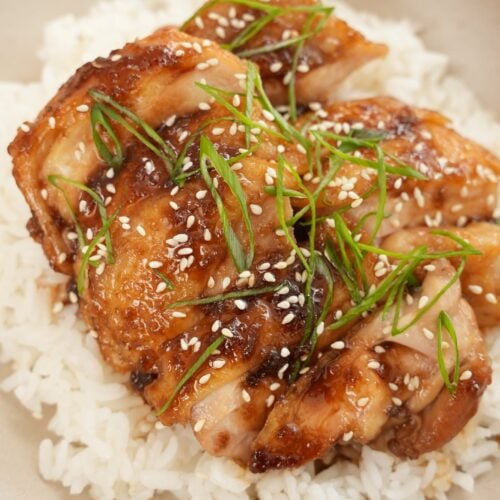 One Pan Chicken Teriyaki
This deliciously juicy Chicken Teriyaki can be made all in one pan for an easy and delicious weeknight meal!
Ingredients
1

lb

boneless skin on chicken thighs

1/2

tbsp

kosher salt

1/2

tsp

white pepper
Teriyaki Sauce
1/2

cup

soy sauce

1/4

cup

mirin

1/4

cup

sake

2

tbsp

brown sugar

2

cloves

garlic

grated

1

tbsp

ginger

grated
Instructions
Season chicken on both sides with salt and white pepper. Let rest for 15 minutes to let the salt absorb into the chicken and skin.

While the chicken is resting, mix soy sauce, mirin, sake, brown sugar, garlic, and ginger in a bowl and set aside.

Pat chicken dry with a paper towel to remove excess moisture. Over medium high heat, add 1 tbsp of oil and sear chicken skin side down for 2-3 minutes or until golden. Flip and cook for another 2-3 minutes until the chicken is cooked through and remove.

Use a paper towel to remove any excess fat, then over medium high heat, simmer the teriyaki sauce until the sauce has reduced and thickened (3-4 minutes). Add the chicken back into the pan and baste with sauce for another minute.

Spoon extra sauce over the chicken, serve with rice and enjoy!