Yaki Udon
---
October 13, 2021
---
Yaki Udon (or Japanese stir fried noodles) are a quick and easy dish that comes together quickly but tastes so delicious! I love to swap in the ingredients I have on hand, which makes it a super versatile weeknight dinner!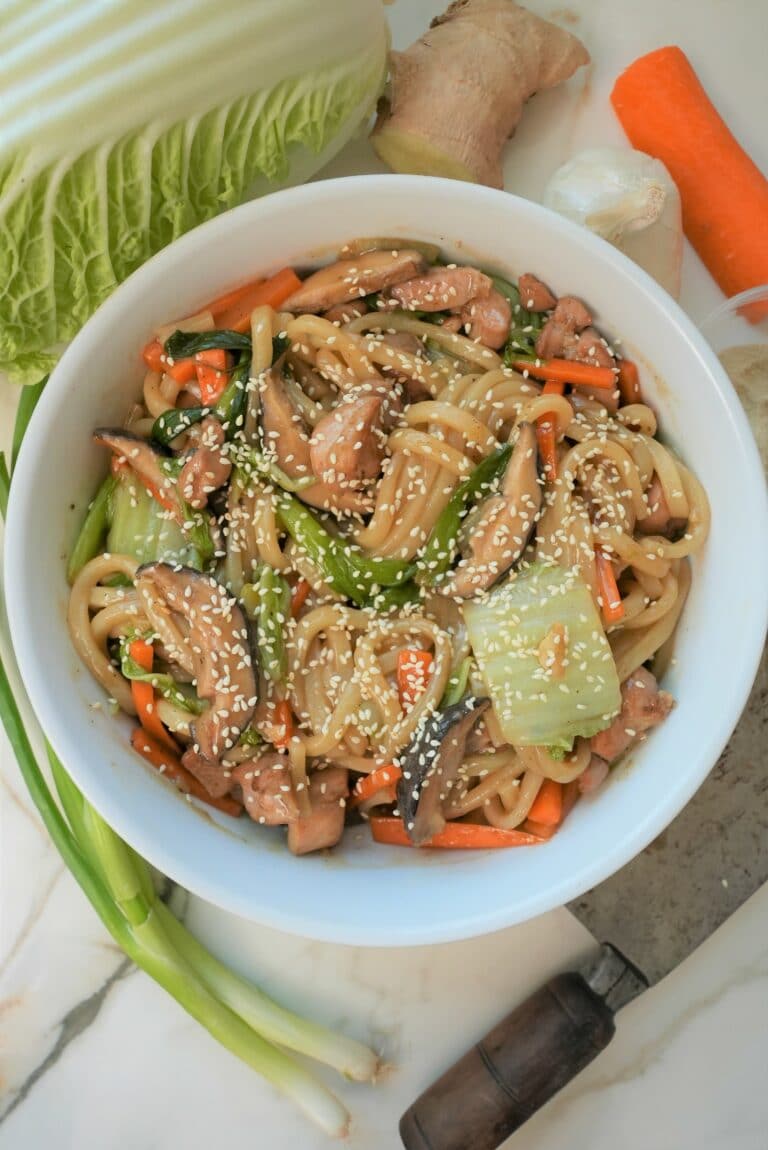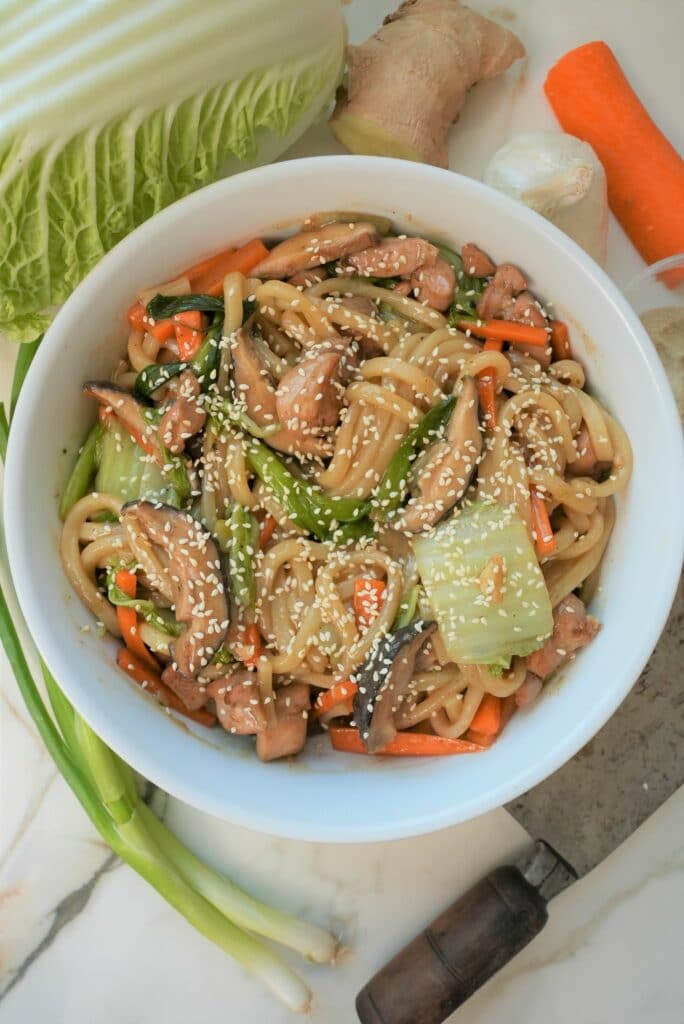 INGREDIENTS TIPS
CHICKEN THIGHS
I used chicken thighs in this recipe, as it has a higher fat content and has less of a chance of drying out during cooking. (It was also what I had on hand!) You can sub with chicken breast, if you prefer, but you should adjust the cooking time to prevent the chicken breast from drying out.
VEGETABLES
In this recipe, I used carrots, shiitake mushrooms, and cabbage! These are some of my favorite go-to vegetables for stir fries, as they have distinct flavors that work well together, and hold up well in high heat. I highly recommend you cut your vegetables to similar sizes to ensure they cook evenly.
NOODLES
I used frozen udon noodles from 99 Ranch (a Chinese grocery chain). However, I have seen frozen udon noodles at my local Ralph's or Von's store as well! I prefer using frozen udon noodles, as I find them to be chewier, bouncier, and less prone to overcooking (overcooked noodles = mushiness).
SAKE
If you cannot find sake or prefer to not use it, you can sub with mirin or broth of your choice (chicken, beef, or vegetable all work great!)
RECIPE TIPS
NOODLES
UNDERCOOK YOUR NOODLES: Don't forget that the noodles will finish cooking in the pan! I always cook my noodles 1-2 min less than the package instructions call for. This way, they come to my preferred doneness by the time the dish is done in the pan!
RINSE & TOSS IN OIL: After boiling, rinse the noodles immediately with cold water to stop the cooking. Shake them dry and then toss in a tablespoon of neutral oil to prevent the noodles from sticking while you prepare & cook the other ingredients.
TERIYAKI SAUCE
I included the recipe for my homemade Teriyaki Sauce but if you prefer, you can also use store bought!
Yaki Udon
Ingredients
Instructions
Cut chicken to 1/2" pieces and marinate for 15 minutes with light soy sauce, sake, white pepper, salt and sesame oil.

SKIP THIS STEP IF YOU ARE USING STORE BOUGHT TERIYAKI SAUCE – Prepare your teriyaki sauce by combining light soy, mirin, sake, and sugar in a bowl and set aside.

Cut carrot, scallions, mushrooms, and cabbage to similar size pieces along with garlic and ginger and set aside.

In a pot of boiling water, cook udon noodles 2 minutes less than package directions and immediately drain and rinse with cold water.

Over high heat, cook chicken in 1 tbsp oil until cooked through and set aside.

Fry garlic and ginger for 15 seconds then add your vegetables and mix. Season with salt and continue cooking for another 1-2 minutes or until the vegetables are slightly wilted but still crisp.

Add back your chicken, udon noodles, and add your sauce and white pepper to taste. Continue cooking for 3-4 minutes over high heat until the sauce has thickened slightly. Top with sesame seeds and enjoy!