Ramen Eggs
---
January 30, 2023
---
Ramen Eggs are essentially soft boiled eggs marinated in a sweet and savory liquid seasoning. The texture of the yolk is slightly viscous but not overly runny and still soft in the center, and they're extremely delicious to eat with a rich, flavorful broth and ramen noodles!
I get asked all the time how I make my ramen eggs to compliment one of, in my opinion, the most comforting dishes of all time – RAMEN! It's surprisingly super easy to make and requires only 5 ingredients! The seasonings from the soy sauce, sake, and slight sweetness from the mirin permeate into the egg giving the outer layer a subtle tan color as they absorb all the flavor. I hope you enjoy this Ramen Eggs recipe!
Watch the Ramen Eggs Recipe Video Below!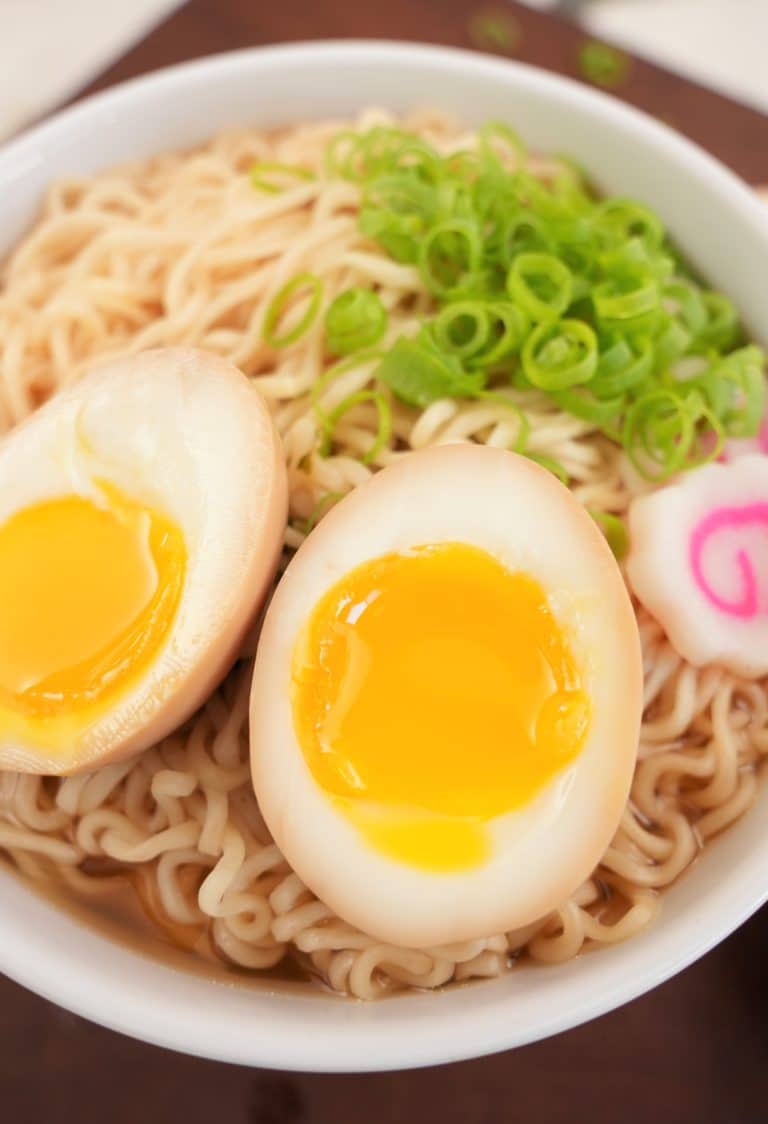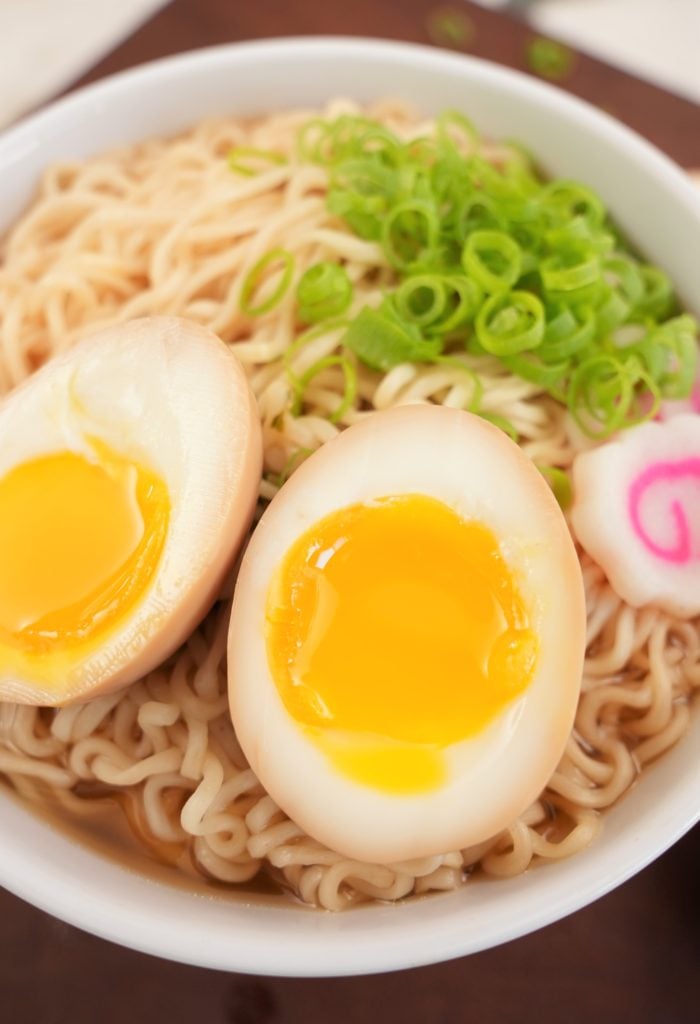 Ingredients for Ramen Eggs
The recipe itself is extremely simple! You'll only need a handful of ingredients to make the perfect Ramen Eggs:
Eggs
Distilled White Vinegar
Light Soy Sauce
Sake
Mirin
INGREDIENTS TIPS
EGGS
I would recommend using large eggs for this recipe! Bring them up to room temperature before gently placing them into the boiling water. This will help prevent any cracking once they enter the hot water.
SAKE
A question I get a lot is what type of sake should you use for recipes. My answer – any inexpensive, draft sake will work! You definitely don't need to spend more than $10 on a bottle of sake for any recipe that calls for it. Hakutsuru is a brand I use that is widely available in western groceries – it usually sells for $5-6 a bottle for 300ml.
VINEGAR
Why add white vinegar to the boiling water prior to boiling your eggs? Vinegar helps break down the egg shell, allowing the peeling to be a much easier process. Bonus tip – use a wide spoon to help guide the shell removal!
Cooking Your Eggs
The 7-Minute Egg Boil
Bring a pot of water to a boil and add 2 tbsp of distilled white vinegar to the boiling water. Next, gently drop in your room temperature eggs (I recommend using a spider strainer or other similar tool) all at once to ensure even cooking. Set your timer for 7 minutes and let them cook over medium high heat!
If you want to be extra precise with a thermometer, ensure the water temperature is between 180F-200F and adjust the heat accordingly if the temperature falls out of this range.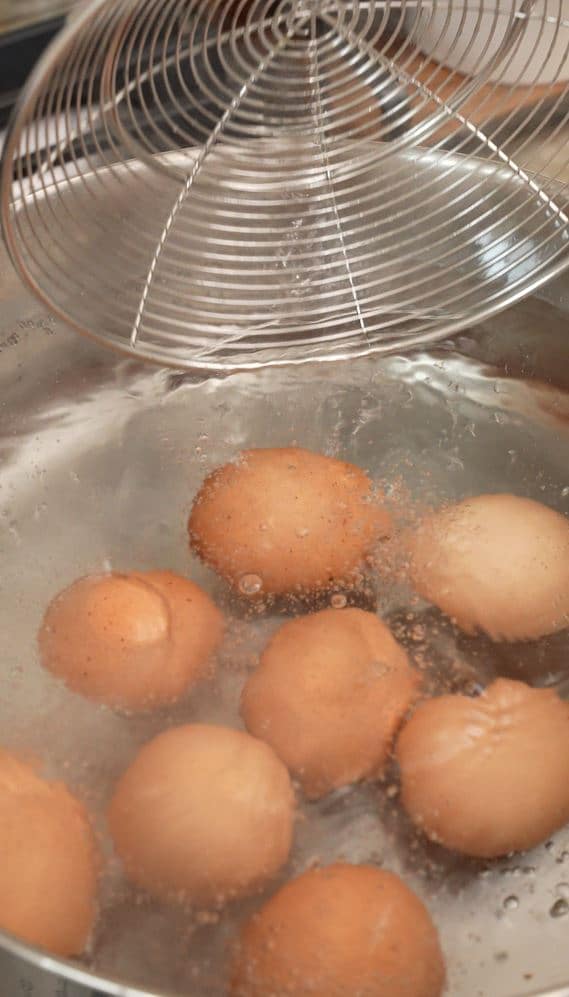 Shock Your Eggs in Ice Water!
Once the 7 minutes are up, remove the eggs from the pot and immediately shock them in ice water! This will shock the eggs and immediately stop the cooking process. Let them sit for a minute until they are completely cool to the touch. Then you are ready to peel!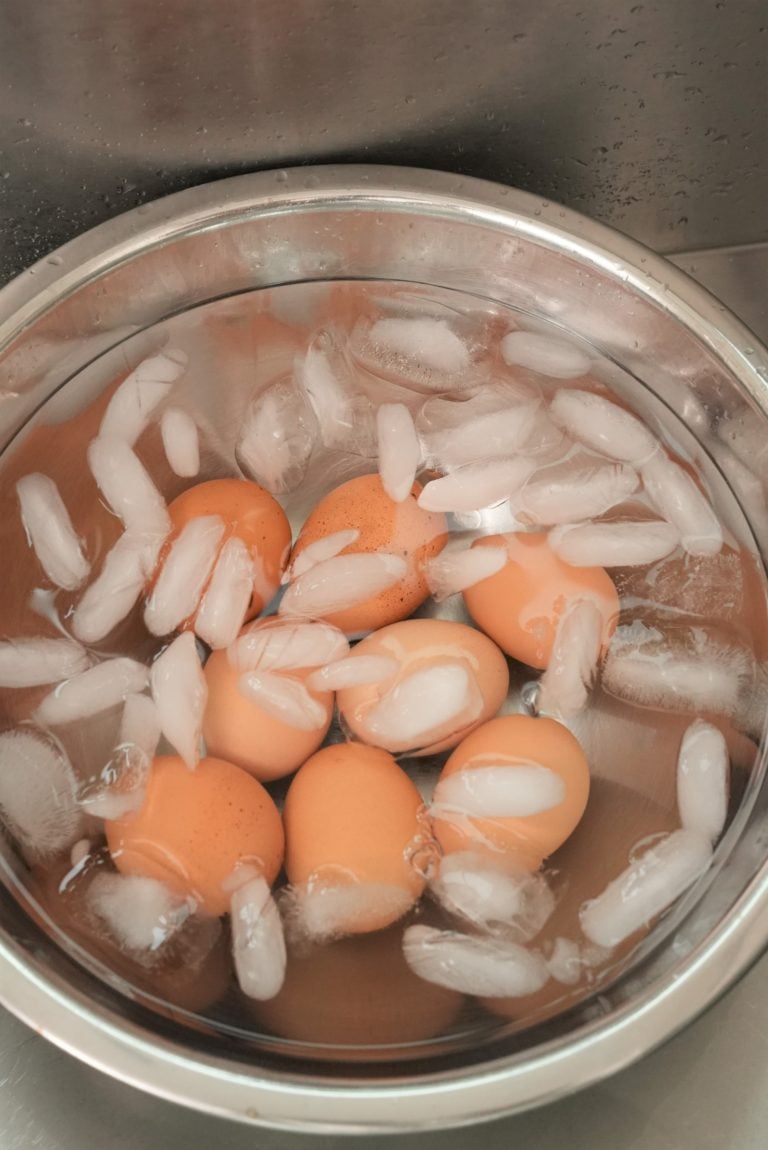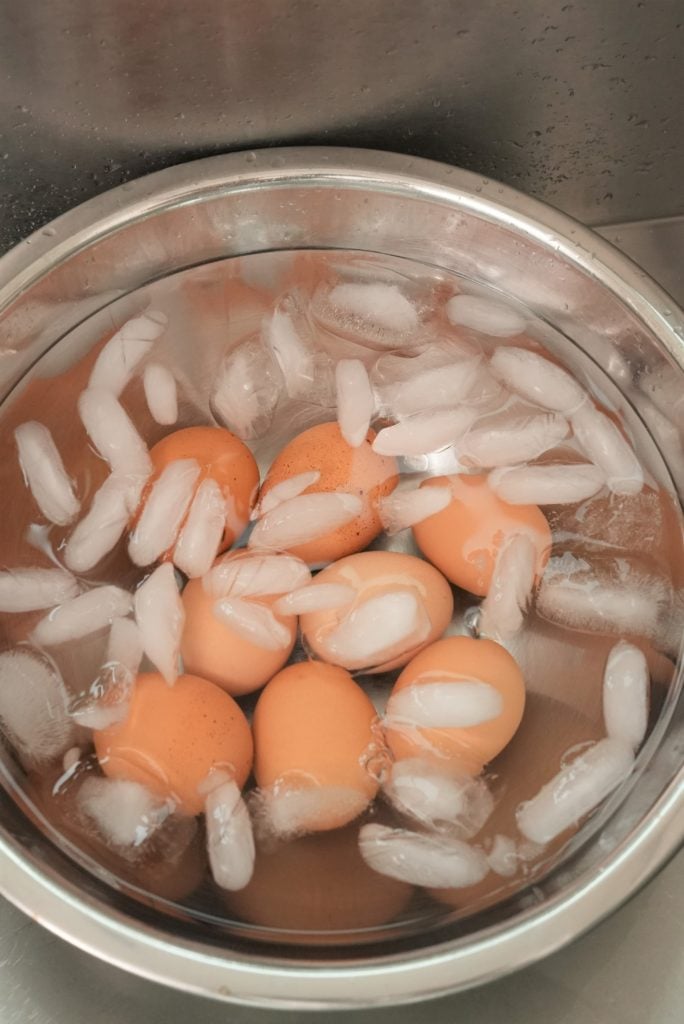 Peel Your Eggs
Once the eggs are peeled, it's time to move onto the marinade! Prepare an air tight container to put your eggs in and make sure it is deep enough to submerge the eggs in the liquid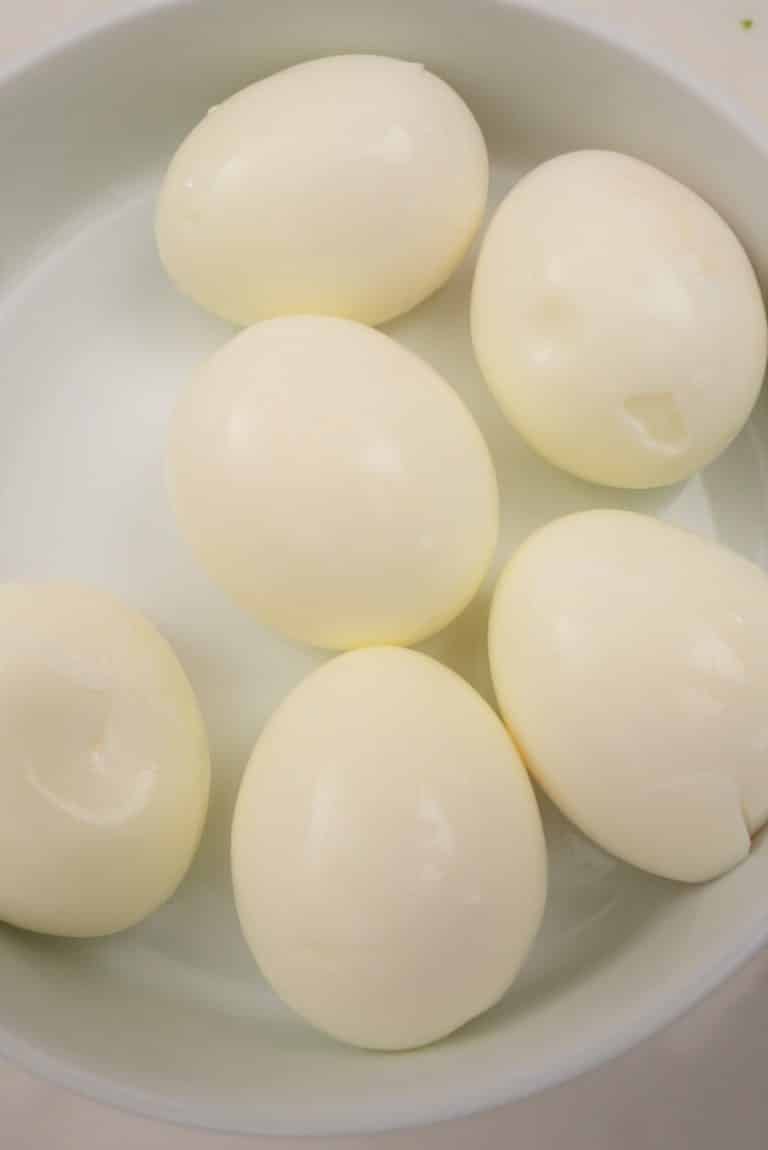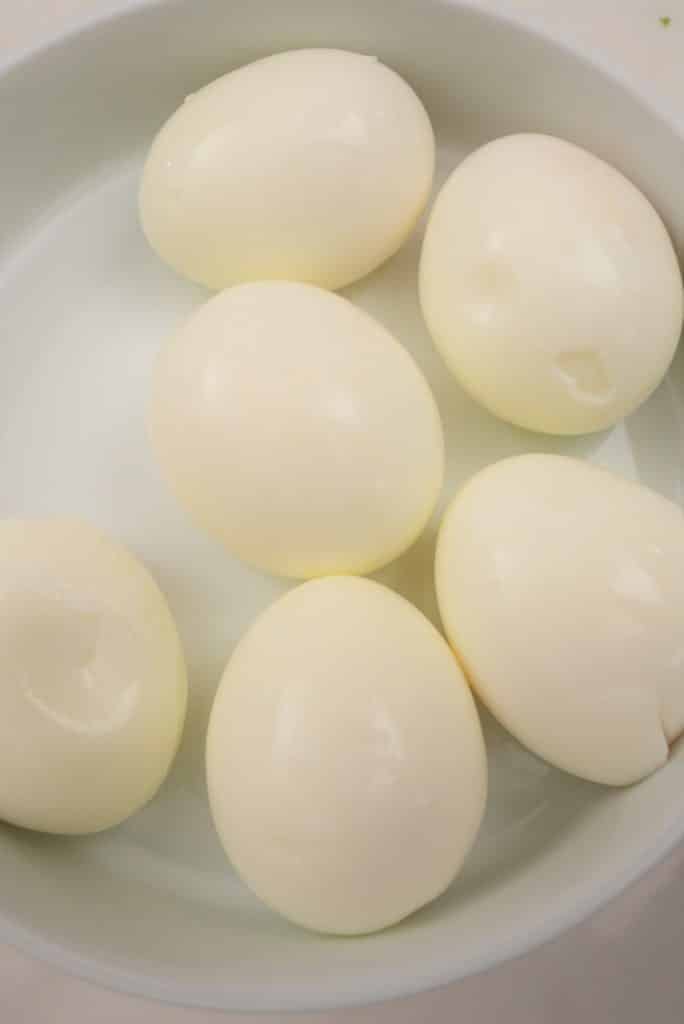 Making the Egg Marinade
Combining Your Ingredients
In a small saucepan, add light soy sauce, sake, and mirin and whisk together to combine. Bring the mixture to a simmer for 2 minutes over medium high heat and then turn off the heat and let the marinade cool completely, and that's it! Your Ramen Egg marinade is done! Pour them over your eggs and let them marinate overnight. Be sure to try these with my Chicken Ramen recipe!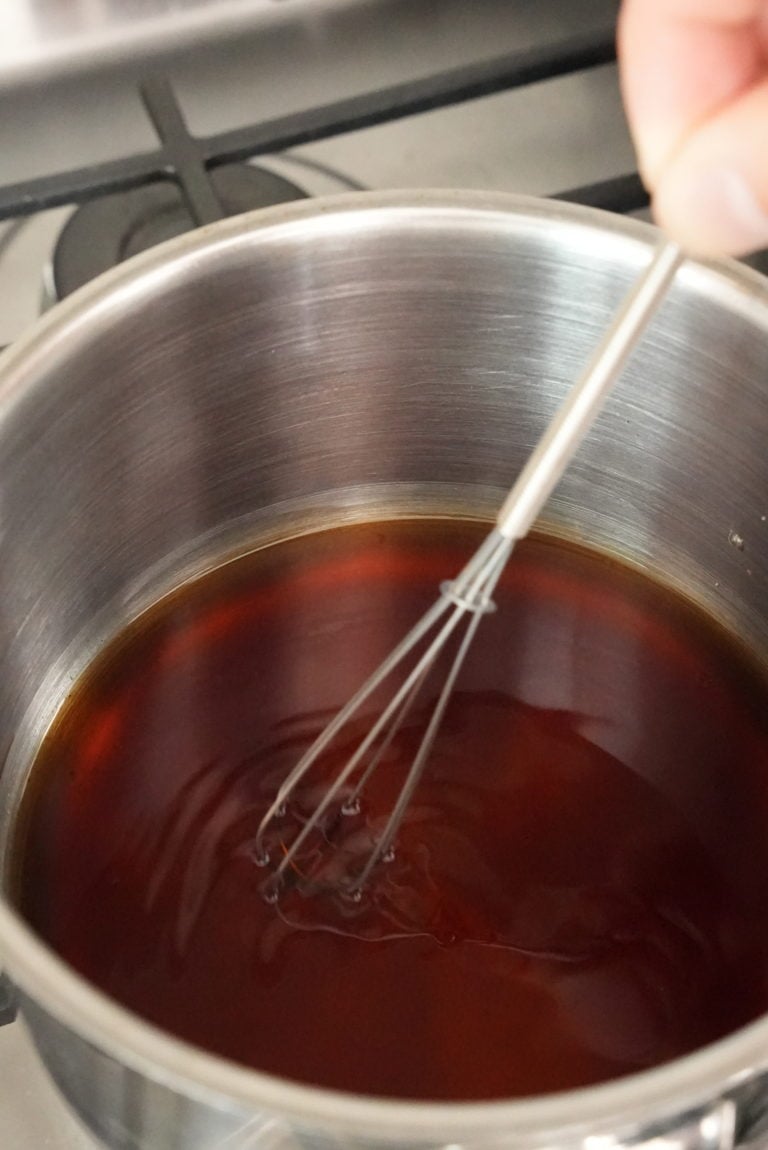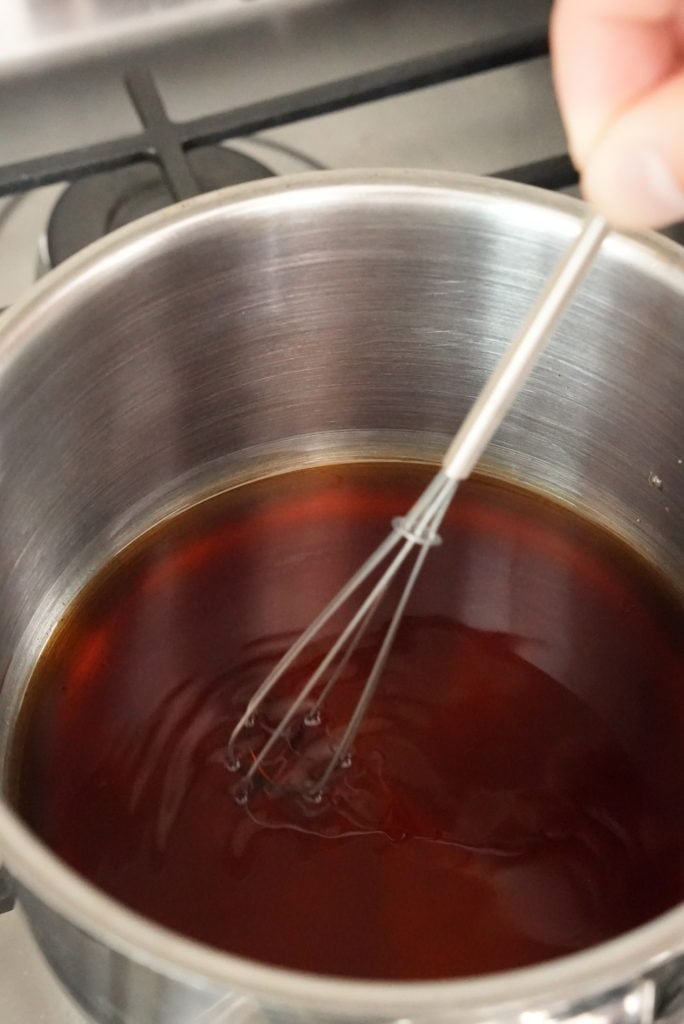 RECIPE TIPS
COOLING THE MARINADE
Make sure that the marinade is cooled completely prior to pouring it over the soft boiled eggs. This will ensure the eggs don't overcook in the hot liquid. We only want to marinade the eggs and allow them to soak up that delicious marinade, not cook them further!
ROOM TEMPERATURE EGGS
I recommend using room temperature eggs before boiling. Take them out of the refrigerator 30 minutes to 1 hour before boiling, which will help prevent them from cracking in the boiling water.
RAMEN EGG STORAGE
You can make these Ramen Eggs 1-2 days ahead of time and keep them in the fridge for a nice compliment to your ramen, or for a simple snack!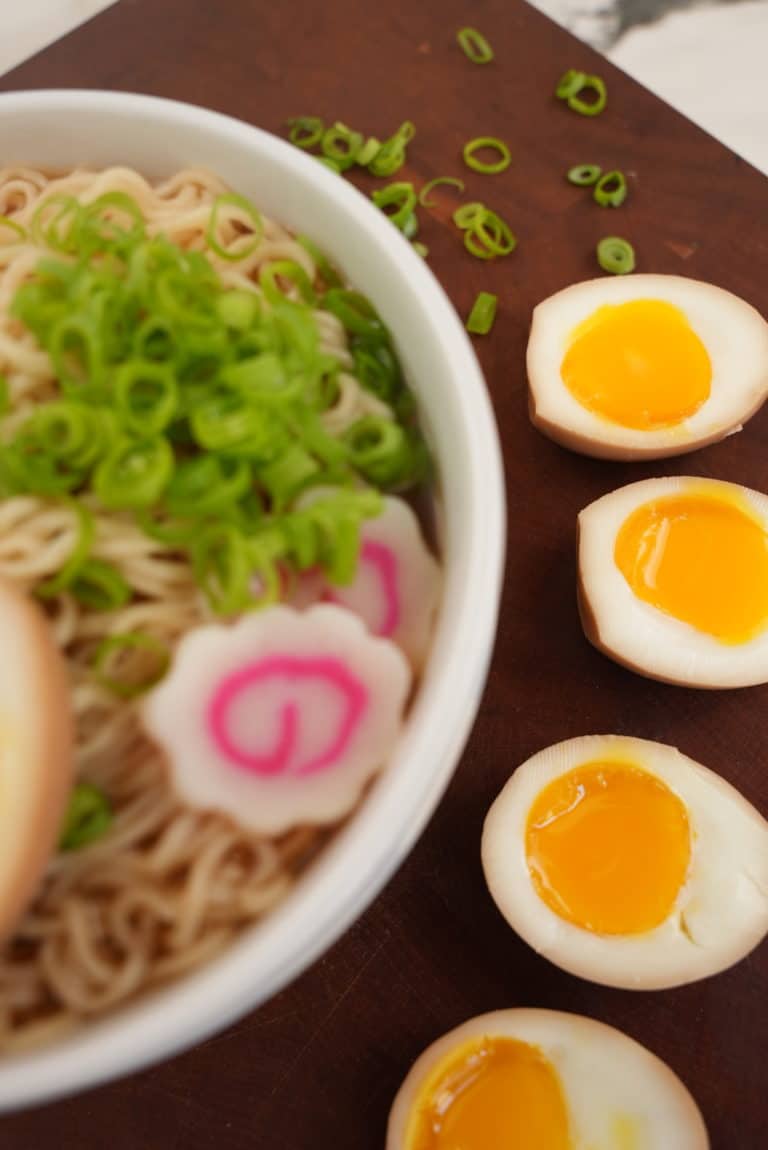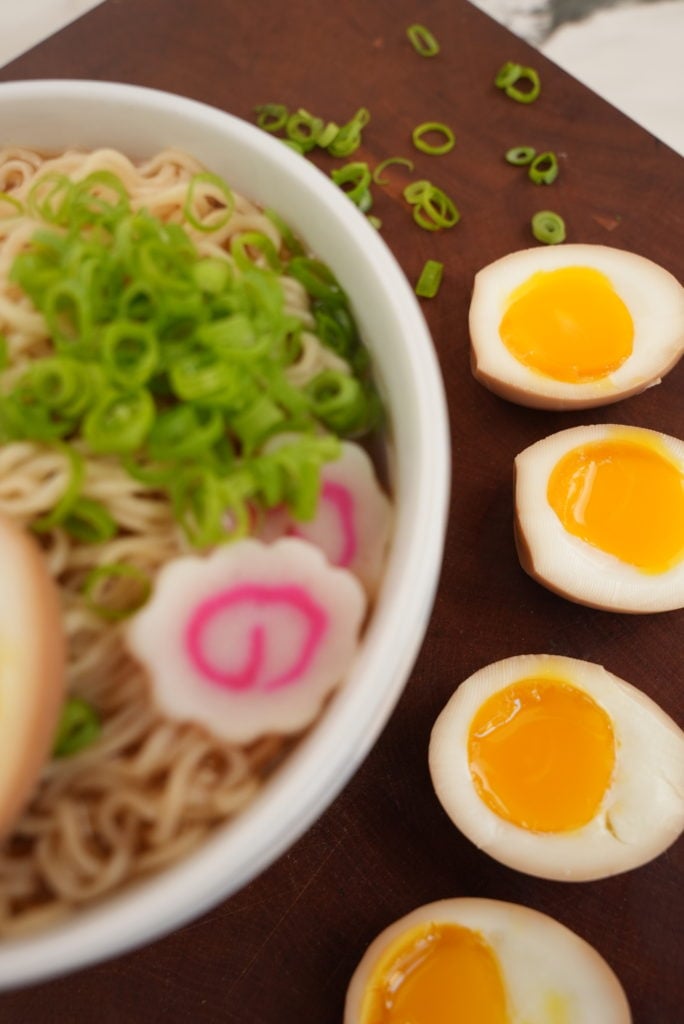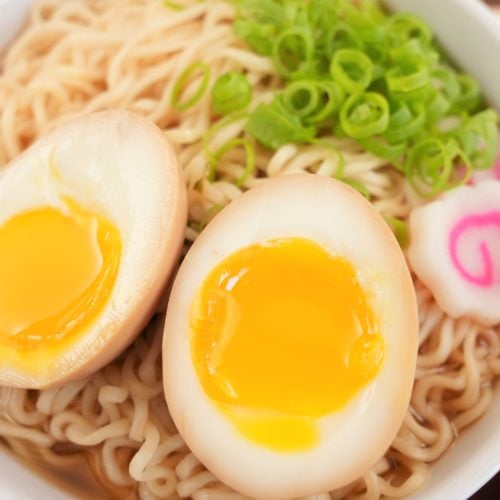 Ramen Eggs
These simple but delicious Ramen eggs are the perfect compliment to a hearty, comforting bowl of ramen!
Ingredients
4

large eggs

2

tbsp

distilled white vinegar

1/4

cup

soy sauce

1/4

cup

mirin

1/4

cup

sake
Instructions
Combine soy sauce, mirin, and sake in a medium saucepan. Simmer over medium high heat for 2 minutes and remove from the heat to let cool.

In a large pot, bring water to a boil and add 2 tbsp of vinegar. Gently place the eggs in the boiling water and simmer for 7 minutes over a gentle boil, keeping the water temperature between 180-200F.

Shock the eggs in ice water until completely cooled and remove the shell.

In a bowl or container, place in the eggs and pour over the cooled marinade. Cover and place in the fridge overnight. Serve with your favorite ramen and enjoy!
Nutrition
Calories:
115
kcal
Carbohydrates:
8
g
Protein:
7
g
Fat:
4
g
Saturated Fat:
1
g
Polyunsaturated Fat:
1
g
Monounsaturated Fat:
2
g
Trans Fat:
1
g
Cholesterol:
164
mg
Sodium:
1021
mg
Potassium:
95
mg
Fiber:
1
g
Sugar:
4
g
Vitamin A:
238
IU
Calcium:
50
mg
Iron:
1
mg