Wonton Noodle Soup
---
November 30, 2021
---
The SPRINGY noodles, JUICY wontons, and the most RICH, FLAVORFUL broth… All of these elements tie together my Wonton Noodle Soup recipe and makes it the ultimate comfort meal!
Watch the Wonton Noodle Soup Recipe Video Below!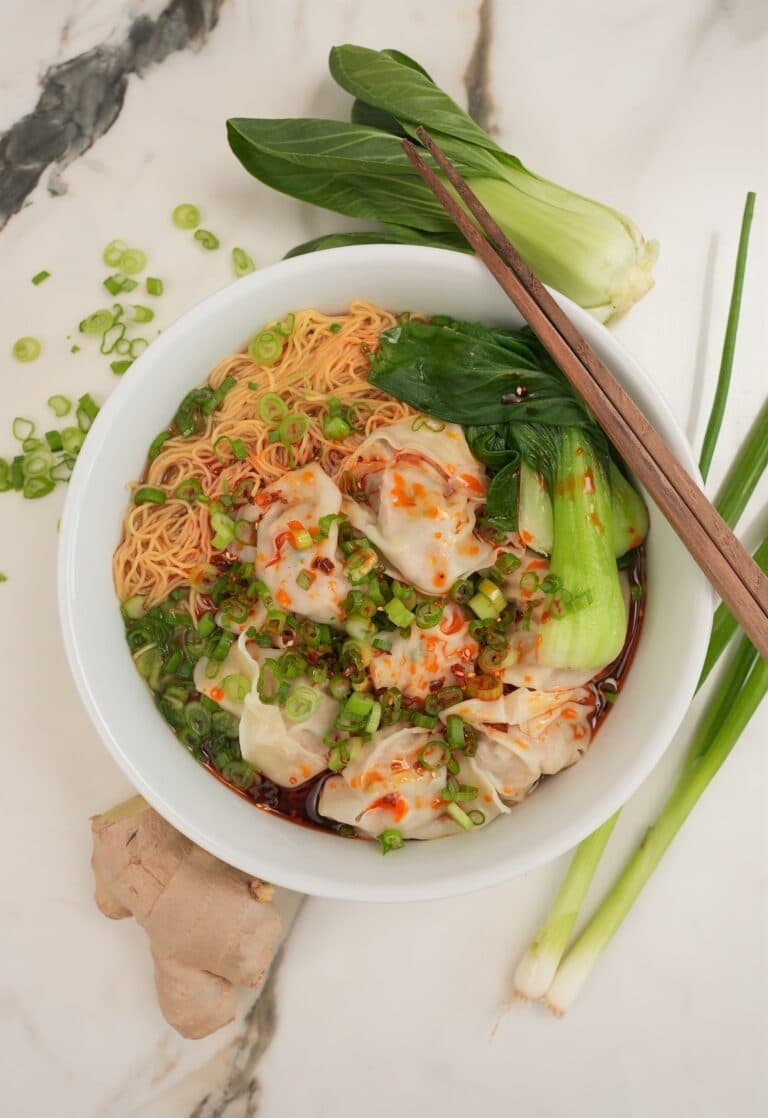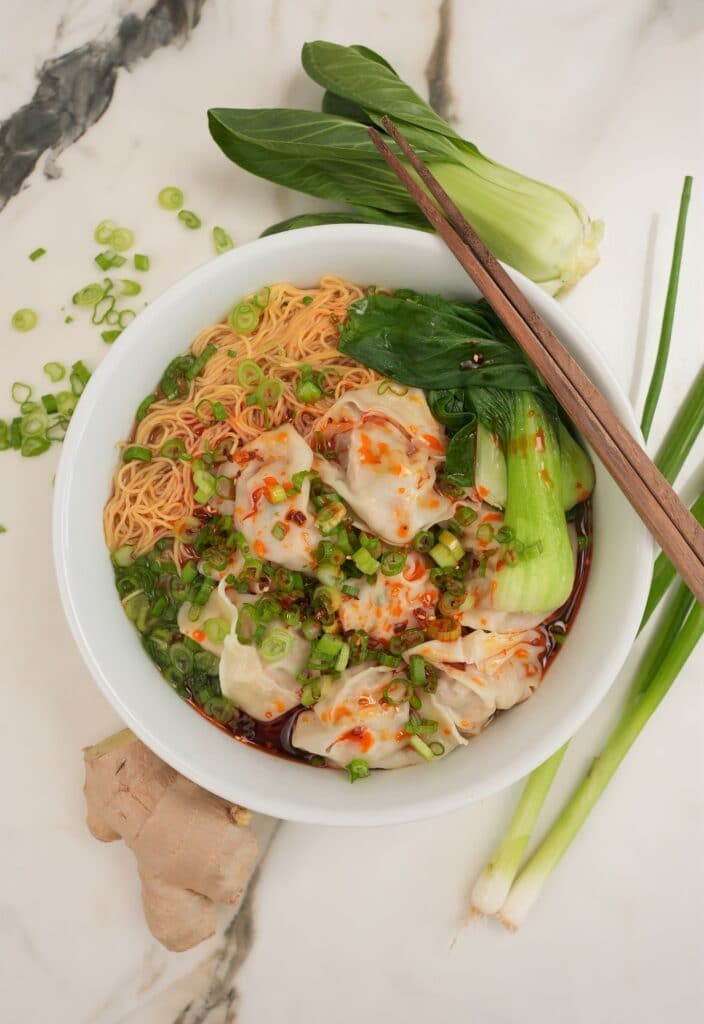 INGREDIENTS TIPS
WONTONS
I use my grandma's recipe for Pork & Shrimp Wontons – but if you don't want to make them at home, you can also use store bought!
CHILI OIL
I always get asked which brand of chili oil I use at home and my answer is – my own! I love making my own chili oil – check out my Sichuan Chili Oil recipe here!
CHICKEN STOCK
Since this is the base of your soup, you should use the highest quality chicken stock you can get (or make your own)!
MSG
As always, this is optional 🙂
WHITE PEPPER
I get asked all the time if you can sub black pepper for white pepper – and my answer is, it depends BUT you need to watch the ratio. White pepper has a milder flavor profile than black pepper, so it's a 1-1 substitute. I would start with less black pepper and add as you go. (But really, you should have white pepper in your pantry! It's a staple in mine!)
RECIPE TIPS
SIMMER YOUR STOCK + INGREDIENTS
Simmering your stock with the additional aromatics and ingredients is what will take this broth to the next level!
COOK YOUR NOODLES + WONTONS IN WATER
I like to cook my noodles and wontons in water (vs directly in the broth) – this is because noodles and wontons are usually covered in some kind of starch to avoid sticking. If I cook the noodles and wontons in the broth, I run the risk of them depositing starches that will impact the taste. Cooking them in water before adding them to the broth helps us prevent that!
Wonton Noodle Soup
Ingredients
2

cups

chicken stock or broth

high quality

1.5

cups

water

1

inch

ginger

1/4

tsp

white pepper

1/4

tsp

msg

optional

1/2

tsp

salt

1/4

tsp

sugar

1

tsp

sesame oil

chili oil

optional
Wontons & Noodles
6

oz

wonton noodles

8

wontons

adjust to your liking

1

stalk

bok choy

2

scallions

chopped
Instructions
In a small saucepan, combine high quality chicken stock, water, ginger, white pepper, msg, salt, sugar, and sesame oil. Bring to a simmer over medium heat while you prep the rest of your ingredients.

In a large pot of boiling water, cook your fresh wonton noodles for 30 seconds, then drain and transfer to your soup bowls. Bring the water back up to a boil and add your wontons (fresh or frozen) and cook over a low boil until they float. Drain and transfer on top of your noodles.

Add your bok choy to the same boiling water and blanch for 1 minute or until they are dark green and crisp. Drain and add along with your noodles and wontons.

Remove the piece of ginger from your broth and strain over your noodles, wontons, and bok choy. Garnish with chopped scallions and lots of chili oil!