Crispy Pork Belly (Chinese Roast Pork)
---
January 14, 2023
---
The PERFECT JUICY PORK BELLY with CRISPY SKIN – I've perfected this recipe over the years and now you can make it at home for your friends & family! Make sure to check out my "INGREDIENT TIPS" section, as I have provided as much information as possible to help you successfully make this dish at home!
Watch the Crispy Pork Belly Recipe Video Below!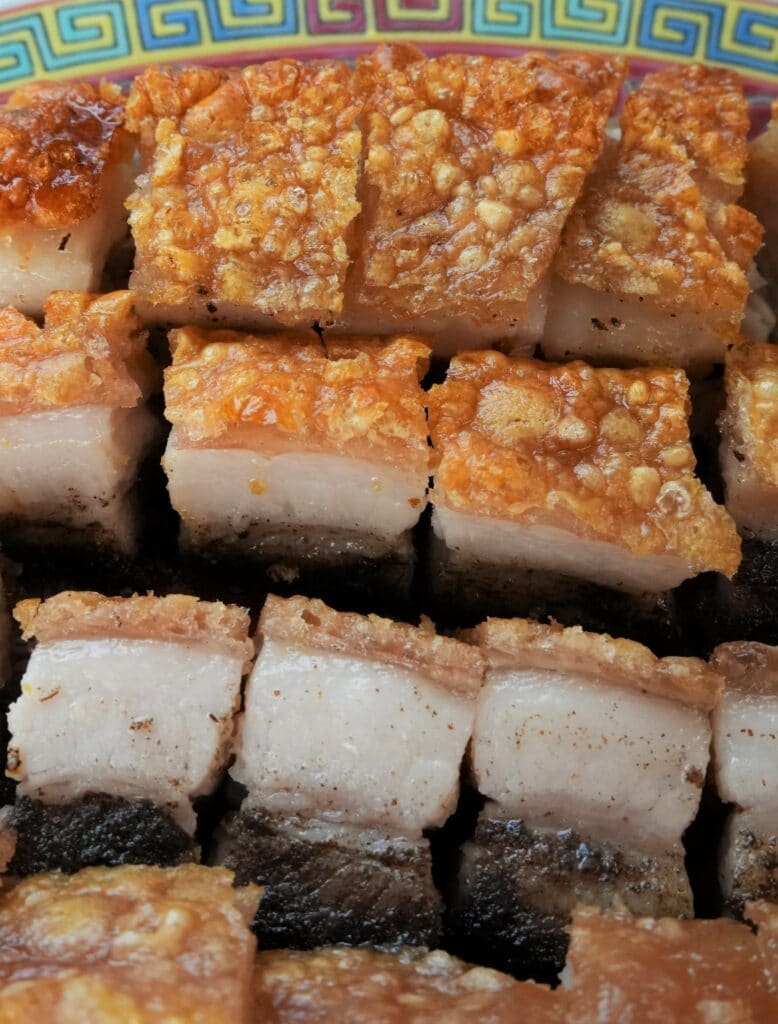 Getting the perfect Chinese pork belly is not as hard as it looks! I've made so many versions of this over the years and have learned a few KEY tips & techniques that will ensure your pork belly is JUICY & the skin is CRISPY!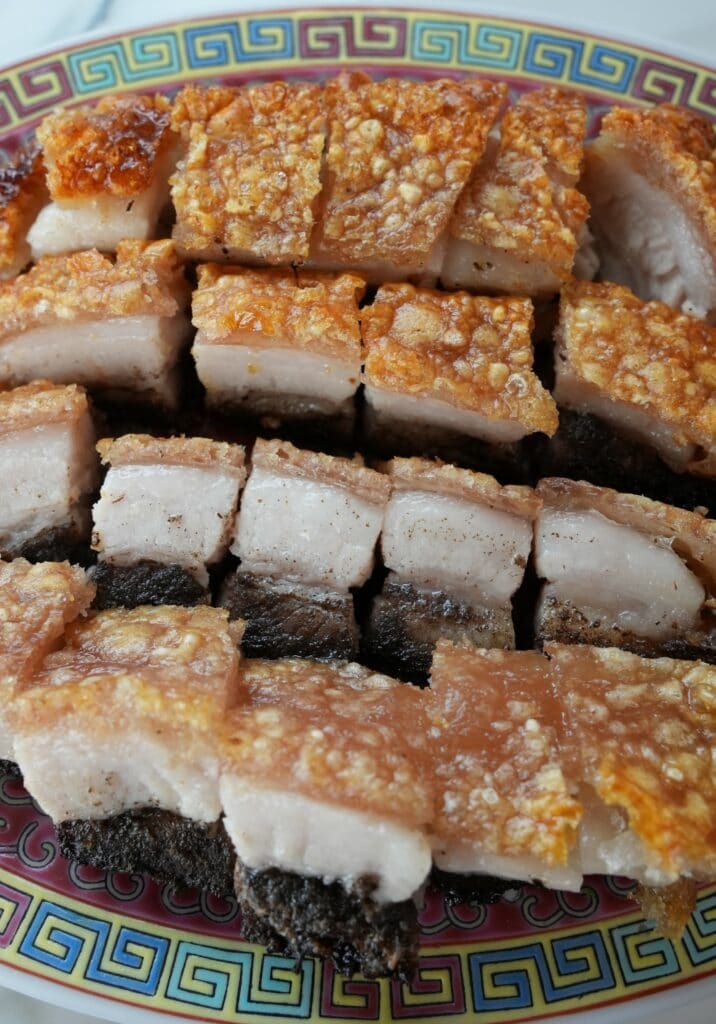 INGREDIENTS TIPS
**NOTE: These tips are what worked for ME! Other people may do it a different way, and that is OK! The beauty of these recipes is that everyone can adjust to make it their own.
WHAT SHOULD I LOOK FOR WHEN BUYING PORK BELLY?
Go to your butcher and ask for a

boneless, center cut, skin-on pork belly

.
A center cut pork belly will be the most even and symmetrical piece – this will allow for an even proportion of skin and meat.
If possible, ask your butcher to select a pork belly with a thin layer of white fat in between the meat sections. I have found that these pieces results in the most optimal end result. The pork belly will be not as fatty and have plenty of lean meat.
24-48 HOURS BEFORE COOKING
There is no way around this – this is going to be a multi day process. You MUST DRY the pork belly with the skin EXPOSED in the fridge for at least 24 hours (48 hours is better). This will reduce the moisture and result in a super crispy skin.
VINEGAR – MY SECRET INGREDIENT
Do NOT SKIP the vinegar before the salt crust! The vinegar will further soften the skin when baking, as well as remove any odor from the skin. I have seen other recipes call for baking soda but I have found that vinegar works best for me!
CAN I SUB AN INGREDIENT…?
I will always let you know if a substitution is okay, as I know some ingredients are harder to find than others. However, for this dish, I do NOT recommend using anything other than what I have listed. It has taken me many tries to perfect this recipe over the years. If you DO use a substitution to good results, please let me know – I would love to hear from you!!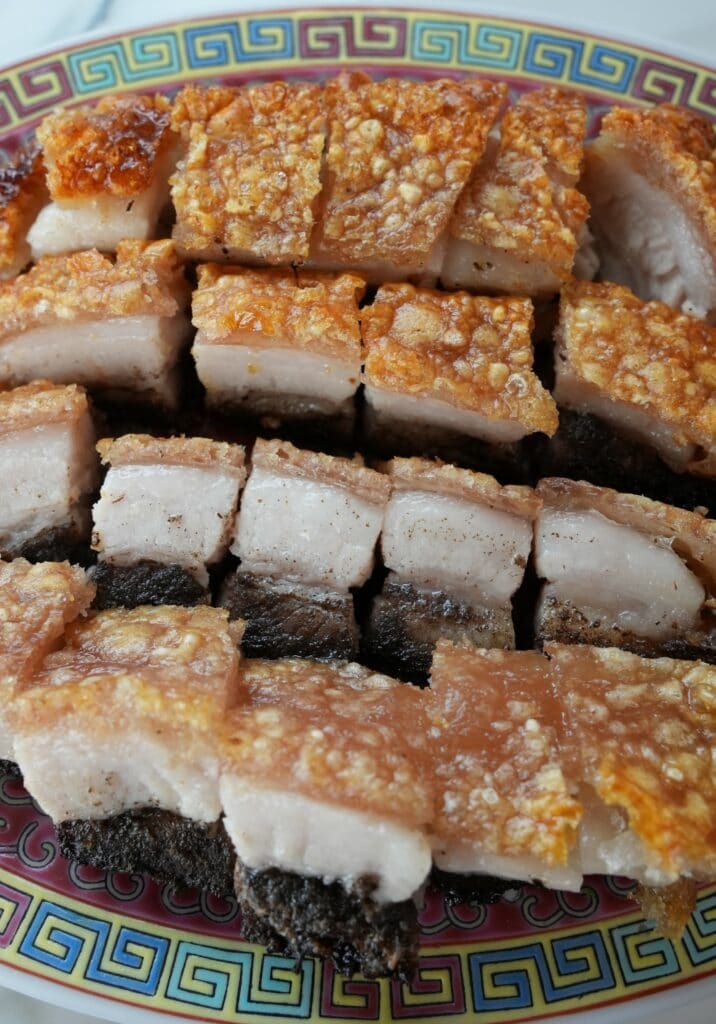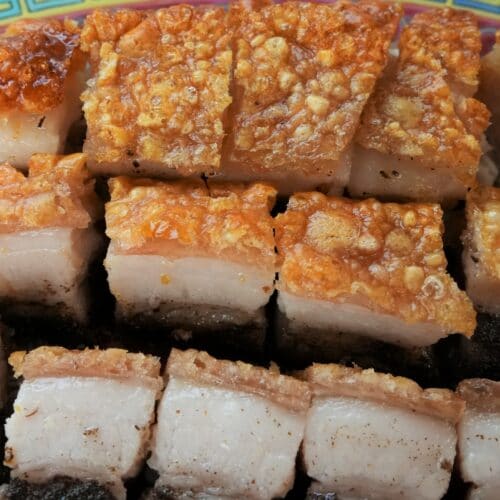 Crispy Pork Belly
This cantonese-style Crispy Pork Belly (Siu Yuk) is perfect for a special occasion or to celebrate the New Year! The crispy skin and juicy, fatty pork belly are a perfect combination that everyone will enjoy!
Ingredients
2.5

lb

pork belly

skin-on

1

tbsp

kosher salt

1/2

tbsp

white pepper

1/2

tbsp

five spice powder

1/2

tbsp

sugar

1

tbsp

shaoxing wine

plus 2 tsp as needed to form a paste

1

cup

kosher salt

1

egg white

beaten

1

tbsp

white vinegar
Instructions
Pat your skin on pork belly dry and poke holes all across the skin of the pork. Ensure that the holes only puncture the skin and do not go all the way through the meat.

To the meat side, use a knife to make 1/2" cuts lengthwise across the pork belly. In a small bowl, combine salt, white pepper, five spice powder, sugar, and shaoxing wine to make a paste. Evenly spread the paste on the meat side of the pork and crevices  ensuring not to touch the skin.

Place the punctured and marinated pork on a piece of foil and create a foil boat wrapping the pork, leaving the skin exposed. Place in the fridge for 24 hours (48 hours for best results) to help the skin further dry out.

Once the skin is dry, mix together salt and a beaten egg white. Brush the skin with a layer of white vinegar, then evenly layer the salt/egg mixture directly on the skin.

Bake at 300F for 30 minutes, then remove the salt from the skin and brush off any excess salt. At this point the skin should be softened. Poke more holes throughout the skin.

Bake at 450F for 30-45 minutes or until the skin has puffed up. If any edges are starting to burn, place a small piece of foil to cover to get the skin as evenly crisp as possible. If needed, place pork under broiler for a few minutes to speed up the blistering process (watch carefully to ensure skin does not burn). Enjoy!