Benihana Fried Rice
---
December 3, 2021
---
Anyone who has been to Benihana knows that the real star of the show is their FRIED RICE – but did you know you can make it at home? It is super easy and I am going to show you what their secret ingredient is!
Watch the Benihana Fried Rice Recipe Video Below!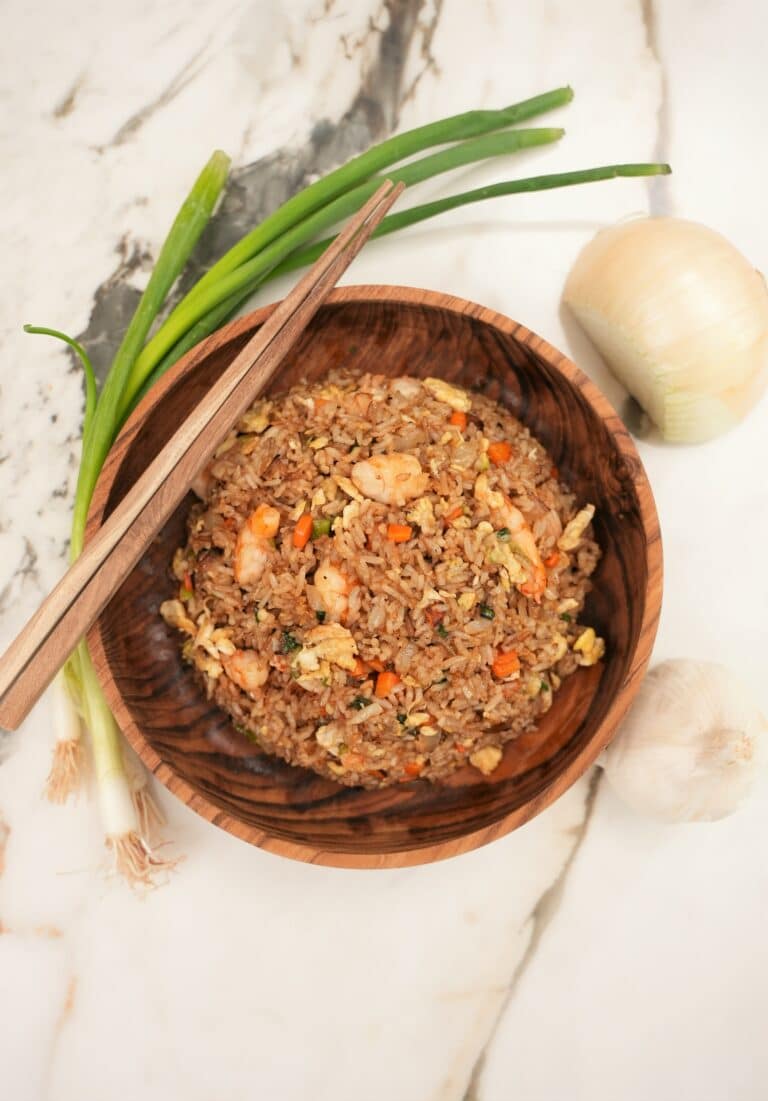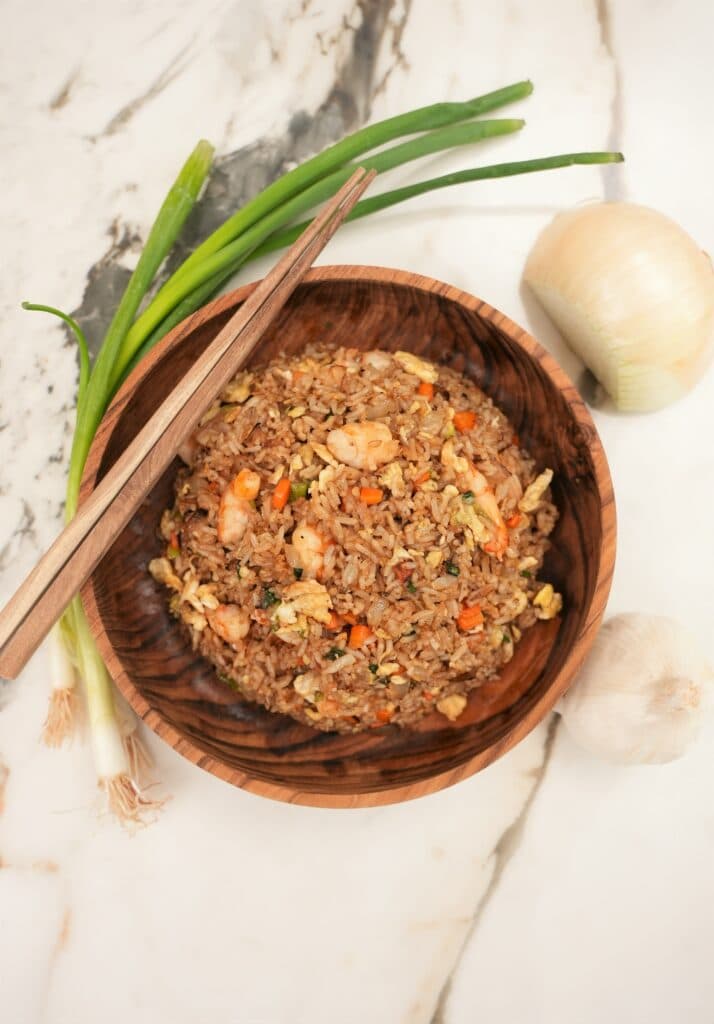 Key Ingredient Tips for Benihana Fried Rice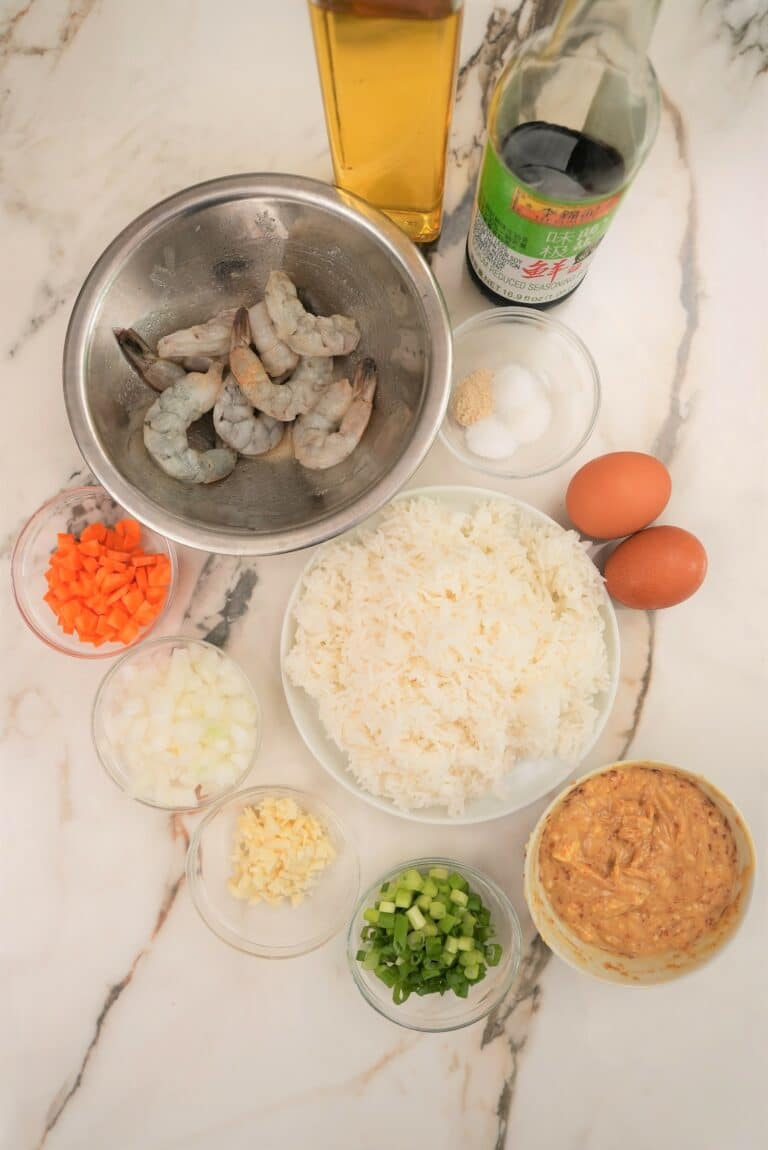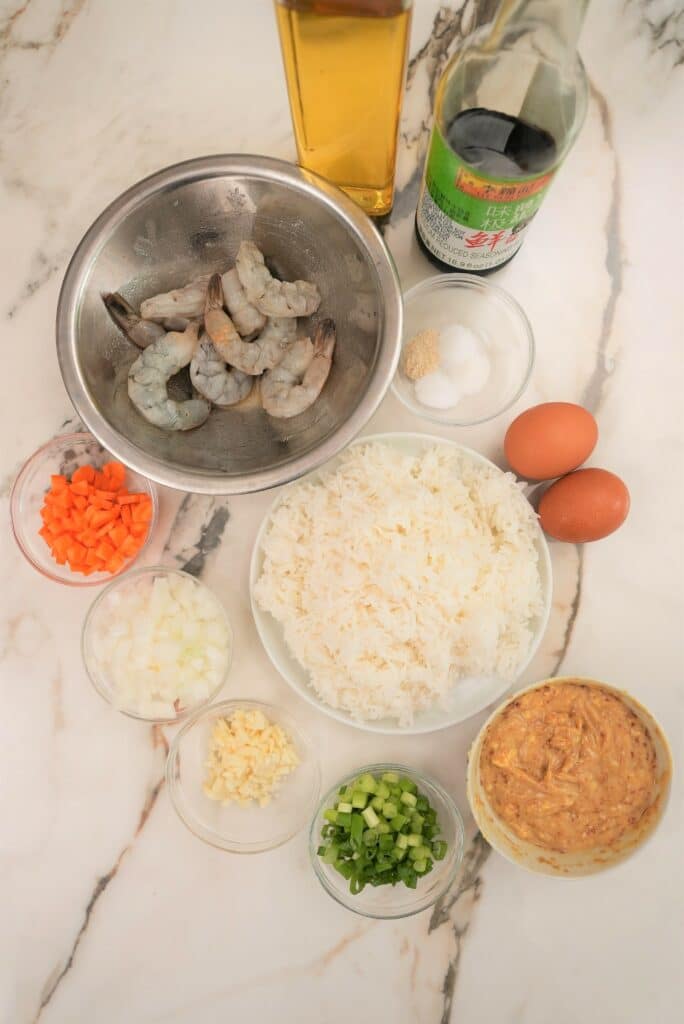 INGREDIENTS TIPS
SHRIMP
You can always sub with a different protein (or leave it out altogether for a vegetarian option)!
RICE
Do not use freshly steamed rice! The rice should be at least one day old to avoid having too much moisture; too much moisture in the rice will make your fried rice soggy and mushy.
MSG
This is always optional 🙂
NEUTRAL OIL
My favorite neutral oil is avocado oil, but you can also use canola or vegetable oil! I don't use olive oil when cooking Chinese food for two reasons: 1. It has a low burning point and 2. The flavor profile does not go.
WHITE PEPPER
I get asked all the time if you can sub black pepper for white pepper – and my answer is, it depends BUT you need to watch the ratio. White pepper has a milder flavor profile than black pepper, so it's a 1-1 substitute. I would start with less black pepper and add as you go. (But really, you should have white pepper in your pantry! It's a staple in mine!)
GARLIC BUTTER
THIS is the secret ingredient to Benihana's amazing fried rice! It is so simple to make (just butter, garlic, and light soy sauce) and the best part is that you can keep it in your refrigerator and use it in other dishes too!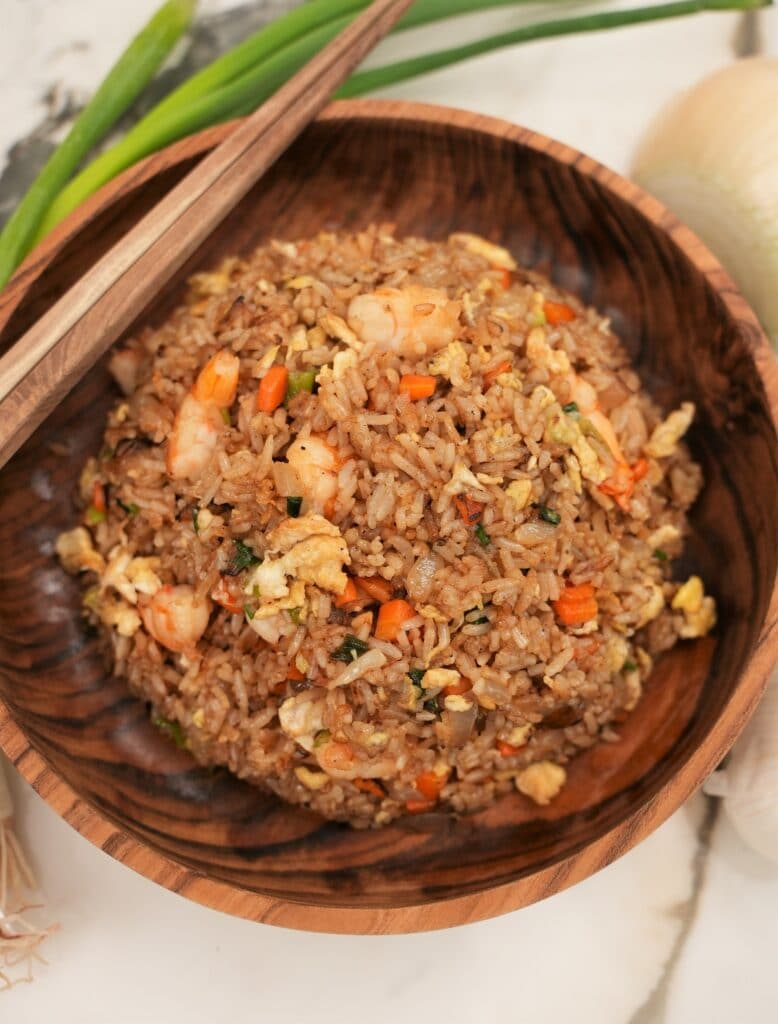 Top Recipe Tips for Benihana Fried Rice
RECIPE TIPS
CUT YOUR VEGETABLES!
I always recommend cutting your vegetables into similar sized pieces so they cook evenly – this little step makes a huge difference! In this recipe, I cut the carrots into small cubes so they would cook evenly with the peas.
CRUMBLE YOUR OLD RICE
I like to crumble my rice (I've found that dried out rice gets clumpy) – this helps each rice grain get cooked and coated in all of the delicious flavors!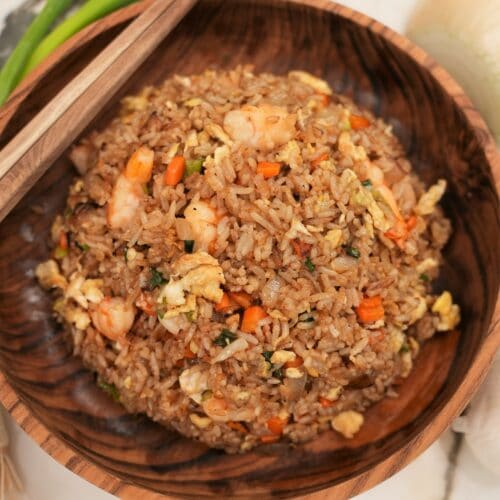 Benihana Fried Rice
This copycat Benihana Fried rice is just as good as the restaurant! The soy garlic butter takes this fried rice to the next level and the dish is versatile enough to add whatever protein you like!
Ingredients
1.5

cups

rice

at least one day old (or dried out in fridge)

1

carrot

medium, chopped

3

scallions

chopped

1/4

onion

chopped

3

cloves

garlic

minced

2

tbsp

garlic butter

see below

1/2

tbsp

soy sauce

1/4

tsp

white pepper

1/4

tsp

sugar

1/4

tsp

msg

optional

1/4

tsp

salt

2

eggs
Shrimp
1/2

lb

shrimp

can sub with any protein of choice

1/2

tsp

salt

1/4

tsp

white pepper

1

tsp

neutral oil

I used avocado oil
Garlic Butter
1/2

cup

butter

softened

3

tsp

light soy sauce

3

cloves

garlic

grated
Instructions
Cook your rice the night before and leave uncovered in the fridge to dry overnight or up to a day for best results.

Soften 1/2 cup of butter and grated 3 cloves of garlic and add light soy sauce. Mix to combine and keep in the fridge to firm up until ready to use.

Marinate your protein of choice with salt, white pepper and 1/2 tsp of neutral oil, then chop your carrot, onion, scallions and mince your garlic and set aside.

In a pan over high heat, add 1 tbsp of oil and cook your protein, adding 1 tbsp of garlic butter for additional flavor. Remove and set aside.

In the same pan, heat 3 tbsp of oil and fry your garlic for 15 seconds followed by your carrots, onions, and scallions for 1-2 minutes. Add your rice and continue frying, separating and combining until relatively dry (2-3 minutes).

Push the rice to the side and add 1 tbsp of oil, then fry 2 eggs and cook until 90% done. Mix into the rice. Season with light soy sauce, white pepper, sugar, salt, msg, and 2 tbsp of garlic butter. Mix and fry for 1-2 more minutes and enjoy!