Spam Fried Rice
---
October 7, 2023
---
Homemade Spam Fried Rice comes together in minutes and is packed with flavor! The Spam adds a nice, meaty flavor to the fried rice for a weeknight meal that won't break the bank! I call this my fridge clean out meal because you can throw in any vegetables that you have and need to use up before they go bad!
Watch the Spam Fried Rice Recipe Video Below!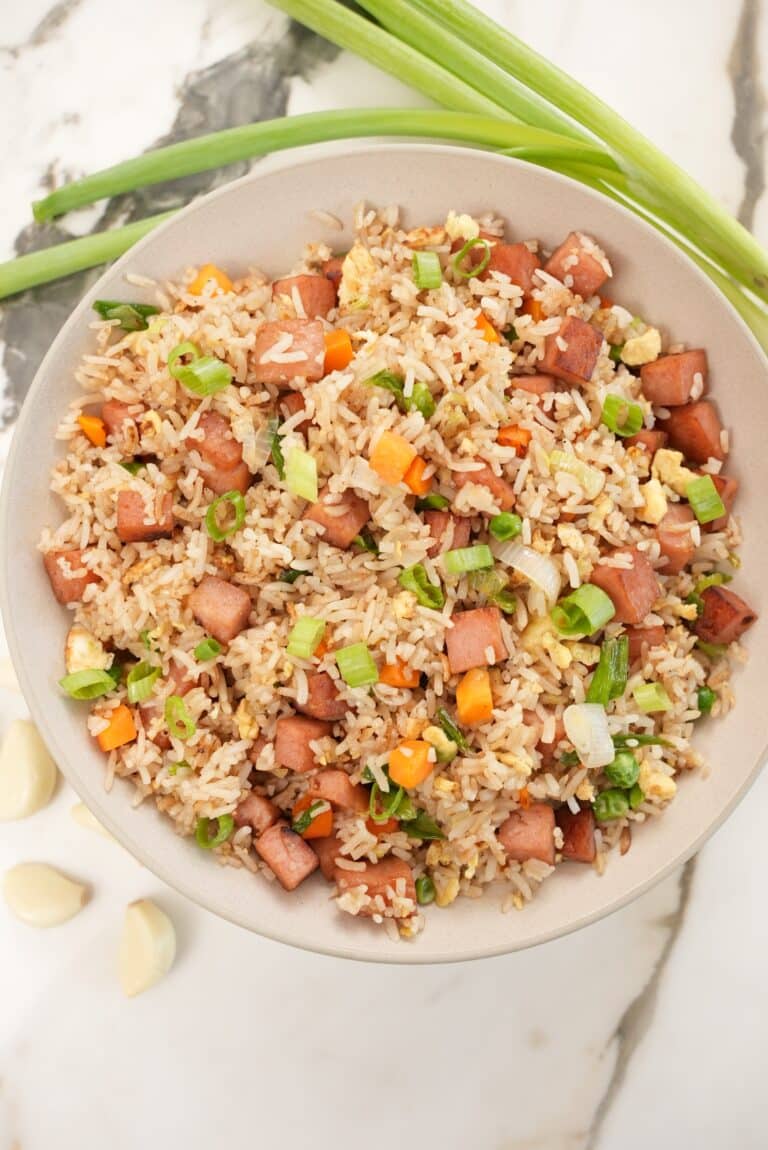 This is a weeknight dinner MVP – it uses leftover rice, is versatile (can use different proteins OR make it vegetarian) and is PACKED with flavor!
Ingredients for Spam Fried Rice
2 cups white rice uncooked measurement
1 can Spam 12 oz
3 eggs
1 cup frozen veggies
4 scallions greens and whites separated
1/2 tbsp sugar
1 tsp white pepper
1 tsp kosher salt
1/4 tsp msg
3 tbsp low sodium light soy sauce
5 cloves garlic minced
1 tsp sesame oil
sesame seeds garnish
2 tbsp neutral oil
Optional Garnishes
roasted sesame seeds
fried egg, sunny side up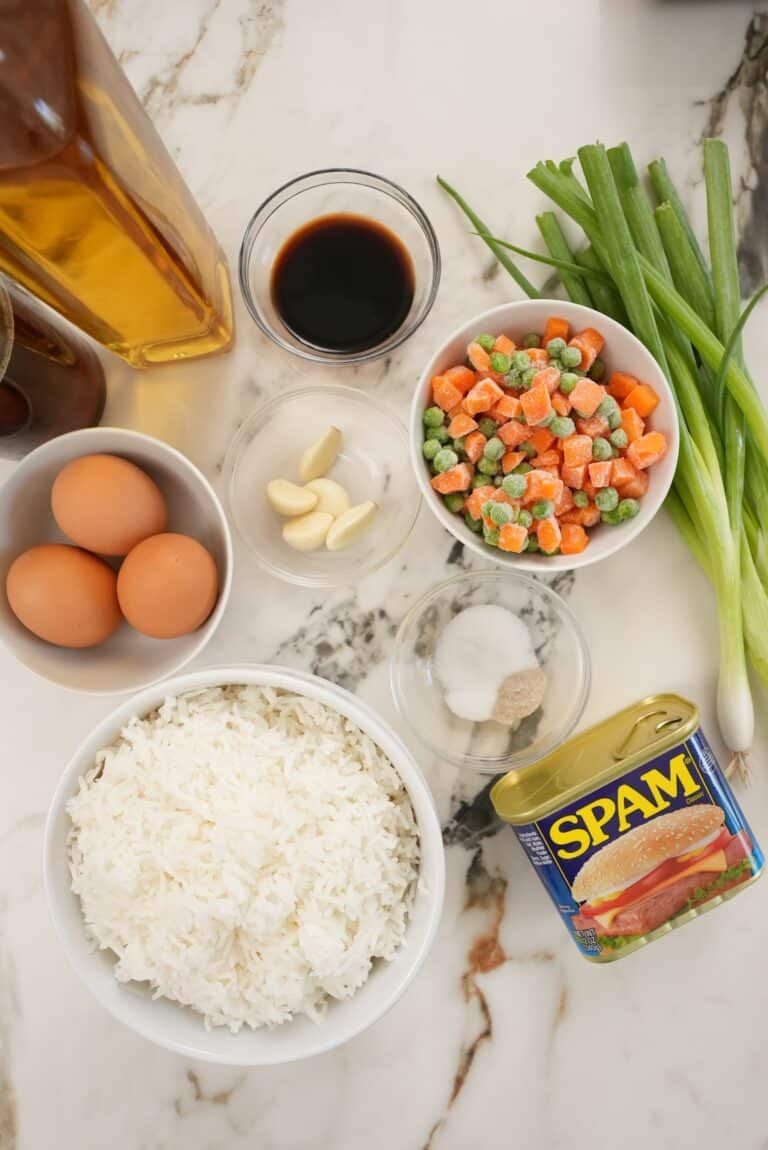 INGREDIENTS TIPS
USE DAY OLD LONG GRAIN WHITE RICE
I've made fried rice many times (some amazing, some very mushy), but drying out the rice uncovered in the fridge for a least a day will help reduce the moisture content in the rice. Using long grain rice helps even more, as long grain rice has less moisture content than short grain rice.
MSG
As always, this is optional 🙂
NEUTRAL OIL
My favorite neutral oil is avocado oil, but you can also use canola or vegetable oil! I don't use olive oil when cooking food for two reasons: 1. It has a low burning point and 2. I find that the flavor profile does not usually go with the dish.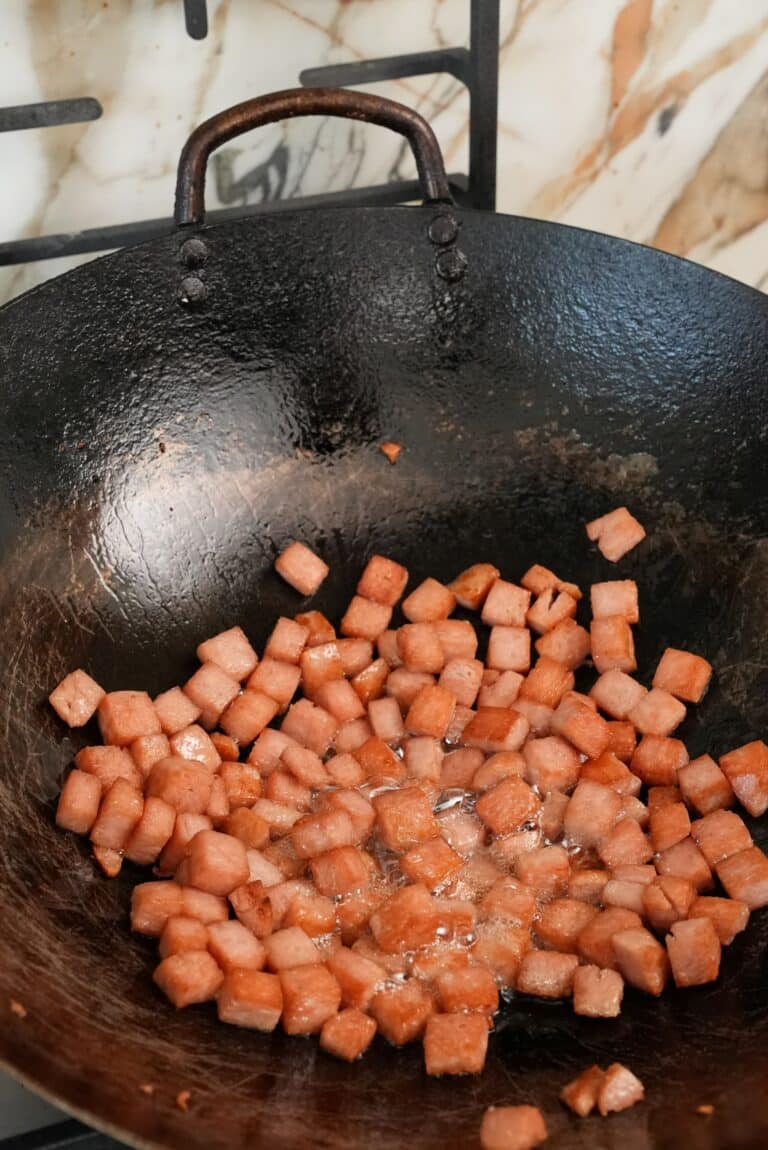 RECIPE TIPS
SUCCESS IS IN THE PREP!
For a recipe that comes together extremely quickly, the key to pulling this recipe off successfully is having your ingredients prepped and in bowls right next to your wok or pan! Have your rice, shrimp, seasonings, and aromatics ready and easily accessible during the cooking process.
ADJUST THE PROTEIN TO YOUR LIKING!
While this dish only includes Spam, you can also do this with sliced chicken, shrimp or steak!
If you liked this recipe, check out some of the most popular recipes on the blog! Please consider writing a review if you enjoyed the recipe – it really helps out the blog!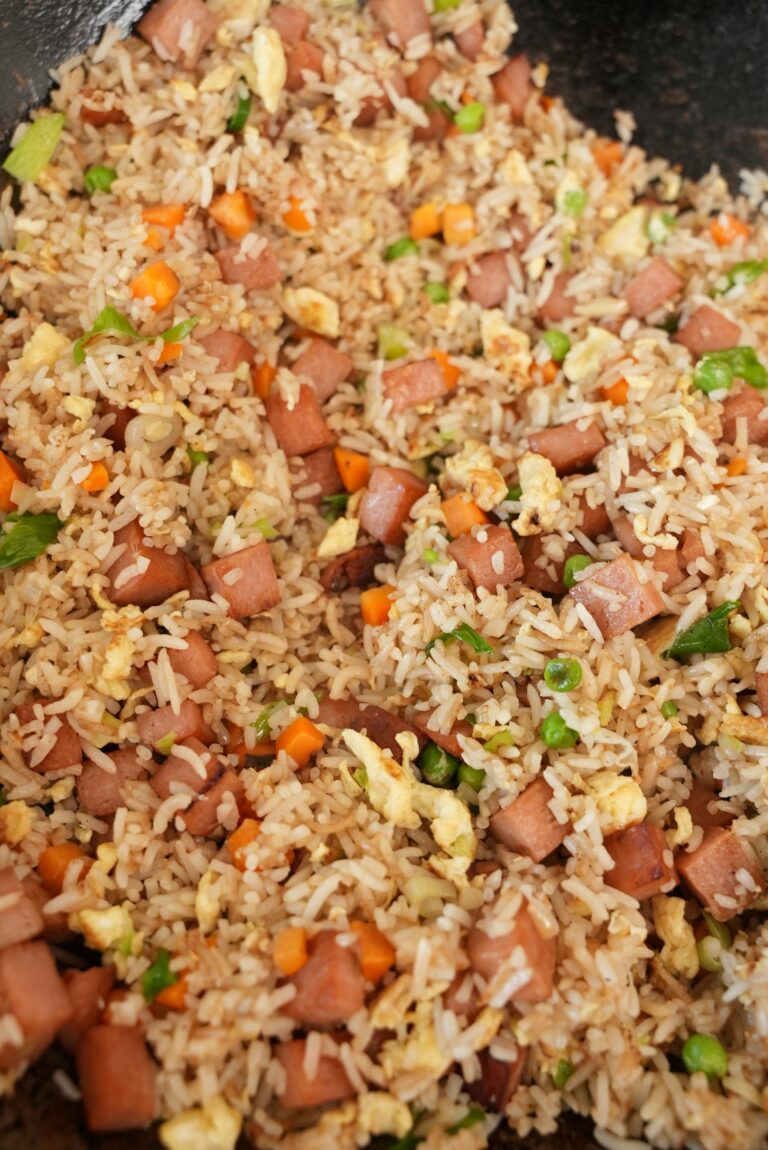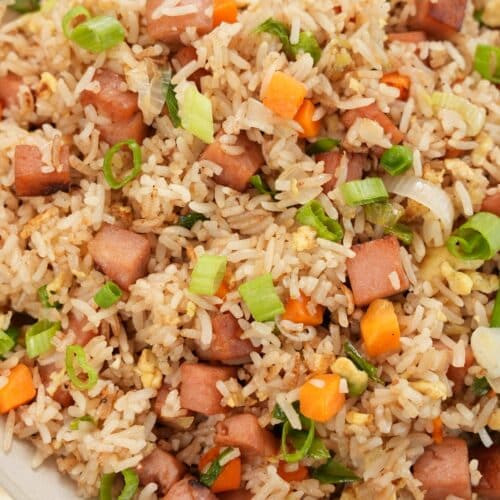 Spam Fried Rice
The easiest and most delicious Spam Fried Rice! This comfort food in a bowl and it comes together in about 15 minutes!
Ingredients
2

cups

white rice

uncooked measurement

1

can

Spam

12 oz

3

eggs

1

cup

frozen veggies

4

scallions

greens and whites separated

1/2

tbsp

sugar

1

tsp

white pepper

1

tsp

kosher salt

1/4

tsp

msg

3

tbsp

low sodium light soy sauce

5

cloves

garlic

minced

1

tsp

sesame oil

sesame seeds

garnish

2

tbsp

neutral oil
Instructions
Dice spam into bite size pieces. In a wok or large pan, cook for over medium high heat in 1 tbsp neutral oil until crispy and the fat has rendered, about 2-3 minutes. Remove and set aside.

In the same oil, add garlic and scallion whites for 15 seconds, followed by frozen veggies for 1-2 minutes

Push the vegetables to the side and add 1 tbsp of neutral oil to the empty part of the pan. Add beaten egg until 80% cooked through and mix into the vegetables.

Add the rice and cook until dry over high heat. Season with soy sauce, salt, white pepper, sugar, msg. Add back cooked spam and toss until thoroughly mixed.

Finish with a drizzle of sesame oil and sesame seeds and enjoy!