Honey Sriracha Wings
---
May 11, 2022
---
If you can't tell by now, I absolutely LOVE chicken wings. They're a perfect ratio of that juicy chicken wing meat and crispy skin that create such an amazing bite. These crispy Honey Sriracha chicken wings were an amazing combination of sweet, savory and a nice subtle kick of spice from the Sriracha hot sauce! The marinade keeps the chicken incredibly juicy and they're double fried to get them EXTRA CRISPY!
I opt to skip any wet batter in this recipe because of the sticky, garlicky, soy marinade that I have found sticks well to the chicken and allows the batter to create a crispy coating when frying (letting those wings rest after dredging is a key tip that I'll talk about later). I hope you enjoy this recipe!
Watch the Honey Sriracha Chicken Wings Recipe Video Below!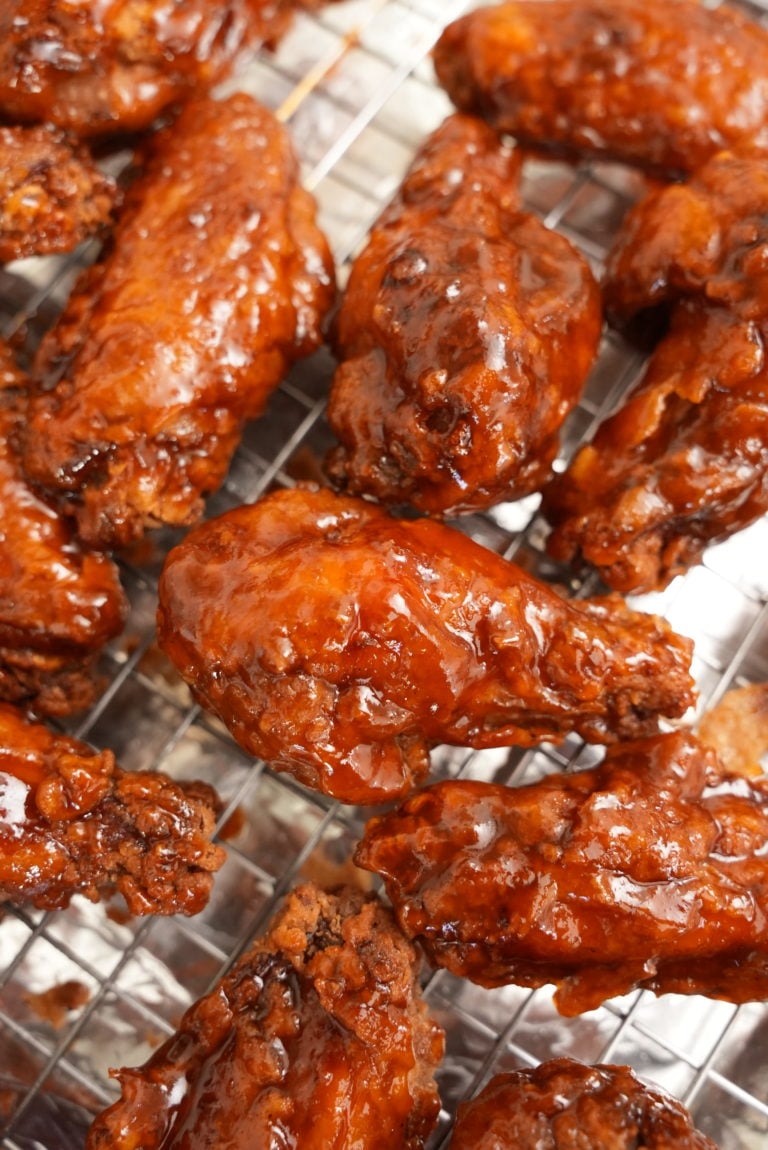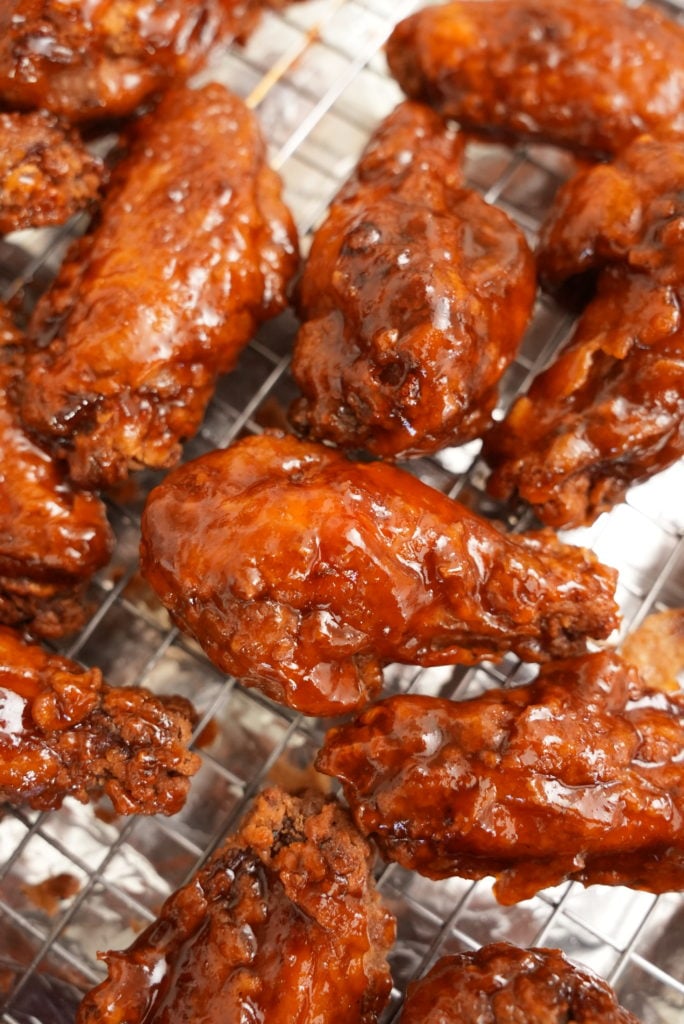 Marinating your Chicken Wings
One of my secrets to juicy chicken wings is the super flavorful marinade! Here are the ingredients you'll need:
Salt
White Pepper
Garlic
Ginger
Soy Sauce
Sesame Oil
I would recommend marinating your wings for at least 1 hour before dredging, but ideally, for the most flavorful wings, marinate them in a bowl the night before and let them sit in the refrigerator overnight before frying the next morning. They'll come out so much better, I promise!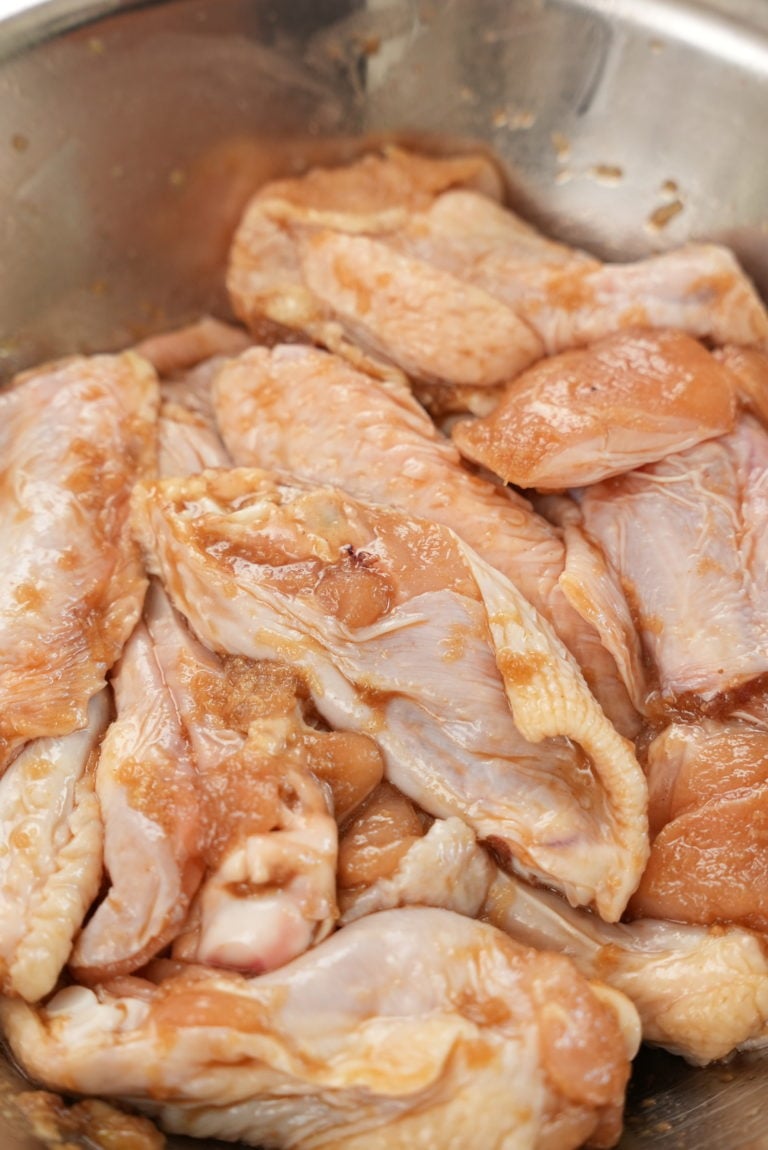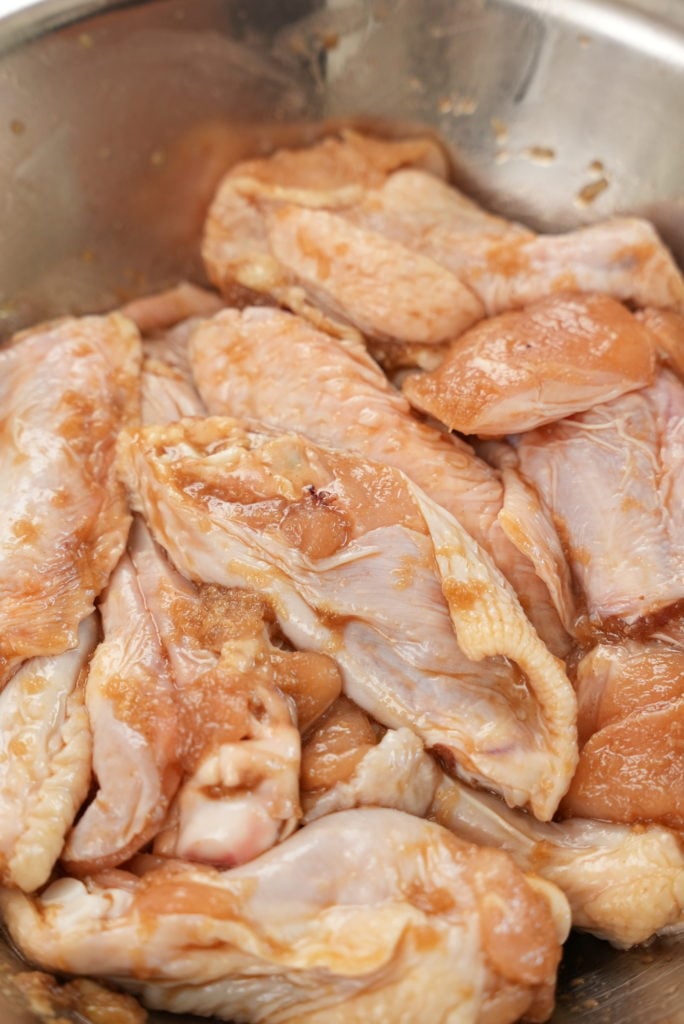 Dredge the Marinated Chicken Wings in Seasoning Mix
Once the chicken wings are marinated in that flavorful marinade, dredge them in the seasoning mix, which is that golden ratio of all-purpose flour, cornstarch, and baking powder. Prior to dredging the chicken, I like to add any leftover liquid marinade that hasn't been absorbed into the chicken in the seasoning mix (you can also use a couple tablespoons of water). Then with my hands, I'll rub that liquid together into the flour-cornstarch mixture to create extra little bits of dredge that help create more texture!
Really pack that dredge into the chicken so there are no bald spots on the chicken, and the batter sticks to the wings! The last thing you want is for the batter to fall off when frying.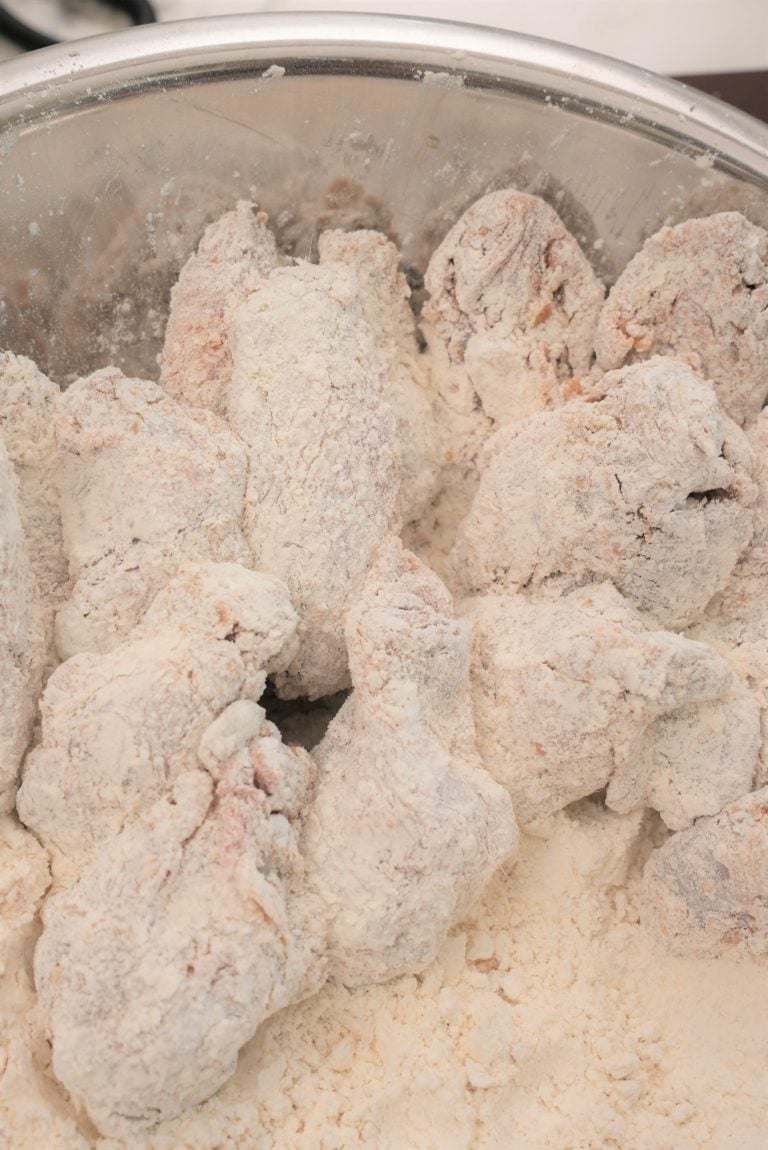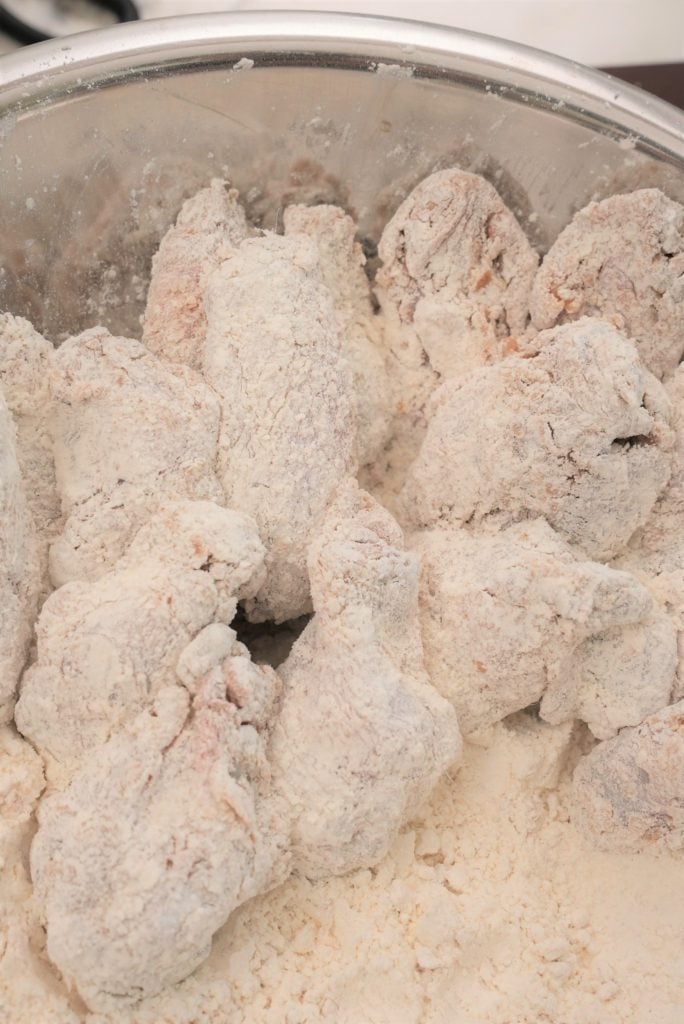 Let the Chicken Wings Rest after Dredging
Once the wings are thoroughly dredged in the seasoning mixture, let them rest on a foil-lined baking sheet for 10-15 minutes while you heat up your frying oil. I've found that this small but important step also helps keep the batter sticking to the chicken!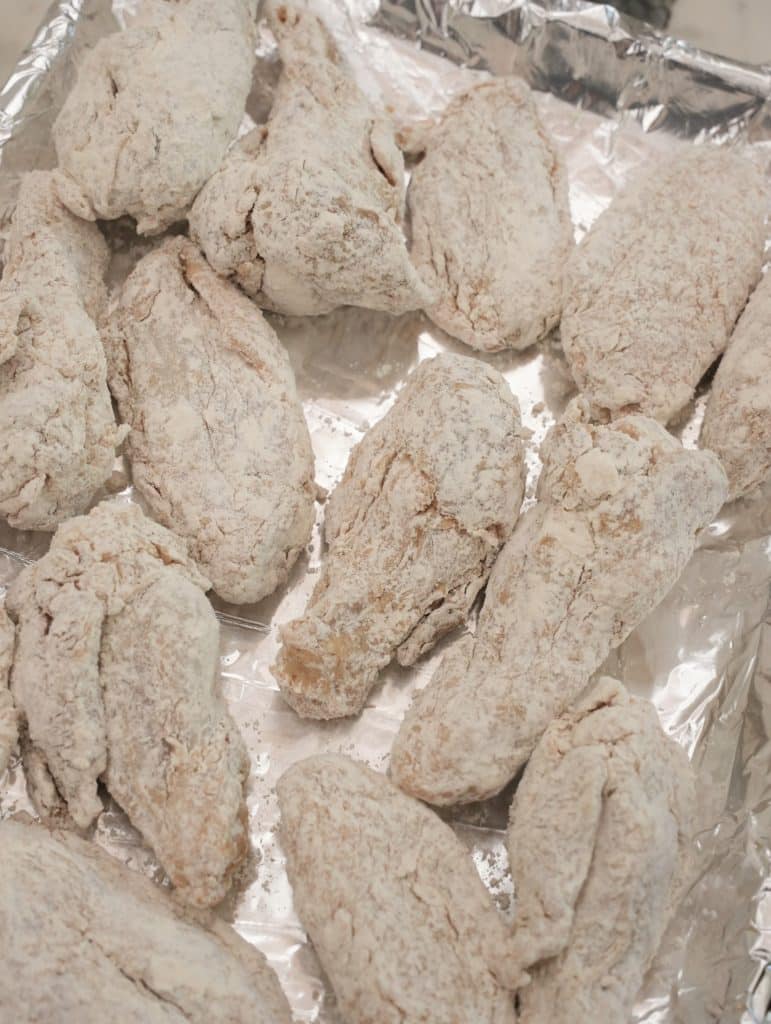 It's Time to Fry Those Wings!
Fry them once at 350F for 5-7 minutes and remove, then we will double fry them for another 2-3 minutes at the same temperature to give them an ultra crispy skin!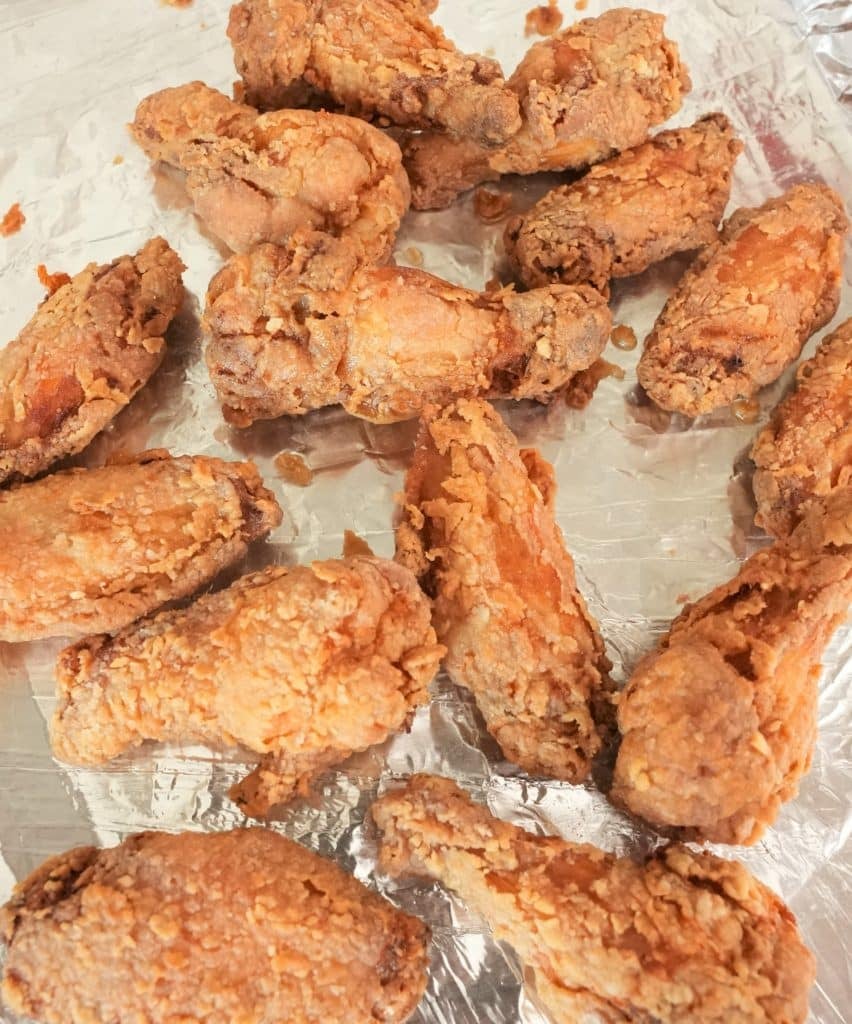 My Top Ingredient Tips for Honey Sriracha Wings
INGREDIENTS TIPS
FLOUR + CORNSTARCH + BAKING POWDER
My not-so-secret tip to the best fried chicken is a combination of FLOUR, CORNSTARCH, and BAKING POWDER. When mixed with the flour, the cornstarch makes the flour coating crispier and gives it that golden brown color! (It has to do with prevention of gluten development.) The baking powder reacts with the oil and creates tiny air bubbles, which also helps form a crispy coating. Traditionally, some cooks will recommend using sparkling water or egg but I think my mix works even better (and saves you time & extra steps!)
NEUTRAL OIL
My favorite neutral oil for frying is avocado oil, but you can also use canola or vegetable oil! I don't use olive oil when frying chicken (or anything, reall) for two reasons: 1. It has a low burning point and 2. olive oil does not have a neutral flavor profile, so it's not ideal for frying.
GARLIC AND GINGER
I highly recommend using fresh garlic and ginger for this recipe, but if you are in a pinch, feel free to use 1/2 tsp of garlic or ginger powder instead.
Combining the Honey Sriracha Sauce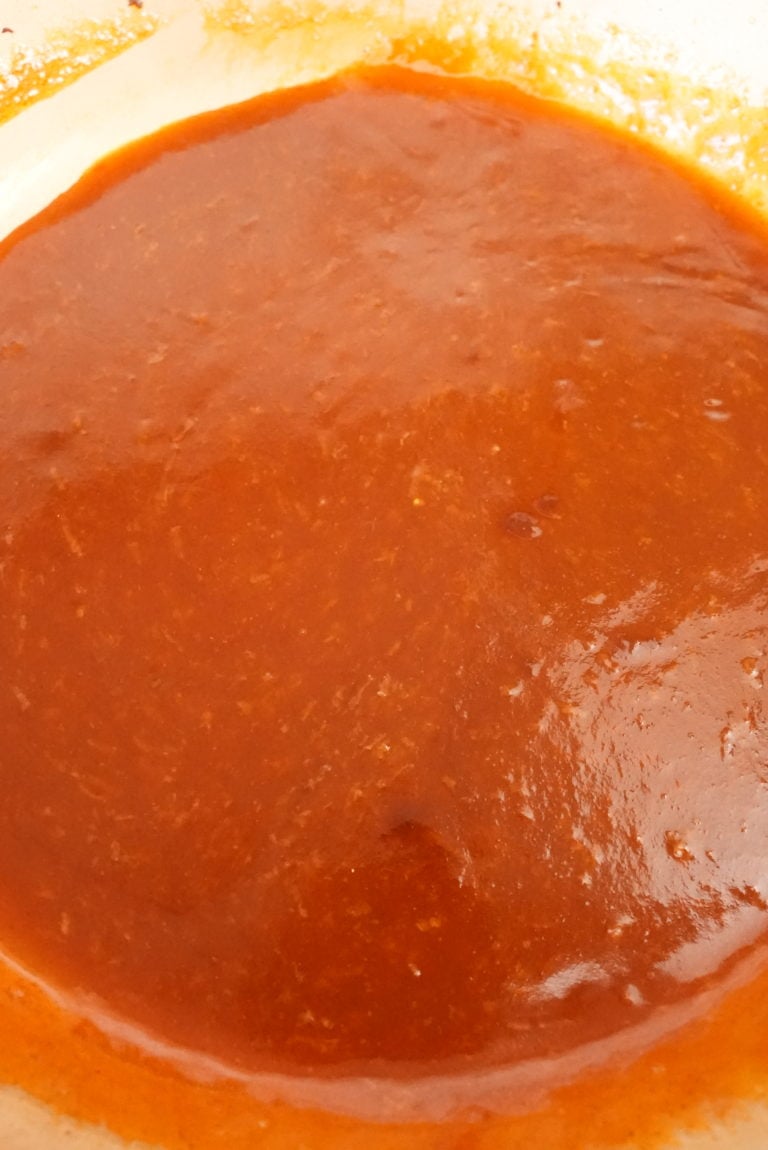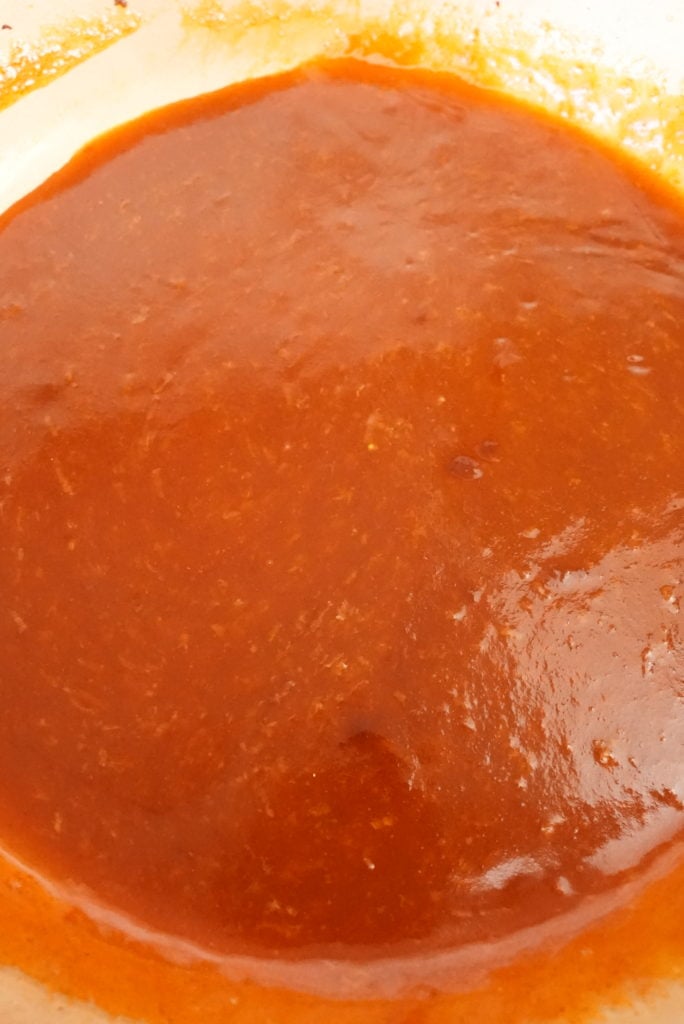 The sauce is quite simple to make on the stove top, and all you need is a medium sized saucepan or saute pan to create that sweet, spicy, sticky glaze:
Honey
Sriracha
Rice Vinegar
Brown Sugar
Soy Sauce
Water
Garlic
Neutral Oil
Cornstarch + Water (Cornstarch Slurry)
Add those ingredients into your pan or saucepan, then heat over medium heat for 4-5 minutes until bubbling. Add your cornstarch slurry and mix until thickened and the sauce is done! Glaze them all over your chicken wings and enjoy!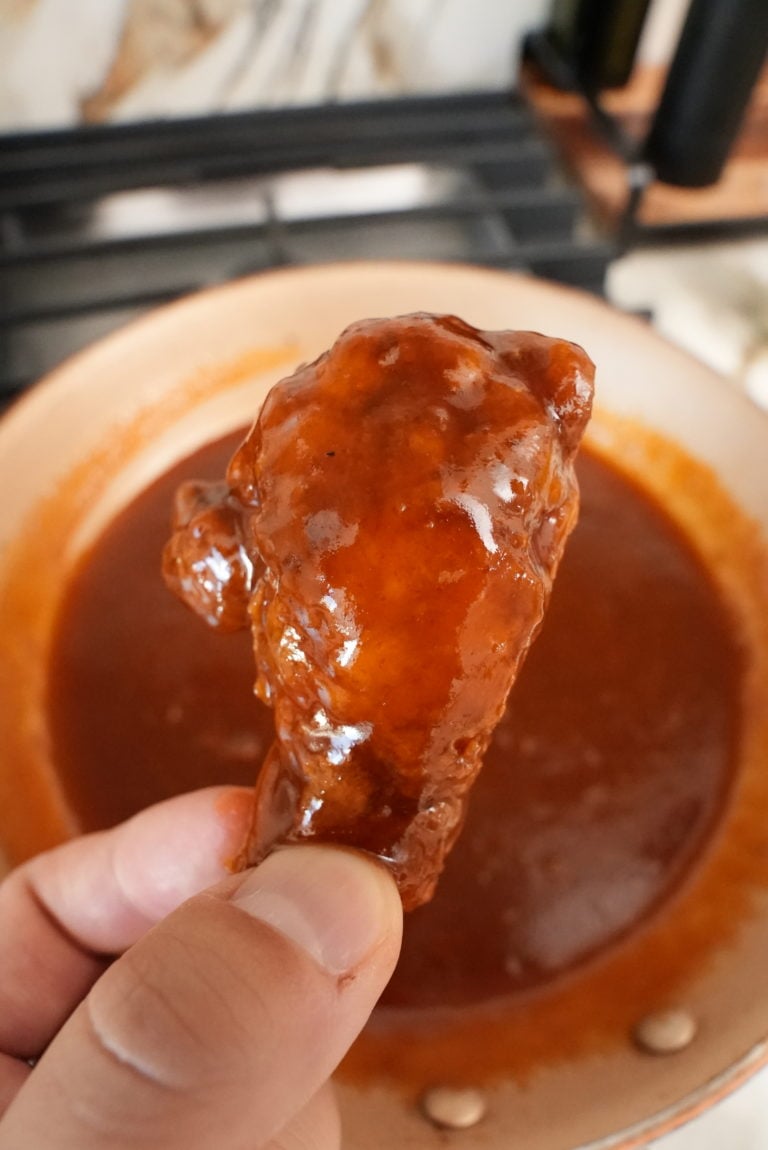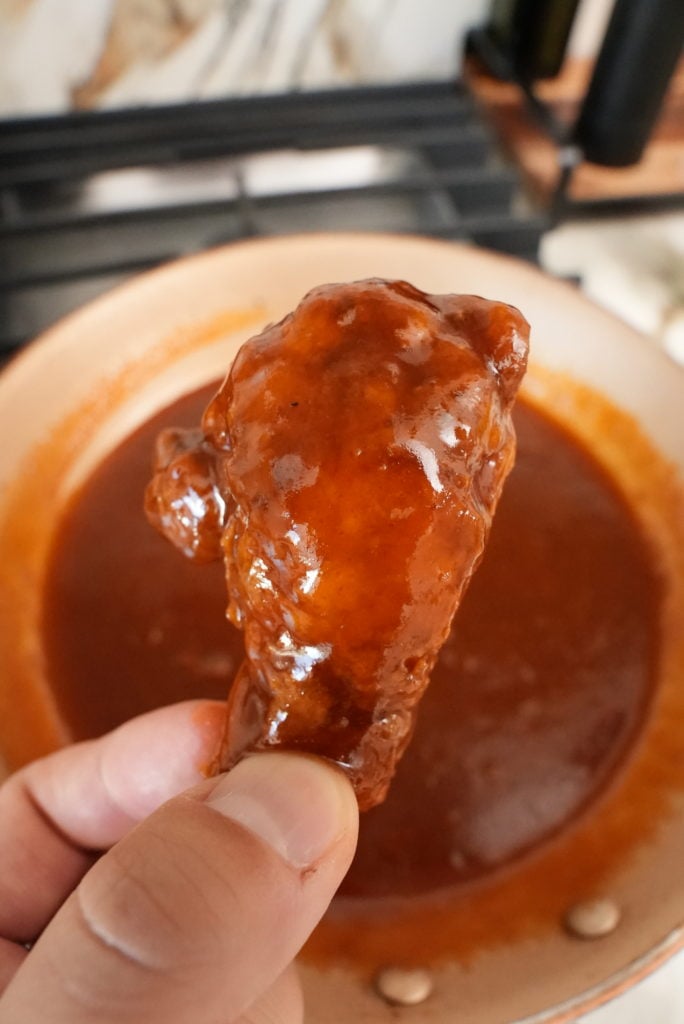 My Key Recipe Tips for Honey Sriracha Wings
RECIPE TIPS
CRAGGILY BITS
Add any leftover marinade (or 1-2 tbsp of water) to your seasoning mix (flour/cornstarch/baking powder) and rub them together to create the craggily bits we all love!
Adding a little bit of your water or marinade to your seasoned flour and rubbing together with your hands is key for extra texture! It will create small clumps that will stick to the chicken providing extra crunch (refer to video).
Make sure to spoon some of the leftover brine to your seasoning mix (flour/cornstarch/baking powder) and rub them together to create the craggily bits we all love! They'll stick to the chicken and create the perfect texture!
GRATE THE GARLIC AND GINGER
I highly recommend grating the garlic and ginger for the chicken wing marinade, rather than chopping or mincing. This will allow those aromatics to absorb into the chicken meat and create super flavorful chicken wings, as well as enabling the seasoning dredge to stick to the chicken! Chopping or mincing the aromatics won't have the same effect.
SAFETY FIRST
You are handling boiling hot oil in this recipe, so please be safe! Use a small sauce pan you can handle comfortably when heating up the oil and be careful when pouring (go slowly).
INTERNAL TEMPERATURE
If you are not a seasoned pro at cooking (and honestly, even if you are!) I would highly recommend you use a meat thermometer to check your chicken – you want the internal temp to be at 165F. Undercooked chicken can lead to food poisoning, so always err on the side of caution!
Honey Sriracha Wings
These Honey Sriracha Wings are crispy and juicy glazed with a sweet and spicy honey sriracha sauce!
Ingredients
Sauce
Oil
2

quarts

neutral oil

for frying
Instructions
Marinate chicken wings in a bowl with salt, white pepper, grated garlic, grated ginger, soy sauce, and sesame oil for 1 hour or up to overnight for best results.

In a large bowl, mix together the ingredients in the Seasoning Mix. Add a little bit of the leftover liquid marinade or water and rub them into the batter with your hands to create additional craggily bits.

Dredge the marinated chicken wings in the Seasoning Mix and press the coating in well with your hands to stick to the chicken. Place on a tray and let rest for 15 minutes while you heat up the oil.

In a heavy bottomed pot, heat frying oil to 350F and fry for 5-7 minutes and remove. Allow the oil to come back up to temperature, then double fry them for another 2-3 minutes.

Mix together the ingredients for the cornstarch slurry and your Sauce ingredients and set them aside.

In a medium saucepan, heat 2 tbsp of neutral oil and fry the grated garlic for 15 seconds. Then add the remaining Sauce ingredients and mix together. Simmer over medium heat for 4-5 minutes until the sauce has combined. Slowly add the cornstarch slurry then continue mixing until the sauce has thickened. Coat the wings in the sauce and enjoy!