Dry Fried Garlic Green Beans
---
April 24, 2022
---
These Chinese-style Dry Fried Garlic Green Beans are a delicious way to enjoy restaurant-style green beans! Chinese restaurants will typically flash fry their green beans to get that signature blistered effect, but this dry fry method uses less oil but achieves a very similar effect. Toss with tons of fresh garlic and you have an extremely delicious side dish that pairs well with pretty much anything! I hope you enjoy!
Watch the Dry Fried Garlic Green Beans Recipe Video Below!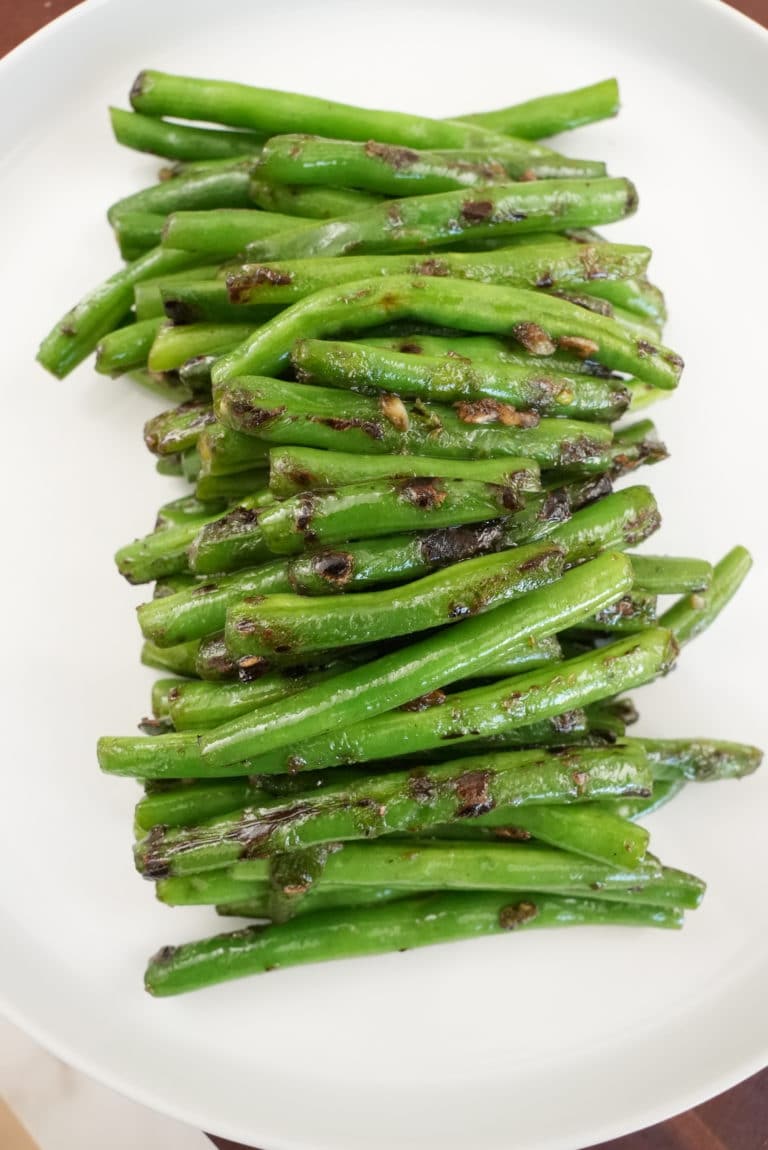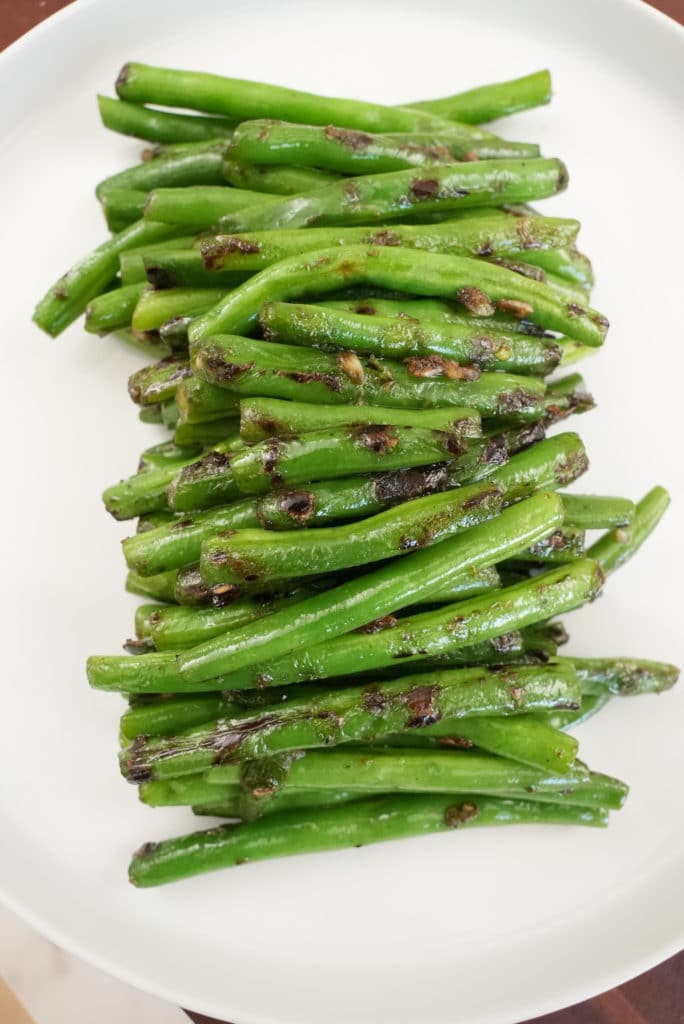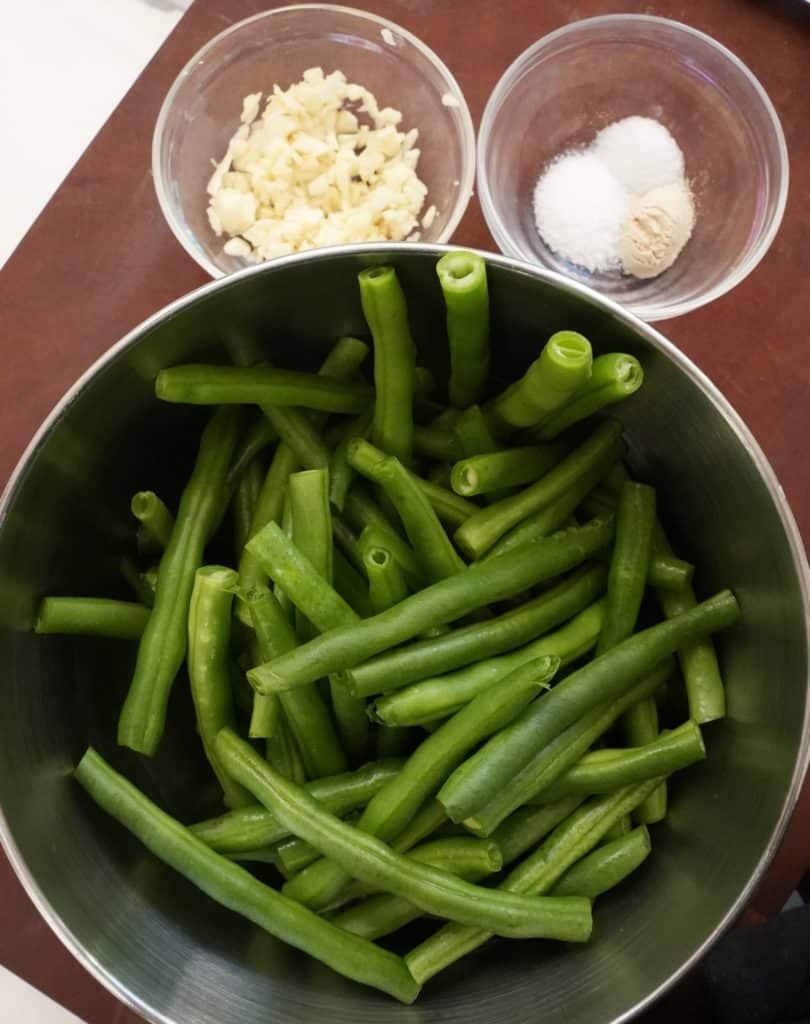 These "dry-fried" garlic green beans are a perfect side that goes with some many dishes! You only need a couple ingredients to make perfect green beans. Here are the ingredients you'll need:
Green Beans
Garlic
Salt
Sugar
White Pepper
MSG (optional)
Neutral Oil (I prefer Avocado Oil, but Canola, Vegetable, or Peanut Oil will work well too!)
INGREDIENTS TIPS
GREEN BEANS
After washing, I like to trim both ends by 1/8″ – this gives the green beans that 'restaurant' quality look!
WHITE PEPPER
I get asked all the time if you can sub black pepper for white pepper – and my answer is, it depends BUT you need to watch the ratio. White pepper has a milder flavor profile than black pepper, so it's a 1-1 substitute. I would start with less black pepper and add as you go. (But really, you should have white pepper in your pantry! It's a staple in mine!)
MSG
As always, this is optional 🙂
NEUTRAL OIL
My favorite neutral oil is avocado oil, but you can also use canola or vegetable oil! I don't use olive oil when cooking Chinese food for two reasons: 1. It has a low burning point and 2. I find that the flavor profile does not usually go with the dish.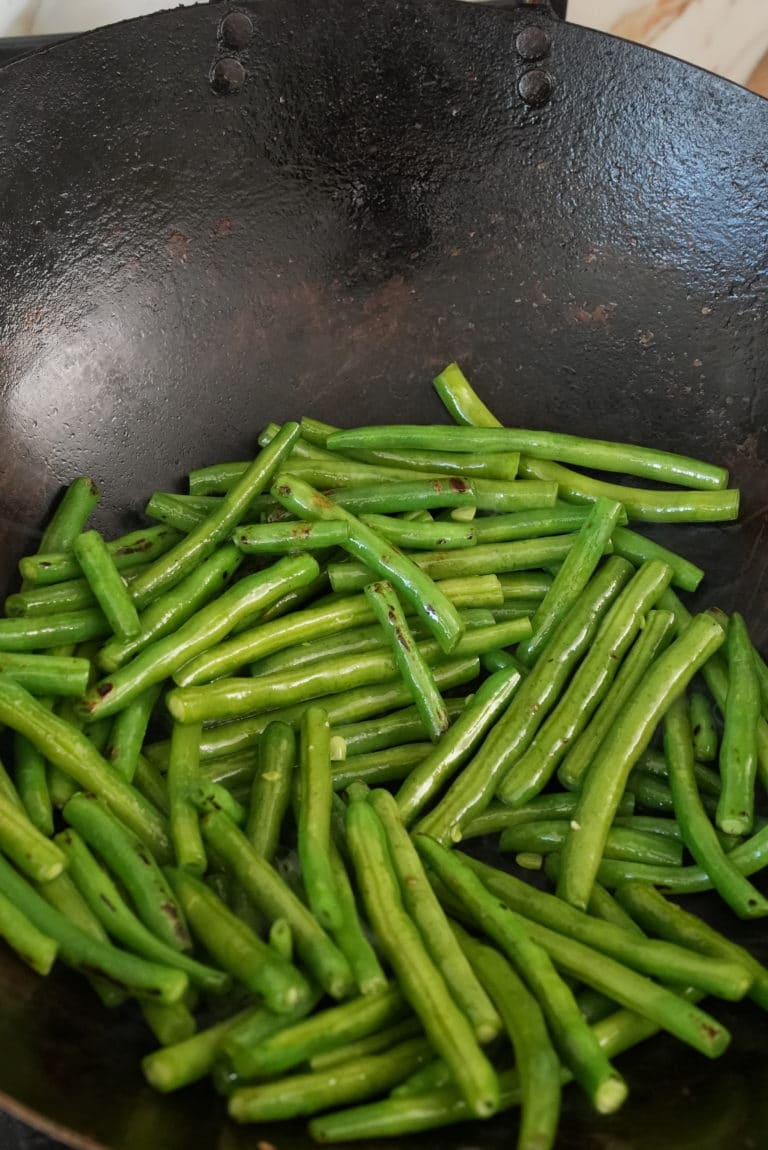 Cooking these green beans in a hot wok or pan with very little oil will still achieve a beautiful blistered texture while still keeping the green beans crisp!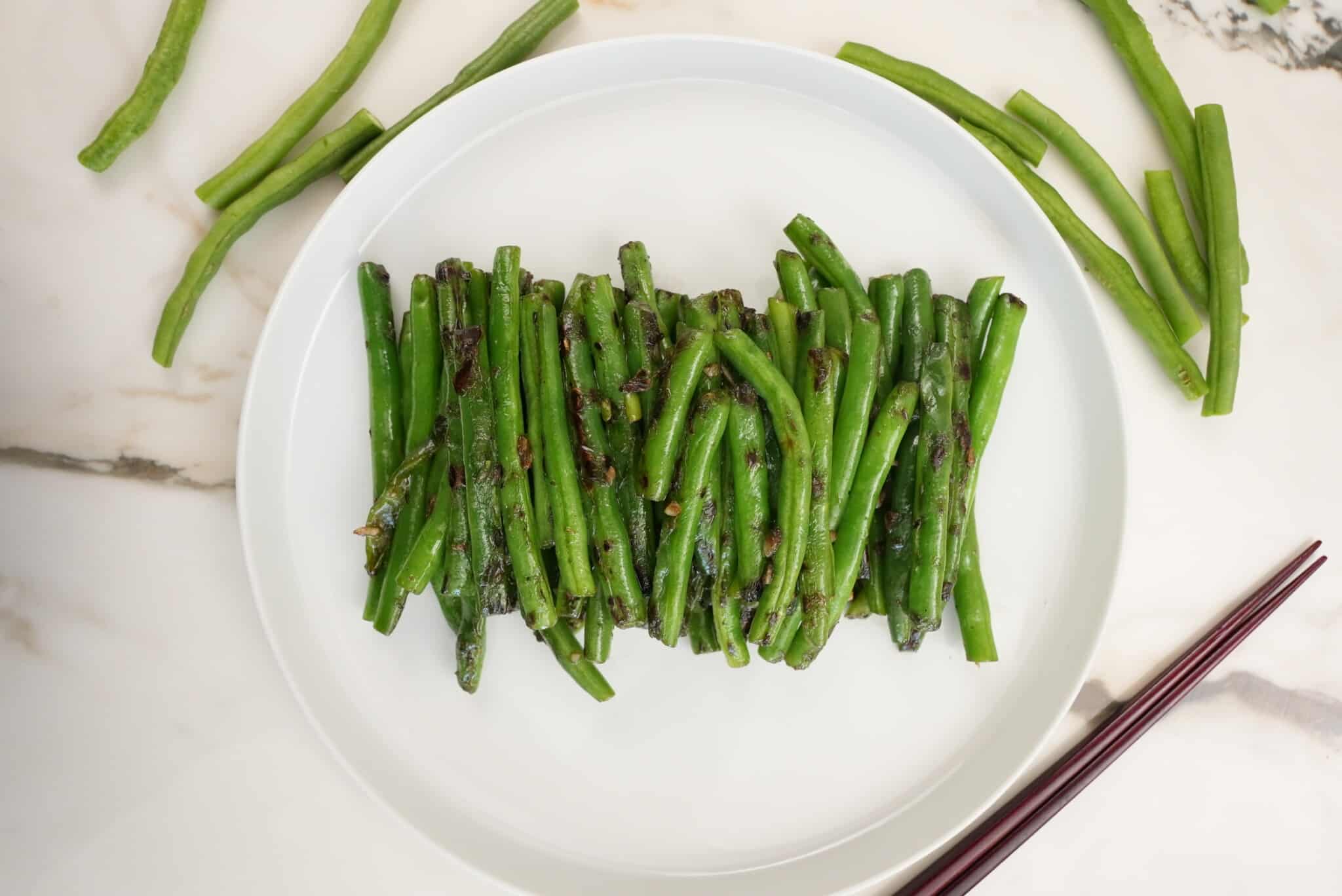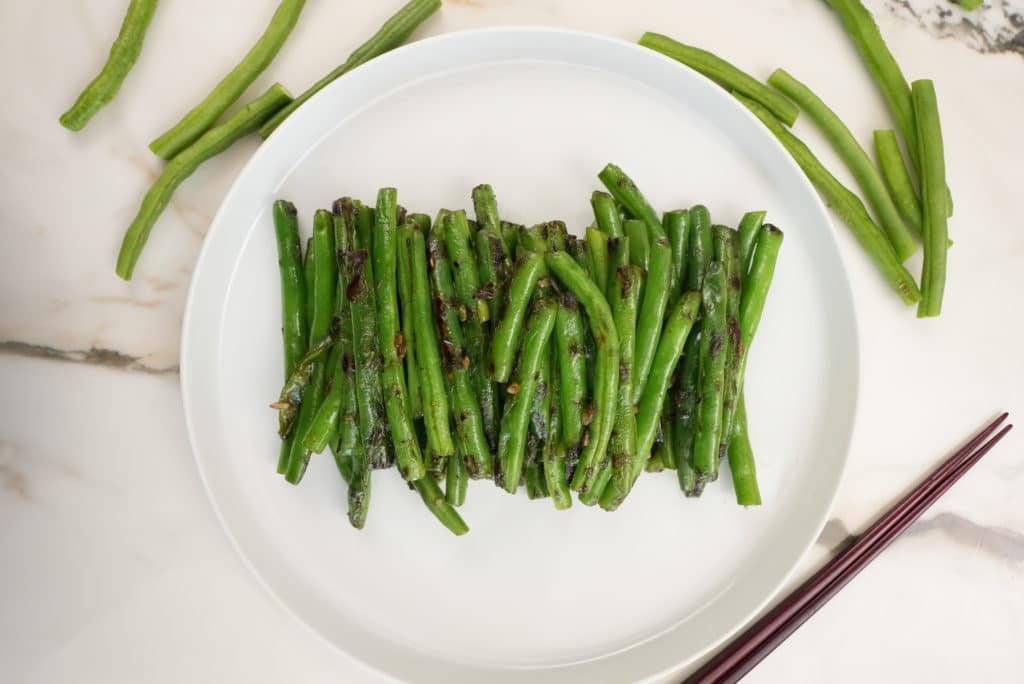 RECIPE TIPS
DRY FRYING
Dry frying is a technique where you use little or no oil and heat your wok (or pan) over high heat until you start seeing smoke. You'll sear your green beans until they're blistered – they will have a beautifully charred and smokey texture while still remaining crisp without having to deep fry.
MIND THE GARLIC!
After you cook your green beans, be extra mindful of the heat to ensure that you do not burn your garlic! Chopped garlic can go from cooked to burned very quickly, so it's important you keep a close eye! The garlic will continue to cook from the residual heat once mixed in with the green beans, so you only need to fry for a few seconds!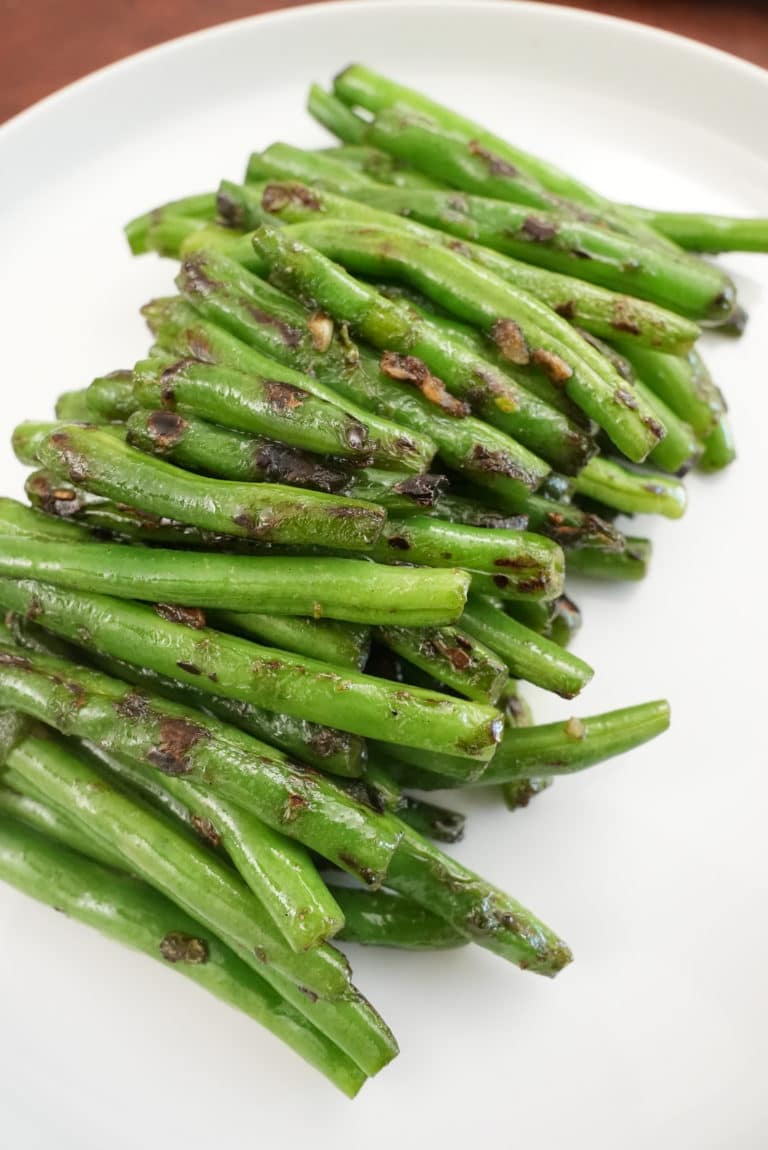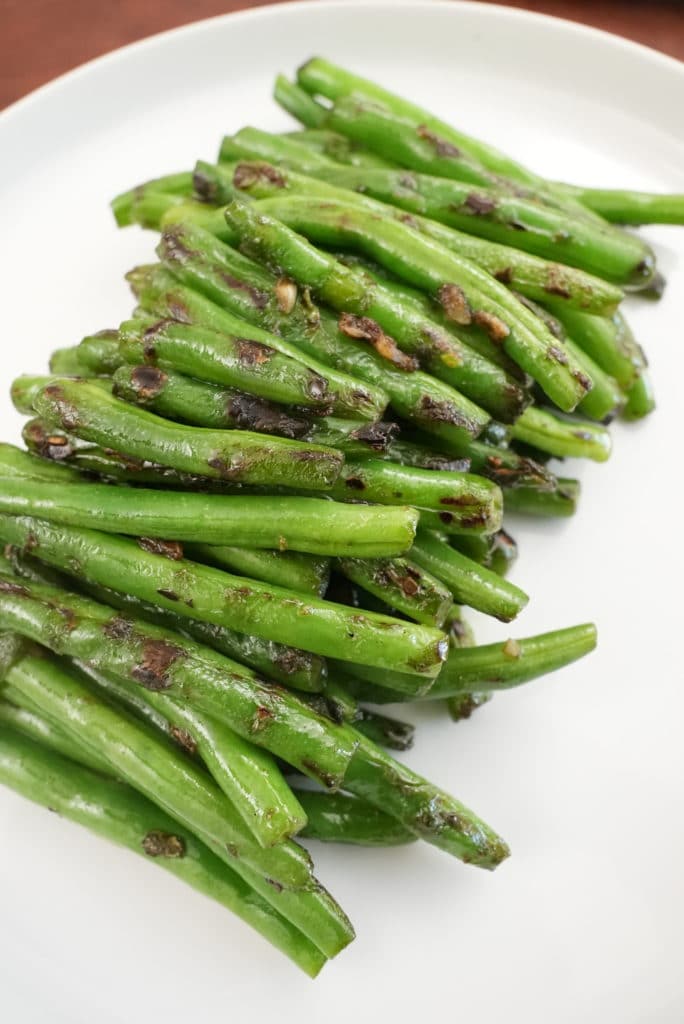 Chinese Dry Fried Garlic Green Beans
These Chinese-style garlic green beans are "dry fried", using a technique with less oil than your typical restaurant style green beans, but they come out equally delicious!
Ingredients
1

lb

green beans

washed and trimmed

1.5

tbsp

neutral oil

(I prefer avocado, but vegetable, peanut, or canola work here)

6

cloves

garlic

chopped

salt

to taste

1/2

tsp

white pepper

1/4

tsp

msg
Instructions
In 1 tbsp of oil over medium high heat, add your green beans and toss to coat in the oil (the pan should be relatively dry). Stir fry for 3-4 minutes until the green beans are slightly charred but still crisp and remove from the pan.

In the same pan, add 1/2 tbsp oil and fry garlic over medium heat until fragrant (do not brown).

Add the green beans, salt and white pepper and msg. Stir fry and mix for another 30 seconds over high heat and serve immediately.