Chinese Silken Tofu
---
June 3, 2022
---
With summer coming up, this Chinese Silken Tofu is a perfect cold tofu dish that's savory, spicy, and so delicious. The soft tofu soaks up the chili oil dressing and is such a great dish to eat by itself or as a side dish!
I love this Chinese Silken Tofu dish because it's incredibly easy to put together in less than 10 minutes. It's as simple as slicing your tofu, mixing the dressing, and pouring it over the tofu! It's such a simple and flavorful dish to put together.
Watch the Chinese Silken Tofu Recipe Video Below!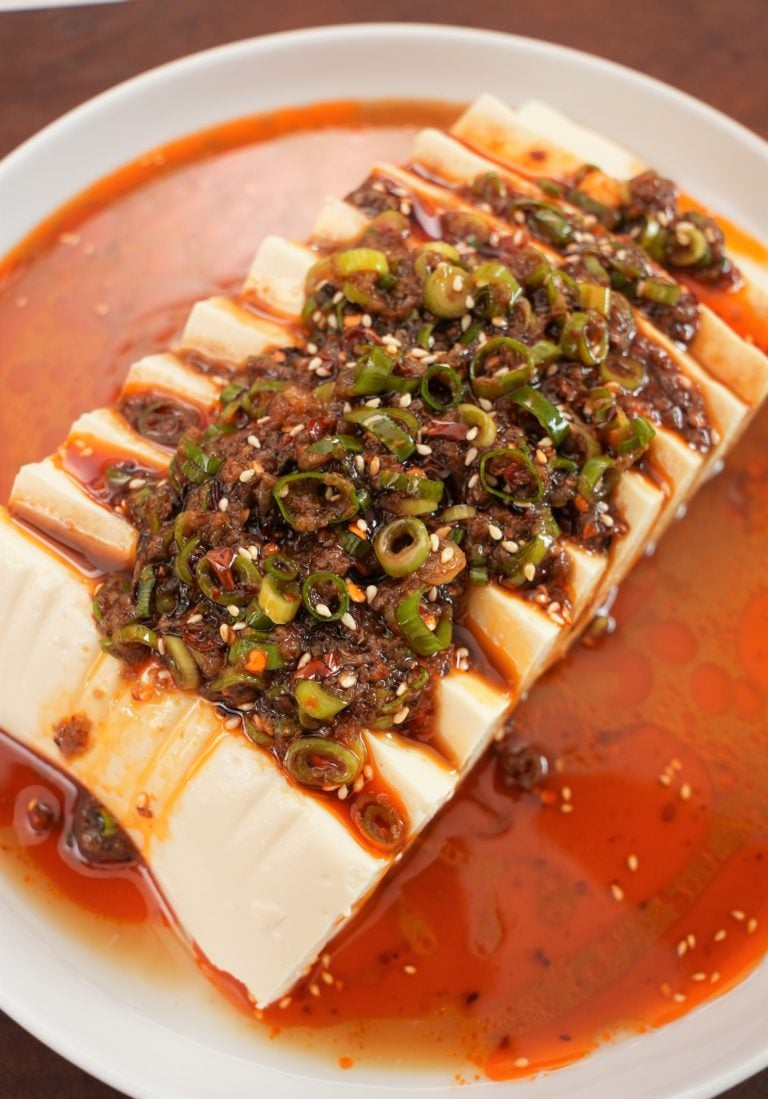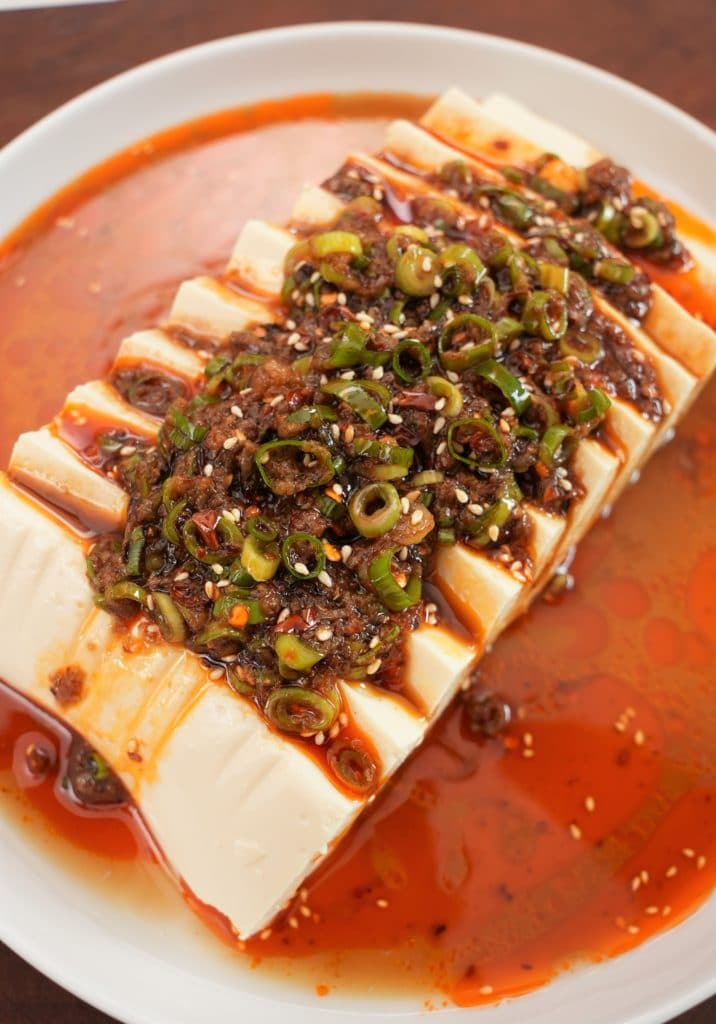 Which Tofu Should You Choose For Chinese Silken Tofu?
Typically, when you go to Asian markets, the tofu is in the refrigerated section and can be a bit overwhelming because there are so many different kinds of tofu!
The varieties you'll see in supermarkets typically range from soft to firm based on the water content in the tofu (softer tofu has more water content). Below are a few common types and which dishes they are best for:
Silken/Soft Tofu
This type of tofu has the most water content and will be the softest of the varieties you'll find in your grocery store. It's silky and very pliable due to this high water content, similar to the consistency of a soft cheese. This is the type of tofu you'll need for Chinese Silken Tofu!
Regular Tofu
Regular tofu is typically best for soups and stewed and is a very middle of the road tofu in terms of firmness. You want to use this tofu if you want it to soak up any sauce or braising liquid in your dish.
Firm/Extra Firm Tofu
Firm or extra firm tofu is the variety with the least amount of water content. The tofu is dense, similar to the consistency of meat, and is perfect for dishes like my Mapo Tofu recipe. It's also great for pan-frying or deep frying!
Make Your Chinese Silken Tofu Dressing
You'll only need a handful of ingredients to create this incredible dressing! These are probably items you already have in your pantry. Here is what you'll need for the marinade:
Light Soy Sauce (I use reduced sodium)
Chili Oil (I used my homemade Sichuan Chili Oil)
Sesame Oil
Rice Vinegar
Sugar
Grated Garlic
Grated Ginger
Scallions
Sesame Seeds
The recipe for the chili oil dressing over your silken tofu could not be easier! In a small bowl, combine the soy sauce, chili oil, sesame oil, rice vinegar, sugar, grated garlic and ginger, chopped scallions, and sesame seeds.
Next, with a whisk or fork, mix together until thoroughly combined and that's it!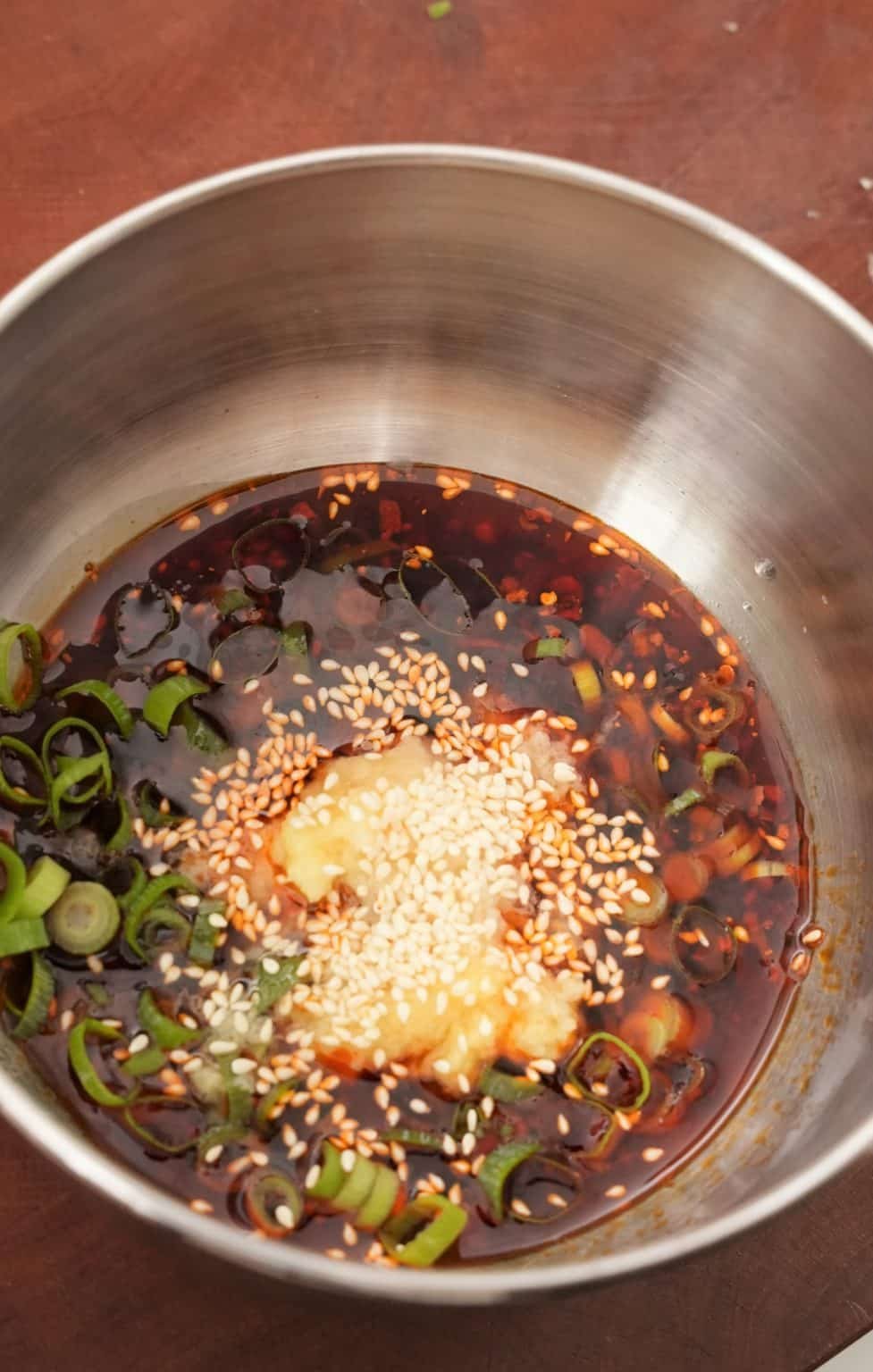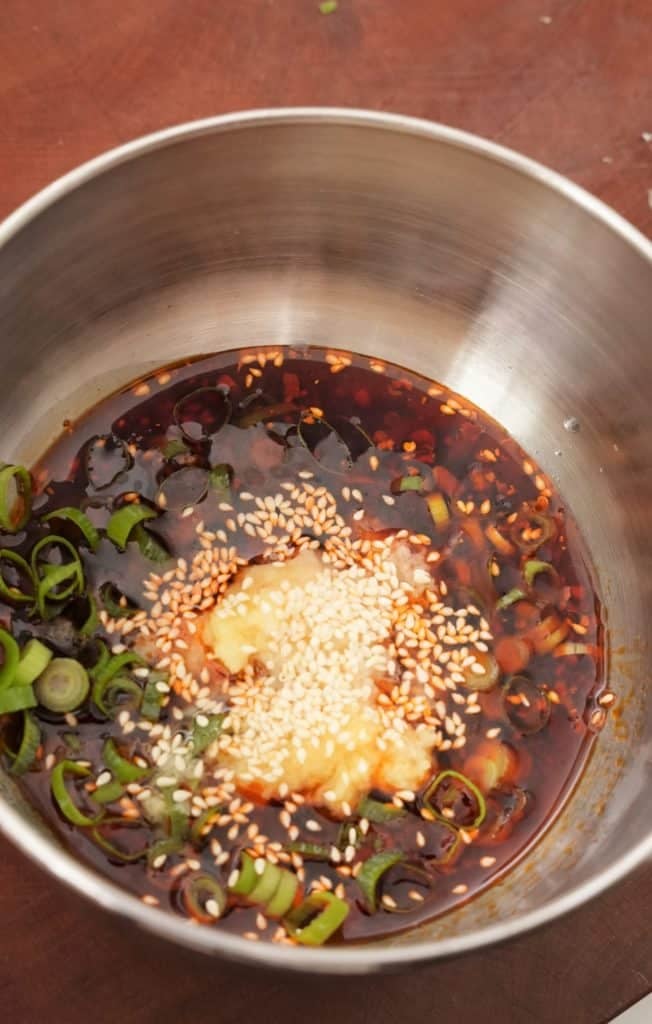 My Top Ingredient Tips for Chinese Silken Tofu
INGREDIENTS TIPS
LIGHT vs. DARK SOY SAUCE
Yes, they're different! Dark soy sauce is thicker, darker, and sweeter (as well as has a higher sodium content) than regular soy sauce.
CHILI OIL
I always get asked which brand of chili oil I use at home and my answer is – my own! I love making my own chili oil – check out my Sichuan Chili Oil recipe here! 
RICE VINEGAR
If you don't have rice vinegar, you can substitute here for distilled white vinegar.
RECIPE TIPS
MARINATE THE TOFU
The longer the tofu marinates in the dressing, the more flavorful it becomes! The tofu will soak up all the flavor from the dressing. Store them in the fridge for 2-3 days for an easy meal!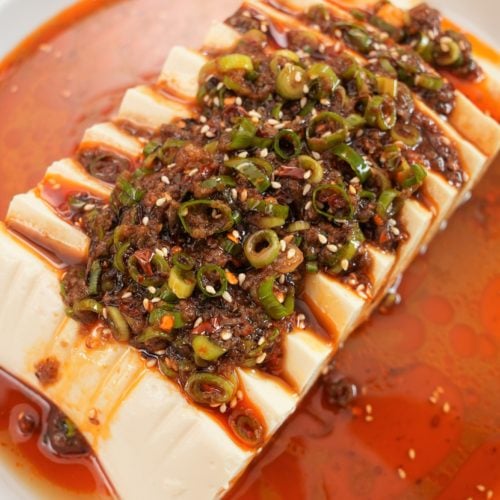 Chinese Silken Tofu
This Chinese Silken Tofu dish is a quick way to make a delicious, spicy cold tofu dish at home!
Ingredients
1

package of silken soft tofu

package size is 14oz

3

tbsp

soy sauce

2

tbsp

chili oil

1

tsp

sesame oil

1

tbsp

rice vinegar

1

tsp

sugar

1

tbsp

ginger

grated

2

cloves

garlic

grated

2

scallions

chopped

1/2

tbsp

sesame seeds
Instructions
Remove the tofu from the package and cut horizontally into 1/2" slabs.

Once the tofu is cut into slabs, transfer the tofu onto a plate and fan out the pieces at an angle.

Mix together soy sauce, chili oil, sesame oil, rice vinegar, sugar, garlic, ginger, scallions, and sesame seeds. Pour the sauce over the tofu and enjoy!
Nutrition
Calories:
379
kcal
Carbohydrates:
13
g
Protein:
7
g
Fat:
34
g
Saturated Fat:
5
g
Polyunsaturated Fat:
6
g
Monounsaturated Fat:
23
g
Sodium:
654
mg
Potassium:
253
mg
Fiber:
2
g
Sugar:
6
g
Vitamin A:
240
IU
Vitamin C:
7
mg
Calcium:
80
mg
Iron:
3
mg