3 Cup Chicken
---
November 24, 2021
---
This SWEET & SAVORY chicken dish is ALWAYS in my weeknight dinner rotation! It's so flavorful and delicious with a simple bowl of rice. And the best part is it's SUPER EASY to make!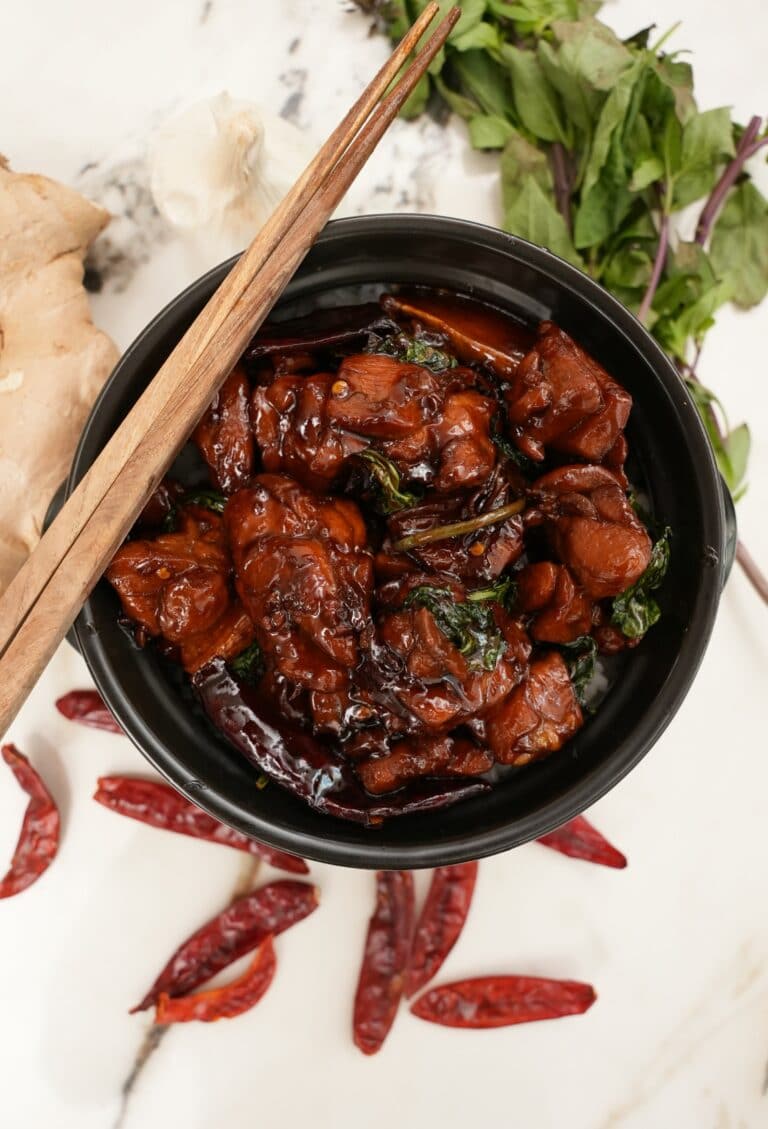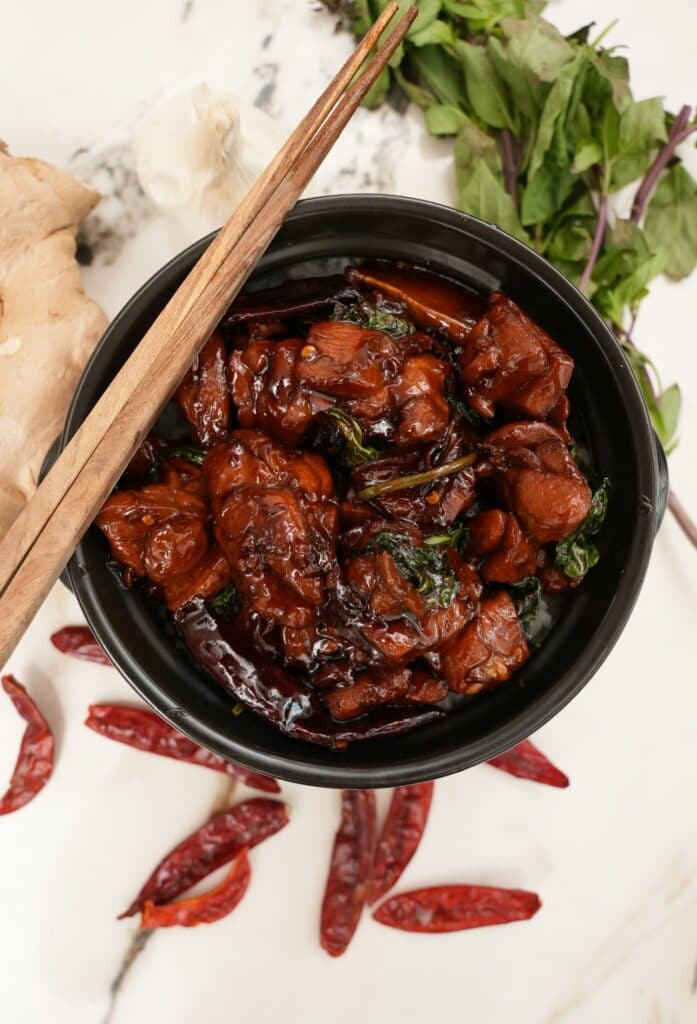 INGREDIENTS TIPS
SHAOXING WINE
If you cannot or do not want to use wine, you can sub with sherry, mirin, or chicken stock!
LIGHT SOY SAUCE vs. DARK SOY SAUCE
Yes, they're different! Dark soy sauce is thicker, darker, and sweeter (as well as has a higher sodium content) than regular soy sauce. Because I use these two ingredients at 1:1 ratio and there are so few ingredients in this recipe, there is not a substitute I can recommend 🙁
NEUTRAL OIL
My favorite neutral oil is avocado oil, but you can also use canola or vegetable oil! I don't use olive oil when cooking Chinese food for two reasons: 1. It has a low burning point and 2. I find that the flavor profile does not usually go with the dish.
BASIL
I have made this recipe to success with both Thai basil & regular basil! The only requirement is it must be FRESH basil!
MSG
As always, this is optional 🙂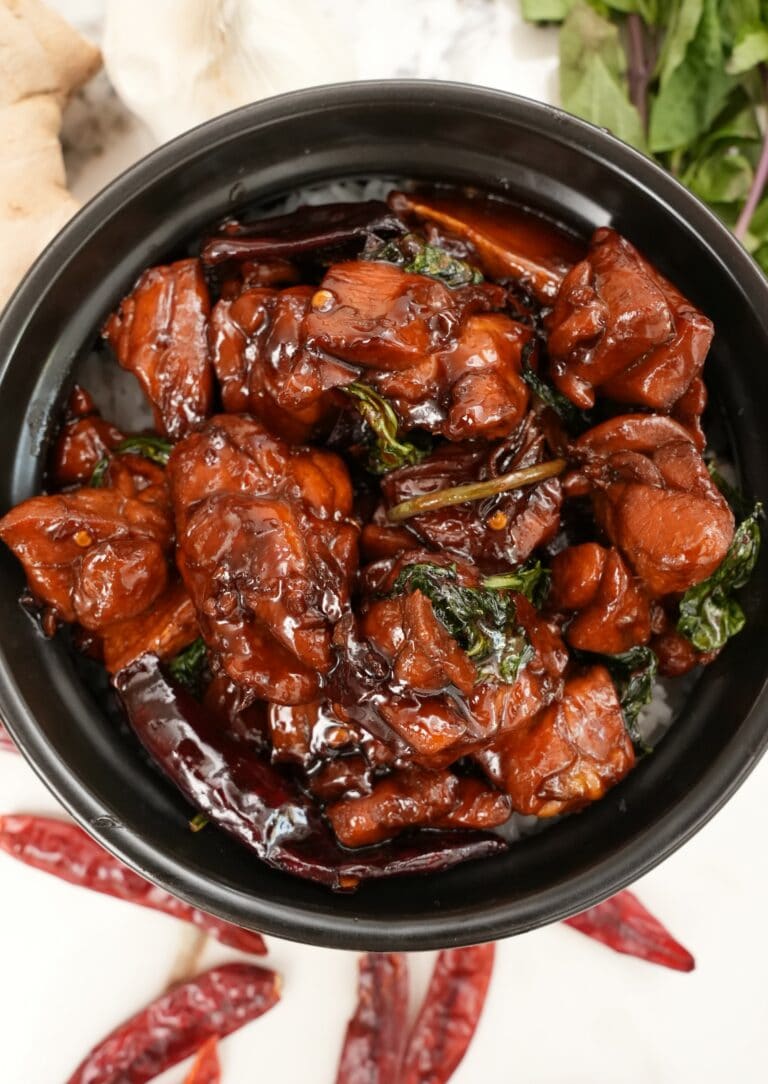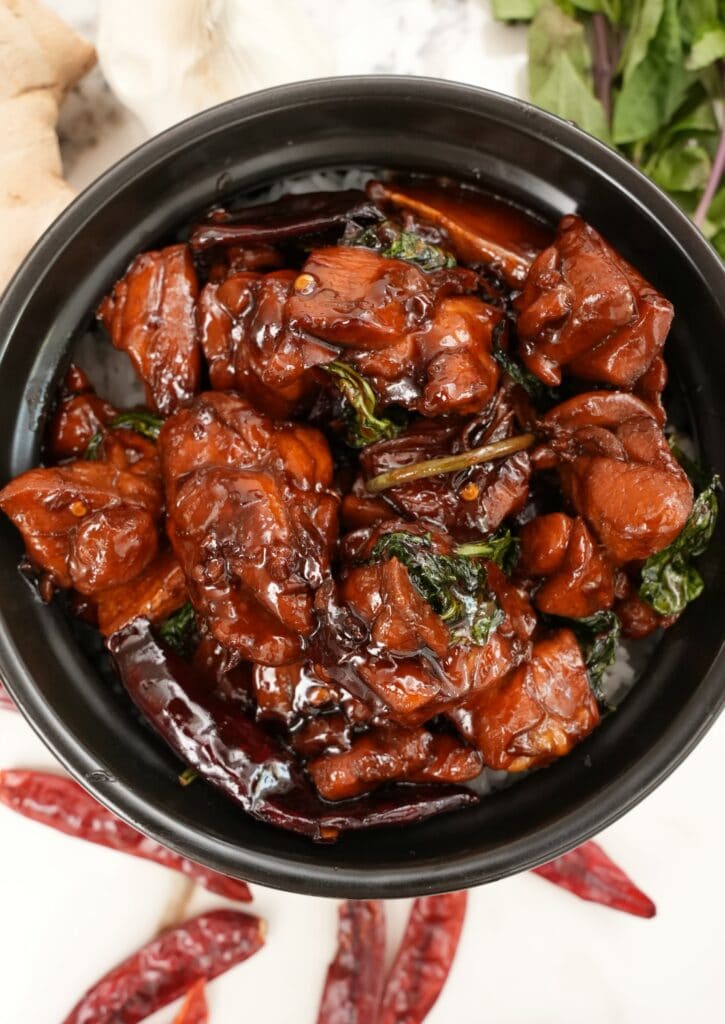 RECIPE TIPS
TROUBLE THICKENING?
If you find that your sauce is not thickening, simmer uncovered – this should help!
3 Cup Chicken
Ingredients
1.5

lbs

chicken thighs

cut to 2" pieces

1/4

cup

hot water

1/4

cup

shaoxing wine

2

tbsp

light soy sauce

1

tbsp

dark soy sauce

1/4

tsp

msg

optional

2

tbsp

sugar

1

tbsp

sesame oil
Aromatics
6

slices

ginger

6

cloves

garlic

4

dried red chilis

2

cups

fresh basil
Instructions
Cut your chicken thigh into 2" pieces and set aside, then prep your ginger, garlic, chili and basil and place in a separate bowl.

Premix your sauce by combining hot water, shaoxing wine, light and dark soy sauce, msg, sugar, and sesame oil.

In a large pot or dutch oven, heat 2 tbsp of avocado oil over medium high heat and fry your ginger, garlic, and chili for 30 seconds or until fragrant.

Add your chicken thigh and saute for 2-3 minutes until the chicken has slightly browned.

Add your premixed sauce and mix to combine. Bring to a rapid simmer and cover and turn the heat to medium low. Braise for 15-20 minutes until the sauce has thickened. Turn off the heat and add your fresh basil and combine until wilted. Serve over hot rice and enjoy!