Red Braised Pork
---
September 30, 2021
---
Red Braised Pork is a beautifully simple dish that requires only a handful of ingredients but packed with flavor! The pork is super tender, as it's braised in a sauce mixture that transforms into a beautiful red glaze. I always spoon some of the extra sauce over my rice when I eat this dish – trust me, you won't be disappointed!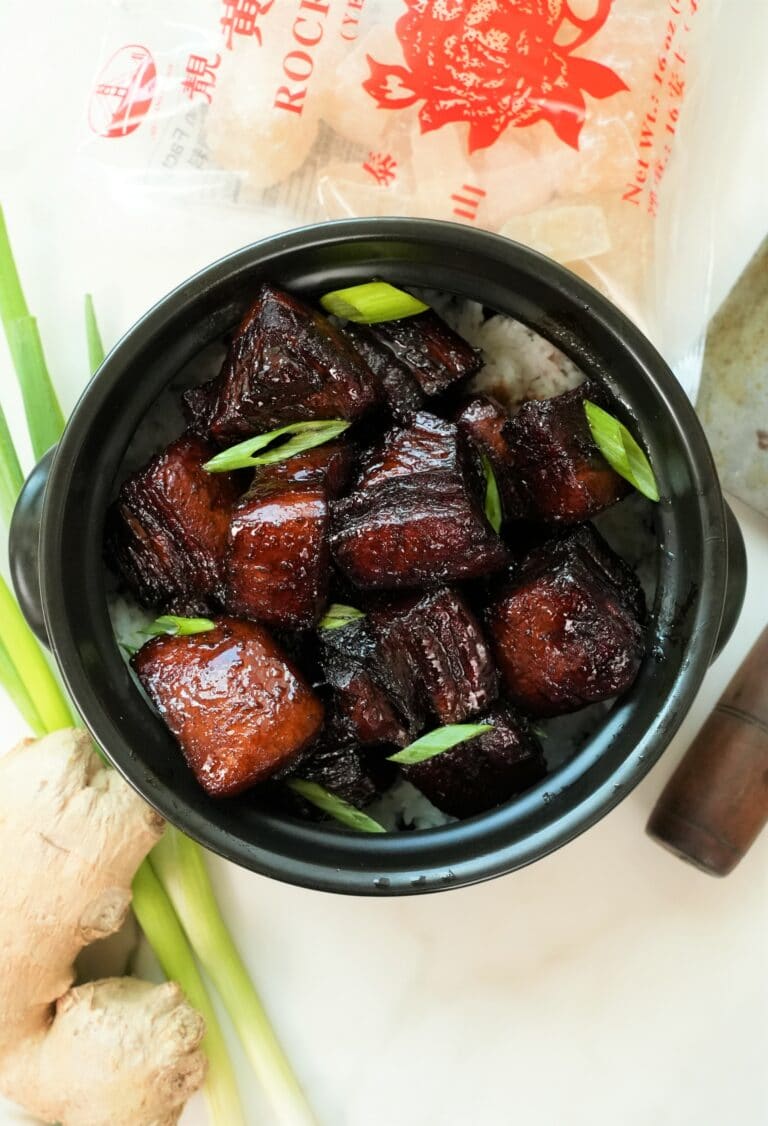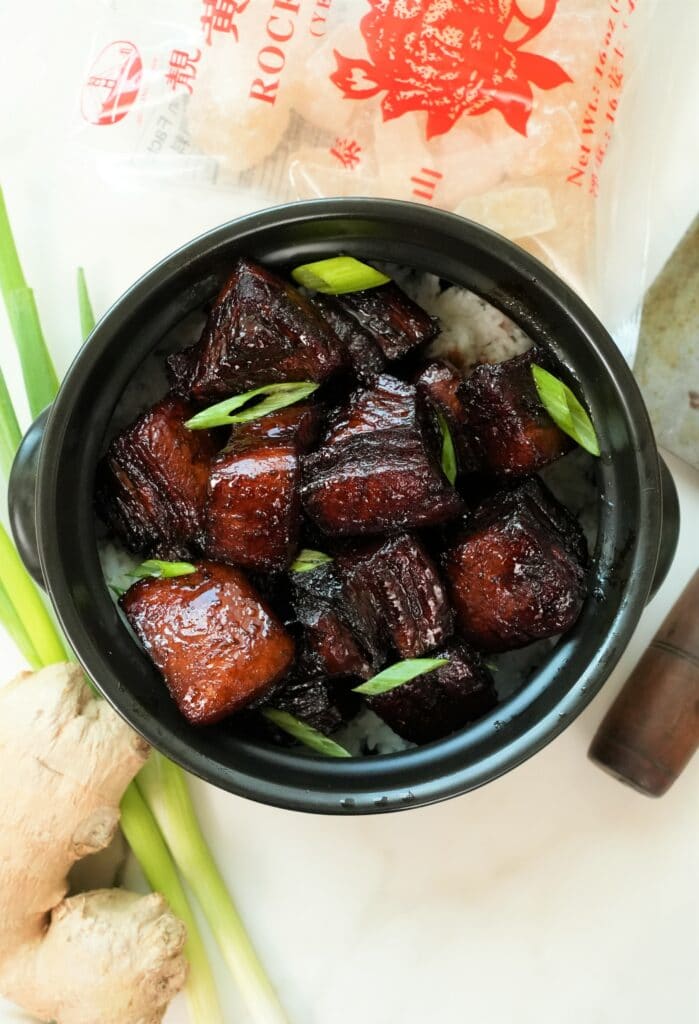 INGREDIENTS TIPS
PORK BELLY
xx
NEUTRAL OIL
My favorite neutral oil is avocado oil, but you can also use canola or vegetable oil! I don't use olive oil when cooking Chinese food for two reasons: 1. It has a low burning point and 2. I find that the flavor profile does not usually go with the dish.
ROCK SUGAR
If you're not familiar with rock sugar, they're produced in lumps and chunks of varying sizes and is usually pale gold in color. It's sweet, although not as sweet as granulated sugar, and is used in Chinese dishes to add a lovely shine (such as this one!) I purchase mine from 99 Ranch (it comes in a bag of small chunks) and once opened, I keep it in an airtight container (just like regular sugar). If you don't have rock sugar on hand or cannot find it, you can sub with regular white granulated sugar.
SHAOXING WINE
If you cannot or do not want to use wine, you can sub with sherry, mirin, or chicken stock!
LIGHT vs. DARK SOY SAUCE
Yes, they're different! Dark soy sauce is thicker, darker, and sweeter (as well as has a higher sodium content) than regular soy sauce. If you don't have dark soy sauce on hand, you can sub with oyster sauce.
RECIPE TIPS
IF THE SAUCE ISN'T REDUCING..
If you find that the sauce isn't reducing to a thick glaze, I would recommend you uncover and let it simmer. It may take a little bit longer to reduce due to higher water content in your specific piece of pork belly.
SIMMER ON LOW
You want to avoid burning the sauce, since it contains sugar. Make sure you are simmering on low and stir occasionally to ensure it's not burning!
Red Braised Pork
Ingredients
1.5

lbs

pork belly

cut into 2" cubes

2

tbsp

neutral oil

I used avocado oil

2

bay leaves

4

star anise

2

inch

ginger

sliced

40g

rock sugar

2-3" piece; sub 2 tbsp granulated sugar

1/4

cup

shaoxing wine

3

tbsp

light soy sauce

1.5

tbsp

dark soy sauce

2.5

cups

water
Instructions
Slice pork belly into 2" pieces and place in a pot of cold water. Bring to just before a boil to remove any impurities from the pork. Drain and remove any excess moisture from the pork with a paper towel.

In a wok or heavy bottom pan (dutch oven works great), heat 2 tbsp neutral oil over medium high heat. Add pork and cook for 2-3 minutes until the pork has a golden brown color.

Add sliced ginger, bay leaves, star anise and rock sugar to the pork and cook for 1 minute to let the spices infuse.

To your pork and spices, add 2.5 cups of water along with Shaoxing wine, light soy sauce, and dark soy sauce. Stir to combine and bring to a low boil and cover over low heat.

Stirring occasionally to ensure sauce does not burn, simmer for 1 hour or until sauce has become thick and caramel-like and pork is tender.

Serve immediately over hot rice and spoon over extra sauce.