Wontons with Spicy Peanut Sauce
---
July 14, 2023
---
These Wontons with Spicy Peanut Sauce will DEFINITELY elevate your wonton game! The filling in these delicious wontons are a flavorful combination of pork and shrimp, and they are perfectly complimented by a spicy, creamy peanut sauce!
This recipe is perfect for making a big batch of wontons and freezing them so they're good for a quick and easy meal!
Watch the Wontons with Spicy Peanut Sauce Recipe Video Below!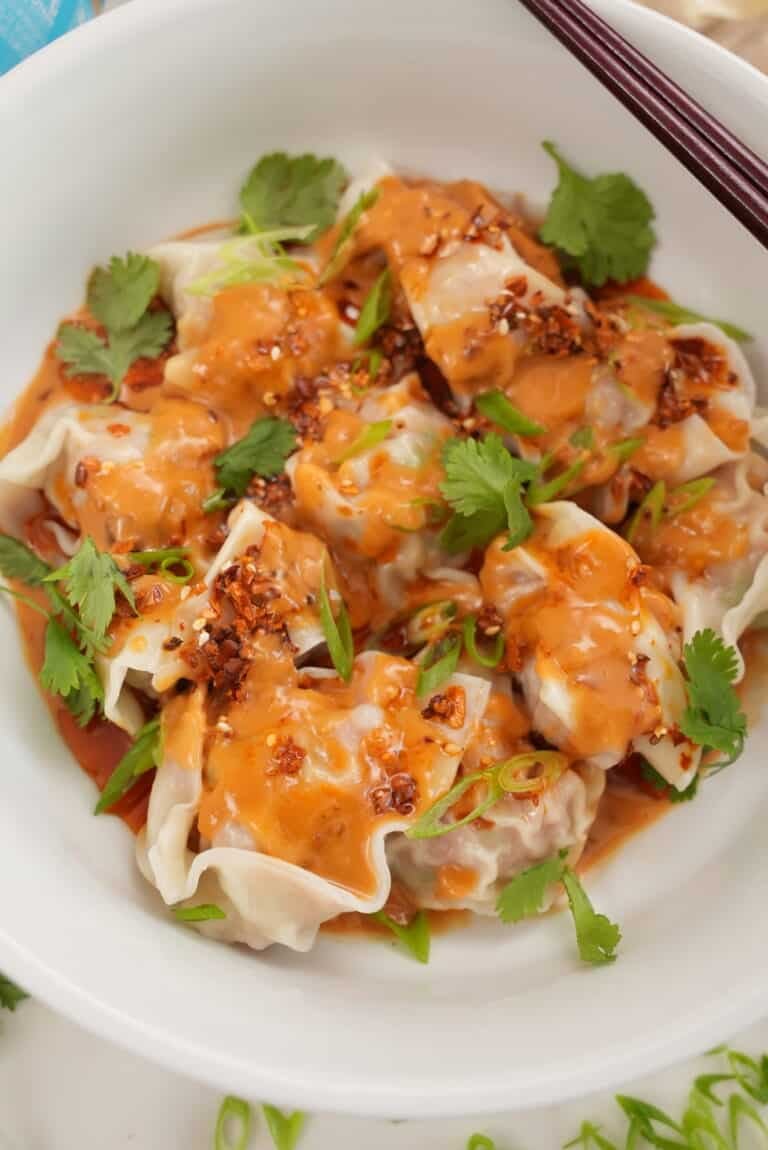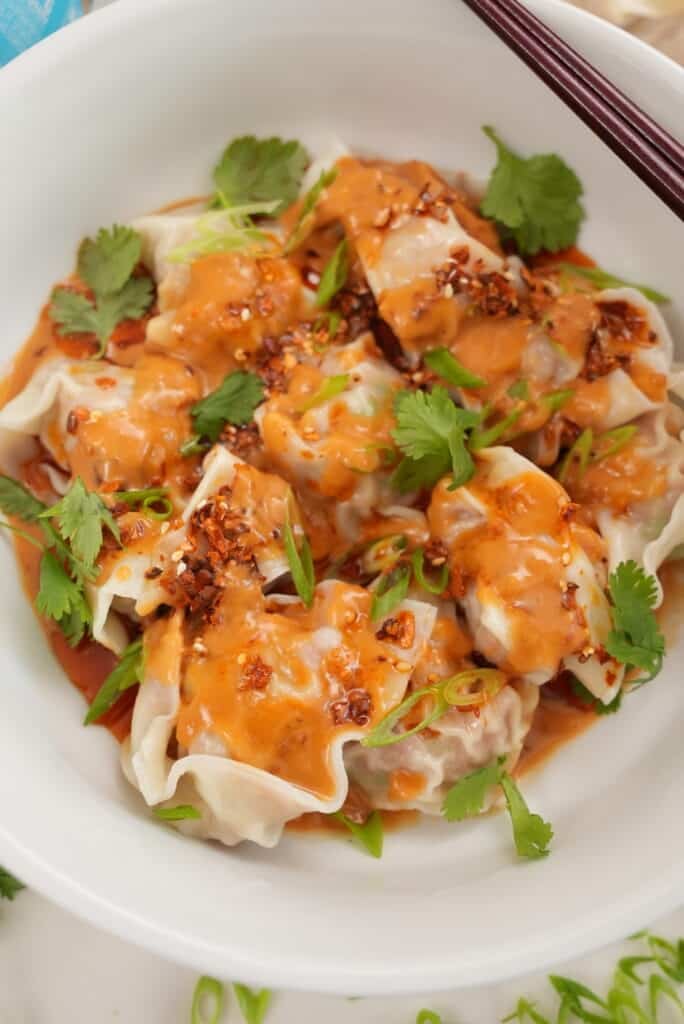 Ingredients for Wontons with Spicy Peanut Sauce
These Wontons with Spicy Peanut Sauce is such a comfort meal! You can make a large batch and freeze the extras which turn out just as well as preparing fresh wontons! Here is what you'll need:
Ground Pork
Shrimp
Garlic
Ginger
Scallions

Kosher Salt

White Pepper
Soy Sauce (I prefer low sodium)
Sesame Oil
Shaoxing Wine
Sugar
Wonton Wrappers
And for the sauce:
Creamy Peanut Butter
Chili Oil (store bought or try my homemade chili oil)
Soy Sauce
Rice Vinegar
Garlic
Sugar
Hot Water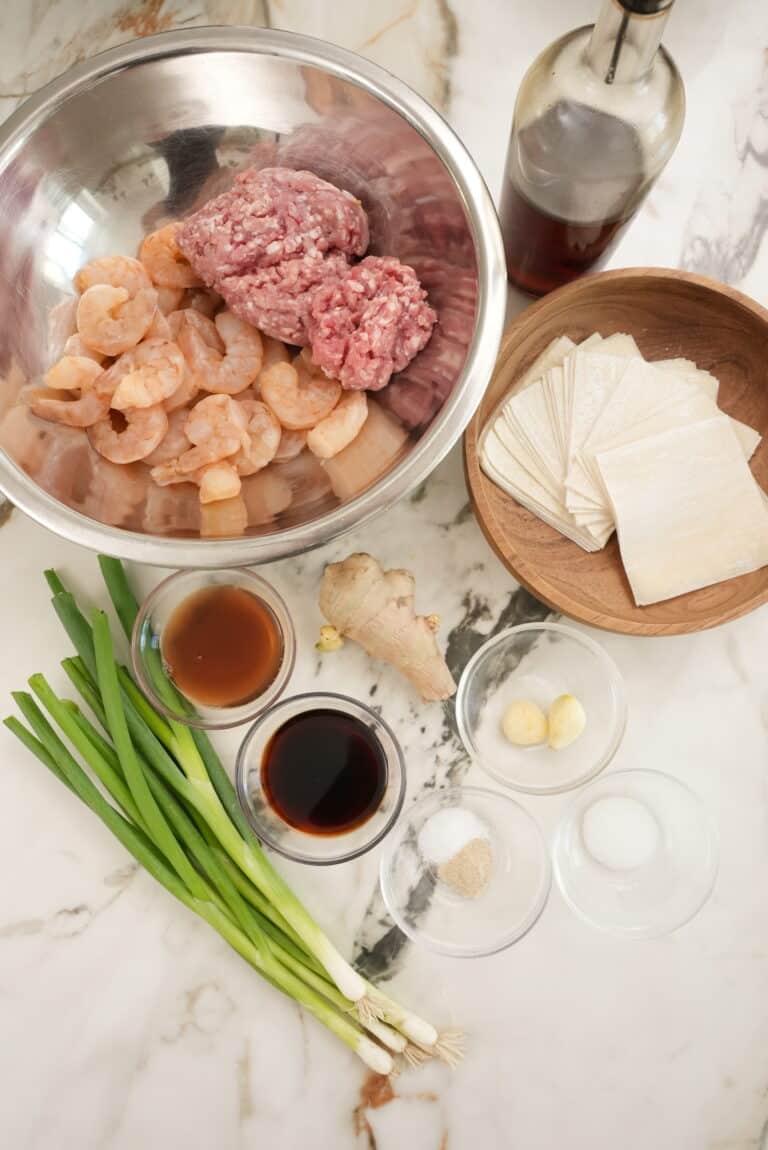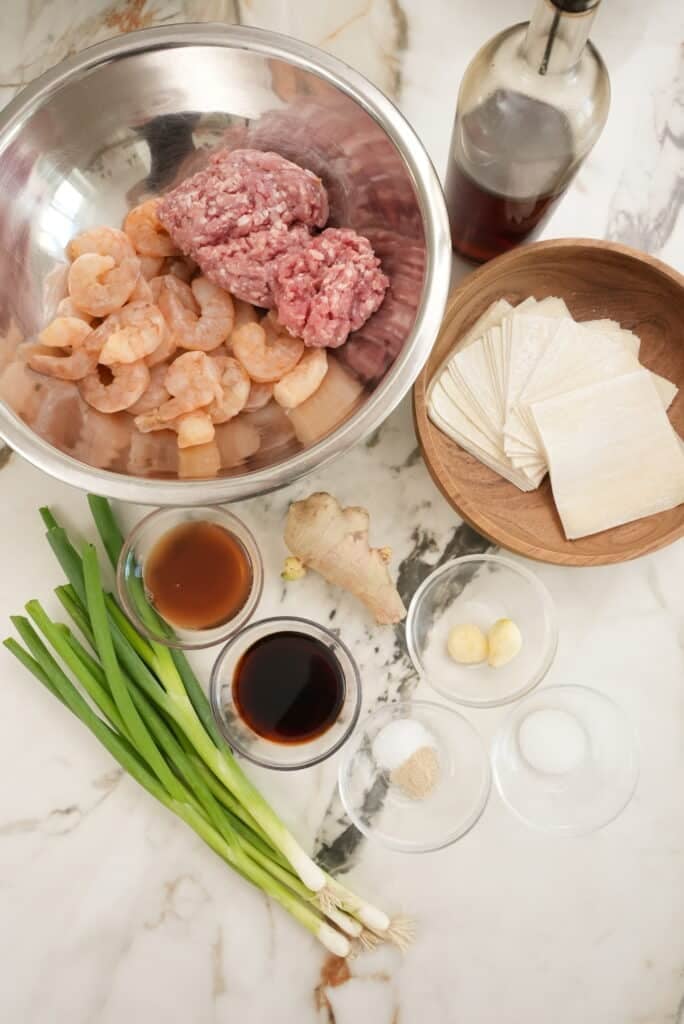 INGREDIENTS TIPS
GROUND PORK
While I have NOT tried this, some of my followers have said that they used ground turkey or ground chicken in place of the pork and the wontons turned out great! So, in case you are unable to eat pork or prefer not to, you can use a different ground meat of your choice!
WHITE PEPPER
I get asked all the time if you can sub black pepper for white pepper – and my answer is, it depends BUT you need to watch the ratio. White pepper has a milder flavor profile than black pepper, so it's a 1-1 substitute. I would start with less black pepper and add as you go. (But really, you should have white pepper in your pantry! It's a staple in mine!)
SHAOXING WINE
If you cannot or do not want to use wine, you can sub with sherry, mirin, or chicken stock!
WONTON WRAPPERS
I prefer store bought wrappers for ease and convenience.
Wontons with Spicy Peanut Sauce: Recipe Instructions
Mix the Sauce
First, we'll being by mixing our Spicy Peanut Sauce. In a bowl, combine SKIPPY® Creamy Peanut Butter Spread, chili oil, soy sauce, rice vinegar, sugar, grated garlic and hot water to loosen up the sauce. You're going for a creamy consistency, like pancake batter.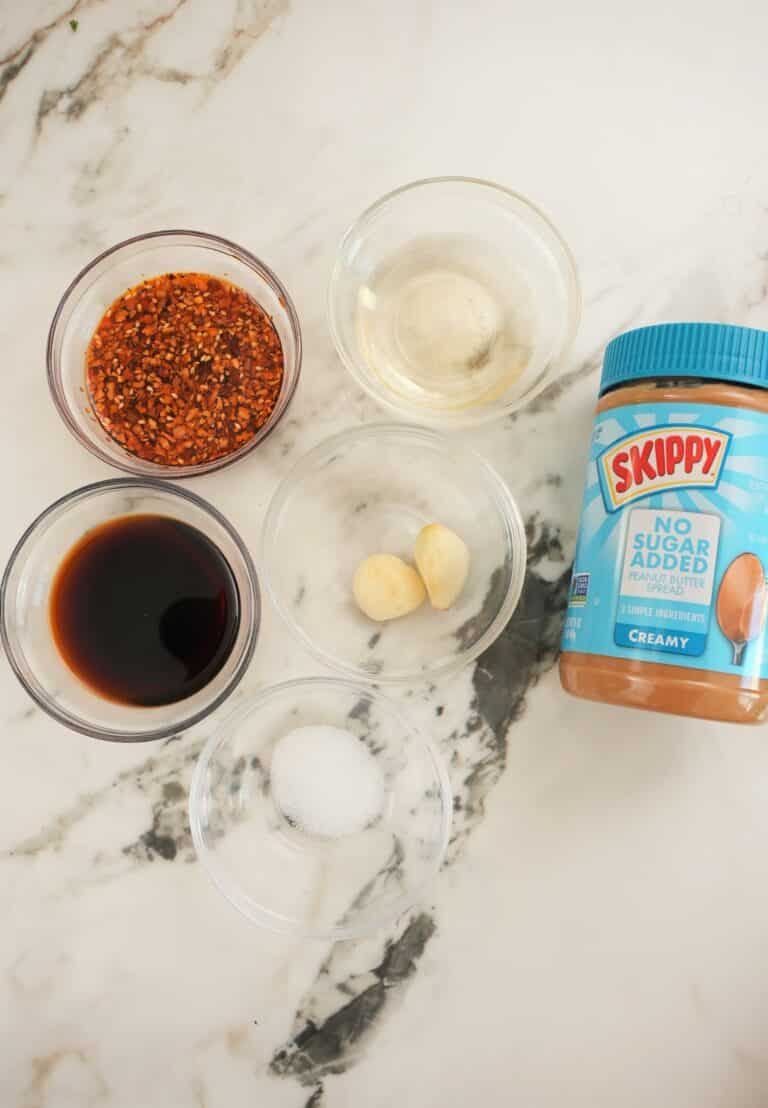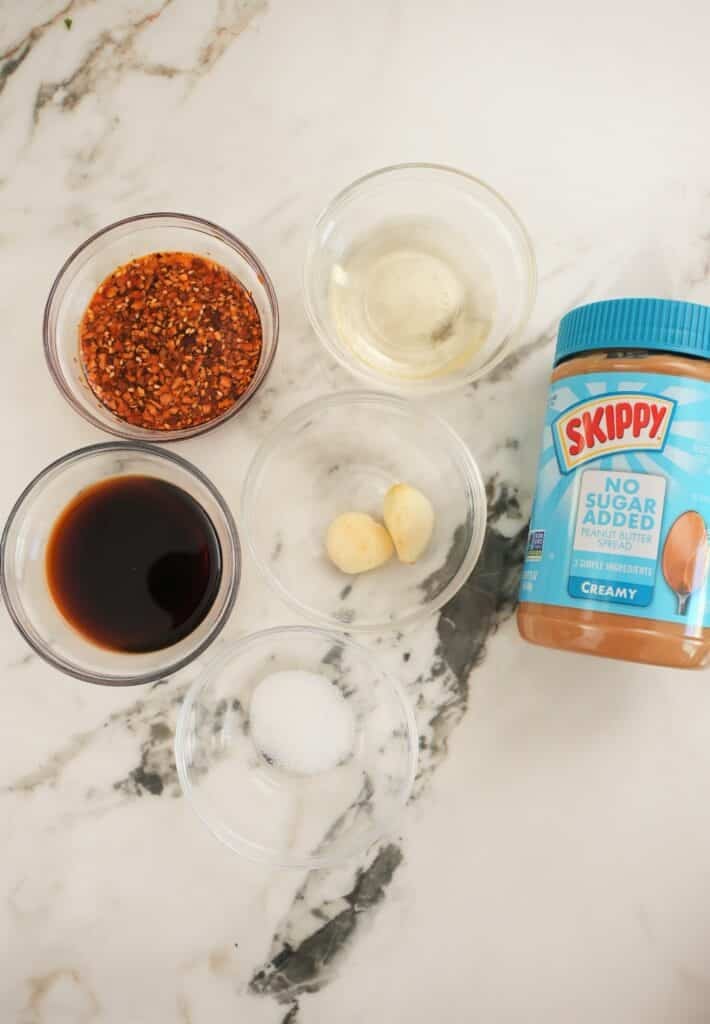 I prefer a creamy peanut butter for this sauce for the smoother texture! SKIPPY® Creamy Peanut Butter Spread (no sugar added) is perfect because it's super versatile, contains only 3 simple ingredients and can be used in countless breakfast, lunch, dinner, and dessert recipes! I also prefer the no sugar added variety so that I can adjust the sweetness of the sauce to my own preference.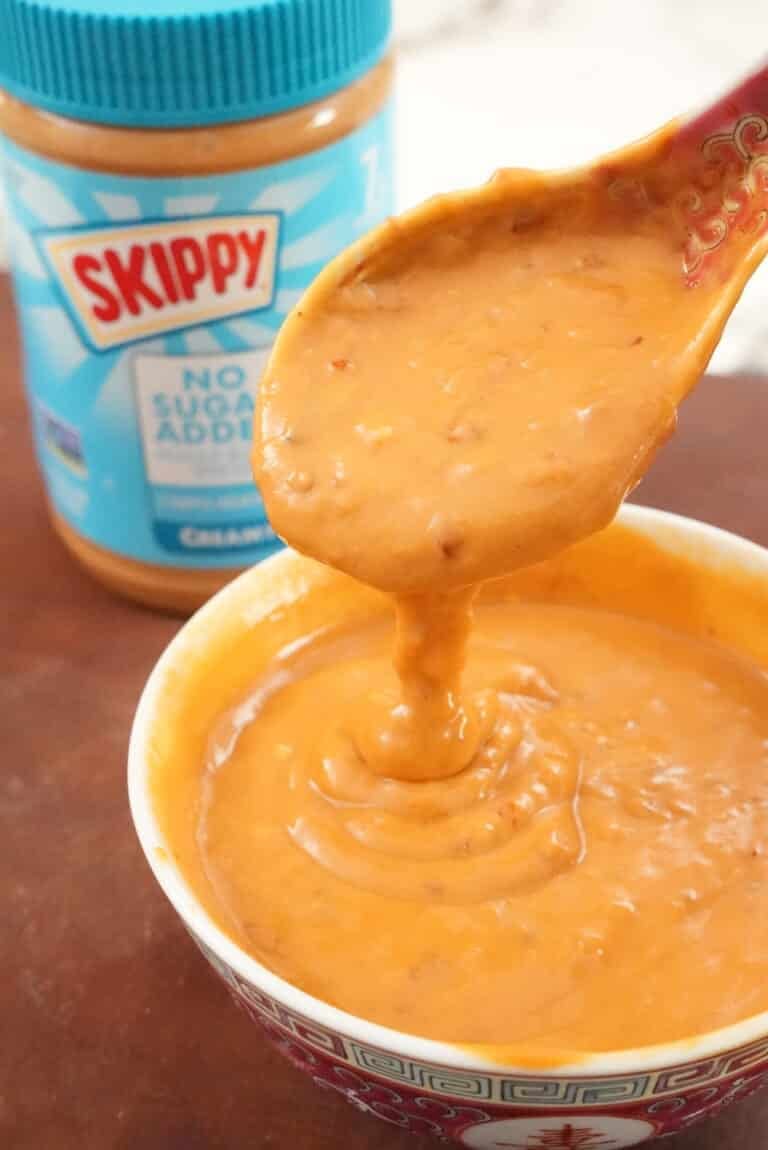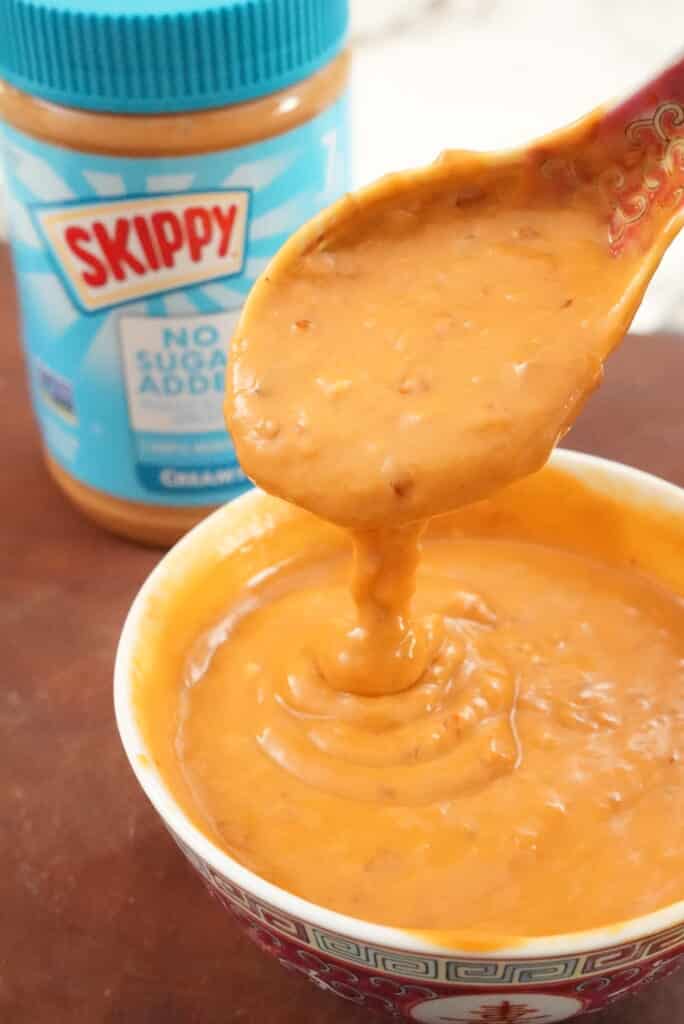 Mix the Wonton Filling
Once the sauce is mixed, now let's move onto our wonton filling! In a large bowl, combine ground pork, shrimp, scallions, white pepper, kosher salt, garlic, ginger, sesame oil, shaoxing wine, soy sauce, and sugar. Use your hand to mix it in one direction until the proteins and bonded together and look like a paste. You should also see streaks on the bowl in the photo below.
For extra springiness, you can throw the mixture down into the bowl, a technique called Da Xian 打馅 that will help further combine the proteins and make a more delicious filling!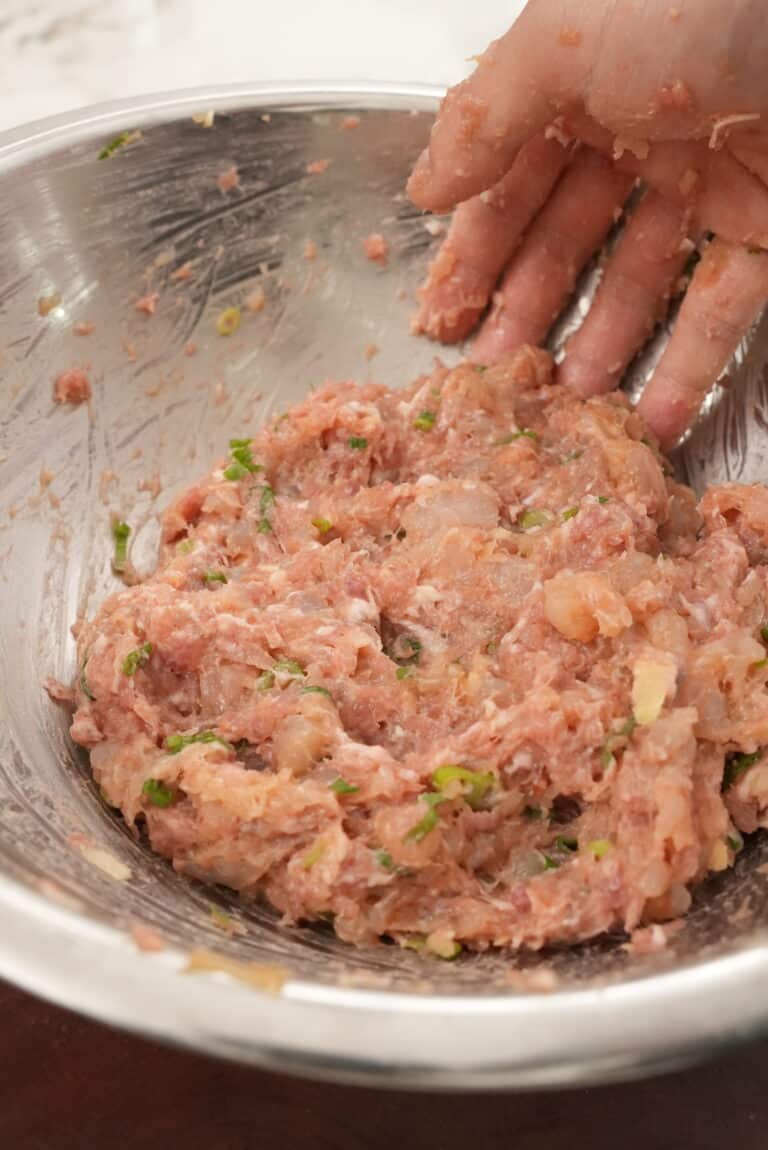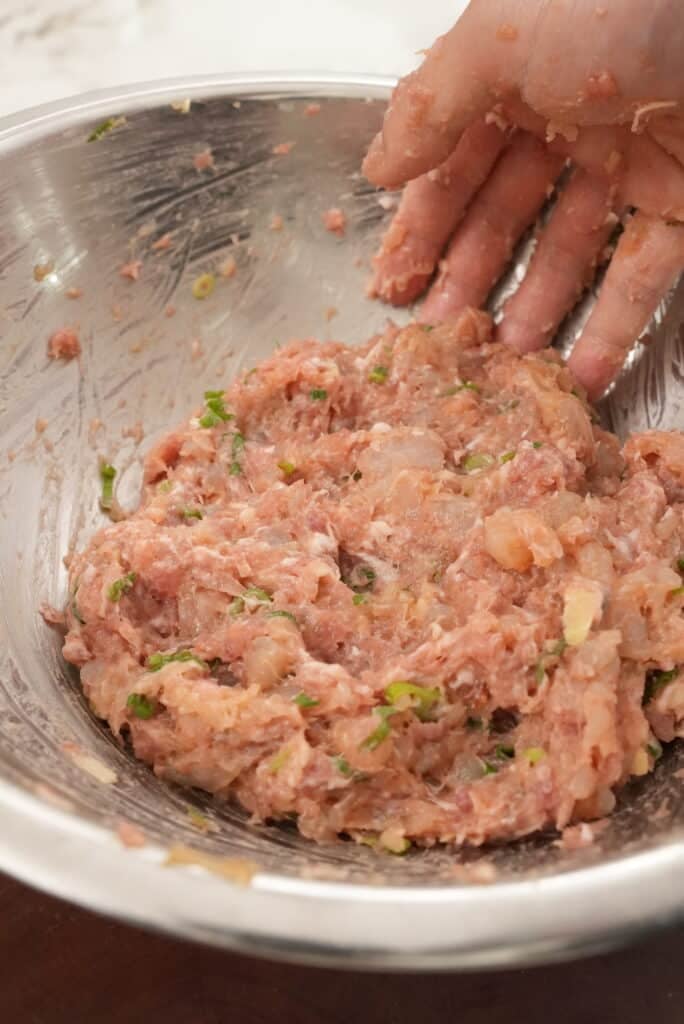 Wrap Your Wonton
To wrap your wonton, place about 1/2 tablespoon in the center of your wonton wrapper. Using your finger, dampen the edges of the wonton wrapper with water.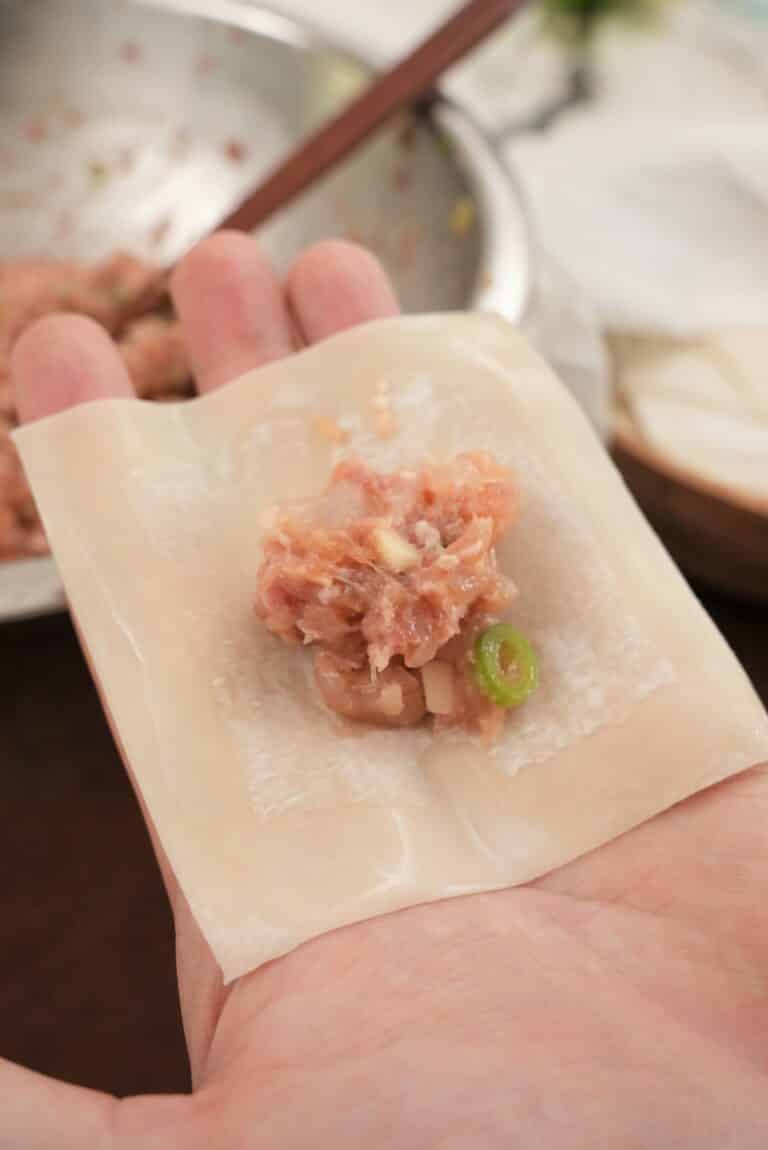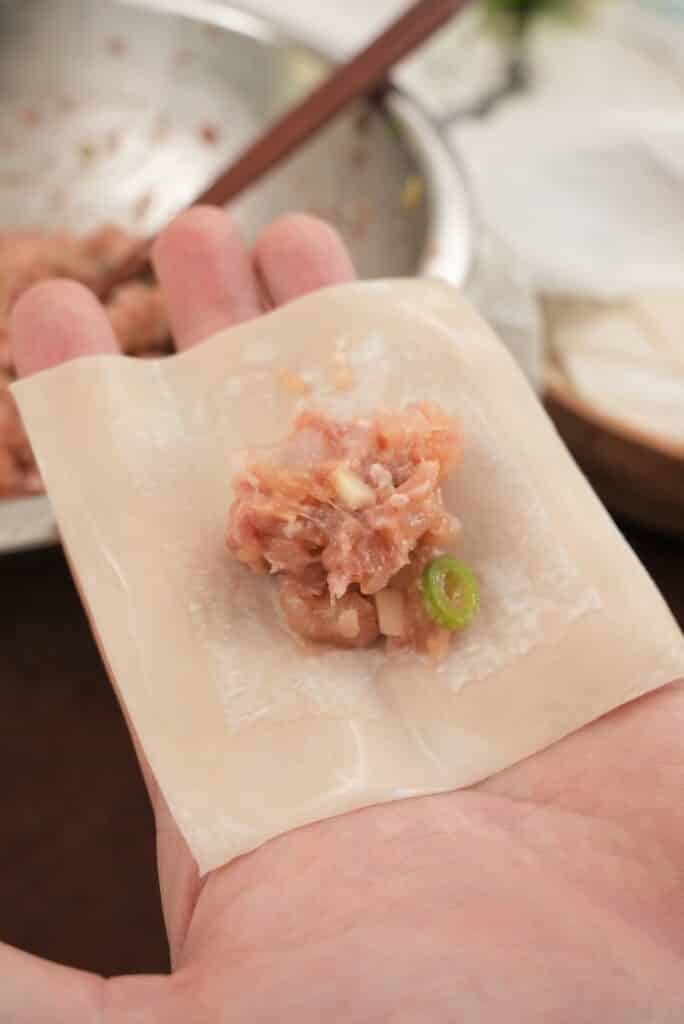 Fold the wonton into a triangle
Once the filling is in the center of the wonton and the edges are damp, fold the wonton into a triangle. Use your fingers to press out any air in the wonton and seal it together tightly. It's important to remove any excess air out of the wonton to prevent breaking when cooking them.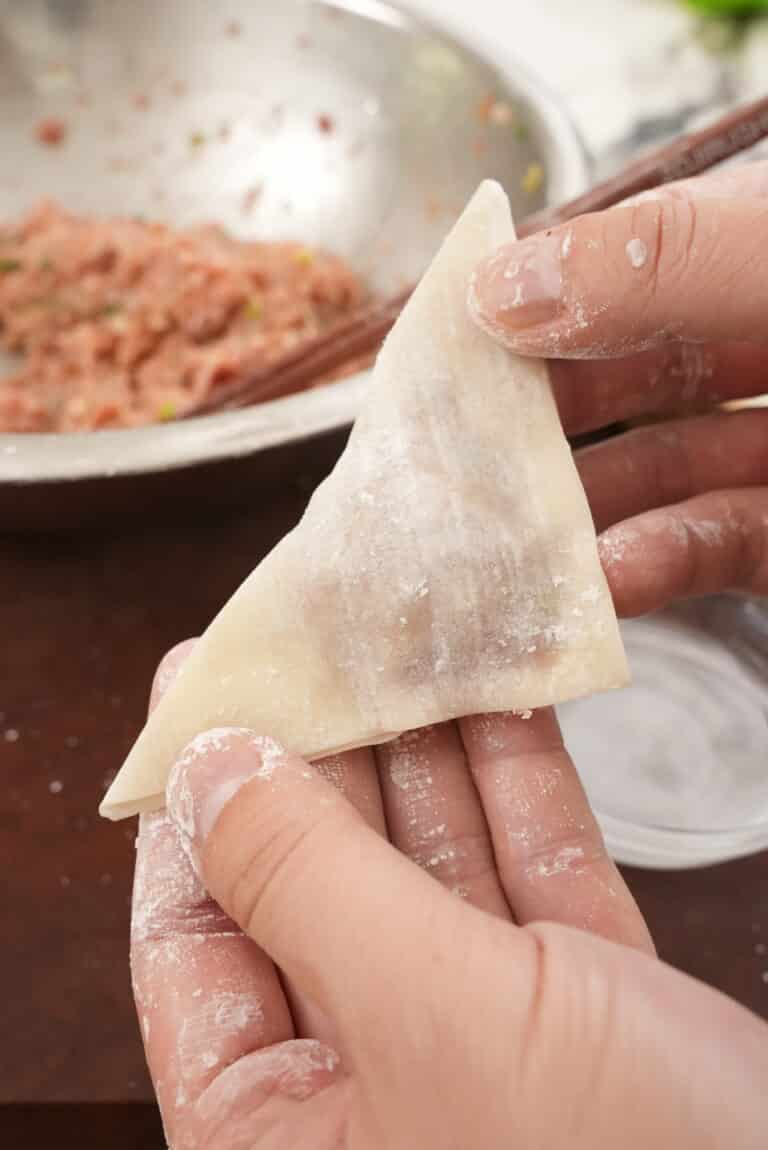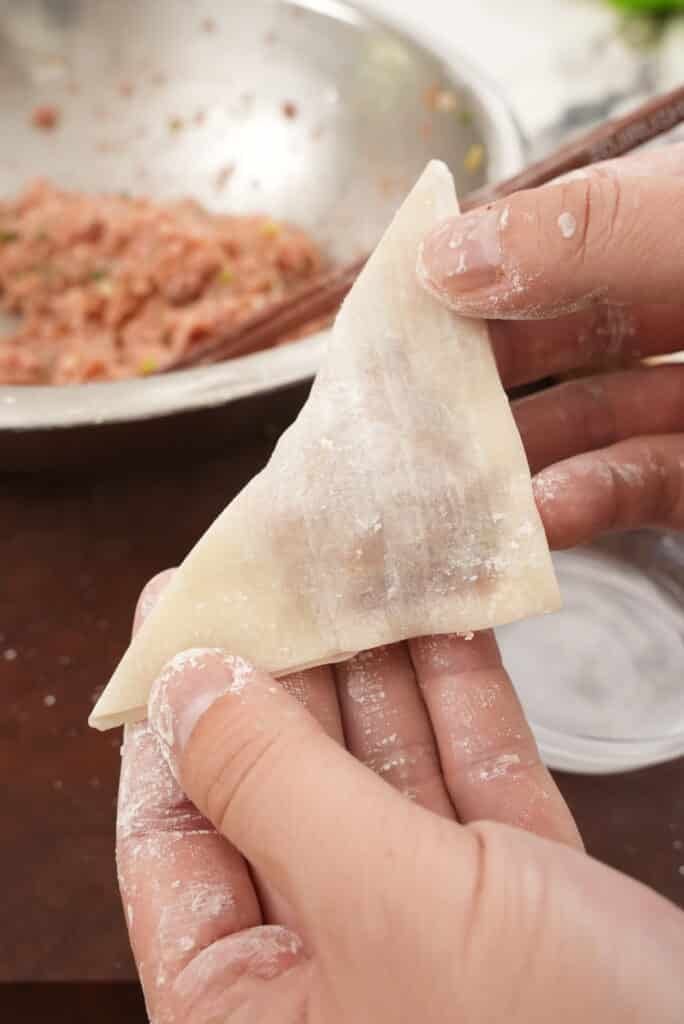 Finally, wet the two opposite corners with water and wrap the wonton edges onto themselves to create a circle. Press firmly to complete the wonton and place them on a parchment paper lined baking sheet while you wrap the others!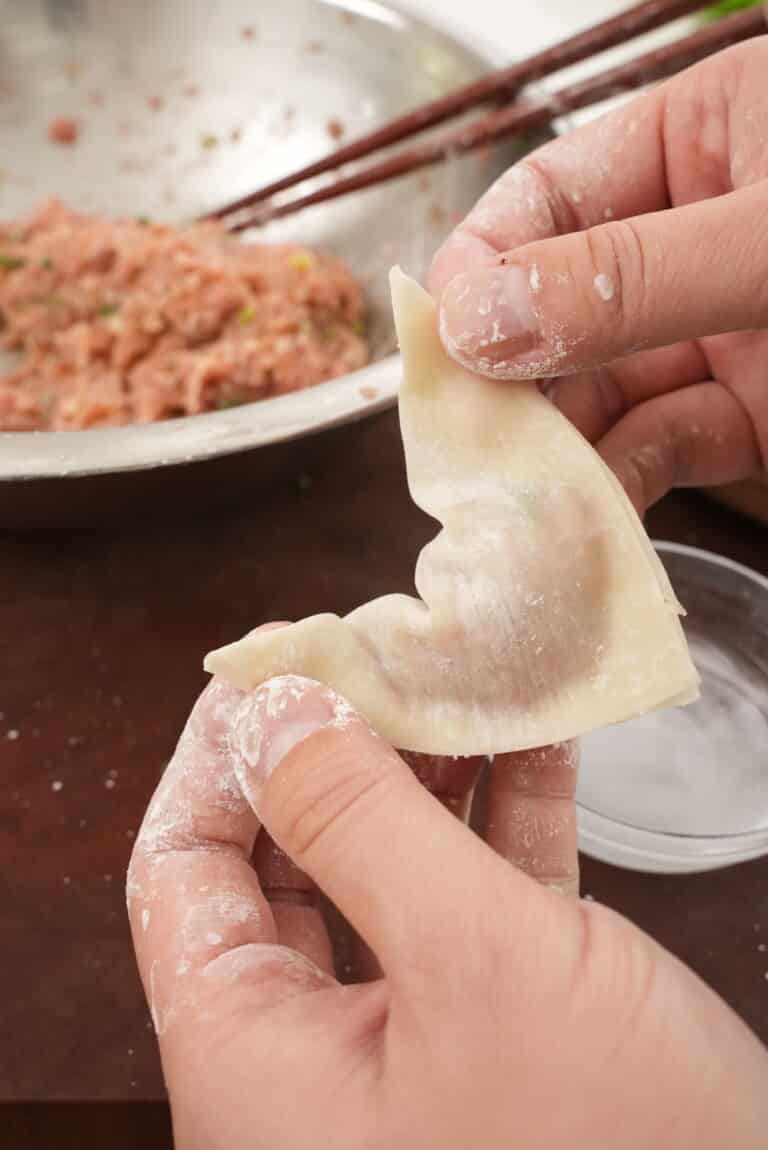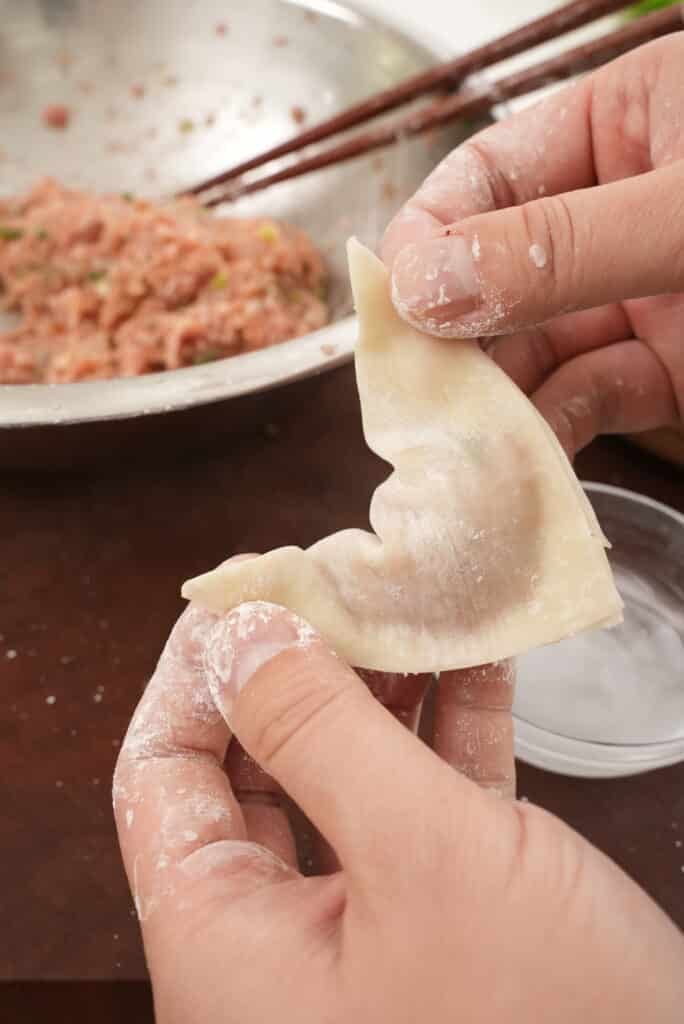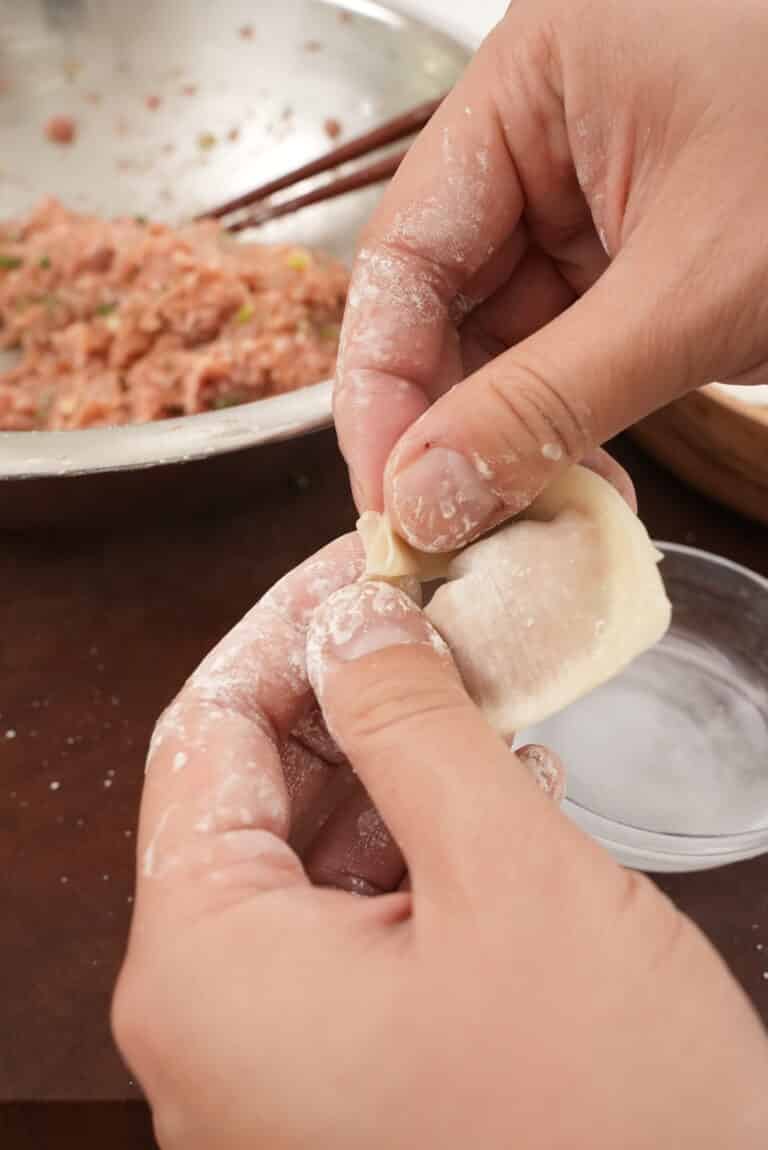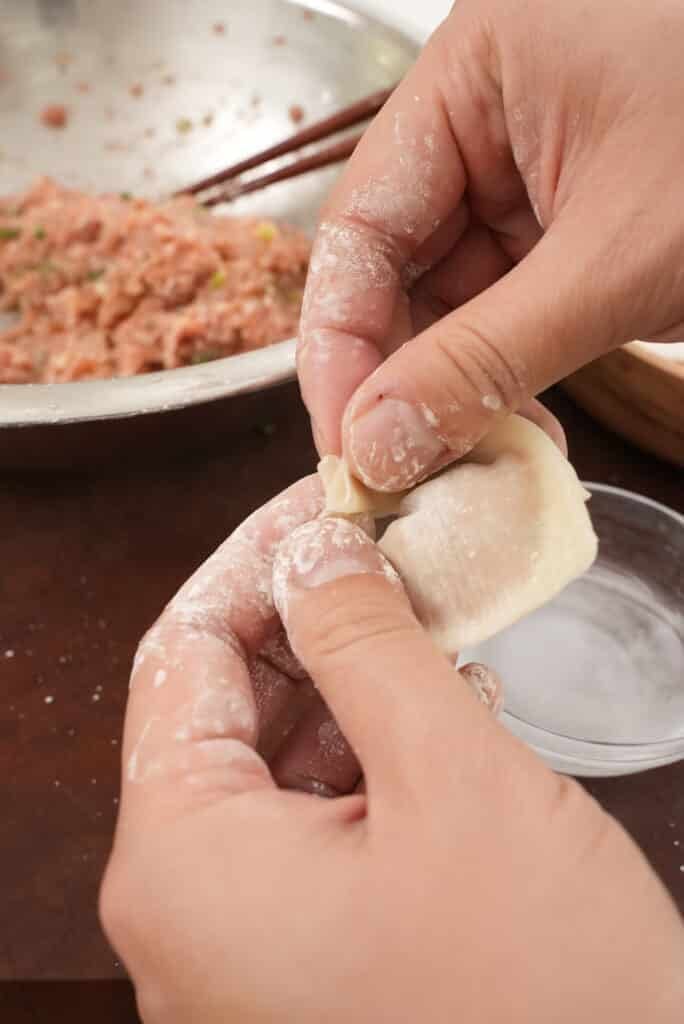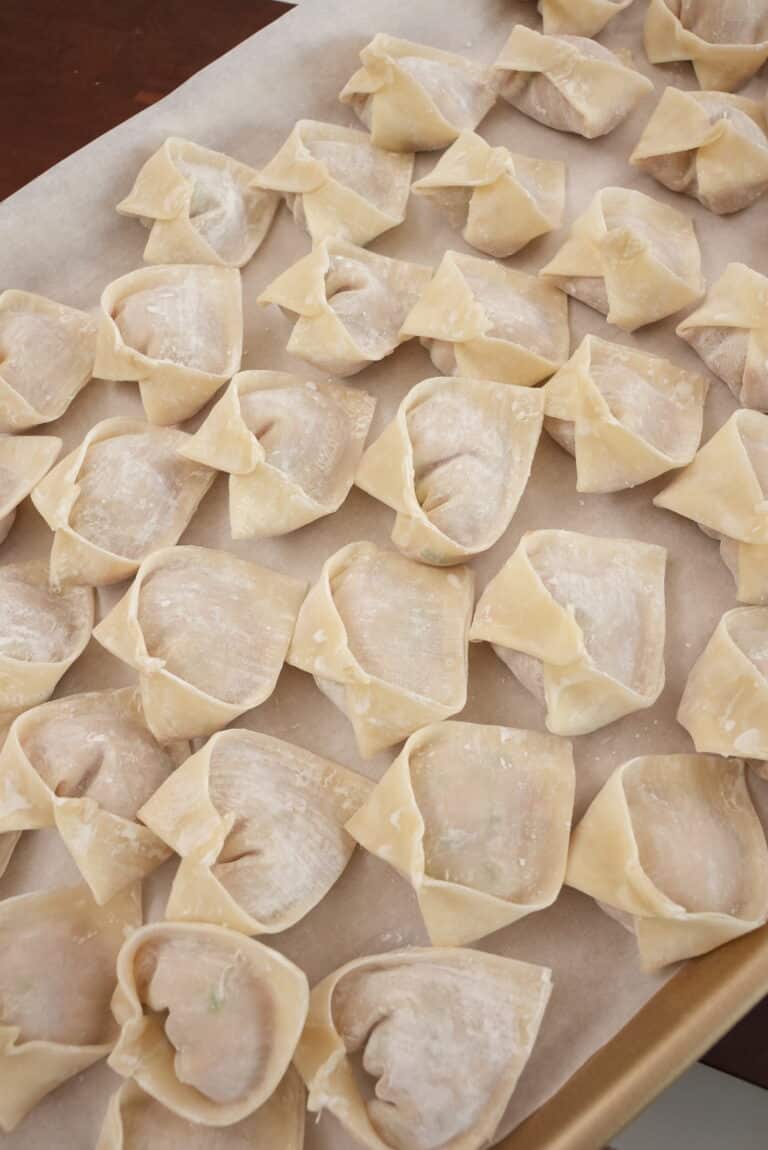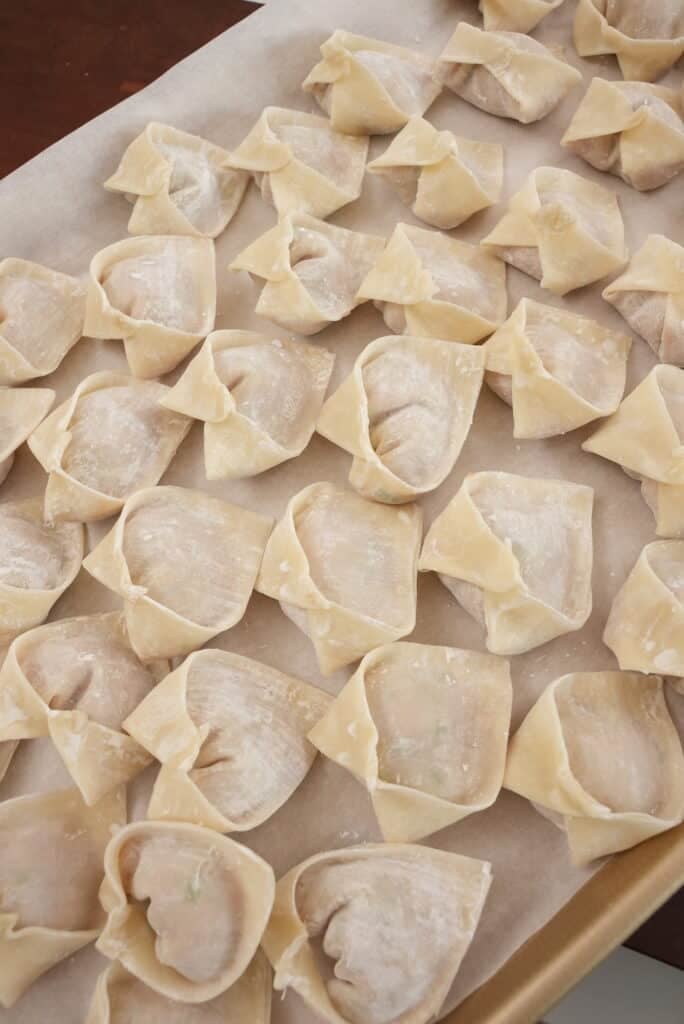 Now that your wontons are folded, it's time to cook them! My preferred method is to bring a large pot of water to a boil and cook them for 3-4 minutes (5-7 minutes if cooking from frozen), until they float, and the filling is cooked through and reads 165F on a thermometer.
Pair your wontons with that delicious spicy peanut sauce and extra chili oil. Garnish with fresh scallions and cilantro and enjoy!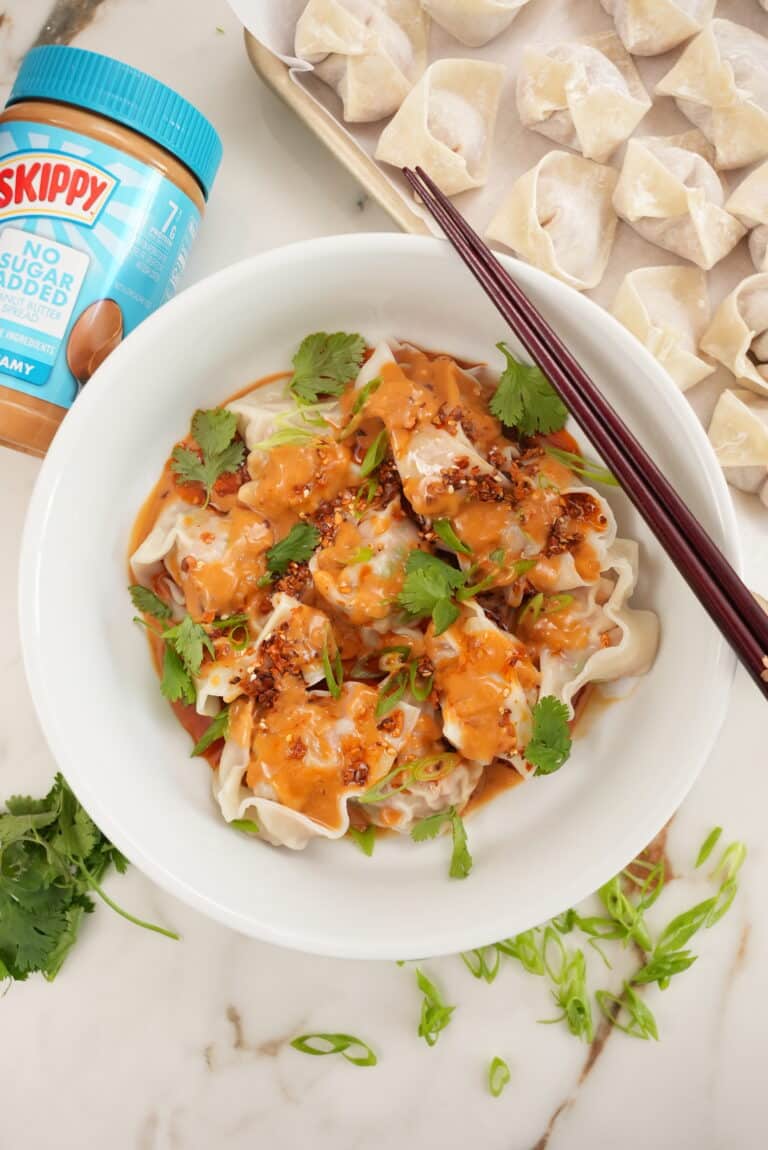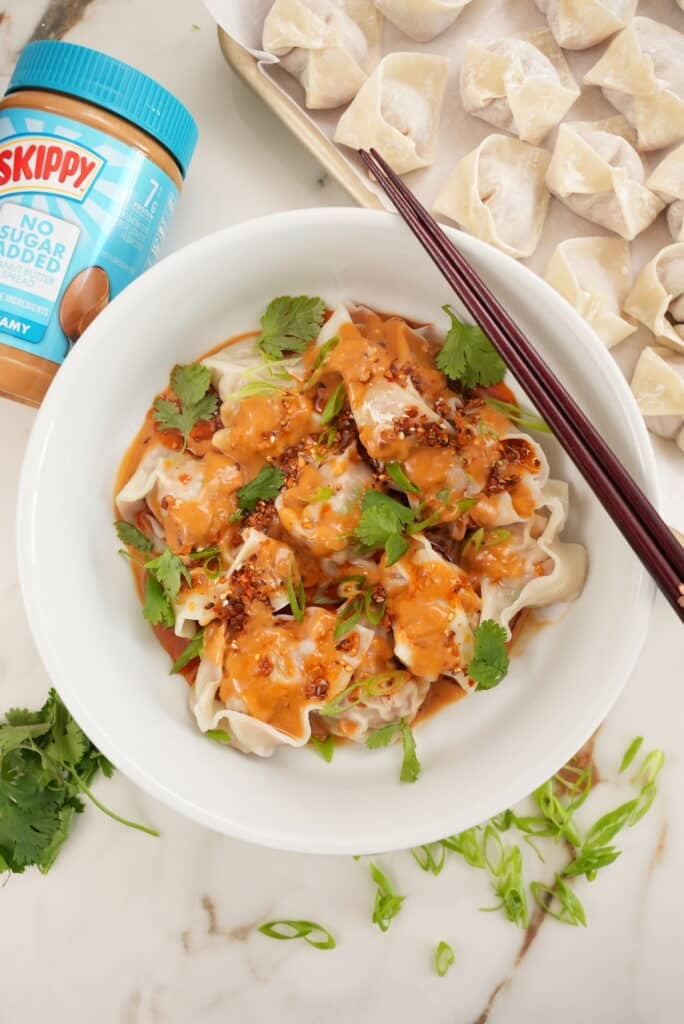 RECIPE TIPS
Da Xian 打馅
My grandma's SECRET to this wonton is a technique called Da Xian 打馅! Da Xian 打馅 basically involves slamming down the mixed filling a couple times – my grandma swore this helped provide springiness and additional texture! (Added bonus – it's a great stress reliever!)
MAKE EXTRA TO FREEZE
These make a GREAT freezer meal. I always make a big batch and freeze for the future. Once you've folded your wontons, lay them out on a baking tray with room in between (to avoid sticking). Place the tray in the freezer and freeze for at least one hour. After the hour has passed, you can transfer the wontons to a freezer bag. I find this to be the best process that helps prevent the wontons from sticking together.
HOW TO EAT THESE
I personally like to eat these boiled (in water) and drained. If you like them in soups, check out my Wonton Noodle Soup recipe to see how I incorporate them!
If you liked this Wontons with Spicy Peanut Sauce recipe, check out some of the most popular Chinese Take-Out recipes on the blog!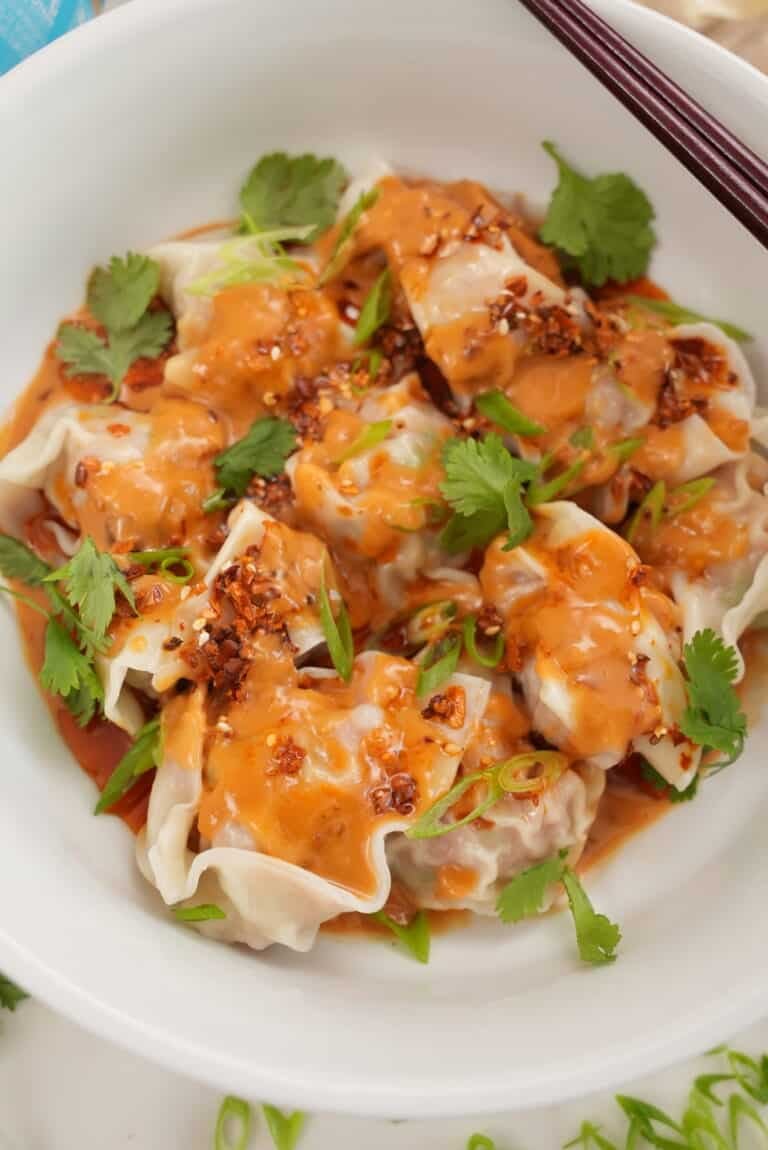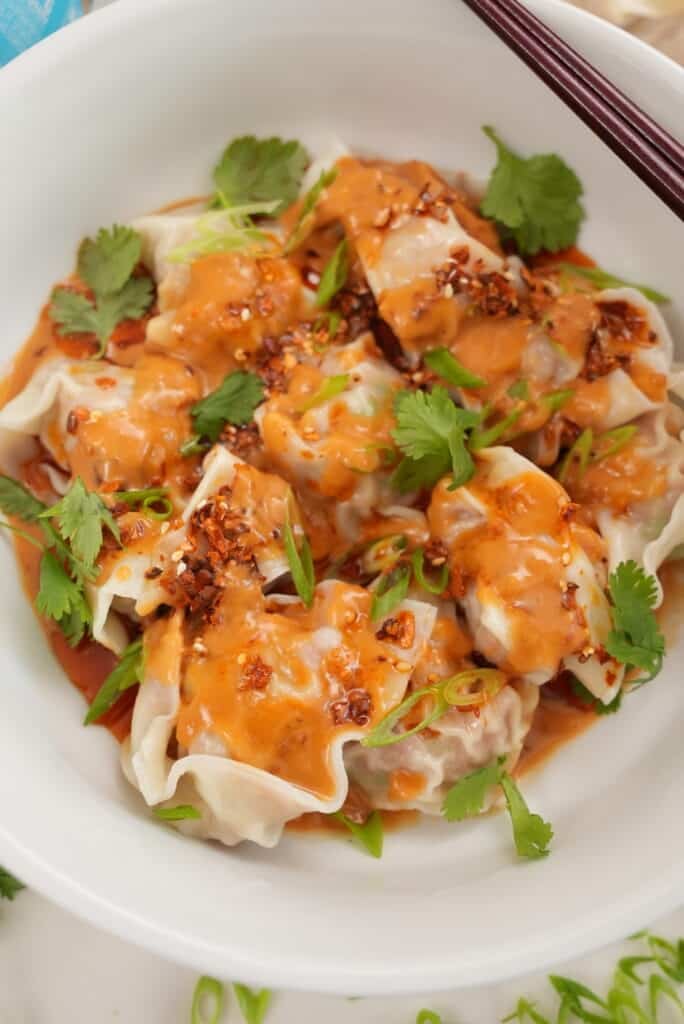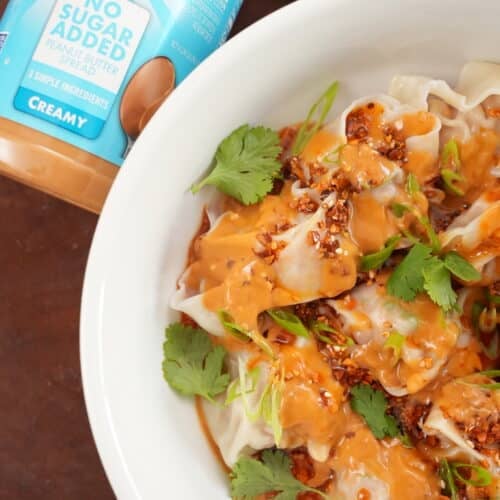 Wontons with Spicy Peanut Sauce
These wontons with a creamy, spicy peanut sauce are so delicious and perfect to make in a large batch! The pork and shrimp filling is incredibly juicy and complemented by the creamy, spicy dressing.
Ingredients
1/2

lb

ground pork

1/2

lb

shrimp

3

scallions

chopped

1/2

tsp

white pepper

1

tsp

kosher salt

2

cloves

garlic

chopped

1/2

inch

ginger

chopped

1

tbsp

sesame oil

1

tbsp

shaoxing wine

2

tbsp

light soy sauce

1/2

tbsp

sugar

wonton wrappers
Spicy Peanut Sauce
3

tbsp

creamy peanut butter

1

tbsp

chili oil

2

tbsp

soy sauce

low sodium

1

tbsp

rice vinegar

2

cloves

garlic

grated

1

tsp

sugar

1/4

cup

hot water
Instructions
Wontons
Chop your shrimp into small pieces and add to a large mixing bowl with your ground pork, then add garlic, ginger, scallions, white pepper, kosher salt, sugar, sesame oil, shaoxing wine, and light soy sauce.

Mix in one direction until the filling is combined and you can see streaks along the edge of your bowl. Pick up the filling and throw it down a couple times (Da Xian) to create additional springiness and texture in the filling.

Optional but recommended: Fry a little bit of the filling to taste test and adjust seasoning to your preference if needed! I always do this before folding my wontons – there is nothing worse than spending the time to fold to find out the seasoning is off to your preference.

To make your wonton, place a 1/2 tbsp of filling in the center of your wrapper. Wet two adjacent sides of your wrapper with water, then fold over into a triangle and seal, making sure all air escapes from the inside of the wrapper. Then wet the two long corners of your wonton and connect them together to form a tortellini-esque shape.

Cook for 3-4 minutes on a high simmer (medium high) until the dumplings float. If cooking from frozen, add 2-3 minutes of cooking time. You do not want a rapid boil, otherwise the dumplings wrappers may break.
Spicy Peanut Sauce
To make the sauce, combine creamy peanut butter, chili oil, soy sauce, rice vinegar, sugar, grated garlic, and hot water in a bowl and mix until smooth. Add more hot water as necessary to create a smooth consistency. Serve with your freshly boiled wontons and enjoy!