Chinese Tomato Egg Stir-Fry
---
May 3, 2022
---
Chinese Tomato Egg Stir-Fry is a comfort food staple and reminds me of my childhood when my grandparents would take care of me as a young child. I loved the contrasting textures of the scrambled egg, silky egg, and stewed tomatoes that turned into this magical gravy-like consistency that covered the freshly steamed rice. There are probably hundreds of different ways families make this classic stir fry, but this is the version I grew up eating and love so much!
Watch the Tomato Egg Stir Fry Recipe Video Below!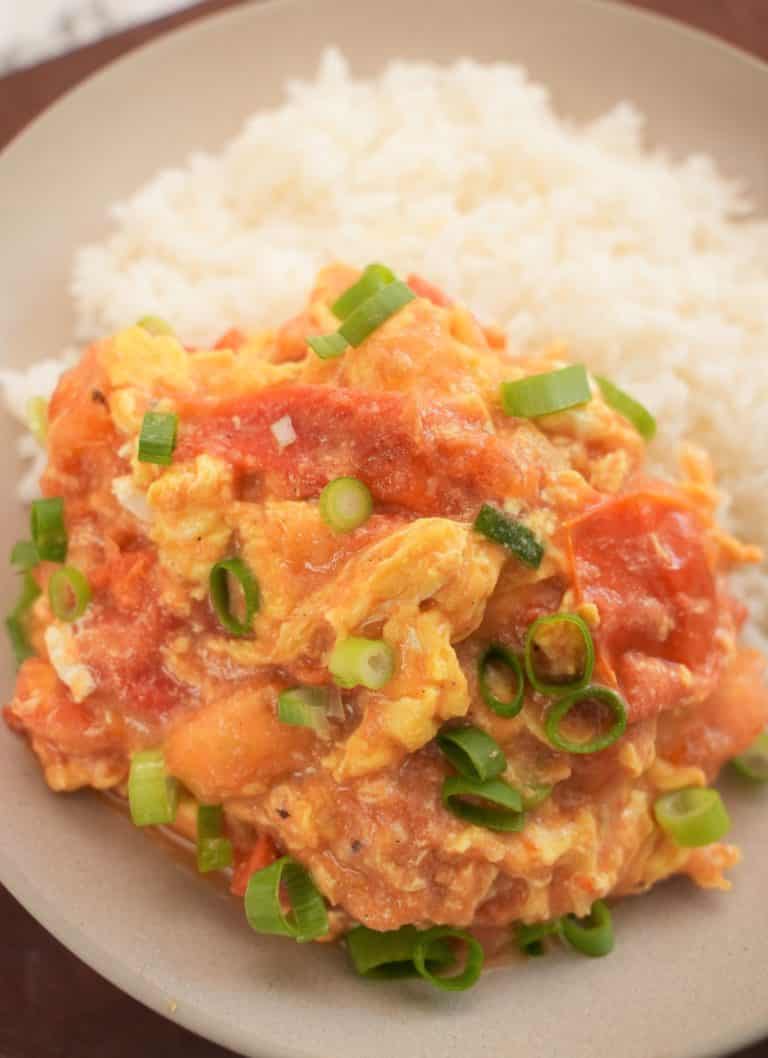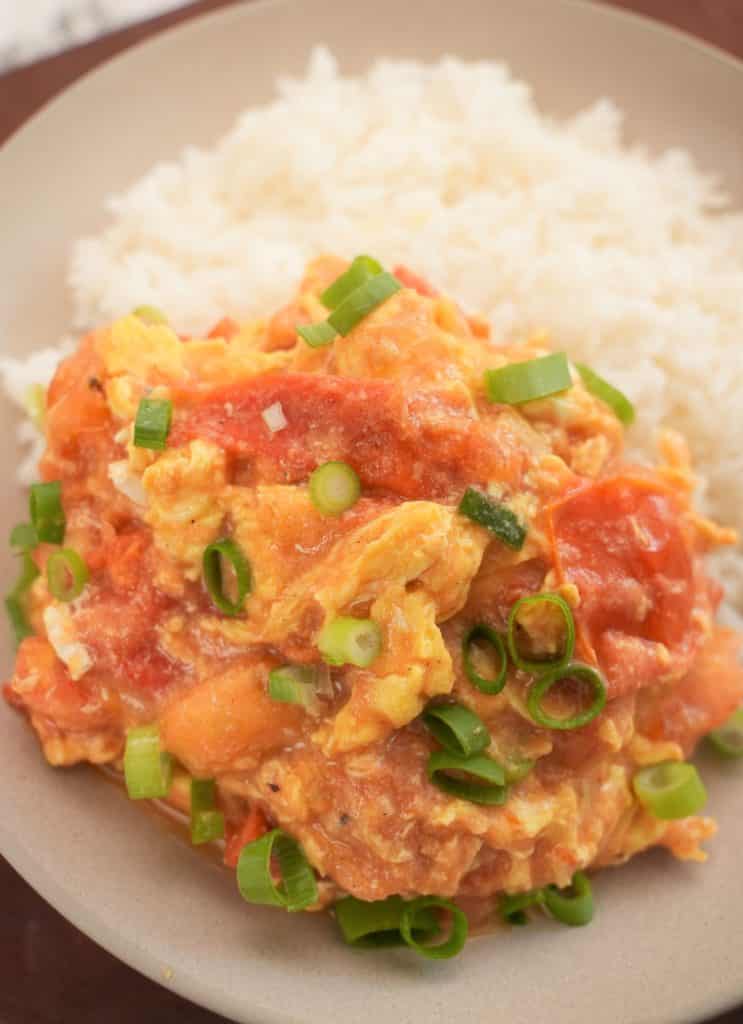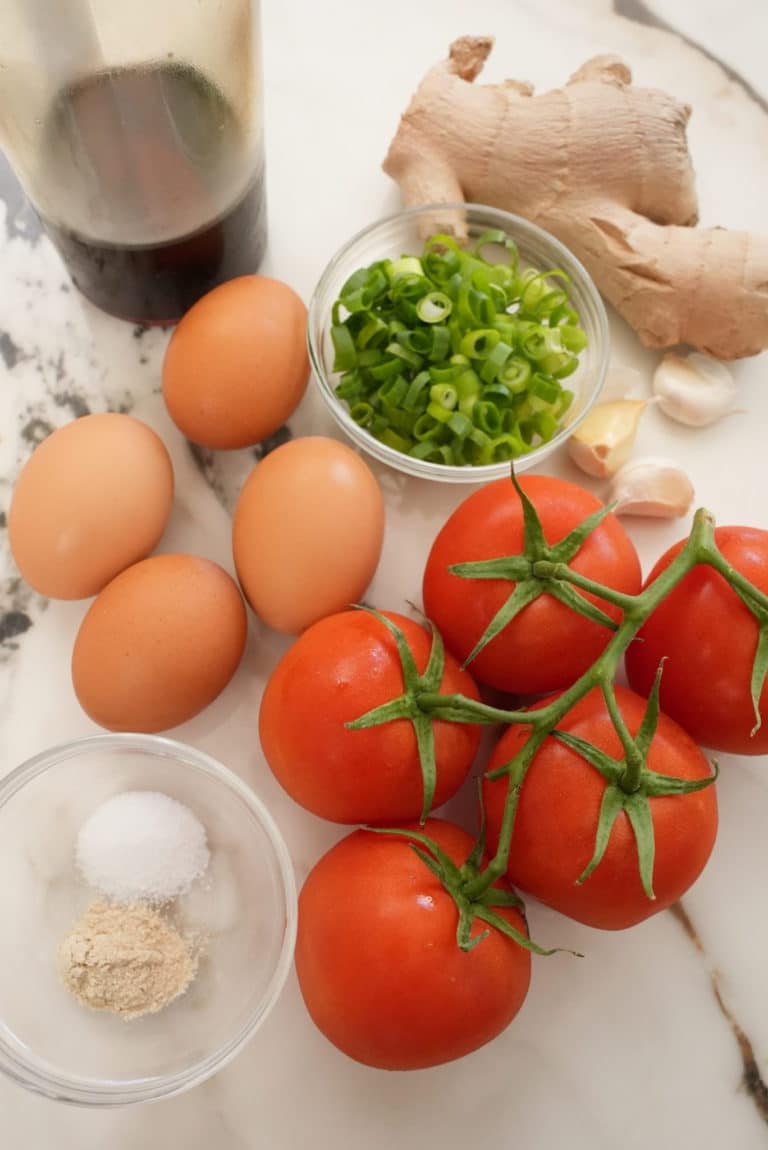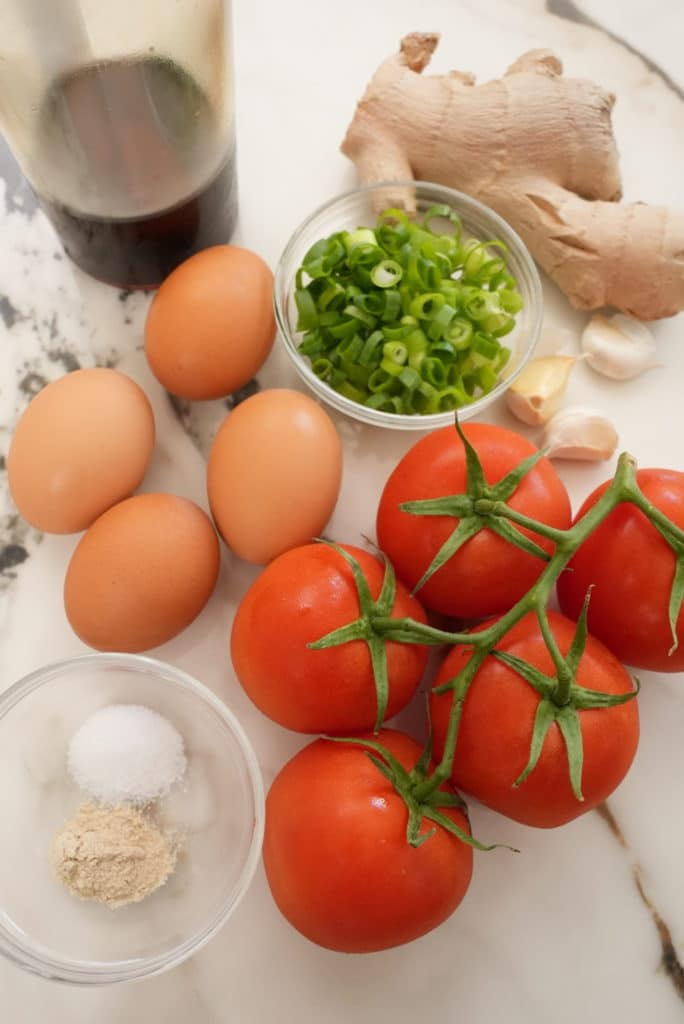 Ingredients for Tomato Egg Stir Fry
The good news is, this dish does not require many ingredients, and the cooking technique is what makes this dish so special! Here is what you'll need:
Tomatoes (I like using vine-ripe tomatoes, but roma tomatoes will also work!)
Eggs
Scallions or Green Onions
Garlic
Ginger
Salt
White Pepper
Sesame Oil
Shaoxing Wine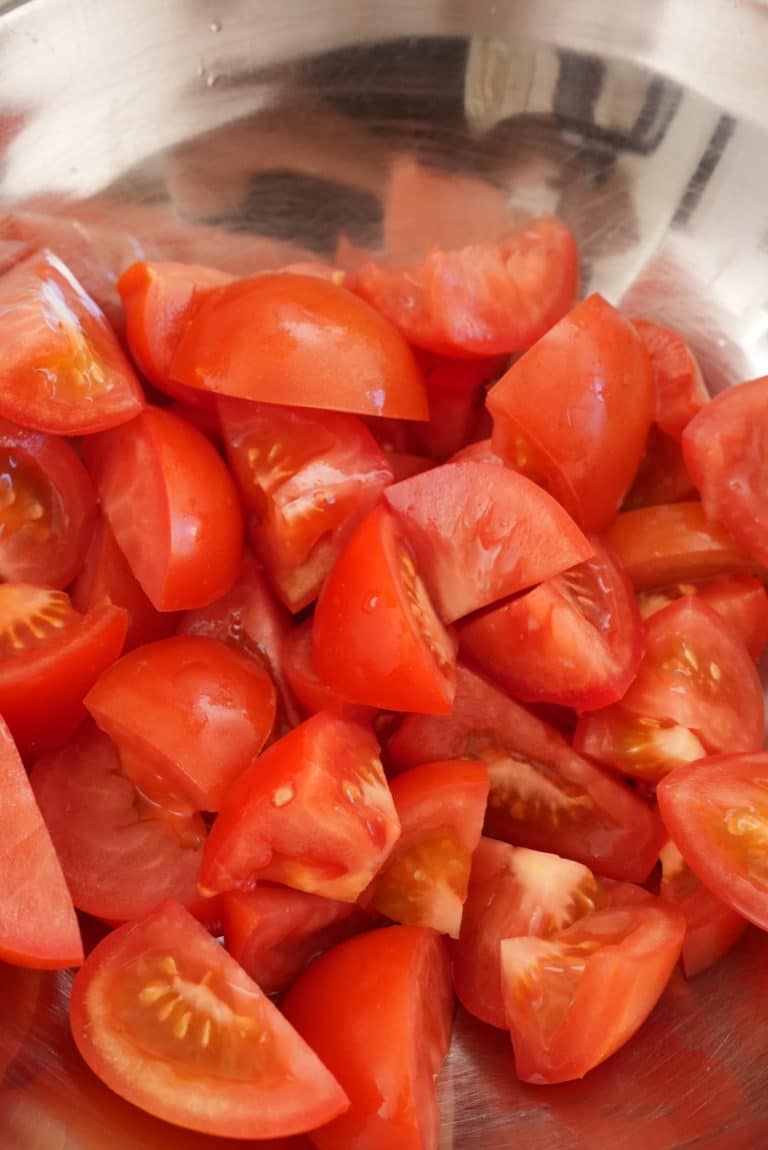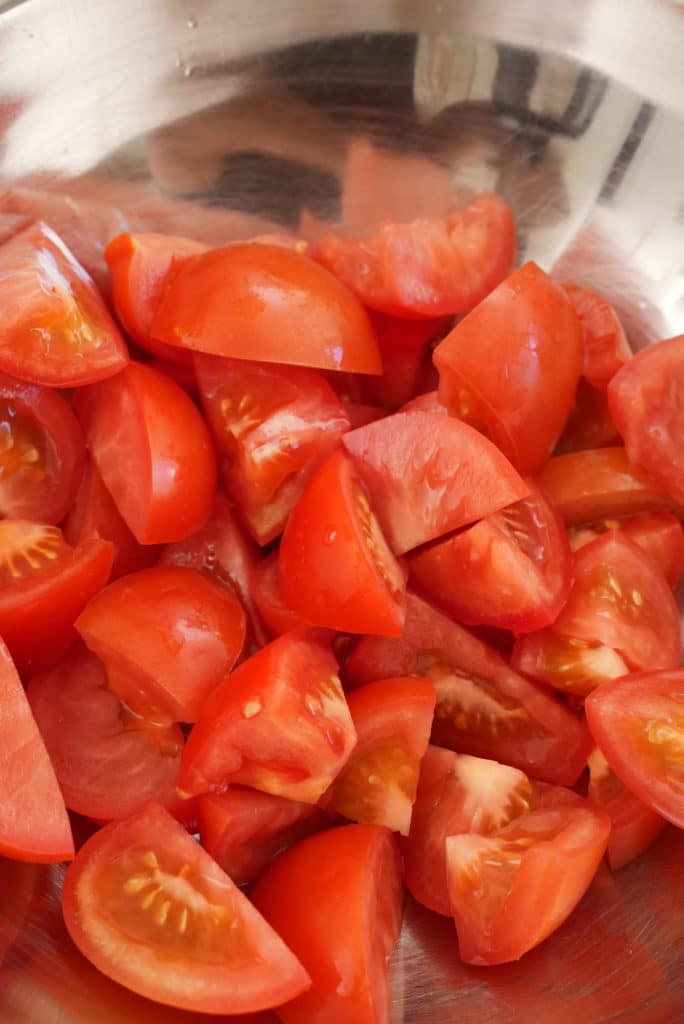 I was always taught to slicing the tomatoes into quarters for this dish. The tomatoes are small enough to break down and create the sauce with the eggs, but large enough to still hold up and provide texture in the end result! I absolutely love the balance from the creamy egg and sweet/savory element from the tomatoes!
Key Ingredient Tips for Tomato Egg Stir Fry
INGREDIENTS TIPS
TOMATOES
I typically use vine-ripe tomatoes for this dish, but feel free to substitute with Roma tomatoes here. You will need about 1.5 lbs or 750g in total for this serving size!
SHAOXING WINE
If you cannot or do not want to use wine, you can sub with sherry, mirin, or chicken stock!
Scramble Half The Eggs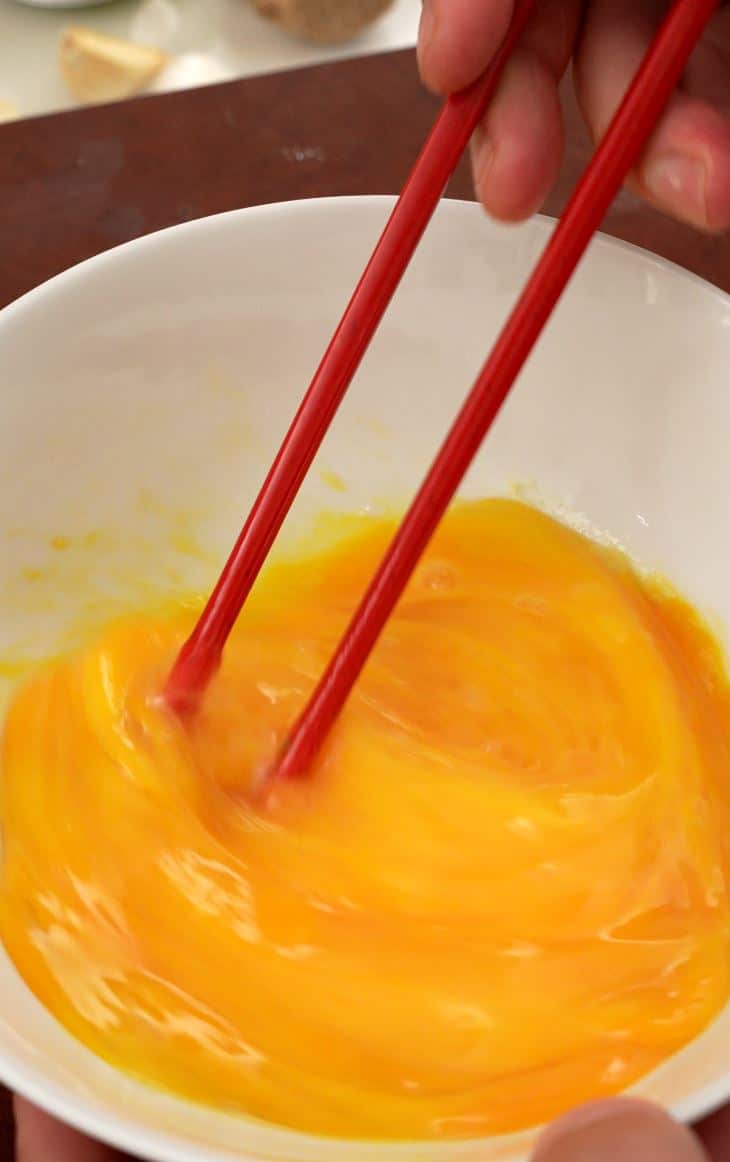 The first step of this dish is to soft scramble half of your beaten egg. This is going to be one element of the contrasting texture of this dish. Beat your eggs in a bowl, then heat 1 tbsp of oil over medium high heat and add in half the mixture. Remove once soft scrambled and set aside.
Sauté Aromatics and Simmer Tomatoes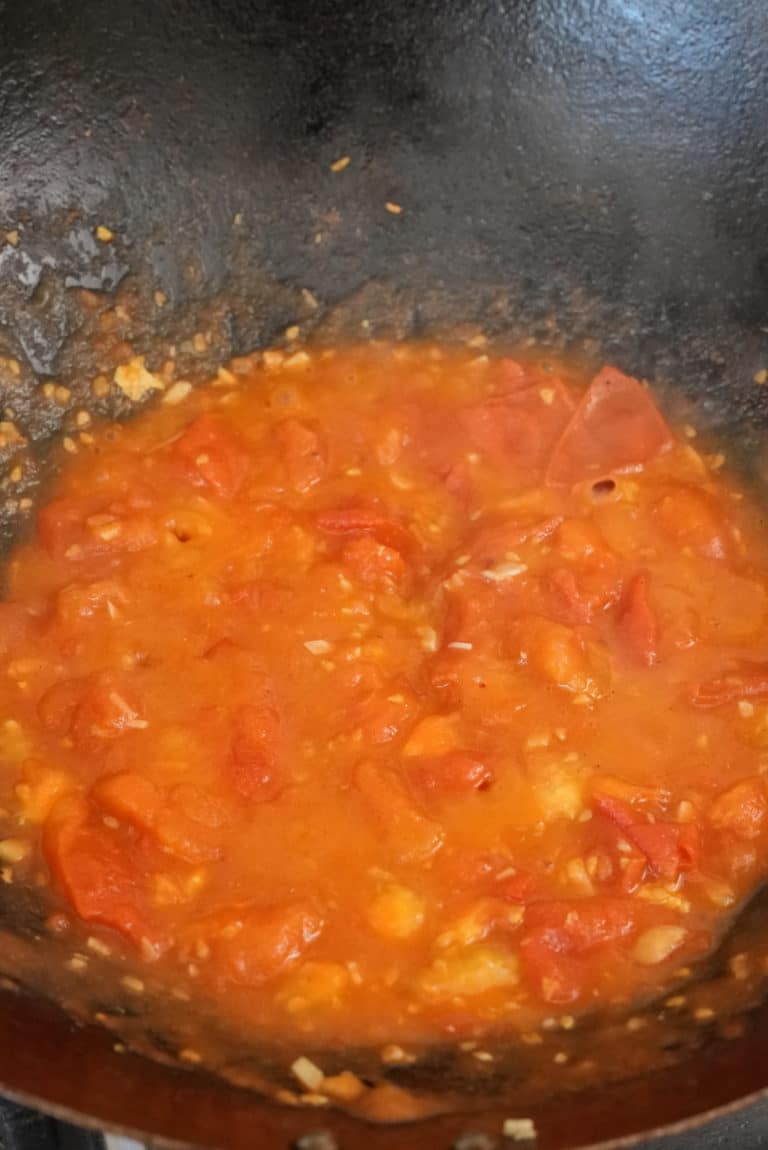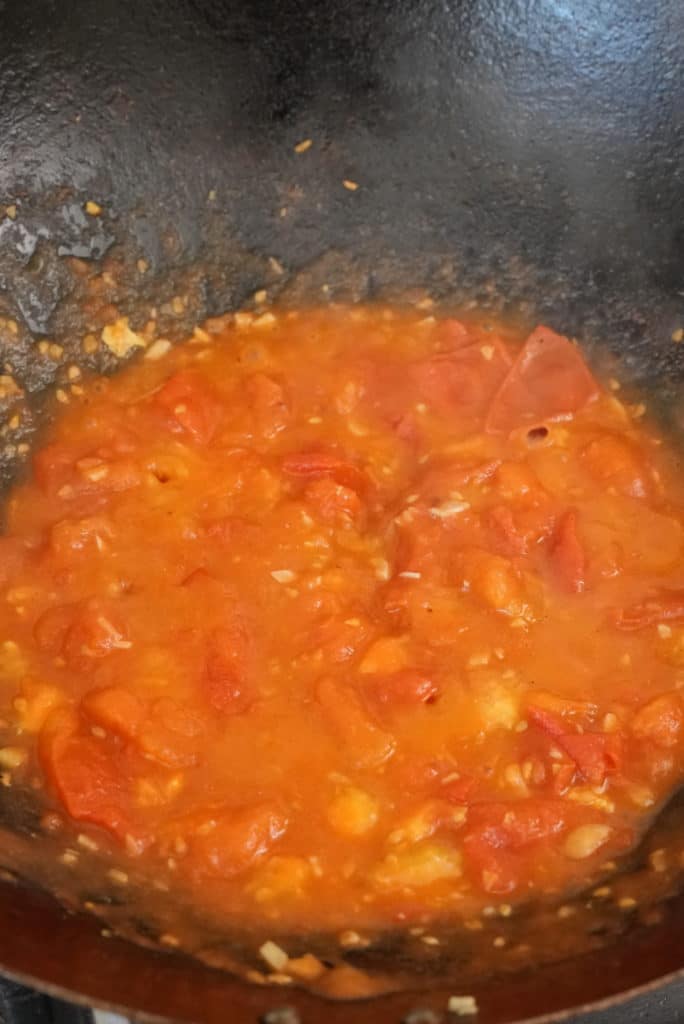 Once the eggs are removed, sauté the garlic and ginger for a few seconds until they become fragrant, then add your tomatoes and cook and slightly crush them to help break them down. Cook them over medium high heat for a few minutes until they are broken down and the mixture is slightly loose. This is the consistency you want at this point!
Don't worry if the mixture looks too loose, because once you add the remaining eggs and scallions you will be able to thicken the stir fry to your desired consistency with a cornstarch slurry (I personally like mine on the thicker side, which is almost a gravy-like consistency). It's perfect with a freshly steamed bowl of rice!
Temper in the Remaining Egg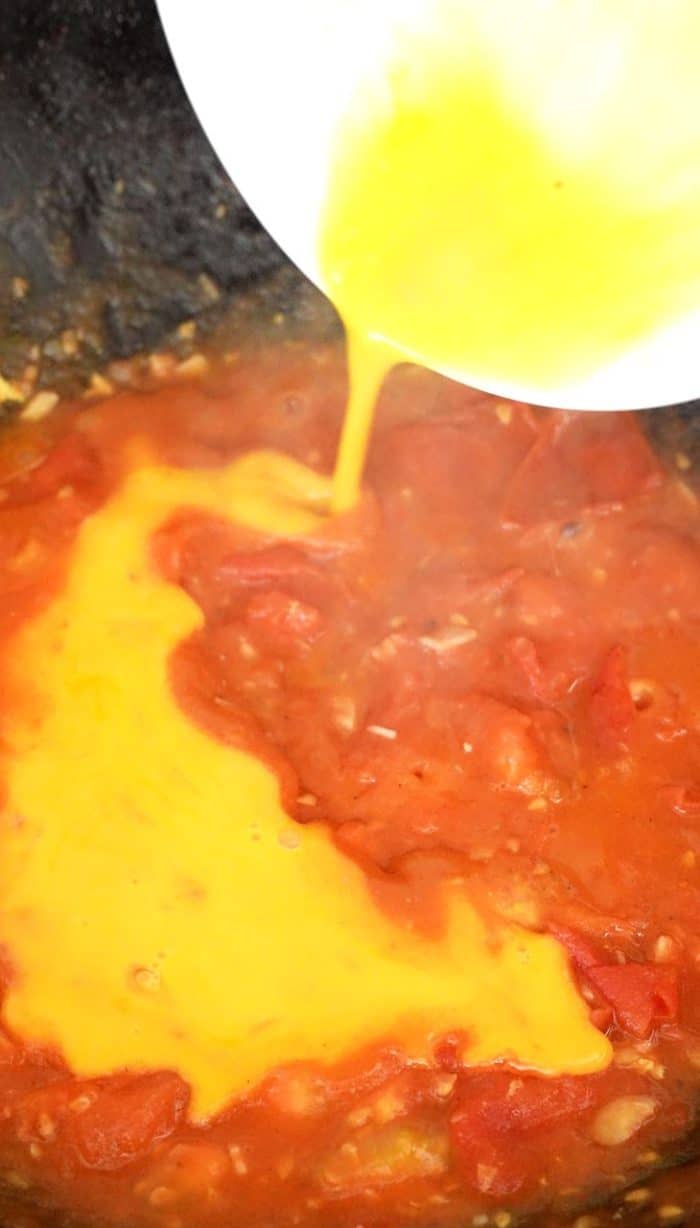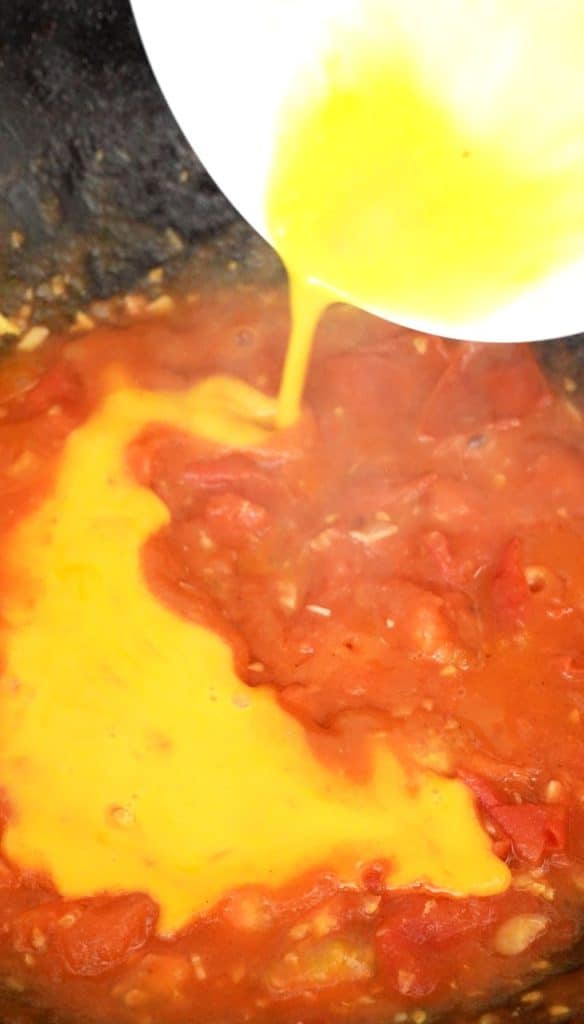 Once the tomatoes have broken down, add in the remaining half of your eggs and stir gently to let them set in the hot tomato mixture. This is essentially tempering the egg into a hot liquid which will cook the egg giving the dish a silky texture. It will lighten the color of the tomatoes and disperse throughout the mixture (this technique is also similar to Chinese soups such as Egg Drop Soup).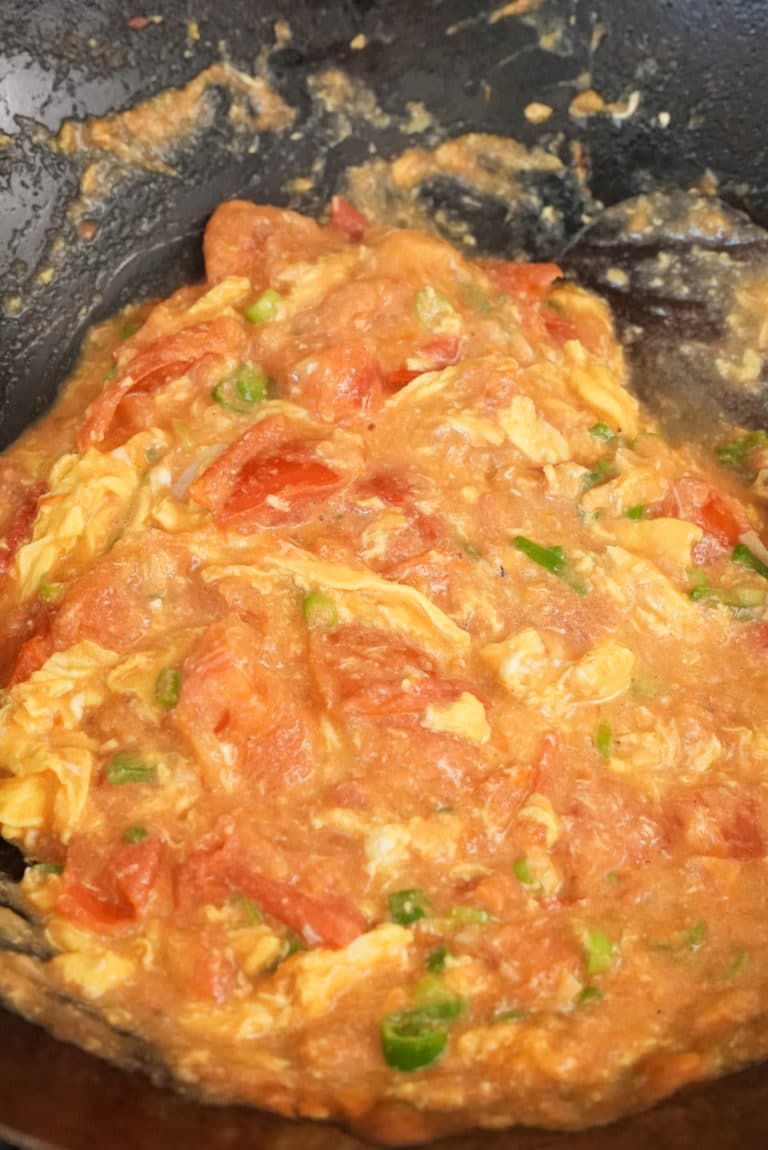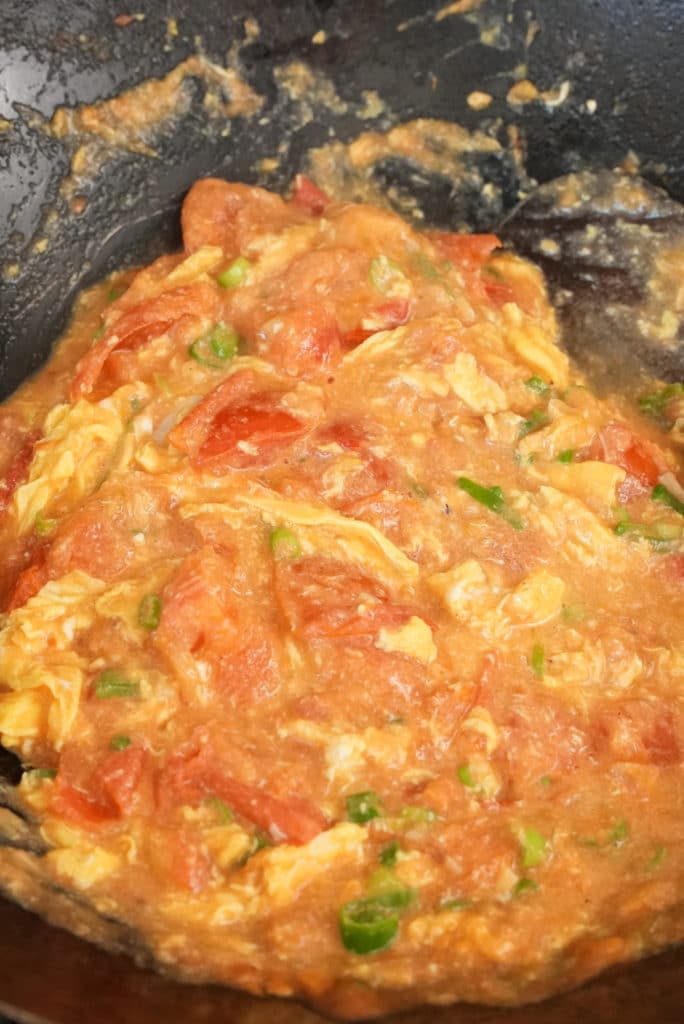 Once the remaining half of the egg mixture has set, add back the soft scrambled egg and scallions and stir gently to combine. At this point, the mixture should still be quite loose, so add a cornstarch slurry a few tablespoons at a time and continue simmering until it has reached that gravy-like consistency. Serve it over steamed white rice and enjoy!
RECIPE TIPS
CONSISTENCY & TEXTURE
Two of the key elements of this dish are consistency and texture. I prefer a gravy-like consistency with goes so well with steamed rice, and you want to be gentle enough during the cooking process to keep the soft scrambled eggs in tact. The silky and soft scrambled eggs combined with the tomatoes is an amazing combination!
CORNSTARCH SLURRY
If you find that the dish is too watery at the end due to the tomatoes, do not worry! Just add a couple tablespoons of the cornstarch slurry mixture. Stir it in and continue simmering until you reach the desired consistency, adding more slurry if needed.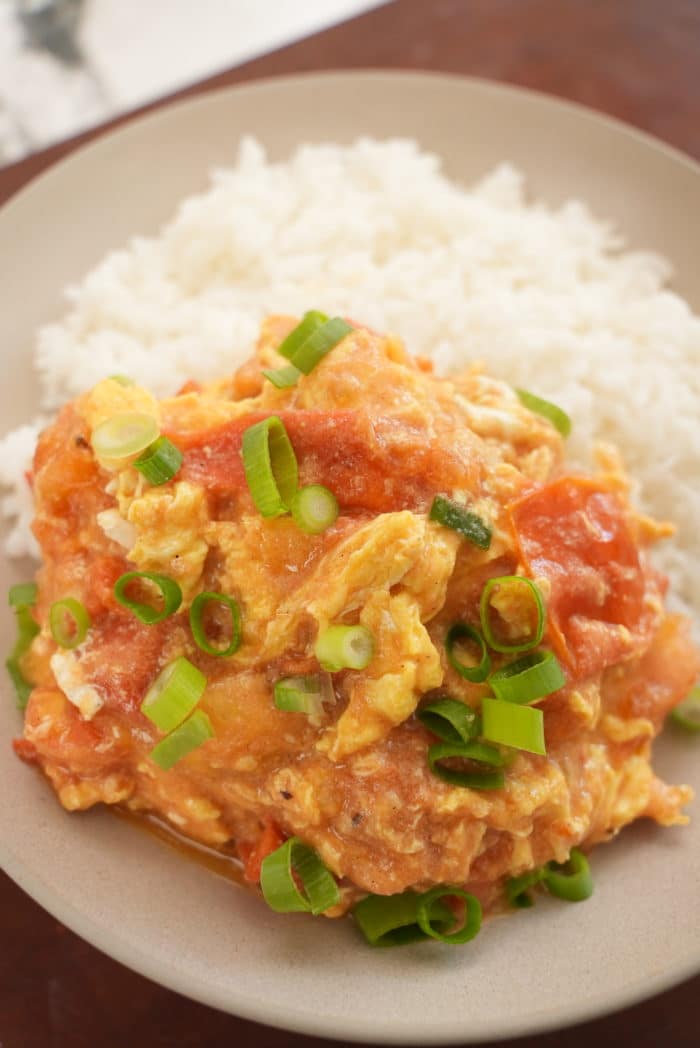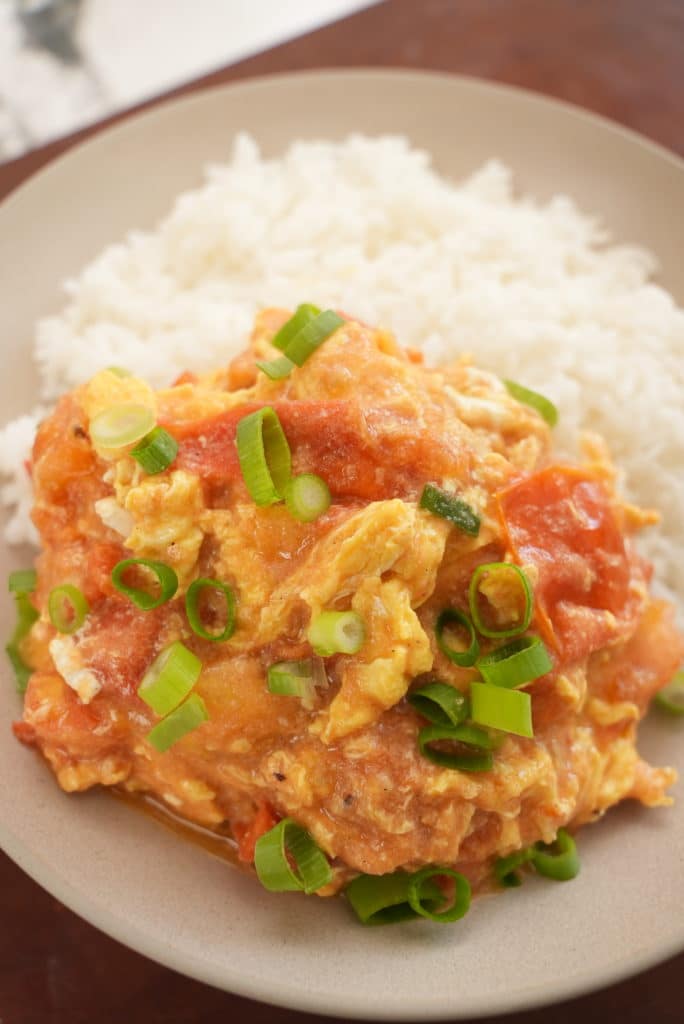 Chinese Tomato Egg Stir Fry
Ingredients
1.5

lb

tomatoes

roughly 750g, about 6 medium size tomatoes

4

large eggs

beaten, divided in half

1

tbsp

ginger

minced

3

cloves

garlic

minced

1/2

tsp

white pepper

1

tsp

kosher salt

1

tsp

sesame oil

1

tbsp

shaoxing wine

2

scallions

chopped

2

tbsp

neutral oil
Instructions
In a large pan or wok, heat 1 tbsp of oil over medium high heat, soft scramble half of the egg and set aside.

In the same pan over high heat, add 1 tbsp of oil and fry garlic and ginger for 15 seconds until fragrant.

Add chopped tomatoes and season with salt, white pepper, sesame oil, and shaoxing wine. Simmer for 3-5 minutes over medium high heat to break down the tomatoes.

Add remaining eggs and let the eggs sit in the tomatoes for 30 seconds until they set, stirring gently. Add reserved soft scrambled egg and scallions and mix to combine. If the stir fry is too loose, add the cornstarch slurry 2 tbsp at a time and stir until the stir fry becomes gravy-like. Top with scallions and serve over rice – enjoy!