Cold Soba Noodles
---
July 27, 2022
---
These Cold Soba Noodles are perfect during the warm summer heat! The best part about these noodles is that you can dip them in a sweet, savory, soy-based dipping sauce that perfectly compliment the noodles.
You can eat Soba noodles hot or cold, but to be honest, I've always preferred them cold. They're so delicious with a cold tsuyu dipping sauce and take less than 15 minutes to make!
Watch the Cold Soba Noodle Recipe Video Below!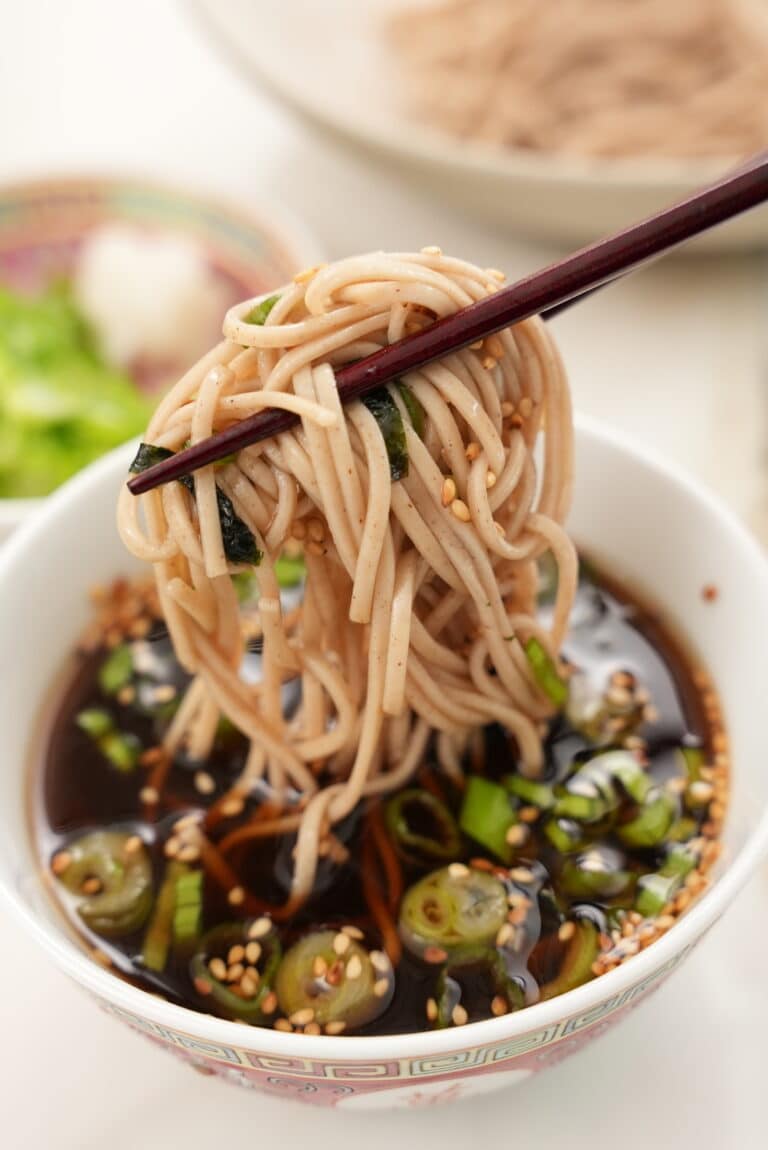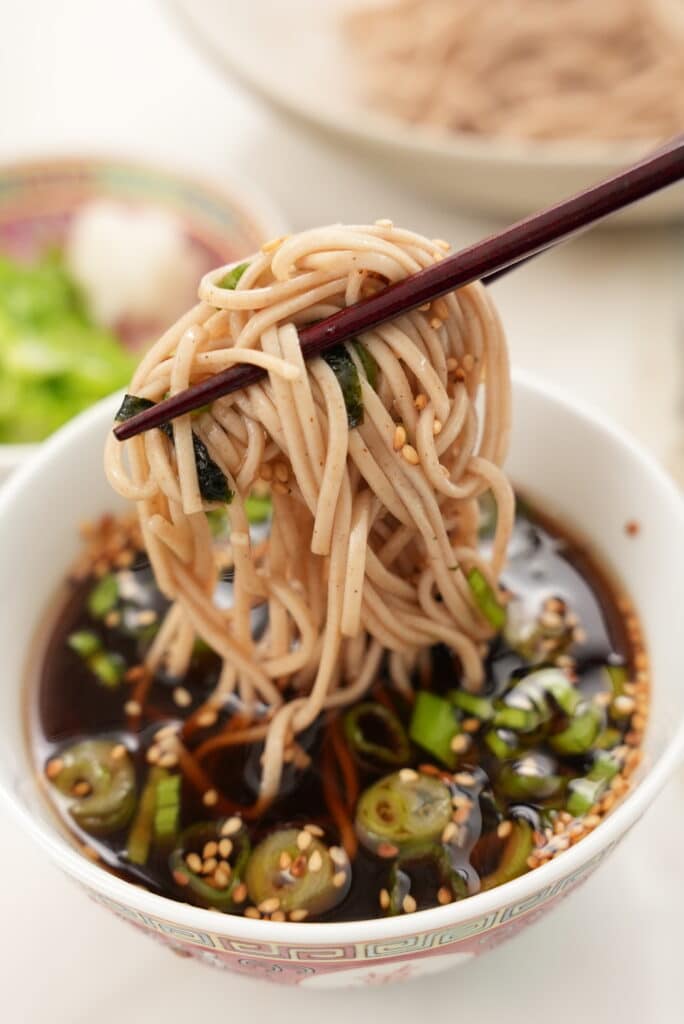 Ingredients for Cold Soba Noodles
This recipe only calls for a few ingredients to make delicious Cold Soba Noodles! Here is what you'll need:
Water
Dashi Powder
Light Soy Sauce
Mirin
Sugar
Buckwheat Soba Noodles
I always like to garnish mine with fresh sesame seeds and chopped scallion, alongside some grated radish. You can also eat Cold soba noodles with grated wasabi for a spicy kick!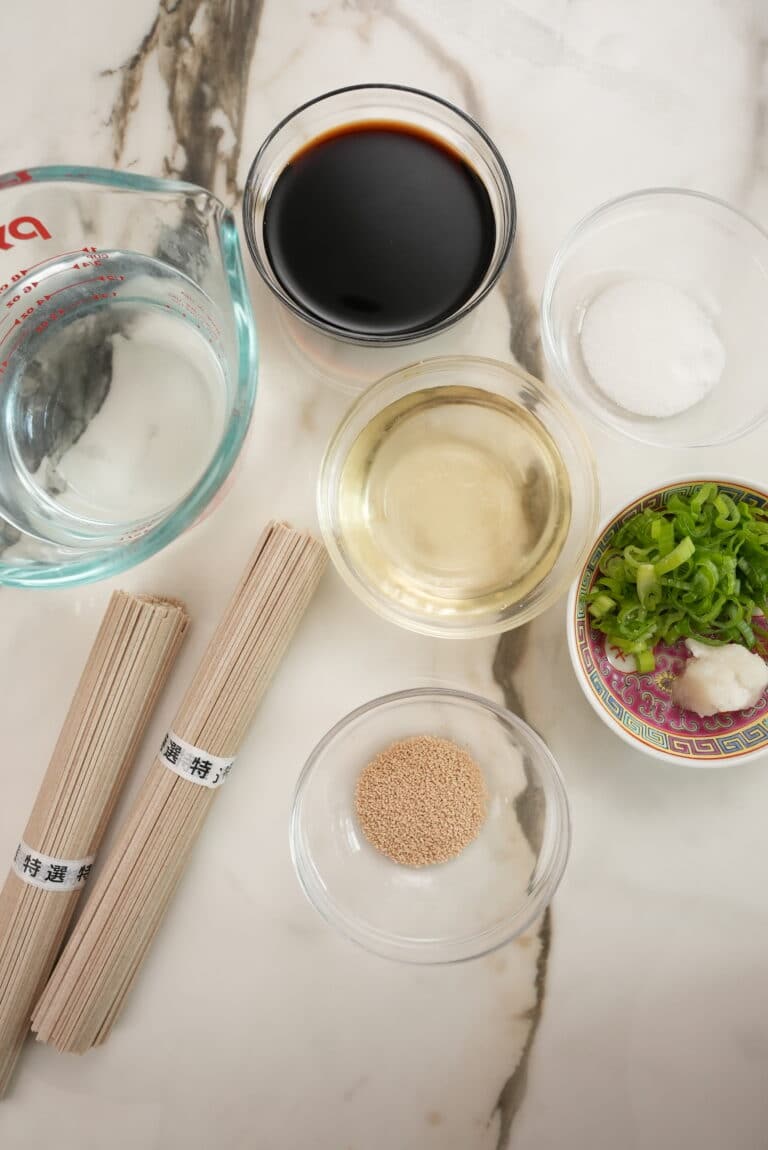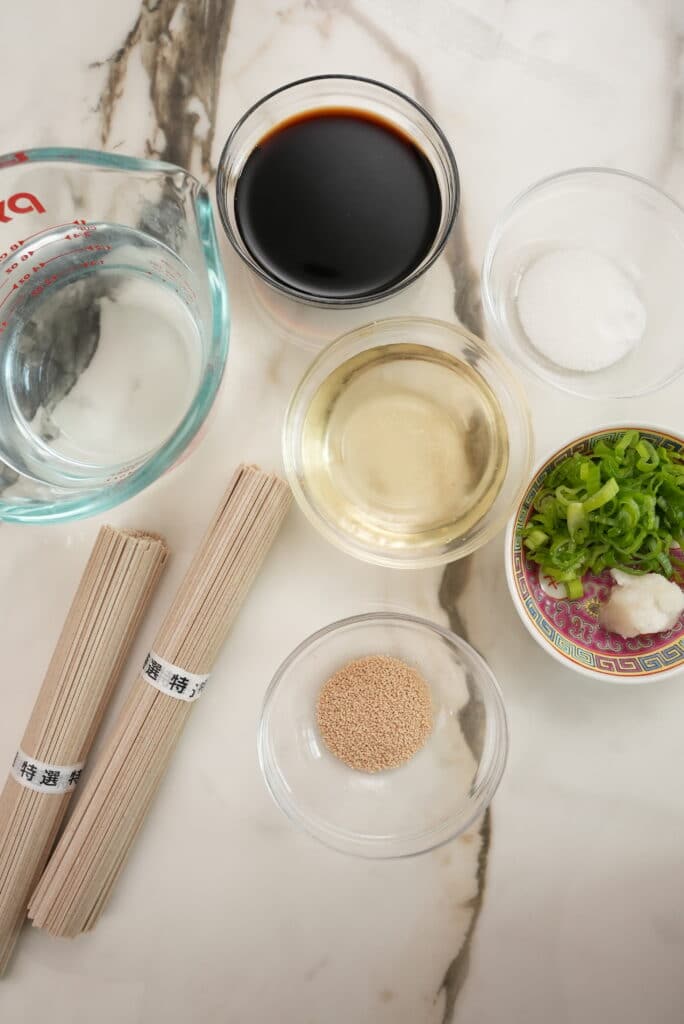 I buy Dashi powder from my local Japanese market, but you can also buy dashi stock in liquid form. If you are buying the liquid stock, be sure to use the same measurements as the recipe calls for water and omit the dashi powder.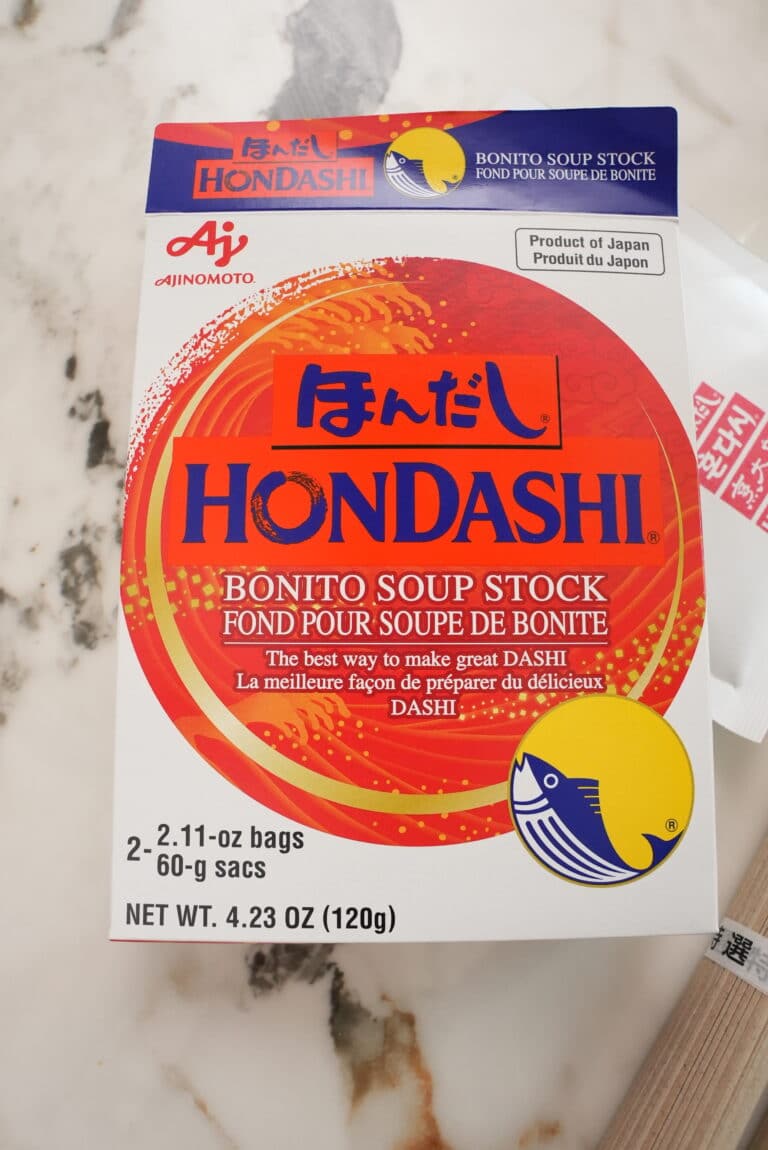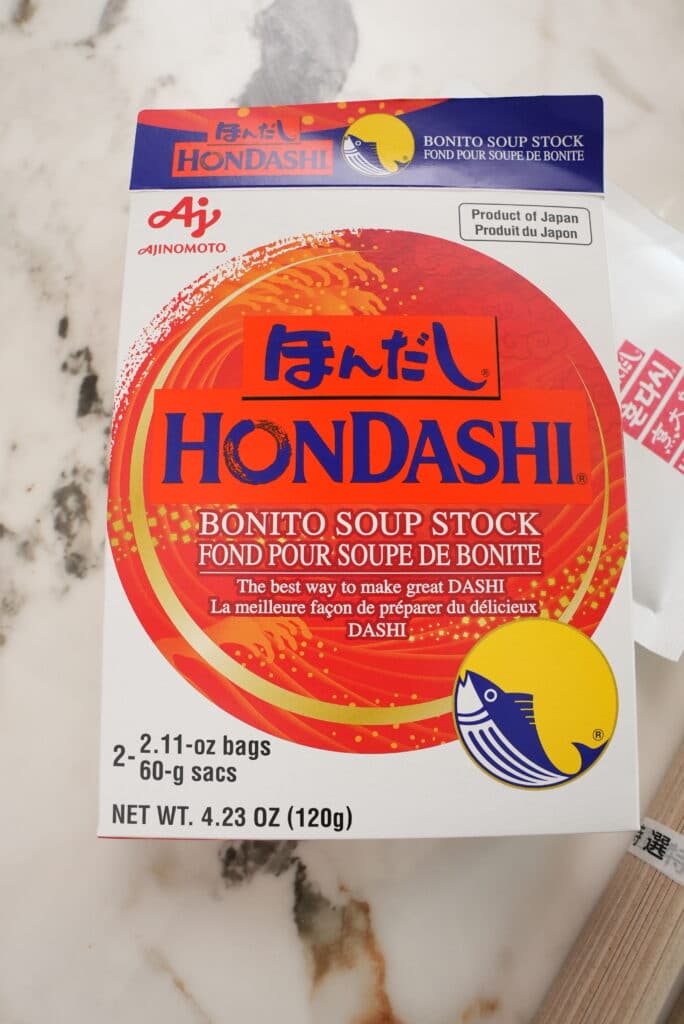 Other Ingredient Tips
INGREDIENTS TIPS
DASHI
I recommend buying Dashi Stock Powder for this recipe. It has a long shelf life and only needs to be mixed with water, so it can be made anytime. Alternatively, you can buy premade dashi stock if you plan on making a large batch!
SOBA NOODLES
You can find a wide variety of fresh or dried soba noodles in any Asian market. These noodles are unique as they are made with buckwheat flour, so I wouldn't recommend substituting them with any other type of noodle.
WHITE PEPPER
I get asked all the time if you can sub black pepper for white pepper – and my answer is, it depends BUT you need to watch the ratio. White pepper has a milder flavor profile than black pepper, so it's a 1-1 substitute. I would start with less black pepper and add as you go. (But really, you should have white pepper in your pantry! It's a staple in mine!)
LIGHT vs. DARK SOY SAUCE
Yes, they're different! Dark soy sauce is thicker, darker, and sweeter (as well as has a higher sodium content) than regular soy sauce. If you do not have dark soy sauce on hand, you can substitute with oyster sauce.
Cold Soba Noodles: Recipe Instructions
To begin, take a small saucepan and mix together water, dashi powder, light soy sauce, mirin, and sugar. You then will need to turn the heat to high and mix the ingredients until the sugar is dissolved and the sauce comes to a boil.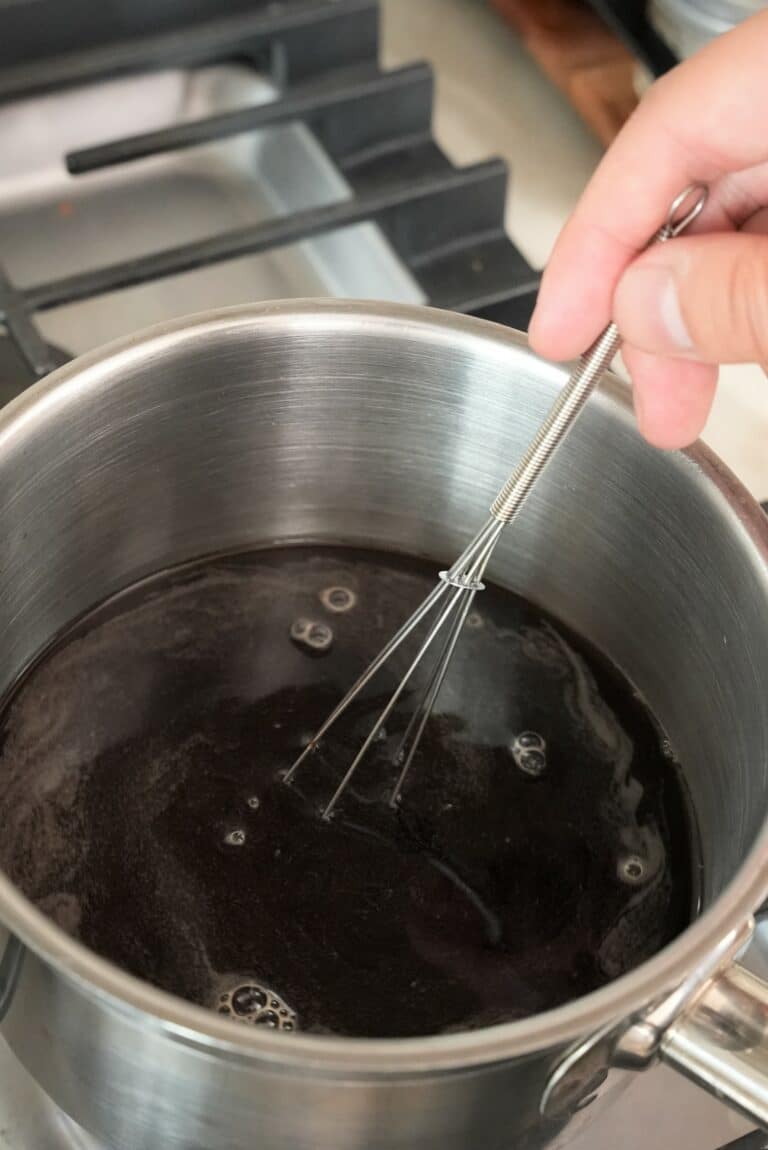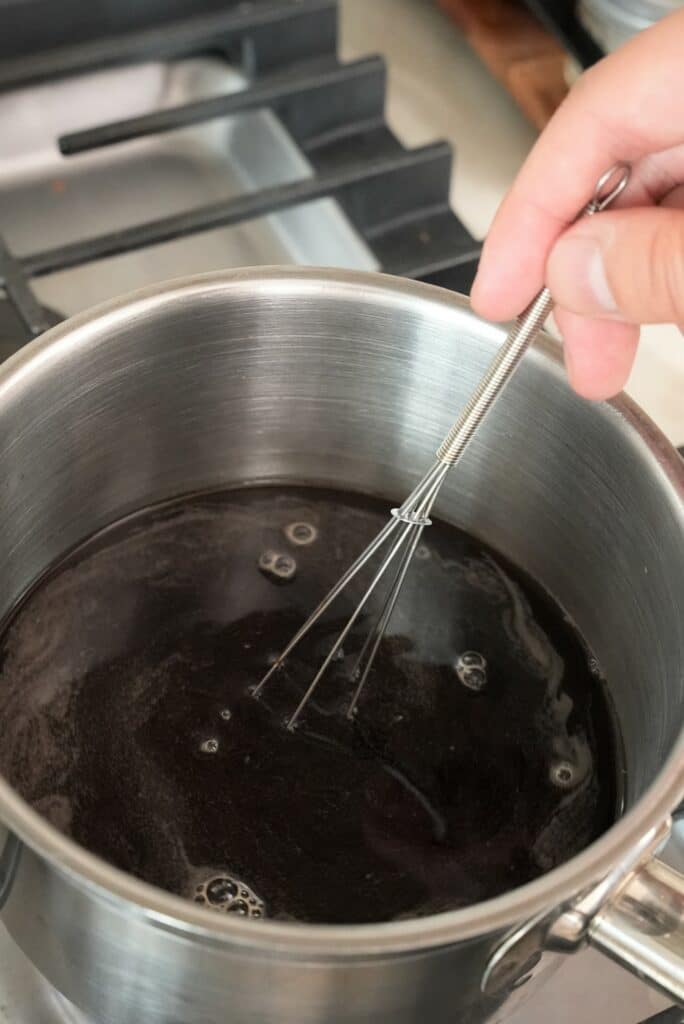 Once the sauce is boiling, turn the heat off and let it cool. If you want to eat immediately, you can pour the sauce in an airtight container and rapidly cool it in an ice bath. Otherwise, place it in the fridge or freezer until completely cooled.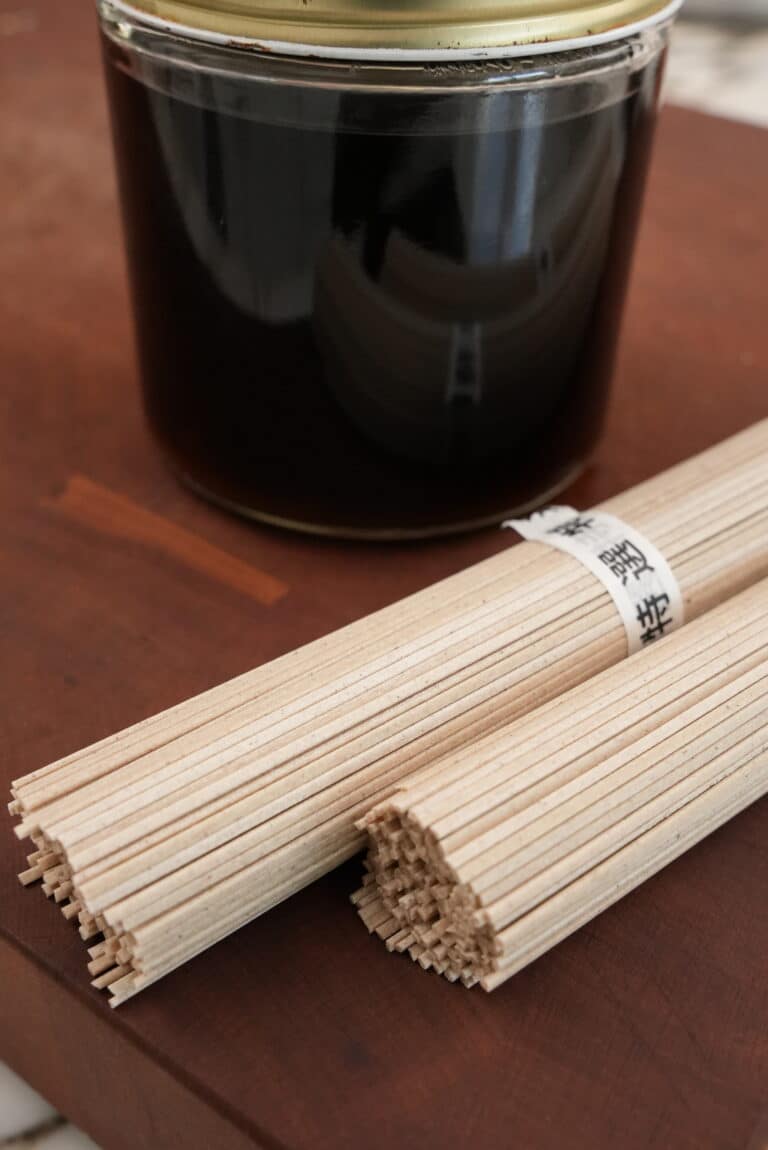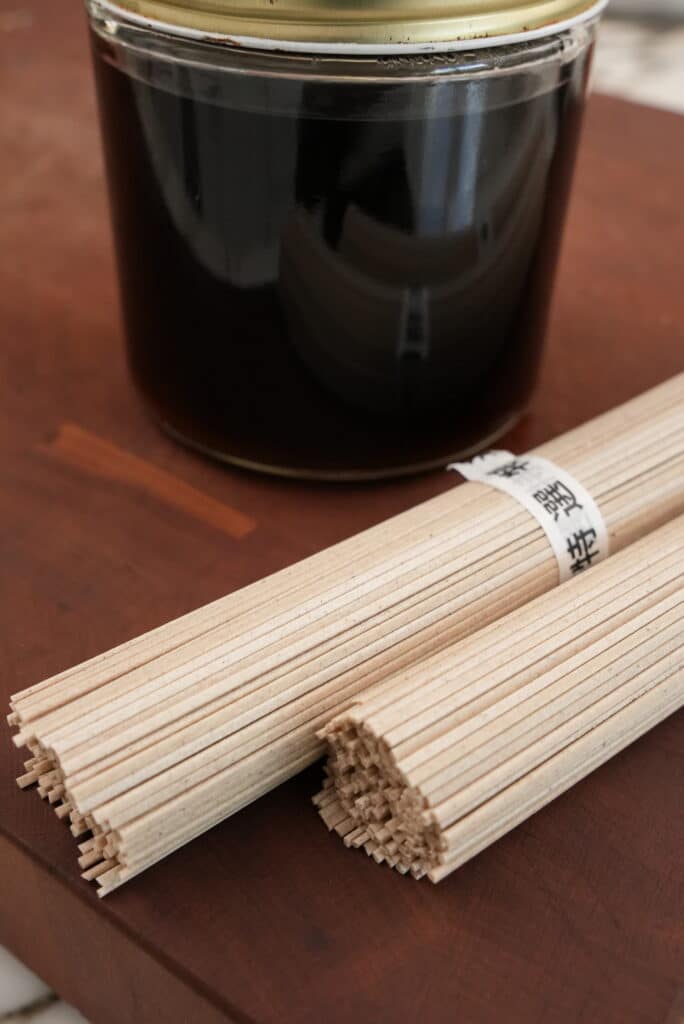 Finally, boil your soba noodles according to package directions. Drain them then rinse under cold water or in an ice bath to shock the noodles and keep their bouncy, springy texture.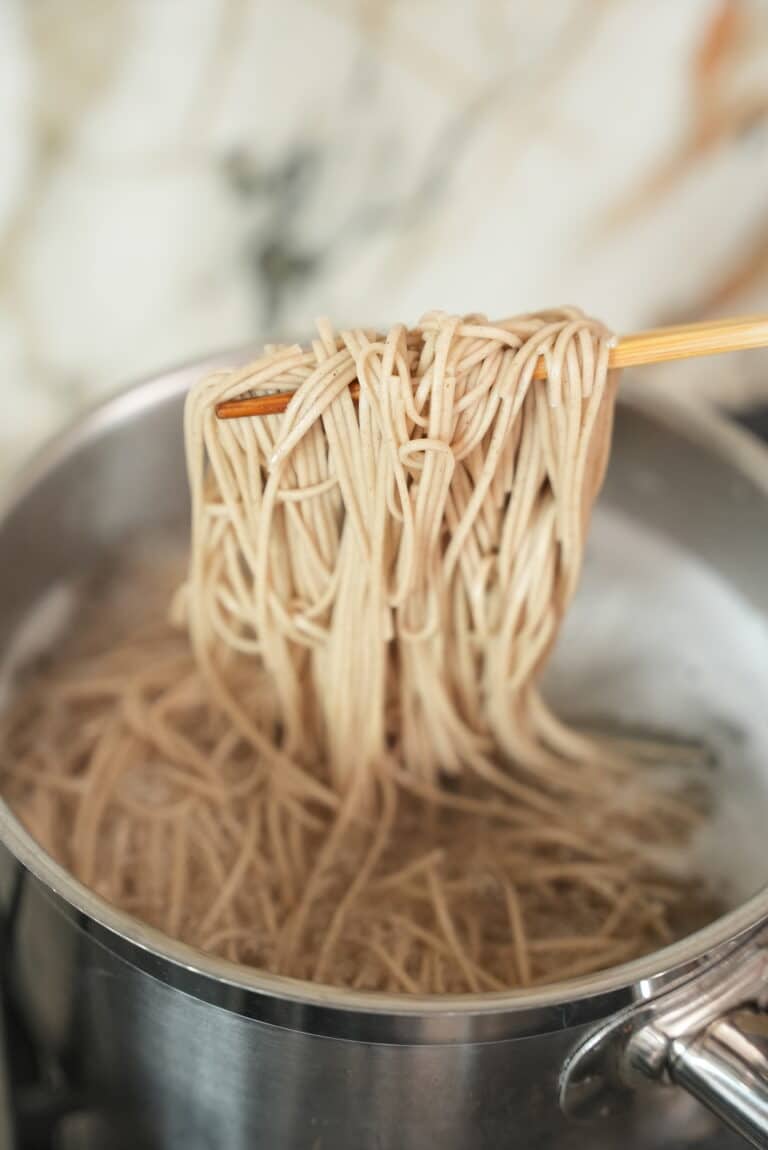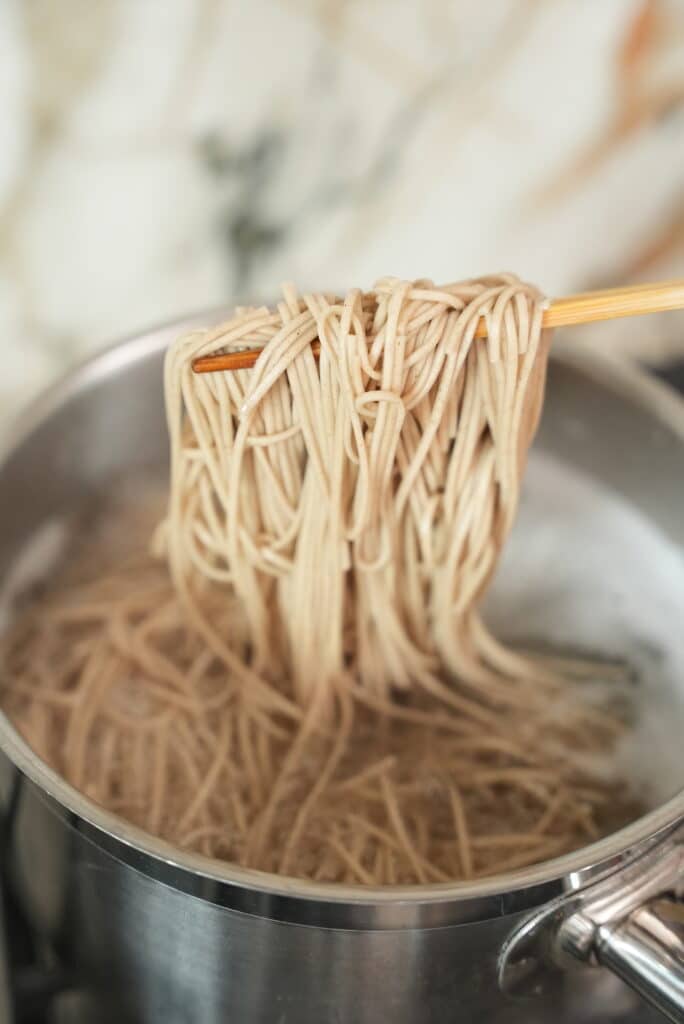 RECIPE TIPS
SHOCK NOODLES IN COLD WATER
If you are eating Cold Soba Noodles, it is imperative to stop the noodles from cooking once boiled, so run them under cold water or shock them in an ice bath to stop the cooking process! Otherwise, your noodles will continue to cook and then become mushy.
GARNISH
You can garnish your soba noodles with freshly chopped scallions, roasted sesame seeds, grated radish, and grated wasabi!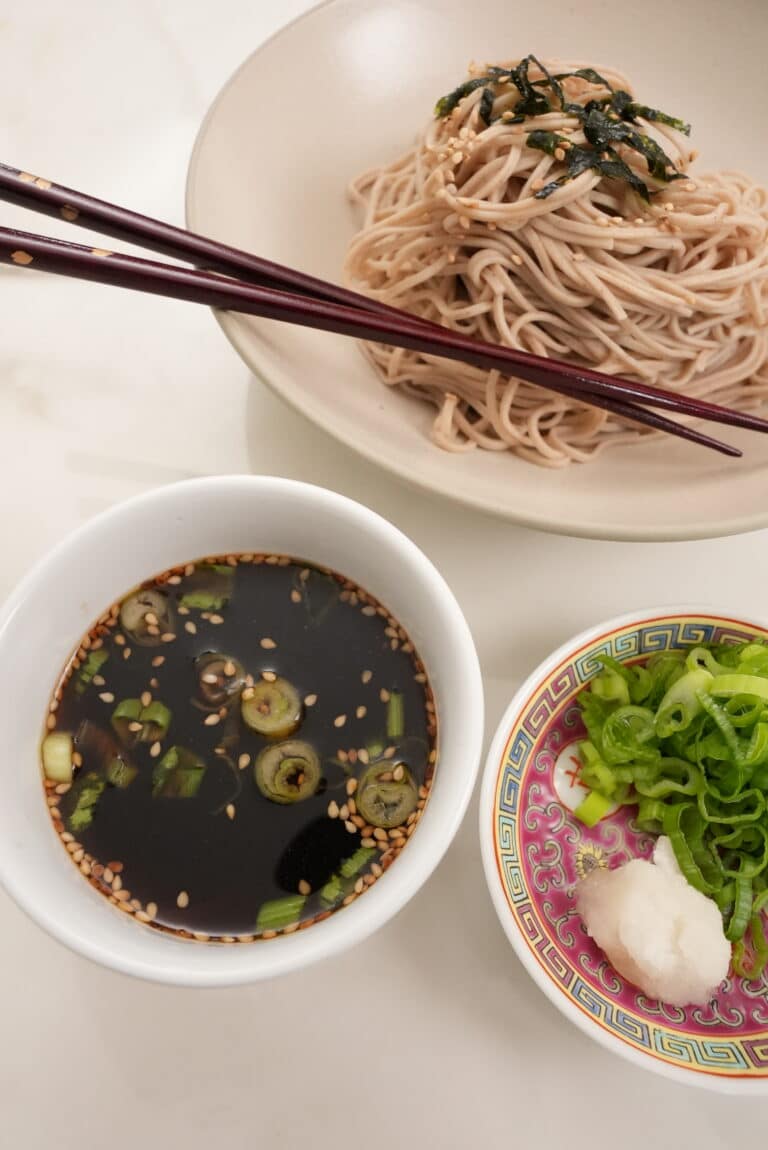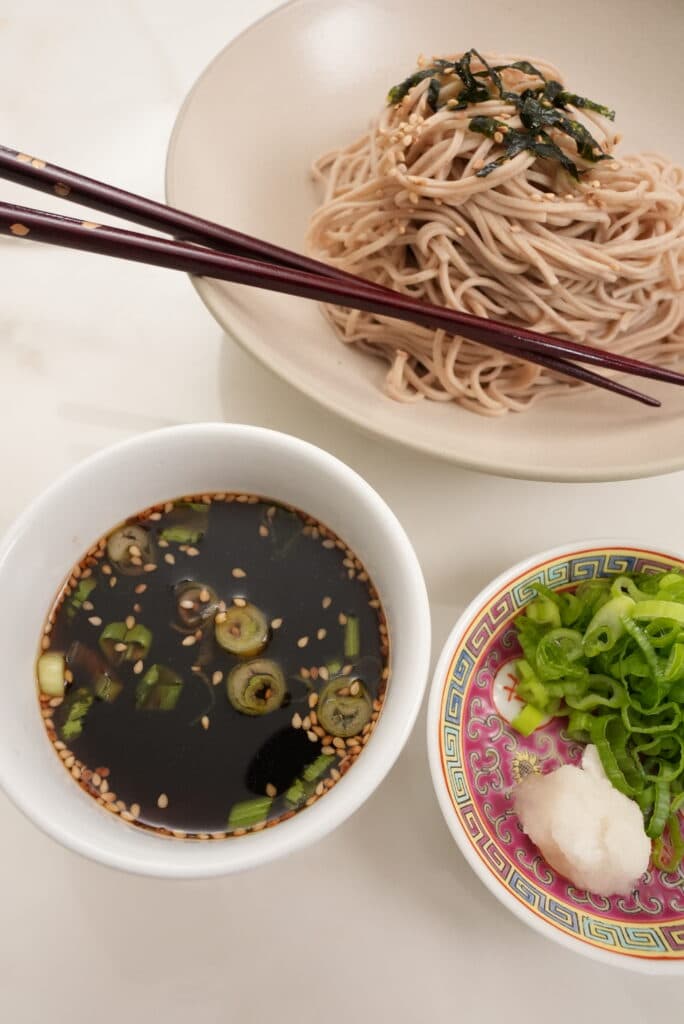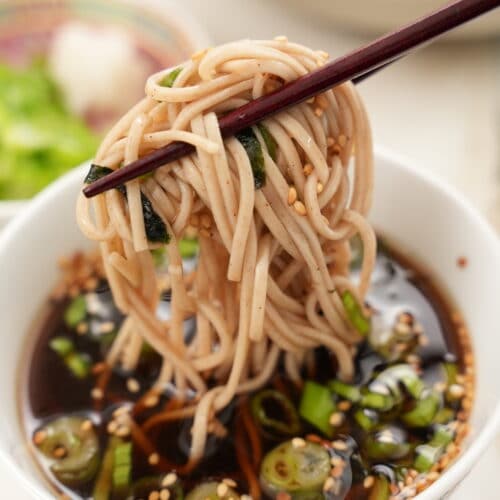 Cold Soba Noodles (Zaru Soba)
Delicious chewy buckwheat soba noodles are dipped in a cold dipping sauce made from dashi stock and is so refreshing on a hot day!
Ingredients
8

oz

dried soba noodles

1

cup

water

1

tsp

dashi powder

use 1 cup of dashi stock if not using powder

1/4

cup

light soy sauce

1/4

cup

mirin

1

tbsp

sugar
Garnish
3

scallions

chopped

sesame seeds

radish

grated

wasabi

grated

nori

cut to thin strips
Instructions
In a small saucepan, mix together water, dashi powder, light soy sauce, mirin, and sugar over high heat until it comes to a boil.

Turn off the heat and transfer to a heat proof dish or glass container. Place in an ice bath until completely cool. If eating later, place in the fridge until the sauce is completely cool.

Cook the soba noodles according to package directions. Immediately drain and rinse with cold water or place in an ice bath to completely stop the cooking process.

When ready to eat, garnish the sauce with sesame seeds and scallions and dip your noodles. You can also serve with grated radish or wasabi. Enjoy!