Salt & Pepper Squid
---
October 7, 2021
---
It's no surprise that Salt & Pepper Squid is one of the most popular dishes at Chinese restaurants – it's also one of my favorites! I love how the squid is super crispy and tossed in that addictive salt & pepper seasoning. Best part is that you can adjust this recipe to be as spicy (or not spicy) as you want!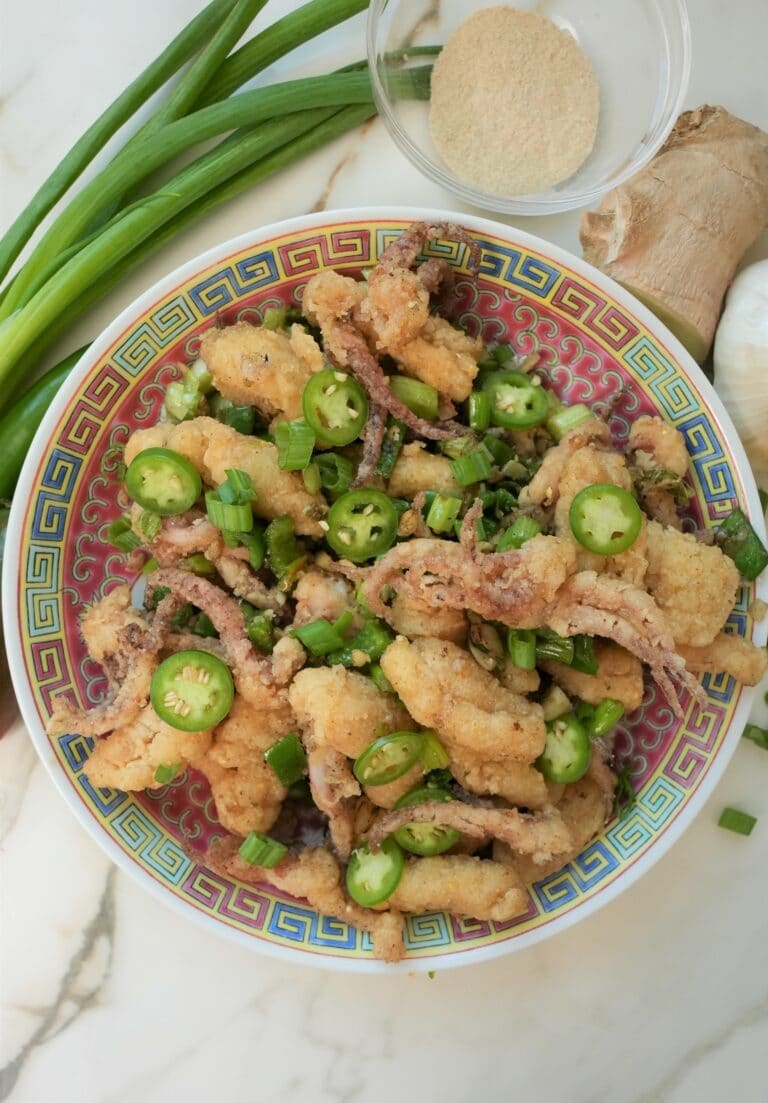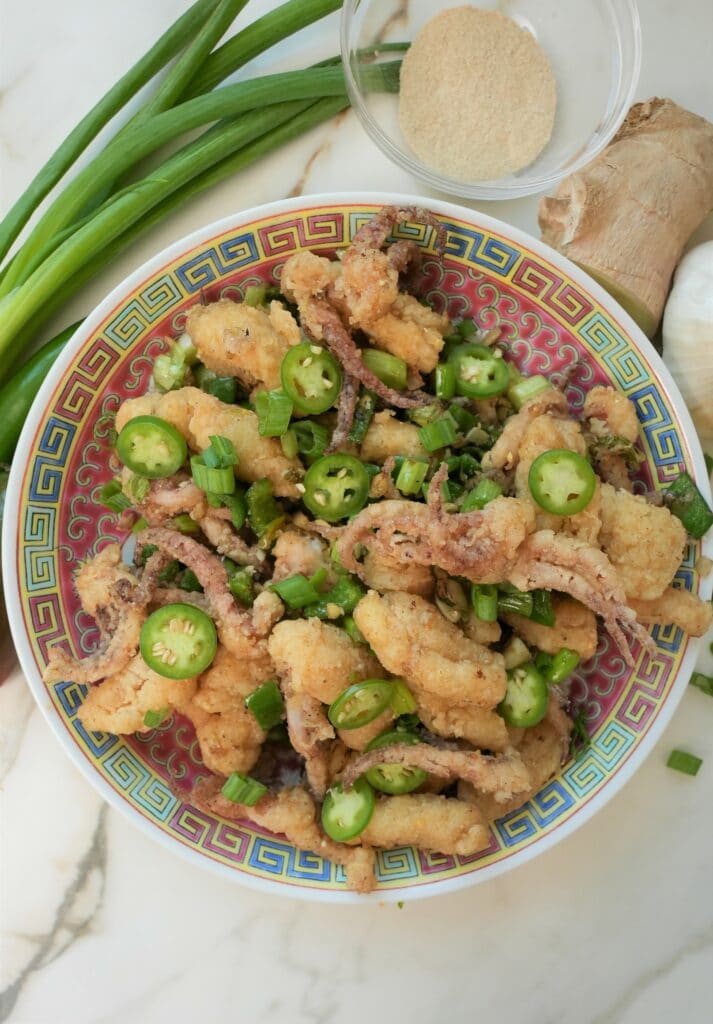 INGREDIENTS TIPS
SQUID
In this recipe, you'll be using both the tubes and tentacles. If you have a preference between either, feel free to use what you like! I've used both fresh and frozen squid with this recipe and they've both turned out great. (If using frozen, just make sure the squid is totally defrosted – it shouldn't take longer than 45 min – 1 hour.)
CORNSTARCH
This is a KEY ingredient in this recipe – the cornstarch dredge dries out the squid, which allows them to get extra crispy when fried! Make sure each piece is covered completely, with no bald spots.
SHAOXING WINE
If you cannot or do not want to use wine, you can sub with sherry, mirin, or chicken stock! 
WHITE PEPPER
I get asked all the time if you can sub black pepper for white pepper – and my answer is, it depends BUT you need to watch the ratio. White pepper has a milder flavor profile than black pepper, so it's a 1-1 substitute. I would start with less black pepper and add as you go. (But really, you should have white pepper in your pantry! It's a staple in mine!)
PEPPERS
I used diced jalapenos, as I like this dish to have a moderate amount of spice. If you are sensitive to spice, I would recommend subbing with green bell peppers. If you want more spice, I would recommend using serrano peppers!
RECIPE TIPS
SQUID
With a sharp knife, you'll need to cut the tube open (like a book) – once open, you'll score the inside of the squid in a cross section pattern. This scoring is what will make the squid curl when frying.
BE CAREFUL WHEN DICING CHILIS
I learned this the hard way – be very careful when dicing chili peppers! Make sure to wash your hands before and after handling the chili peppers, and DO NOT TOUCH YOUR EYES.
OIL TEMPERATURE
Do not let your frying oil drop below 350-385F when frying! I highly recommend you use a thermometer to keep an eye on the temperature. If you see it dropping below 350F, fry your squid in batches. Frying at a low temperature will result in too much moisture (AKA SOGGY!)
Salt & Pepper Squid
Ingredients
Vegetables & Oil
neutral oil

for frying squid; I used avocado oil

1

tbsp

neutral oil

I used avocado oil

1

tbsp

garlic

chopped

4

green onion

whites, chopped

2

jalapenos

diced

serrano peppers

thinly sliced, optional garnish
Instructions
With a shape knife, cut the squid tube on one side to open like a book. Score the INSIDE of the squid tube in a cross section pattern. This is going to allow the squid to curl up when frying.

Marinate squid with 1 tbsp Shaoxing wine, 1/2 tsp kosher salt, and 1/4 tsp white pepper and marinate for 15 minutes.

Chop garlic, green onions, and jalapenos and set aside.

In a large mixing bowl, combine 1 cup corn starch, 1/3 cup cornmeal, 1 tsp kosher salt, and 1 tsp white pepper and mix to combine.

Dredge squid in dry batter ensuring there are no bald spots on the tentacles or tubes.

Fry in batches at 385F for 2 minutes or until crispy and golden brown (oil should not drop below 350F). Set on a wire rack to cool and immediately sprinkle with white pepper and salt to taste.

To a hot wok, add 1 tbsp neutral oil and fry your garlic for 15 seconds, then add your green onion whites and diced jalapenos. Stir fry for 1 minute then add your squid. Garnish with thinly sliced serranos for extra heat and enjoy!