Drunken Noodles
---
October 26, 2021
---
Drunken Noodles (also called Pad Kee Mao) is a signature Thai dish that has the perfect balance of chewy rice noodles, sweet and umami packed flavor, and spicy freshness (from the chilis and herbs)!
Watch the Drunken Noodles Recipe Video Below!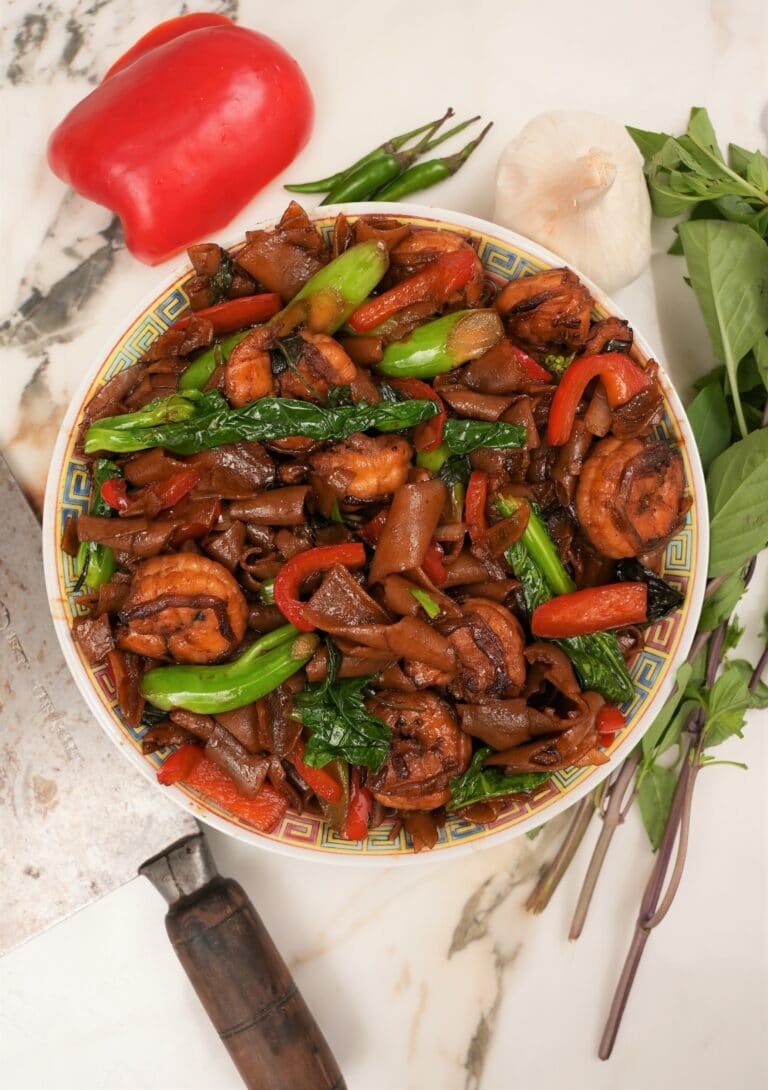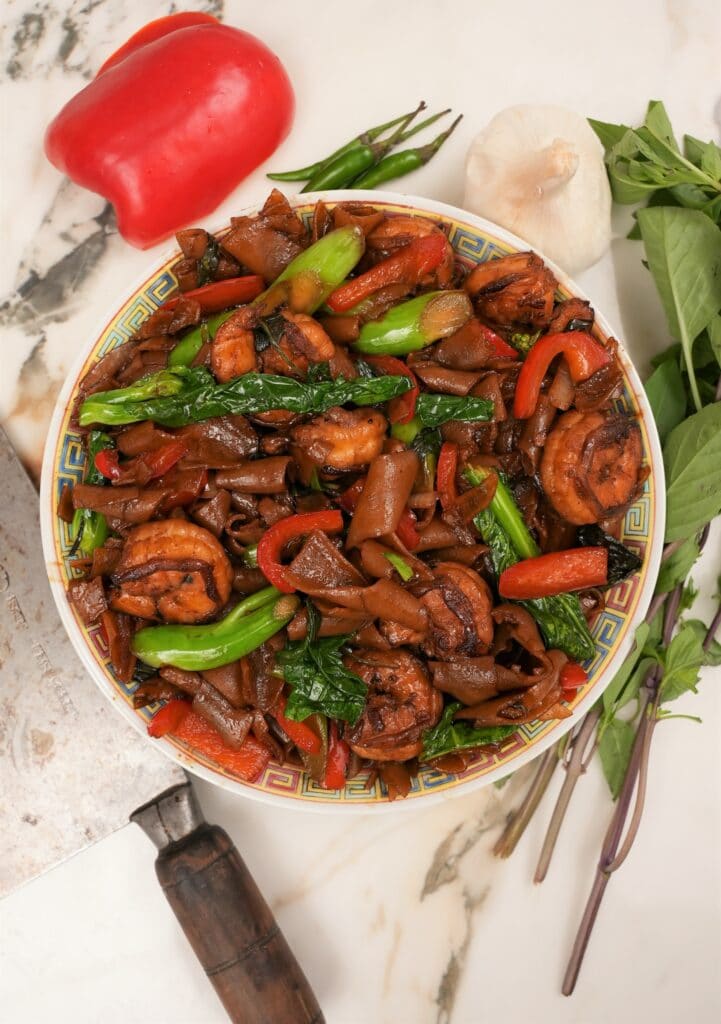 INGREDIENTS TIPS
PROTEIN
I used shrimp in this recipe but you can sub with another protein of your choice (such as chicken, beef, or even firm tofu)!
RICE NOODLES
I get my rice noodles from the refrigerated section of 99 Ranch (a Chinese grocery chain). If you find dry rice noodles, those will work too – just make sure to rehydrate them for at least one hour.
PALM SUGAR
Palm sugar is commonly used in Thai cooking – it's made from the sap of coconut palm trees and has a caramel-y color & flavor to it that is most similar to brown sugar. It's sold in circular blocks; I buy mine from 99 Ranch (a Chinese grocery chain). If you cannot find palm sugar, the best substitute is brown sugar or even white granulated sugar.
THAI BASIL
I purchase this from my local 99 Ranch (a Chinese grocery chain) – if you cannot find Thai basil, you can sub with holy basil or Italian basil.
THAI CHILI PEPPERS
Thai cooking is known to have a bit of a kick to it, and oftentimes the spice is from using Thai chili peppers! I love using them, as a little goes a long way – however, if you are sensitive to spice, I would recommend starting with half the amount and adjusting accordingly.
GAI LAN (or CHINESE BROCCOLI)
I have purchased gai lan from 99 Ranch or my local Thai market – I have not seen this at any other grocery stores. If you cannot find gai lan, I would leave it out of the dish altogether.
RECIPE TIPS
SHRIMP
Marinating the shrimp (or any other protein you use) is a KEY TIP – the salt will help keep the shrimp moist, while the baking soda helps the shrimp maintain a firm texture. This little trick makes a huge difference in how your shrimp tastes in the finished dish, so I highly recommend you do not skip this!
SUCCESS IS IN THE PREP!
Once you start cooking, this recipe will come together very quickly. The key to pulling this off successfully is having all of your ingredients prepped and in bowls right next to your wok or pan! Have your premixed sauce, noodles, and vegetables ready and easily accessible during the cooking process.
BE CAREFUL WHEN DICING CHILIS
I learned this the hard way – be very careful when dicing chili peppers! Make sure to wash your hands before and after handling the chili peppers, and DO NOT TOUCH YOUR EYES.
Drunken Noodles
Ingredients
Shrimp
1/2

lb

shrimp

1/4

tsp

kosher salt

1/3

tsp

white pepper

1

tbsp

light soy sauce

1/8

tsp

baking soda
Sauce
1

tbsp

oyster sauce

2

tbsp

light soy sauce

2

tbsp

fish sauce

1

tbsp

dark soy sauce

1/4

tsp

white pepper

1/4

tsp

msg

optional

1

tbsp

palm sugar

can sub brown sugar
Noodles & Vegetables
20

oz

rice noodles

4

Chinese broccoli (or gai lan)

leaves and stems cut into 2" pieces

1/4

onion

sliced

5

green onions

cut into 2" pieces

1

red bell pepper

julienned; you can sub with red chili if you want more heat

3

thai chili peppers

adjust to your spice preference

5

cloves

garlic

1

cup

fresh thai basil

sub regular basil

neutral oil

for frying; I used avocado oil
Instructions
Marinate shrimp for 15 minutes with kosher salt, white pepper, soy sauce, and baking soda.

Separate your rice noodles and prep your garlic, vegetables, and chilis. Set your garlic and thai chilis in one bowl, and your onions, green onion stalks, and red chilis/bell pepper in a separate bowl. In a third bowl, place together your gai lan leaves, scallion greens, and basil.

Premix your sauce and set aside, breaking palm sugar into pieces as small as possible to dissolve into the sauce.

Over high heat, add 2 tbsp oil to a hot pan and saute your shrimp for 3-4 minutes until cooked through and set aside.

Add 3 tbsp oil over high heat and fry your garlic and thai chilis for 15 seconds, then immediately add in your onions, scallion stalks, and red chilis. Stiry fry for 2-3 minutes until the vegetables are cooked, then add your rice noodles.

Add back your shrimp and your premixed sauce and gently mix through to not break the rice noodles, about 2-3 minutes.

Turn off the heat, then add your gai lan leaves, scallion greens, and basil. Fold through until the leaves are wilted and serve immediately. Enjoy!