Pad Thai
---
December 1, 2021
---
PAD THAI is one of the most iconic Thai noodle dishes (if not THE MOST FAMOUS) and there's a good reason why! You're going to LOVE making this dish at home! 
I've had the opportunity to visit Thailand a few times now, and one of the things I love most about it is the food! Everything is so quickly made in the wok and incredibly delicious, and I was so inspired to make these Pad Thai noodles at home. I hope you enjoy this recipe!
Watch the Pad Thai Recipe Video Below!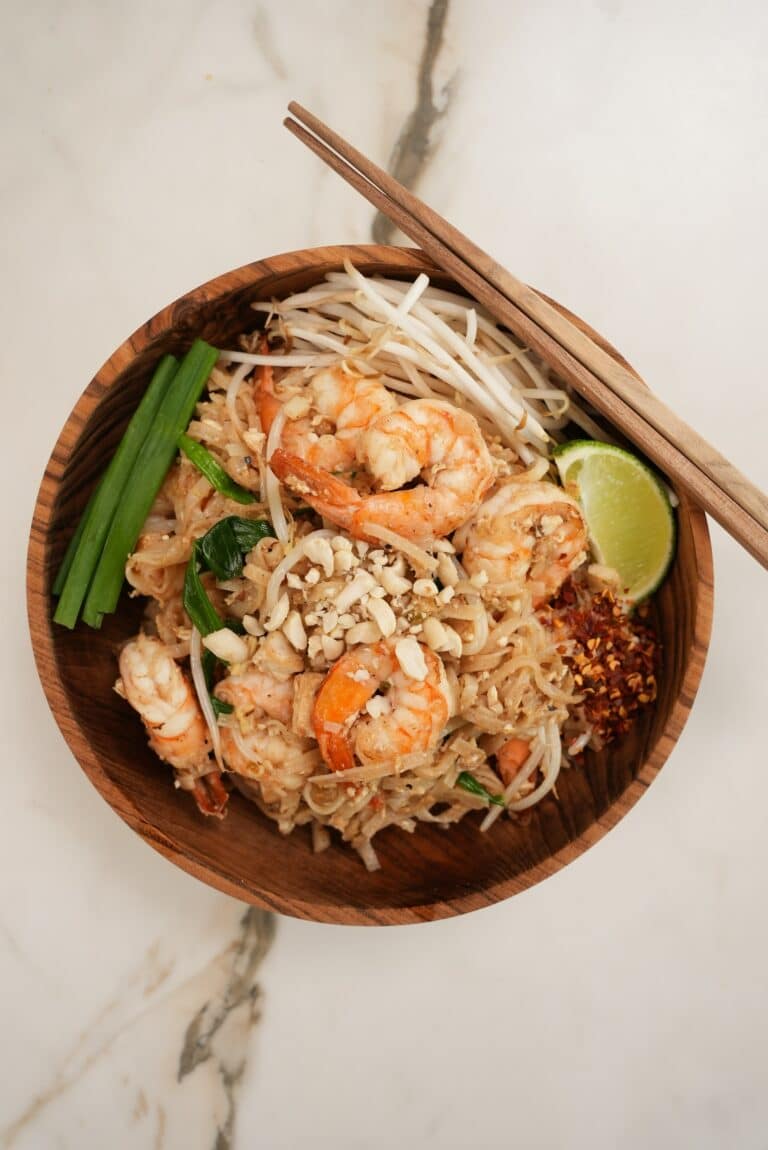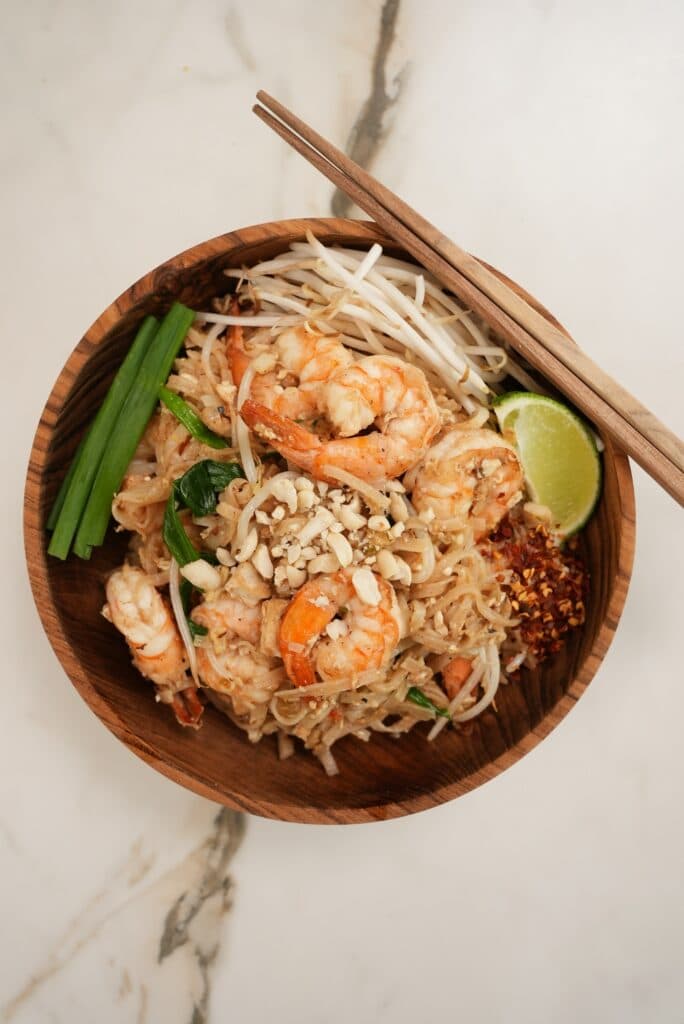 I always thought PAD THAI was a difficult dish to make until the last time I was in Thailand, when I got to take a cooking class & learned the secrets to an AUTHENTIC PAD THAI!
INGREDIENTS TIPS
PALM SUGAR
Palm sugar is commonly used in Thai cooking – it's made from the sap of coconut palm trees and has a caramel-y color & flavor to it that is most similar to brown sugar. It's sold in circular blocks; I buy mine from 99 Ranch (a Chinese grocery chain). If you cannot find palm sugar, the best substitute is brown sugar or even white granulated sugar.
THAI TAMARIND PASTE
You must purchase THAI tamarind paste, not Indian tamarind paste. Indian tamarind paste will have a different flavor and color, and it is NOT appropriate to use for Pad Thai. I got my Thai tamarind paste from the Thai market but you should also be able to find it on Amazon.
NOODLES
If you are using dry noodles, do not over-hydrate! You should hydrate the noodles for 1 hour max. Any longer and your noodles will be soggy.
PROTEIN
I used SHRIMP and TOFU but you can sub with another protein of your choice. When using TOFU, I recommend getting the firmest tofu you can find.
NEUTRAL OIL
My favorite neutral oil is avocado oil, but you can also use canola or vegetable oil! I don't use olive oil when cooking Thai food for two reasons: 1. It has a low burning point and 2. I find that the flavor profile does not usually go with the dish.
BEAN SPROUTS – FOOD SAFETY 101
Bean sprouts should be purchased as closely to the day you will prepare and eat them – I do not recommend buying them well in advance! Once purchased, you should be using them within 1-2 days, MAX.
When buying bean sprouts, you should be looking for crispness and avoiding any that look wilted or mushy. Get them in the refrigerator as soon as you get home.
Make sure to wash your hands thoroughly with soup BEFORE and AFTER handling them.
Rinse the sprouts thoroughly under cool water and don't let them get in contact with any other raw foods.
Make sure to wash anything you used to clean or prepare the bean sprouts (cutting board, knives, utensils, etc). Food safety is KEY when handling them!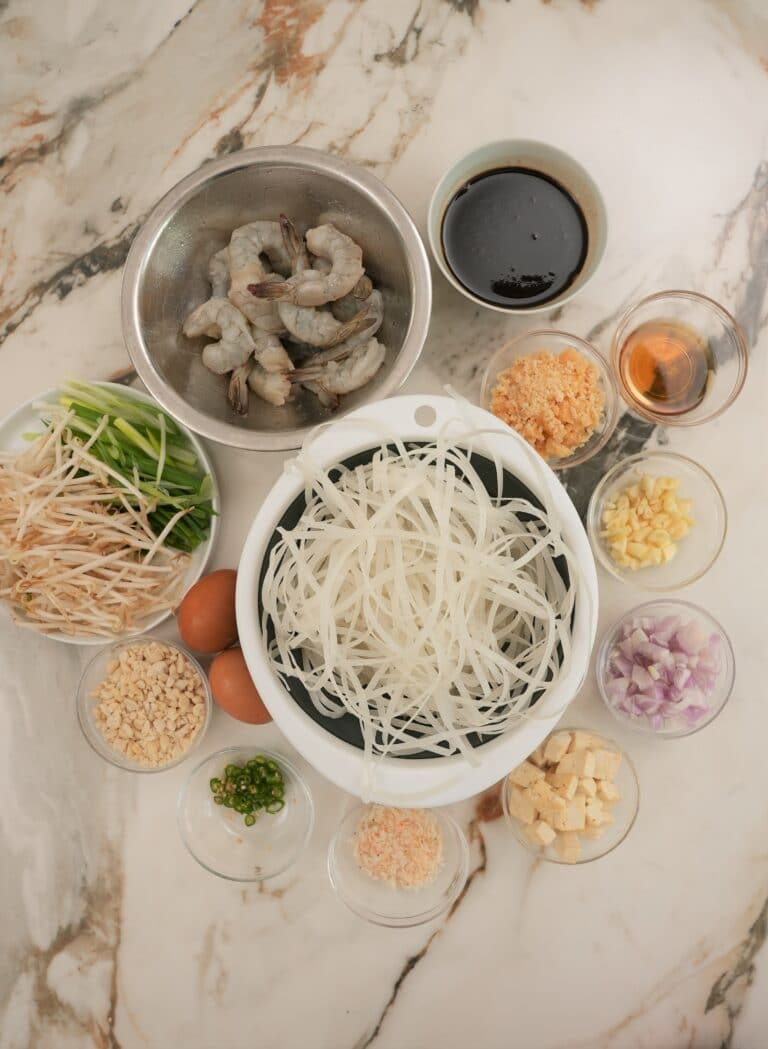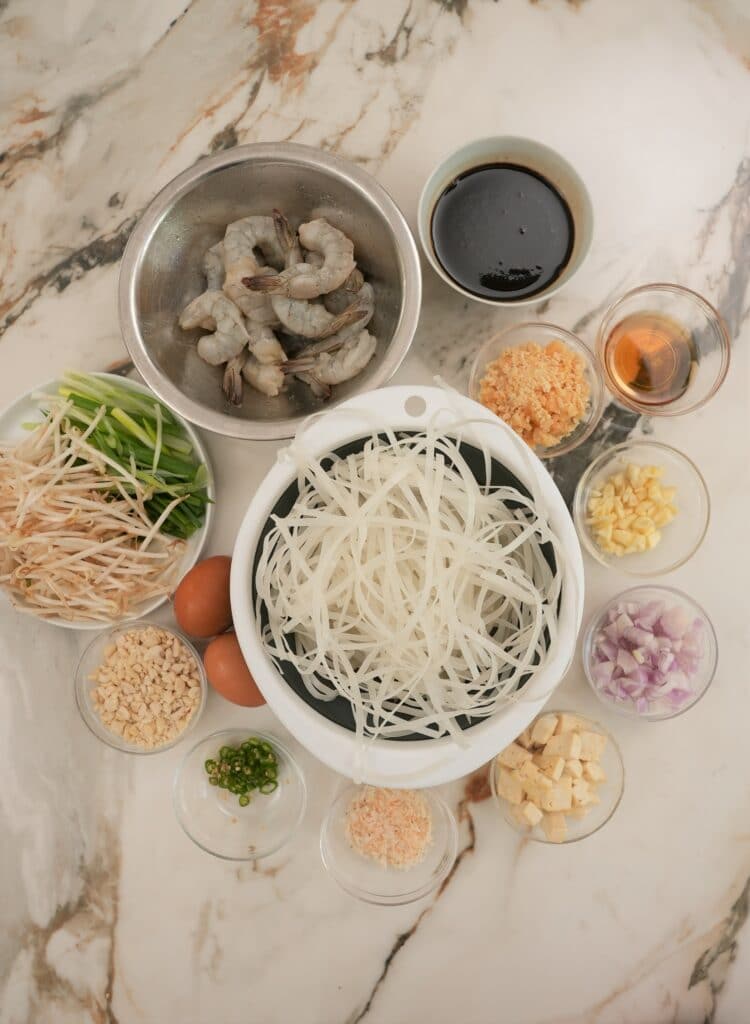 RECIPE TIPS
WATCH YOUR SUGAR
Keep an eye on your palm sugar as it melts, as sugar can burn! Once melted, you should add your premixed sauce IMMEDIATELY and stir until the sugar has dissolved completely.
PAD THAI COOKS FAST
This is a dish that cooks FAST, so I recommend having all of your ingredients prepped and ready to go. Keep an eye on your noodles to make sure they don't overcook!
OPTIONAL GARNISHES
I like to top Pad Thai with more:
Bean sprouts
Chopped peanuts
Chili flakes (Thai or red chili pepper flakes both work!)
Lime
If you like this recipe, be sure to check out some of my other most popular recipes on the blog!
Pad Thai
Ingredients
8

oz

fresh medium stick rice noodles

if used dried noodles, rehydrate 4oz noodles for 1hr

1

small shallot

chopped

4

cloves

garlic

chopped

1/4

cup

firm tofu

2

tbsp

dried small shrimp

finely chopped

2

thai chili pwppers

chopped, optional

2

cups

fresh bean sprouts

2

scallions

thinly sliced, lengthwise

2

eggs

1/4

lb

shrimp

or protein of choice
Sauce
3

tbsp

palm sugar

chopped

3

tbsp

water

1/4

cup

Thai tamarind paste

3

tbsp

fish sauce
Optional Garnishes
bean sprouts

chopped peanuts

chili flakes

lime
Instructions
Mix together tamarind paste, fish sauce, and water. Roughly chop palm sugar and slowly melt over medium heat in a small saucepan until a dark blonde color. Once melted, immediately add your premixed sauce and stir until the sugar has dissolved and set aside.

Prepare your shallot, garlic, tofu, small shrimp, chilis, bean sprouts, and scallions and set aside.

Over high heat add 1 tbsp of avocado oil and cook your protein and set aside.

Add 3 tbsp of oil over high heat and add your shallot, garlic, tofu, dried shrimp and optional thai chili peppers. Stir fry for 30 seconds. Next add your rice noodles and sauce and mix to combine. Continue cooking over high heat 2-3 min until the sauce has incorporated into the noodles (test noodles for doneness).

Push noodles aside and add a bit of oil. Add 2 eggs and scramble until 90% done, then mix together with noodles. Add scallions, bean sprouts and chopped peanuts and mix. Serve with more bean sprouts, chopped peanuts, lime, and chili pepper and enjoy!