Mongolian Beef
---
September 25, 2021
---
Mongolian Beef is a classic "American Chinese" takeout dish – but I promise, it tastes even better when you make it at home! The beef is super tender and it's coated in a delicious sweet & savory sauce – trust me, you're going to love this one!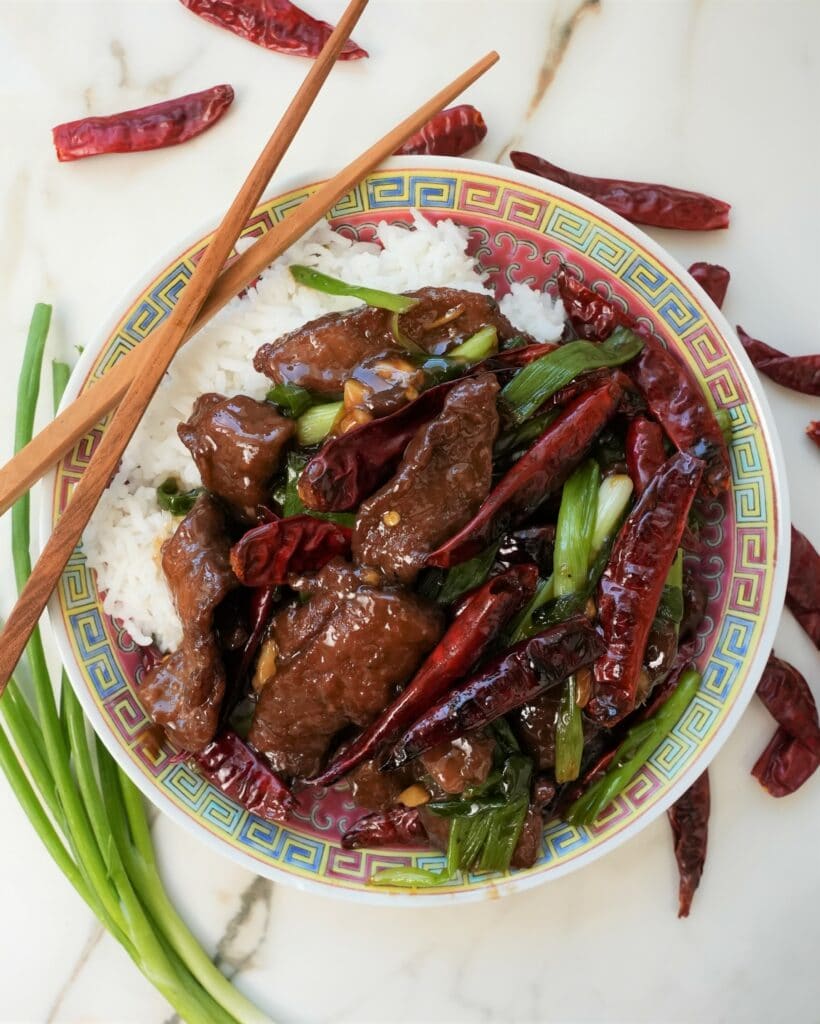 INGREDIENTS TIPS
FLANK STEAK
Make sure you are slicing against the grain. You'll know which direction the grain is when you look at the meat – the lines will be running in one direction (the lines are the muscle fibers). Slicing against the grain is an easy way to ensure your meat will be tender. (Remember, the lines are the muscle fibers – cutting against the lines means you're cutting the long fibers, so they don't get tough when cooked!)
BAKING SODA
This is the KEY ingredient to super tender beef. Baking soda is commonly used in Chinese cooking to tenderize beef. If you're curious about the science behind it – baking soda neutralizes acid and raises the pH level, which causes the meat to become more alkaline. This means the proteins INSIDE the meat will have more trouble tightening up – when the proteins can't tighten up, the meat ends up much more tender when cooked (instead of constricting together aka getting tough!)
CORNSTARCH
Cornstarch is a key ingredient in Chinese cooking because it is used for velveting the meat. Velveting is a Chinese technique where protein is marinated in cornstarch and cooked quickly in hot oil, resulting in the meat becoming tender and silky. You'll see this technique in a lot of my recipes because it's one of my favorite ways to guarantee moist, tender protein!
NEUTRAL OIL
My favorite neutral oil is avocado oil, but you can also use canola or vegetable oil! I don't use olive oil when cooking Chinese food for two reasons: 1. It has a low burning point and 2. I find that the flavor profile does not usually go with the dish.
SHAOXING WINE
If you cannot or do not want to use wine, you can sub with sherry, mirin, or chicken stock!
DRIED RED CHILIS
If you are sensitive to heat, you can adjust by using less chilis OR by removing the seeds. (To be clear, the seeds don't contain the chemical that make the peppers hot BUT they are oftentimes coated with the oils that make peppers hot.)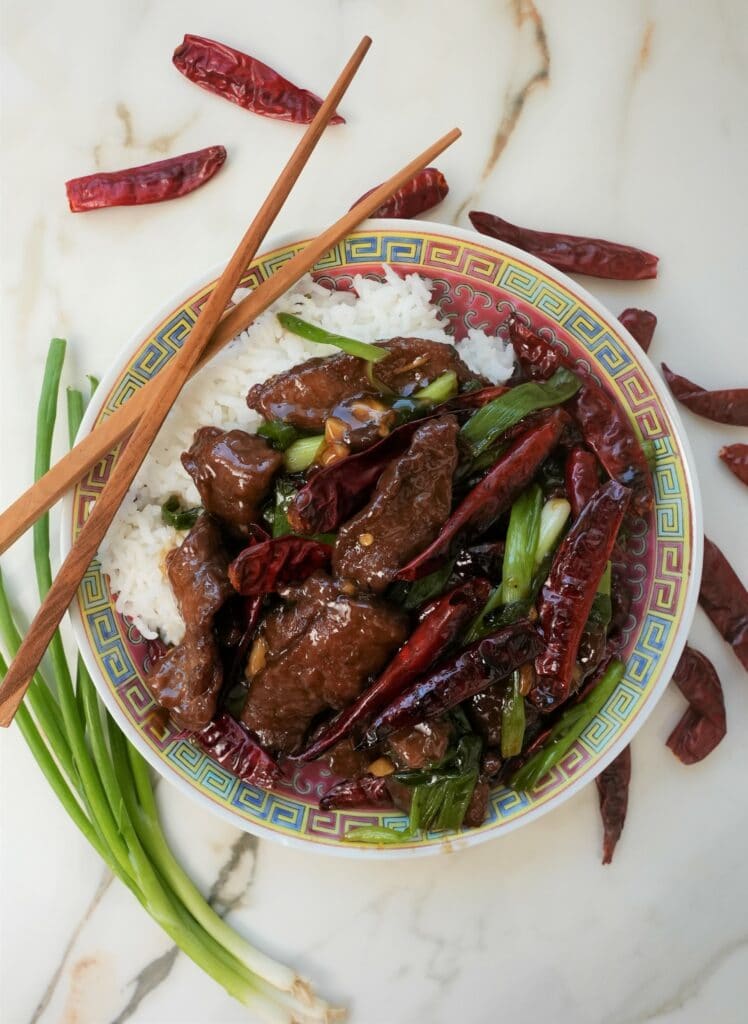 RECIPE TIPS
OIL TEMPERATURE
Do not let your frying oil drop below 300F when frying! I highly recommend you use a thermometer to keep an eye on the temperature. If you see it dropping below 300F, fry your beef in batches. Frying at a low temperature will result in too much moisture (AKA SOGGY!)
CORNSTARCH SLURRY
A cornstarch slurry is a mixture of cornstarch and water that is used in cooking to thicken WITHOUT powdery lumps or additional flavors/colors! This is the secret to so many of your favorite Chinese dishes. My #1 tip is make sure your cornstarch slurry has not separated before adding it in – I always try to re-stir right before!
SUCCESS IS IN THE PREP!
Once you start cooking, this recipe will come together very quickly. The key to pulling this off successfully is having all of your ingredients prepped and in bowls right next to your wok or pan! Have your premixed sauce, noodles, and vegetables ready and easily accessible during the cooking process.
Mongolian Beef
Ingredients
1

lb

flank steak

cut into 1/4" strips

2

tbsp

neutral oil

I used avocado oil

2

tbsp

light soy sauce

1

tbsp

shaoxing wine

1/2

tsp

baking soda

2

tbsp

cornstarch

1

tsp

white pepper
Sauce
1/2

cup

light soy sauce

1/2

cup

chicken stock

3

tbsp

brown sugar

6

green onions

cut into 2" pieces

1

cup

dried red chilis

remove seeds to reduce spice level

1

tbsp

ginger

minced

3

cloves

garlic

minminced
Cornstarch Slurry
1

tbsp

cornstarch

1/4

cup

water
Instructions
Slice your steak into 1/4" strips and marinate with oil, light soy sauce, Shaoxing wine, baking soda, corn starch, and white pepper for 15 minutes.

Prepare your green onions, garlic, ginger and chilis (deseed the chilis for less heat); set aside.

Combine light soy sauce, brown sugar, and warm chicken stock mix; mix until sugar is dissolved.

Dust your beef in corn starch and shallow fry for 3-4 minutes at 350F, working in batches if necessary so the oil does not drop below 300F. Fry until golden brown and crisp. Remove and set aside.

Over high heat, add 2 tbsp neutral oil and fry your garlic and ginger for 30 seconds; then add your red chilis and green onions and cook for another minute.

Add your premixed sauce and stir to combine and slightly reduce, then add your cornstarch slurry to thicken. Add back your beef, stir for another minute to coat evenly, and enjoy!