Garlic Shrimp Noodles
---
October 21, 2021
---
After years of trying to perfect my Garlic Shrimp Noodles, this is the recipe! I love making this at home and I know you will, too!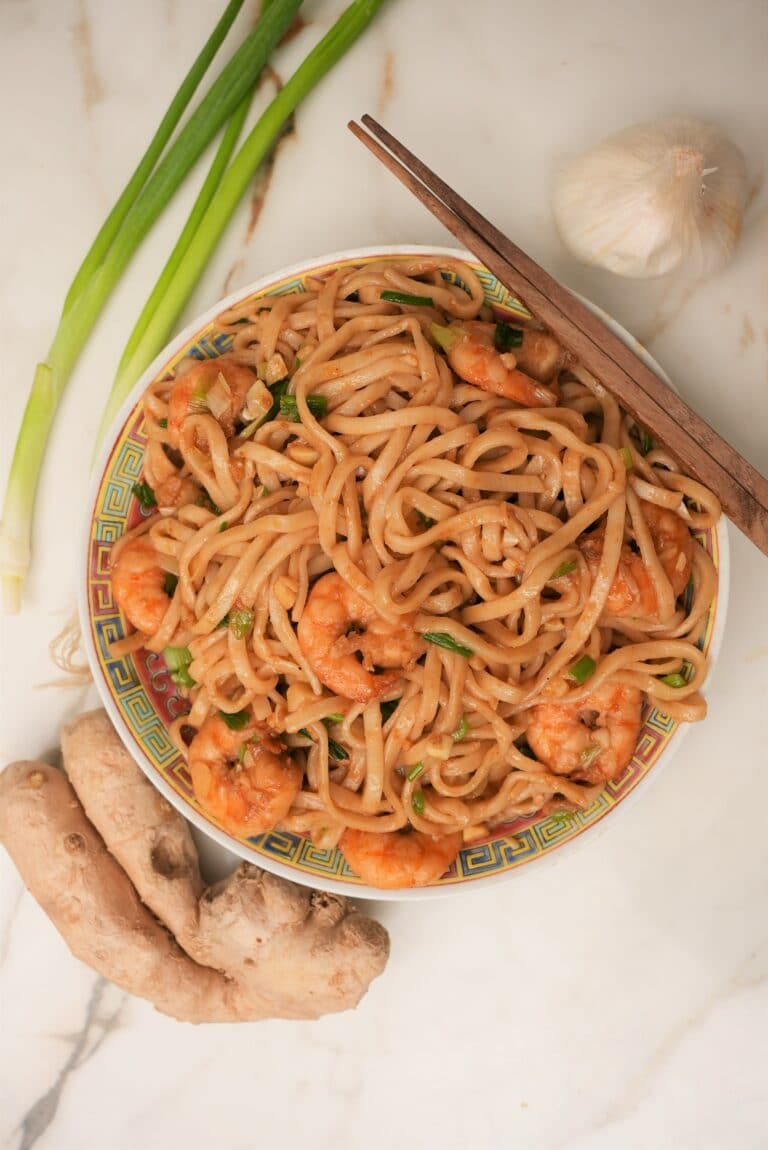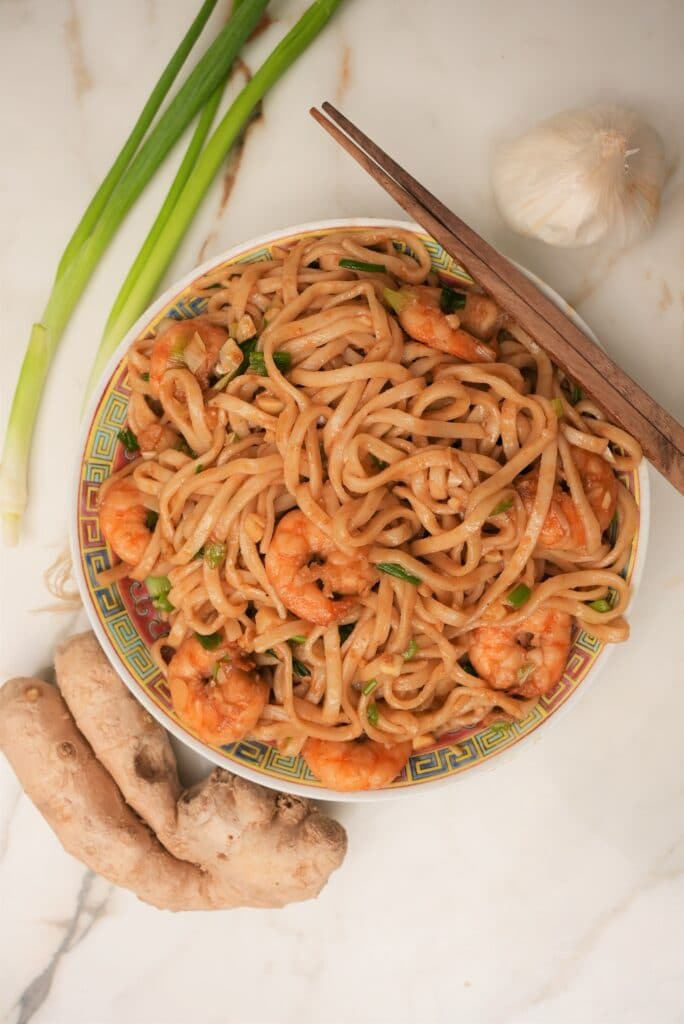 INGREDIENTS TIPS
NOODLES
I used Shanghai noodles from the brand 'Golden World Shanghai', which I got from the refrigerated section of 99 Ranch! I'm including a photo of the packaging below so you can easily identify it, if you have a 99 Ranch near you. These are one of my favorite noodles, so I hope you can find them – but if you cannot, you can sub with another long noodle of your choice.
SHRIMP
Marinating the shrimp is a KEY TIP – the salt will help keep the shrimp moist, while the baking soda helps the shrimp maintain a firm texture. This little trick makes a huge difference in how your shrimp tastes in the finished dish, so I highly recommend you do not skip this!
MSG
As always, this is optional 🙂
WHITE PEPPER
I get asked all the time if you can sub black pepper for white pepper – and my answer is, it depends BUT you need to watch the ratio. White pepper has a milder flavor profile than black pepper, so it's a 1-1 substitute. I would start with less black pepper and add as you go. (But really, you should have white pepper in your pantry! It's a staple in mine!)
BUTTER
Good quality un-salted butter is a staple in my kitchen – my favorite brand is Kerrygold! I buy mine in bulk from Costco, as butter keeps in the freezer up to 5 months.
SRIRACHA
If you are sensitive to spice, you can halve this or even skip it altogether and substitute with ketchup instead!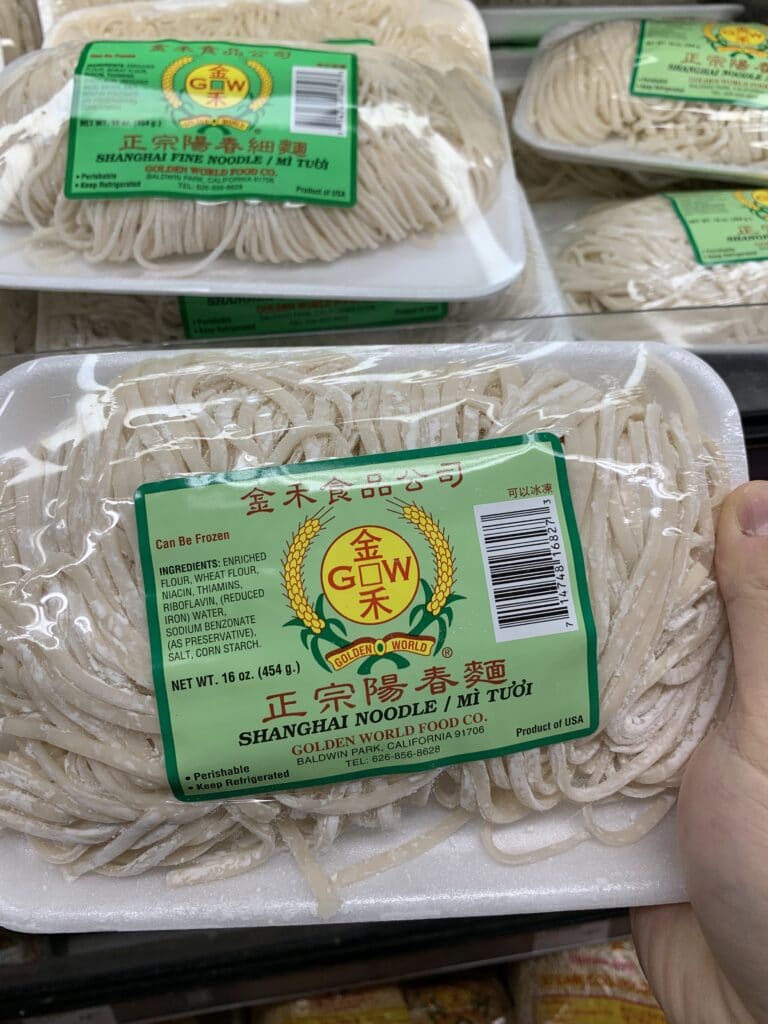 RECIPE TIPS
NOODLES
UNDERCOOK YOUR NOODLES: Don't forget that the noodles will finish cooking in the pan! I always cook my noodles 1-2 min less than the package instructions call for. This way, they come to my preferred doneness by the time the dish is done in the pan!
RINSE & TOSS IN OIL: After boiling, rinse the noodles immediately with cold water to stop the cooking and remove any excess starch. Shake them dry and then toss in a tablespoon of sesame oil to prevent the noodles from sticking while you prepare & cook the other ingredients.
Garlic Shrimp Noodles
Ingredients
16

oz

noodles

I used fresh Shanghai noodles
Other Ingredients
4

tbsp

butter

10

cloves

garlic

chopped

1

tbsp

ginger

chopped

5

scallions

chopped
Instructions
Marinate your shrimp for 15 minutes with white pepper, baking soda, salt, light soy sauce, and cornstarch.

Chop your garlic, ginger, and scallions and set aside.

In a small bowl, premix your sauce by combining oyster sauce, light soy sauce, sriracha, white pepper, sesame oil, msg, sugar and water.

Cook your noodles in boiling water for 2 minutes less than package directions, then immediately rinse the excess starch and toss with sesame oil to prevent sticking.

Over high heat in a nonstick pan or wok, saute your shrimp for 3-4 minutes or until cooked through and set aside.

Melt 4 tbsp of butter in your pan over medium high heat, then saute your garlic and ginger for 15 seconds. Add your scallions and saute for another 15 seconds.

To your sauteed aromatics add your noodles, shrimp and premixed sauce and combine. Cook for an additional 2 minutes or until the noodles are done to your liking. Season to taste and enjoy!