Hong Kong Style Shrimp Chow Mein Noodles
---
September 26, 2022
---
Hong Kong Style Shrimp Chow Mein Noodles is a classic Chinese dish consisting of crispy, pan-fried noodles and a rich gravy filled with fresh vegetables and shrimp! The ultra crispy noodles is crispy around the edges and soft from the gravy in the middle – when mixed up it's a perfect contrast of textures!
I have very fond memories eating this dish at the Chinese restaurant (complete with the lazy susan circular turntables!) with family growing up as a kid. It was one of my all-time favorite dishes and I'm excited to share my version with you!
Watch the Hong Kong Style Shrimp Chow Mein Noodles Recipe Video Below!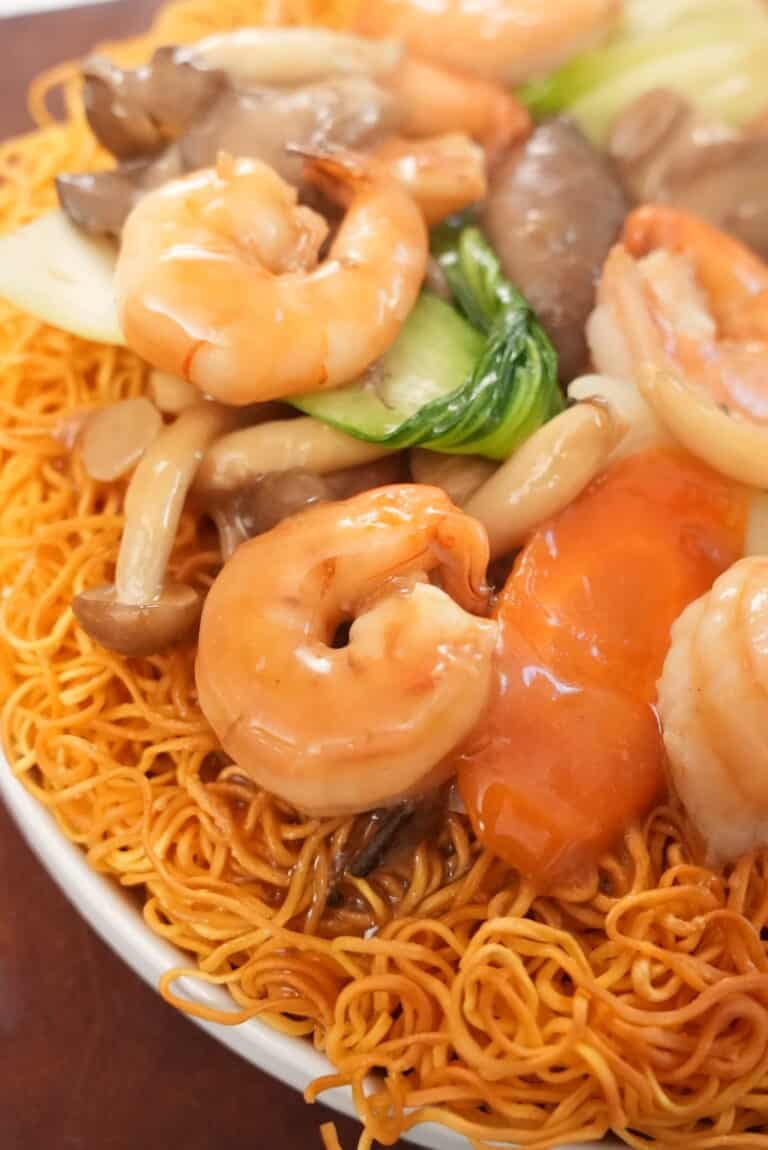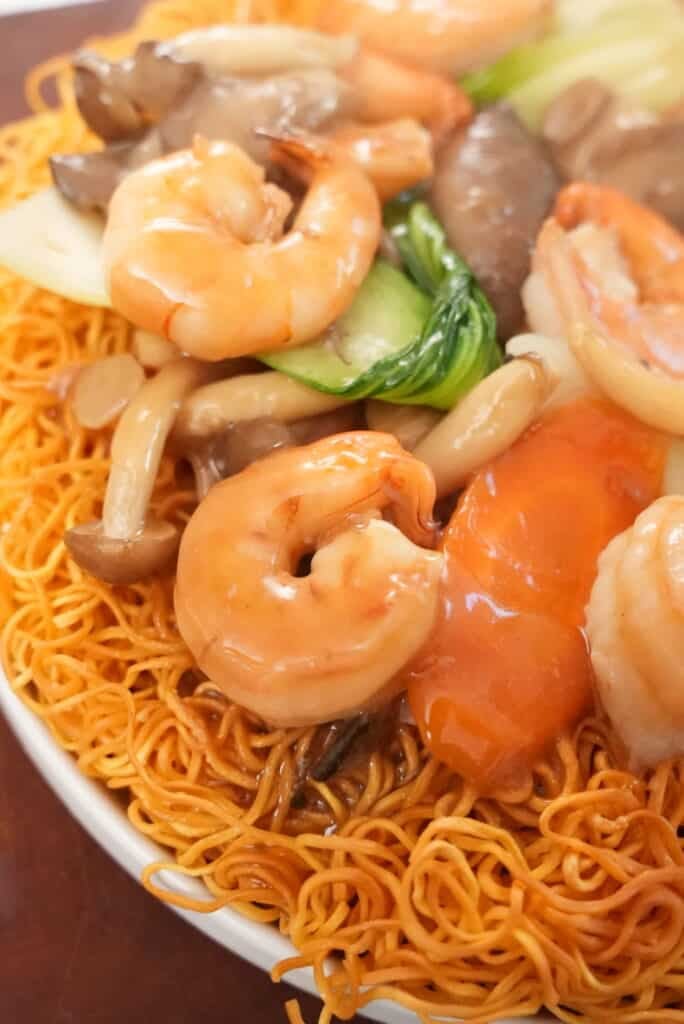 Ingredients for Hong Kong Style Shrimp Chow Mein Noodles
These Hong Kong Style Shrimp Chow Mein Noodles recipe are just like they serve them at the Chinese restaurants and perfect for a weeknight meal! Here is what you'll need for the recipe:
Shrimp (these were extra large U12)
Kosher Salt
White Pepper
Light soy sauce (low sodium)
Baking Soda
Cornstarch
Chicken Stock – I

always

recommend Kettle & Fire – use code CJPINS for 20% off your order here!
Oyster Sauce
Sesame Oil
MSG (optional)
Sugar
Shaoxing Wine
Chow Mein Noodles
Fresh Vegetables
Baby bok choy
Mushrooms (I used Oyster, Seafood, and Beech mushrooms)
Onion
Scallions
Carrot
Garlic
Ginger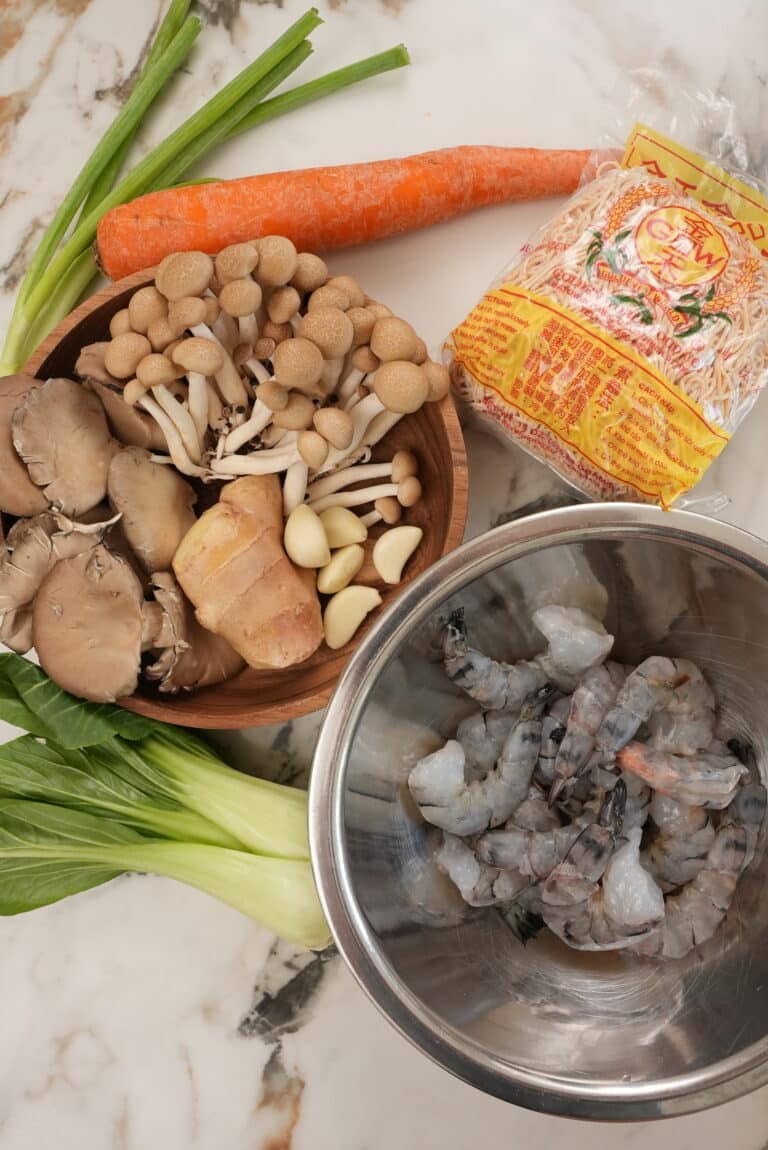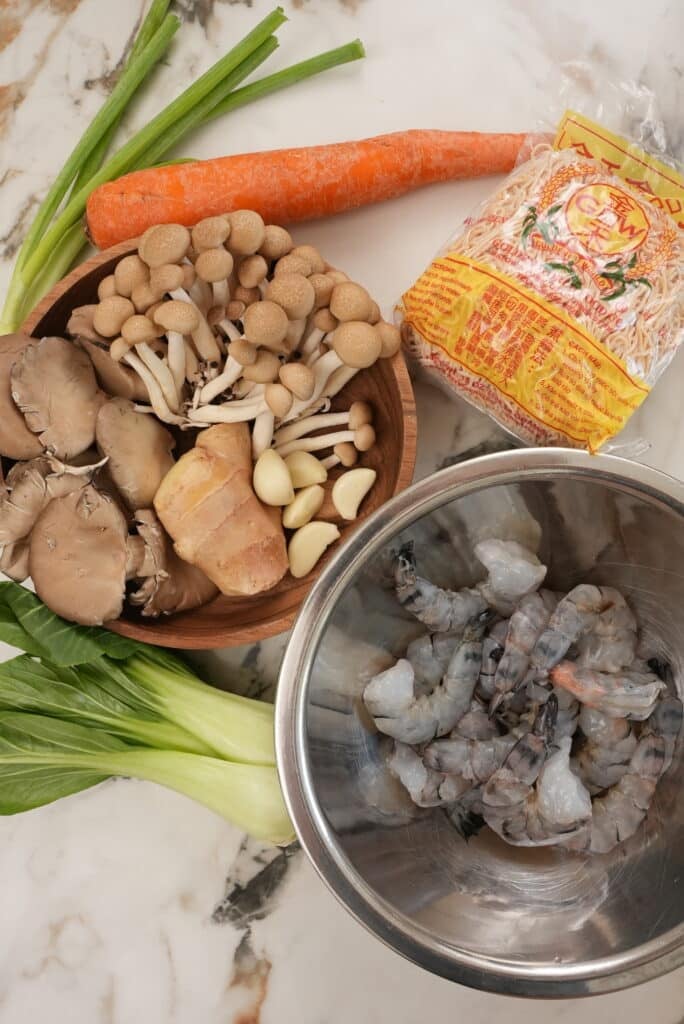 INGREDIENTS TIPS
SHRIMP
I like to use shrimp in this recipe but you can really substitute any protein for this dish!
NEUTRAL OIL
My favorite neutral oil is avocado oil, but you can also use canola or vegetable oil! I don't use olive oil when cooking Chinese food for two reasons: 1. It has a low burning point and 2. I find that the flavor profile does not usually go with the dish.
CHOW MEIN NOODLES
If you're looking for a good brand of chow mein noodles to use, I recommend the brand Golden World below. I can often find these at my locale Chinese supermarket. They are also labeled as "Steam Egg Noodle"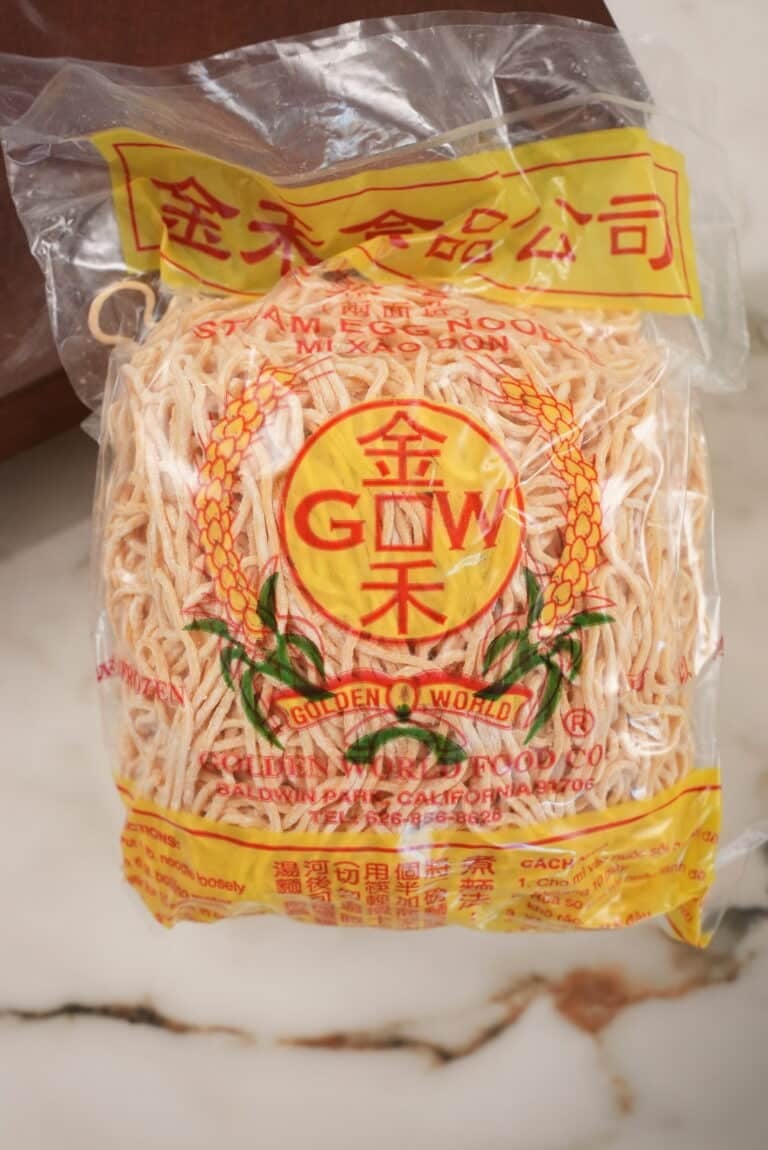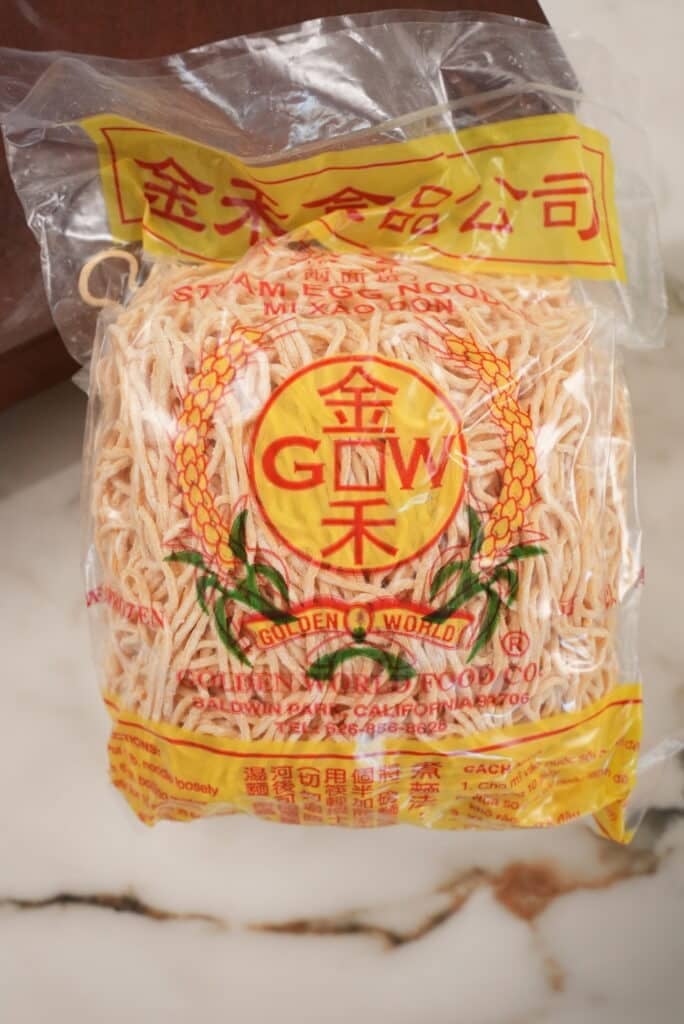 Hong Kong Style Shrimp Chow Mein Noodles: Recipe Instructions
Marinate the Shrimp
The first step in making this recipe deveining (if not already deveined) and marinating your shrimp. Combine the raw shrimp in a mixing bowl with salt, white pepper, soy sauce, and baking soda. The baking soda will help keep the shrimp crisp and plump during the cooking process!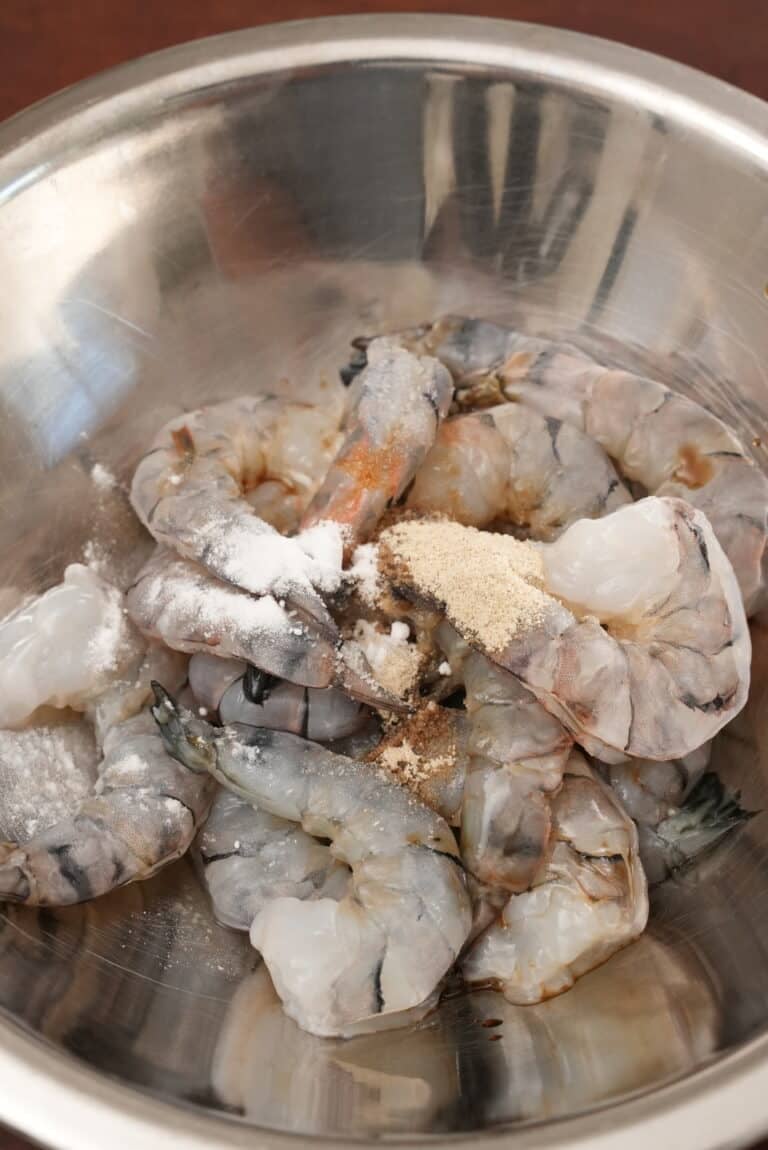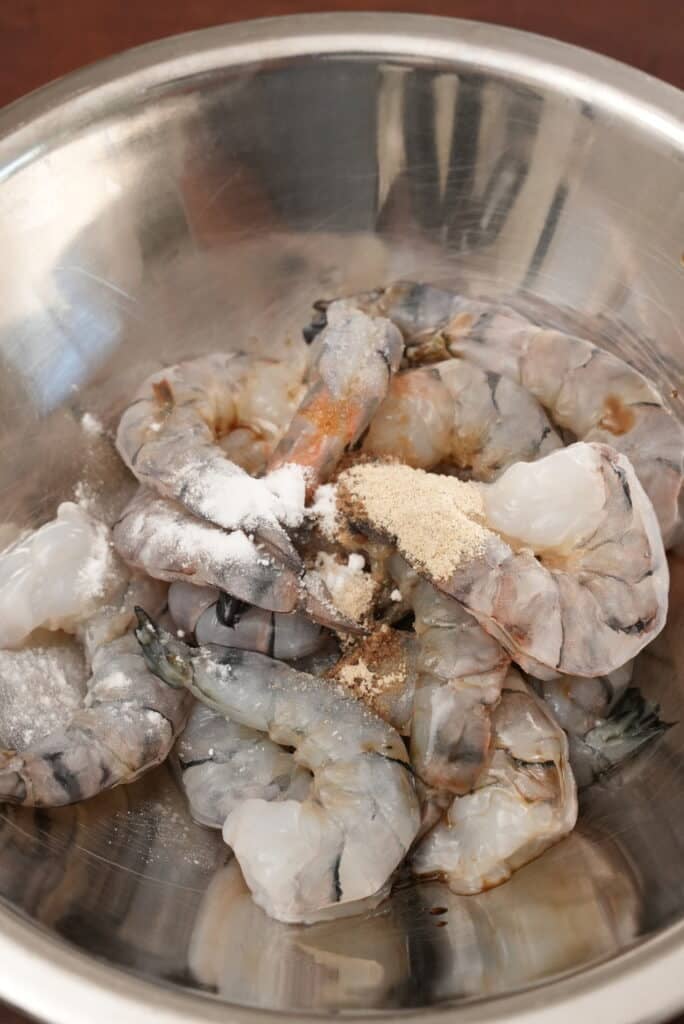 Next, mix the sauce by combining chicken stock (I always use Kettle & Fire – get 20% off your order when you use code CJPINS!), oyster sauce, soy sauce, sesame oil, white pepper, msg, sugar and shaoxing wine. I always like to premix my sauce to have it ready to go during the fast cooking process.
Once the sauce is mixed, blanch your chow mein noodles in boiling water for 30 seconds to remove the excess starch and rinse, drain, and pat them dry to remove any excess moisture. DO NOT SKIP THIS STEP! Otherwise, you may risk having soggy noodles!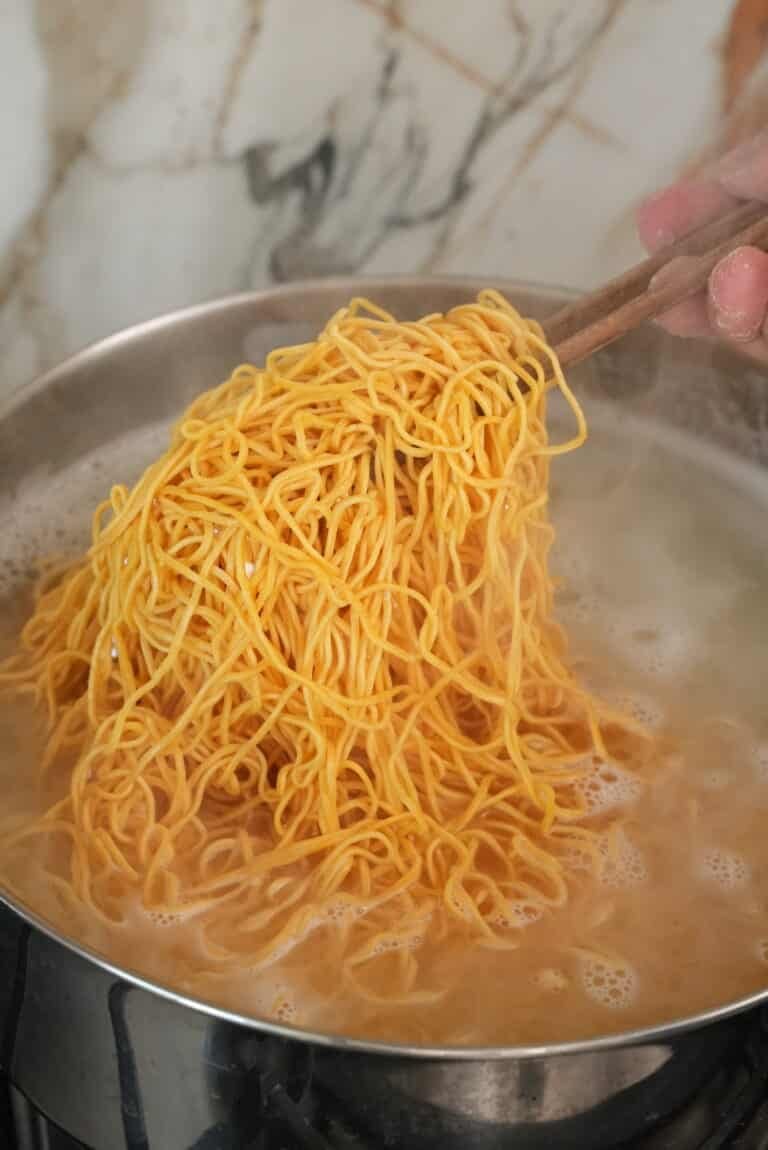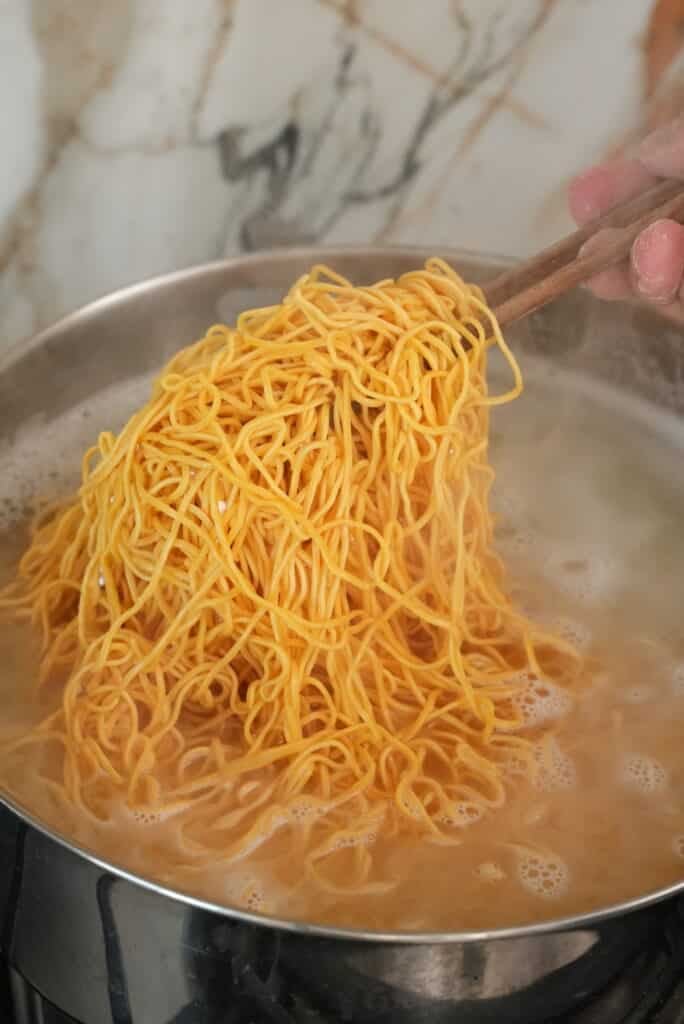 Pan fry the noodles
In a large nonstick pan, heat about 1/4 cup of neutral oil in the pan over medium high heat. Gently lay down your noodles as flat as possible, using tongs or chopsticks to evenly distribute them throughout the pan. Pan fry each side for 2-3 minutes, checking the bottom for a golden brown color. When flipping, it may be necessary to add more oil in order to crisp up the other side of the noodles.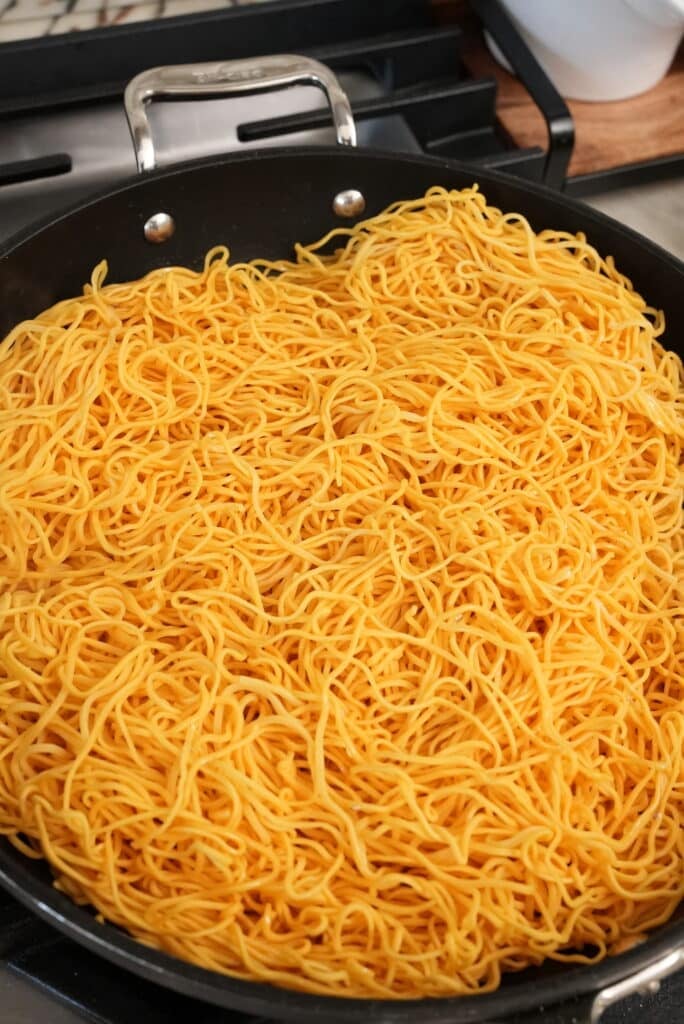 When the noodles are done, they should have a deep golden brown color and crispy texture! Remove them and place them on a plate to drain.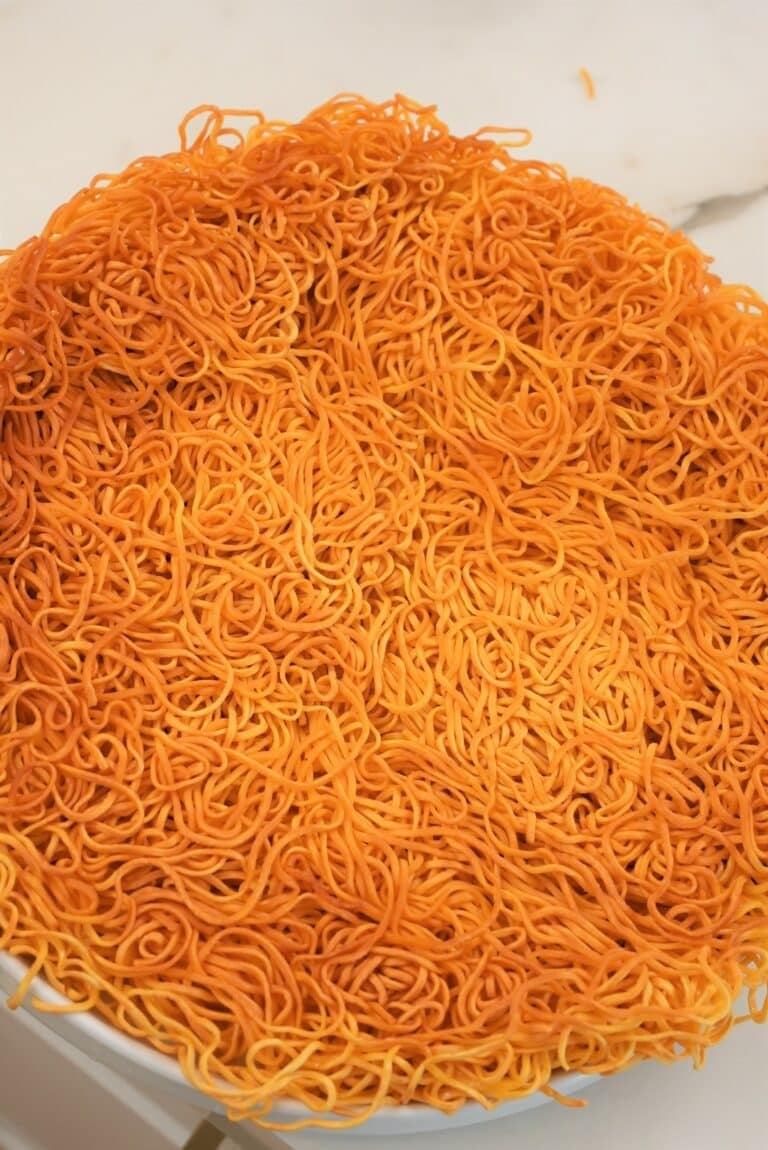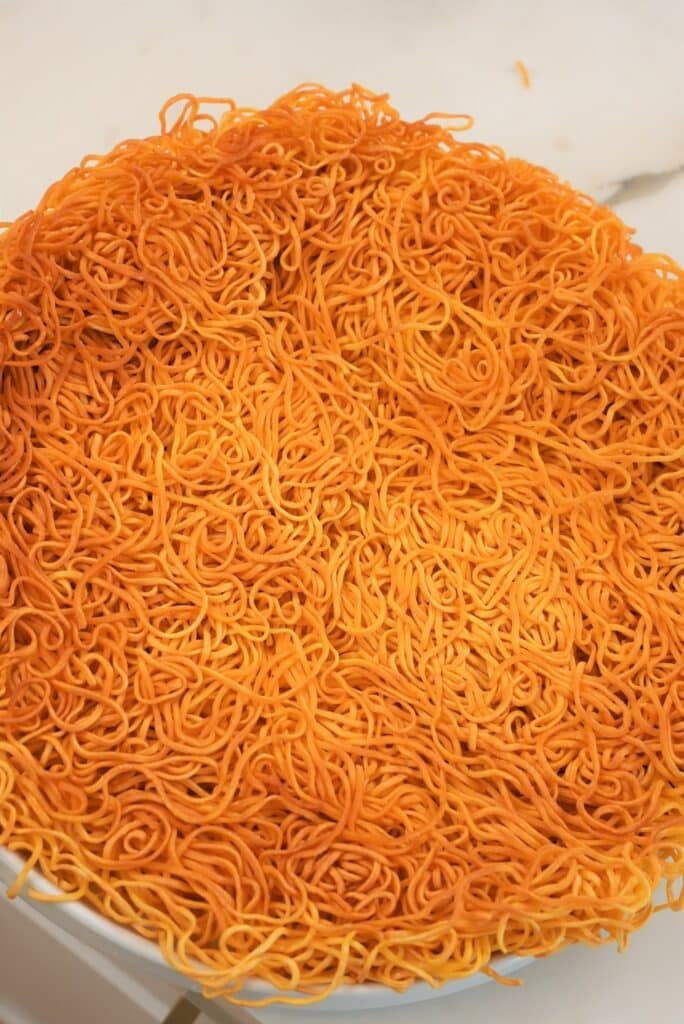 Cook the Shrimp and aromatics
In the same pan, add another tablespoon of neutral oil over medium high heat and sauté your garlic, ginger, and scallion for 30 seconds. Add the marinated shrimp and cook for 1-2 minutes per side until about 75% cooked through (these will cook fully in the sauce).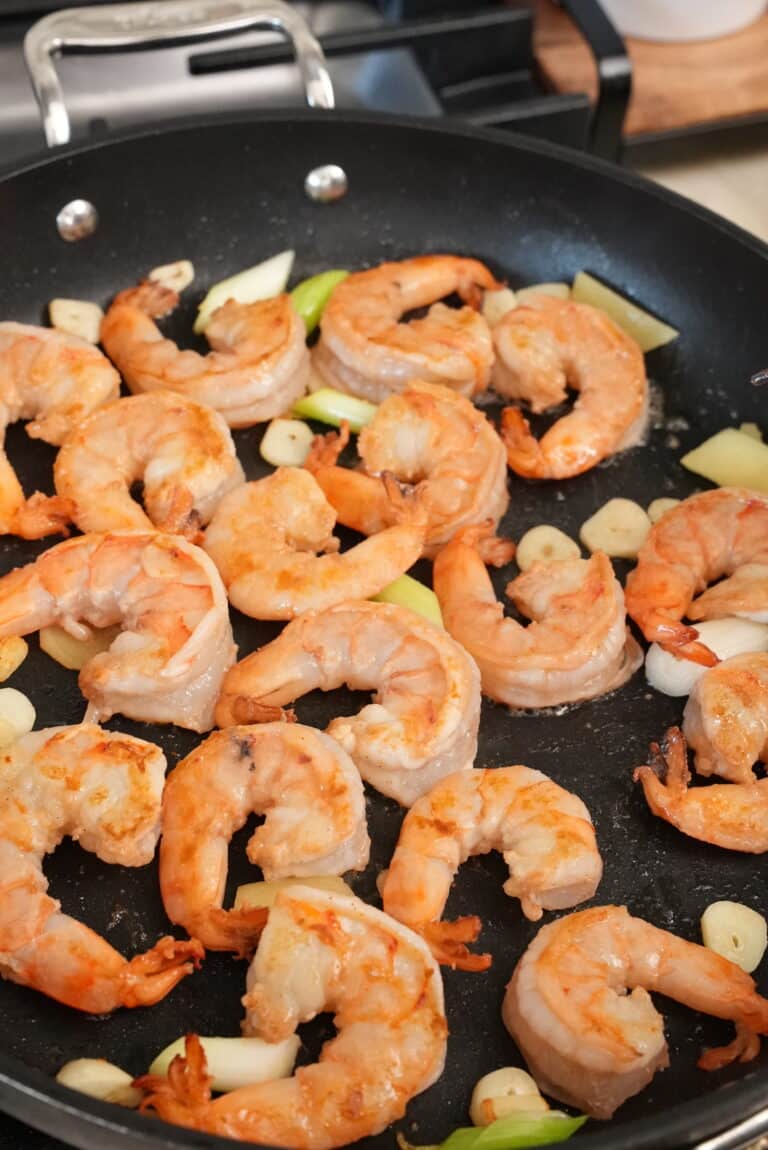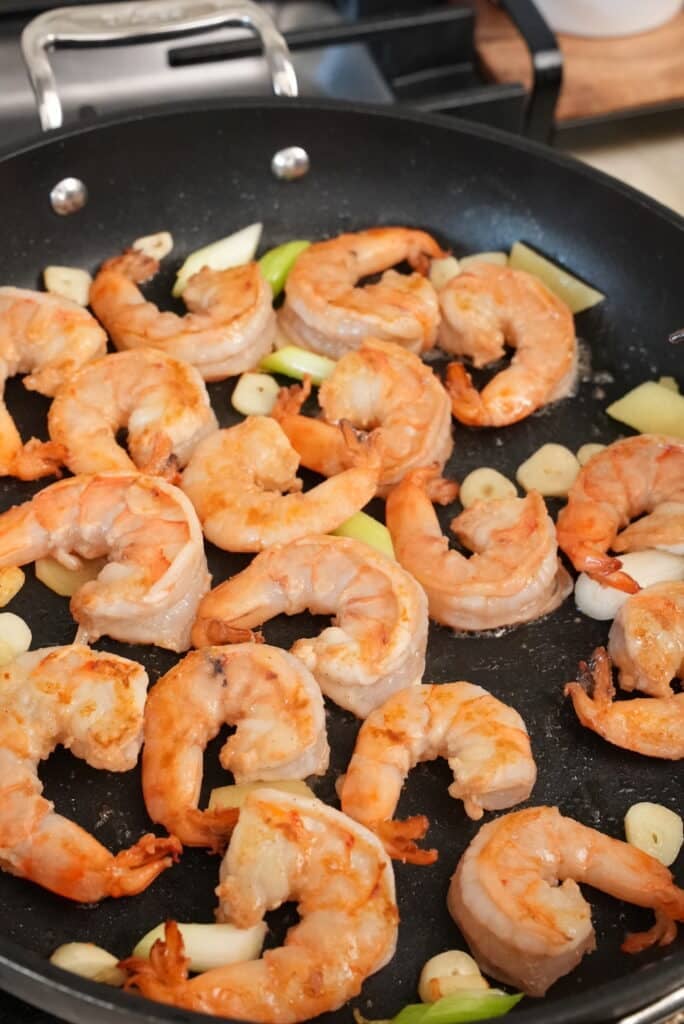 Remove the shrimp and aromatics. Add another 1/2 tbsp of oil and sauté your vegetables for 2-3 minutes until crisp.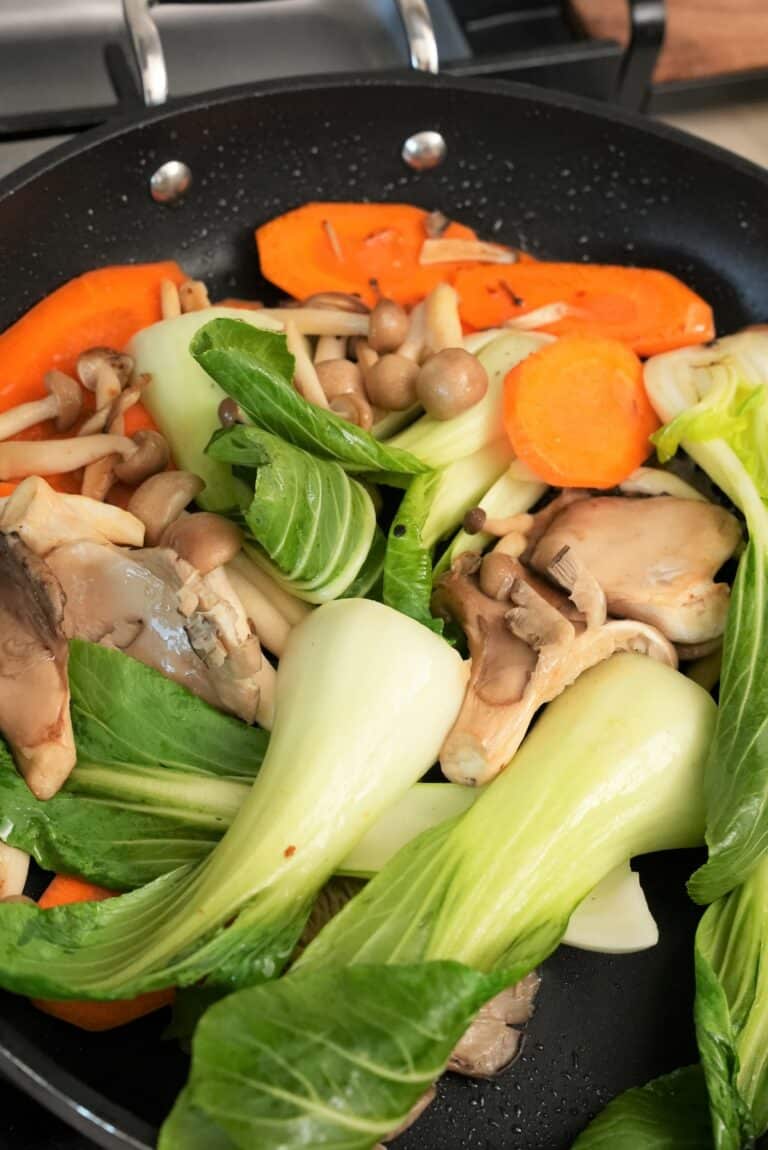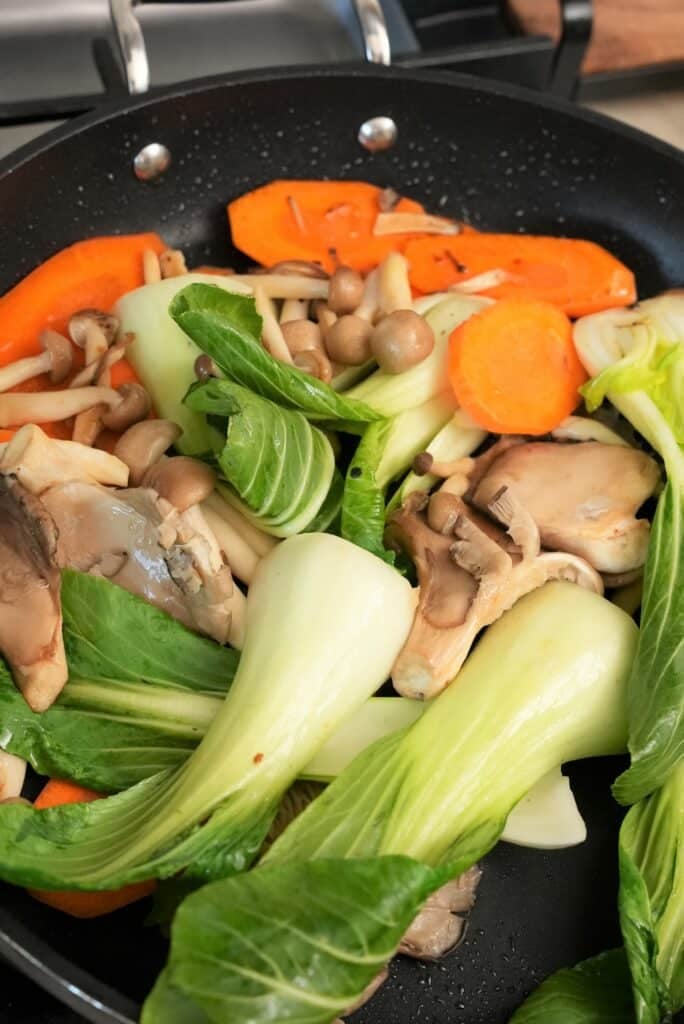 Add the sauce
Once the vegetables are sautéed, add the premixed sauce along with the shrimp and aromatics you cooked earlier. Bring to a boil and let the sauce reduce slightly (about 2 minutes).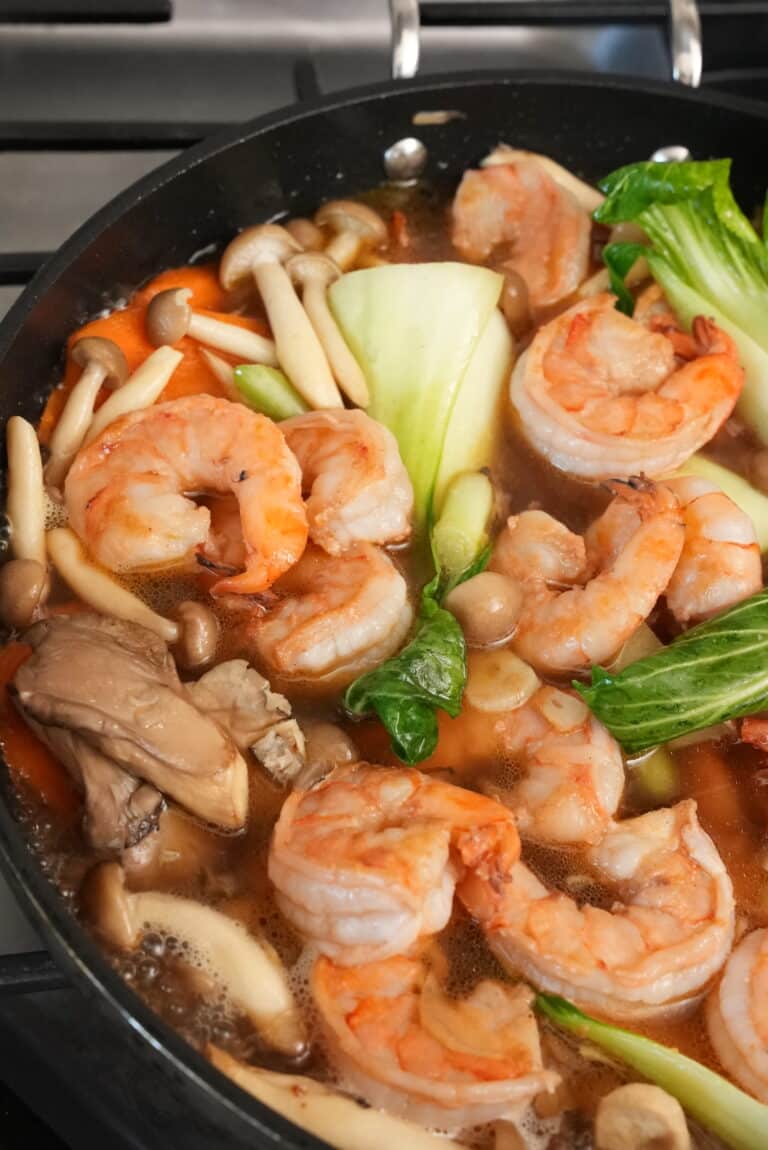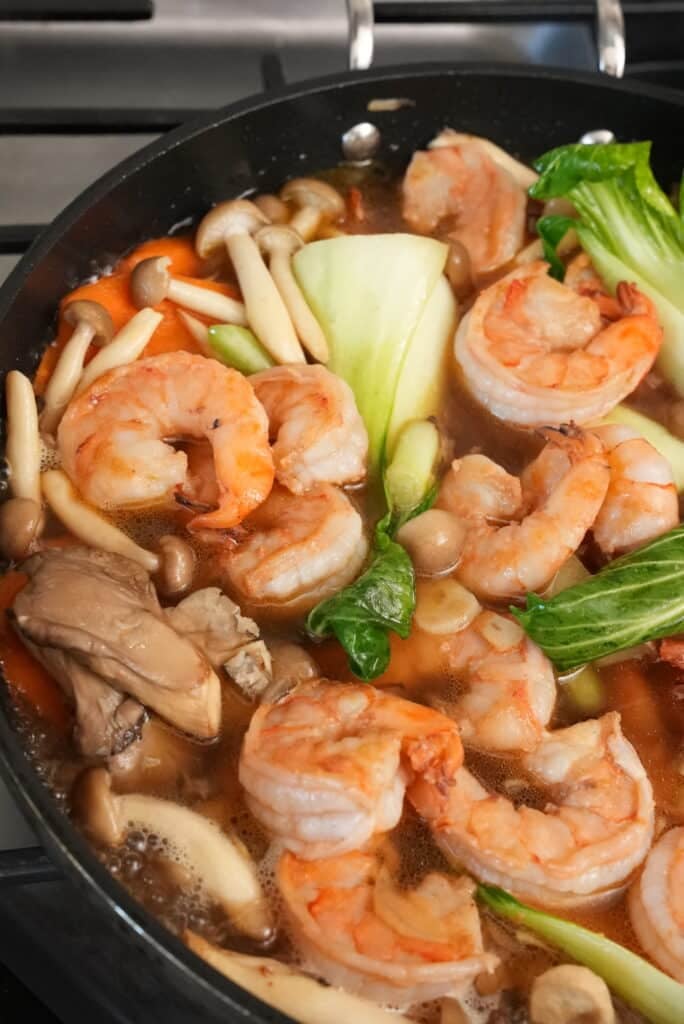 Add the cornstarch slurry to the gravy and mix well over high heat until the sauce has thickened (refer to video and photos below for gravy consistency!)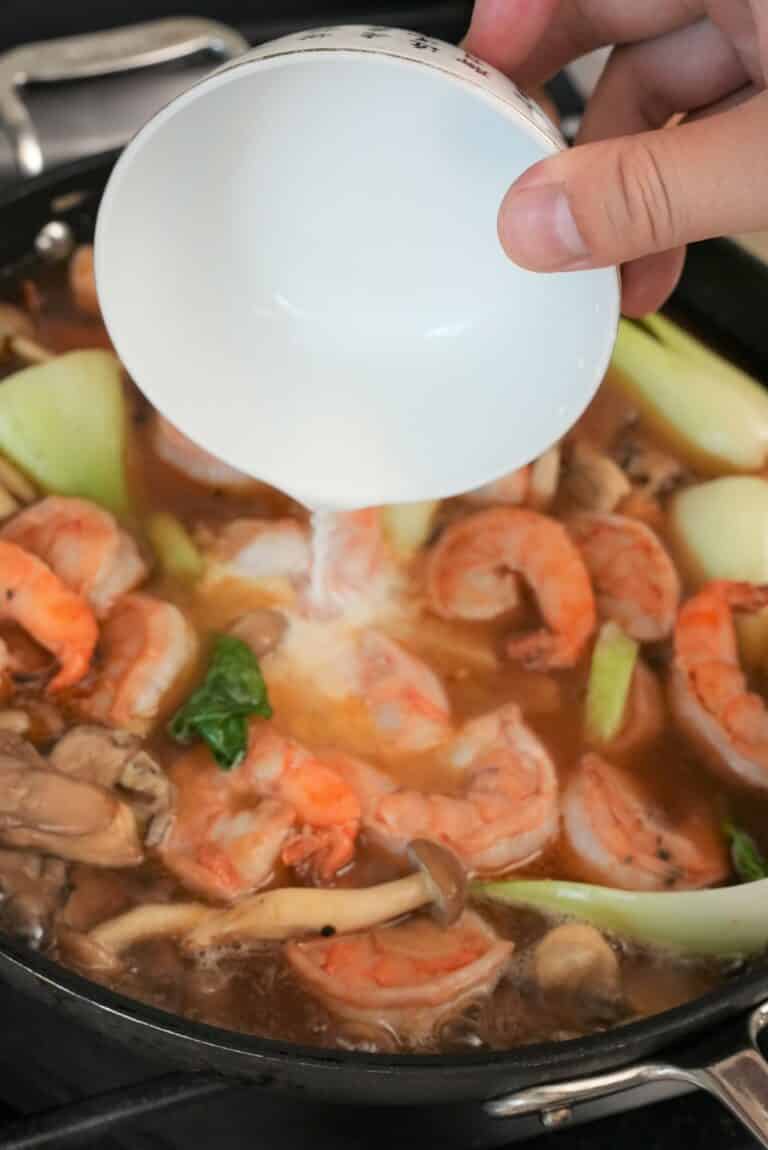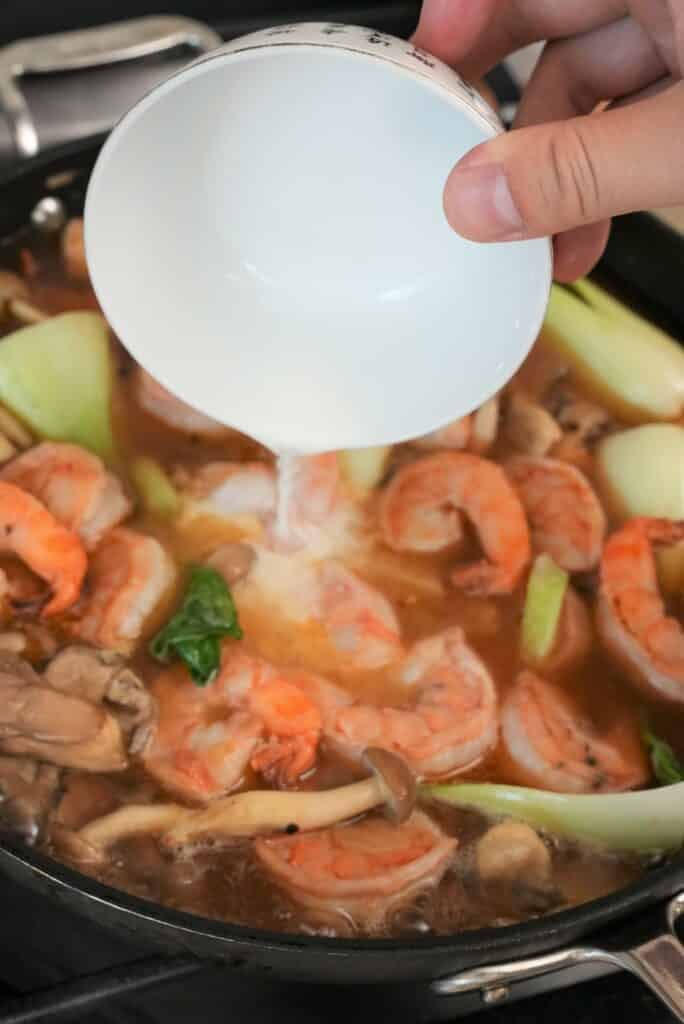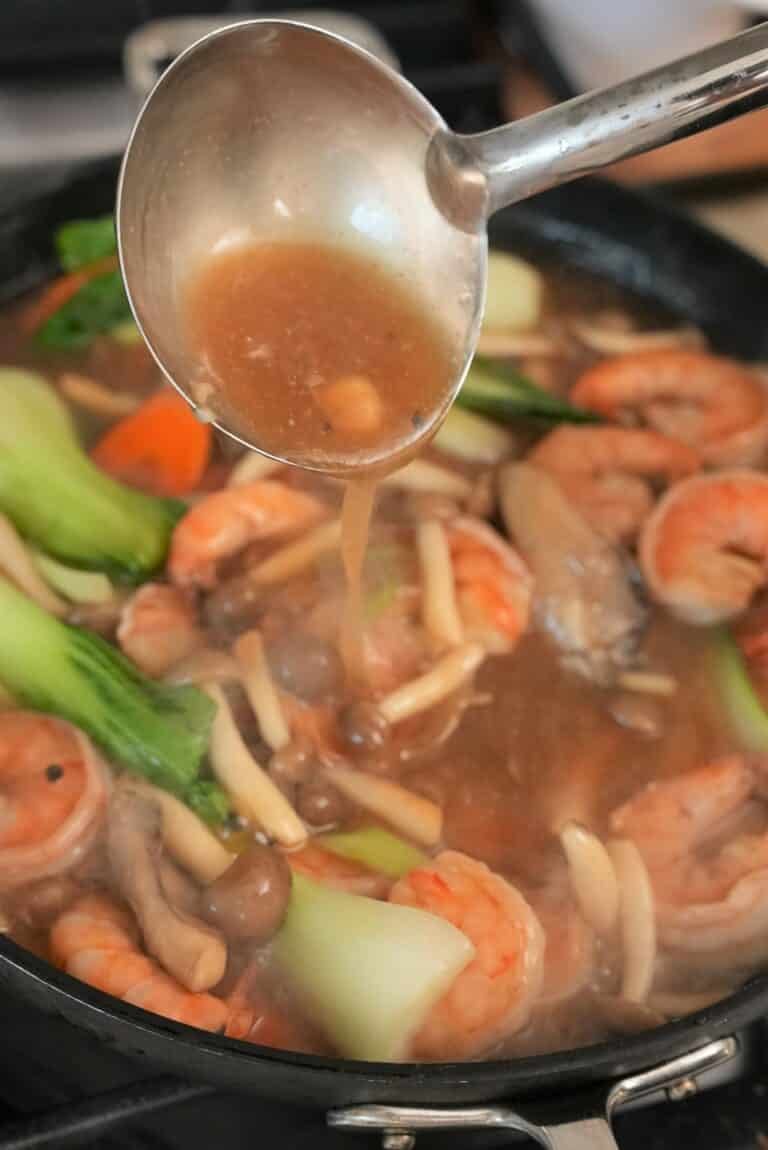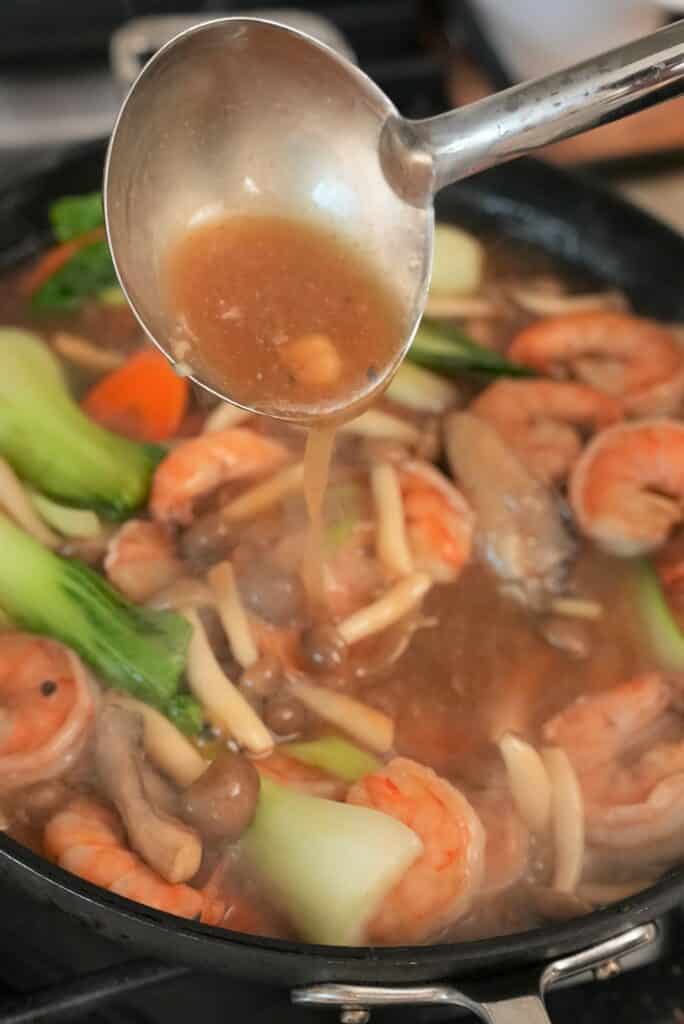 Once the gravy is done, ladle the sauce and toppings over the pan fried noodles and enjoy! I love the contrasting textures of the crispy edges with the softened middle when the noodles are soaked in the gravy – it's a contrasting textural delight!
If you liked this Hong Kong Style Shrimp Chow Mein Noodles recipe, check out some of the most popular Chinese Take-Out recipes on the blog!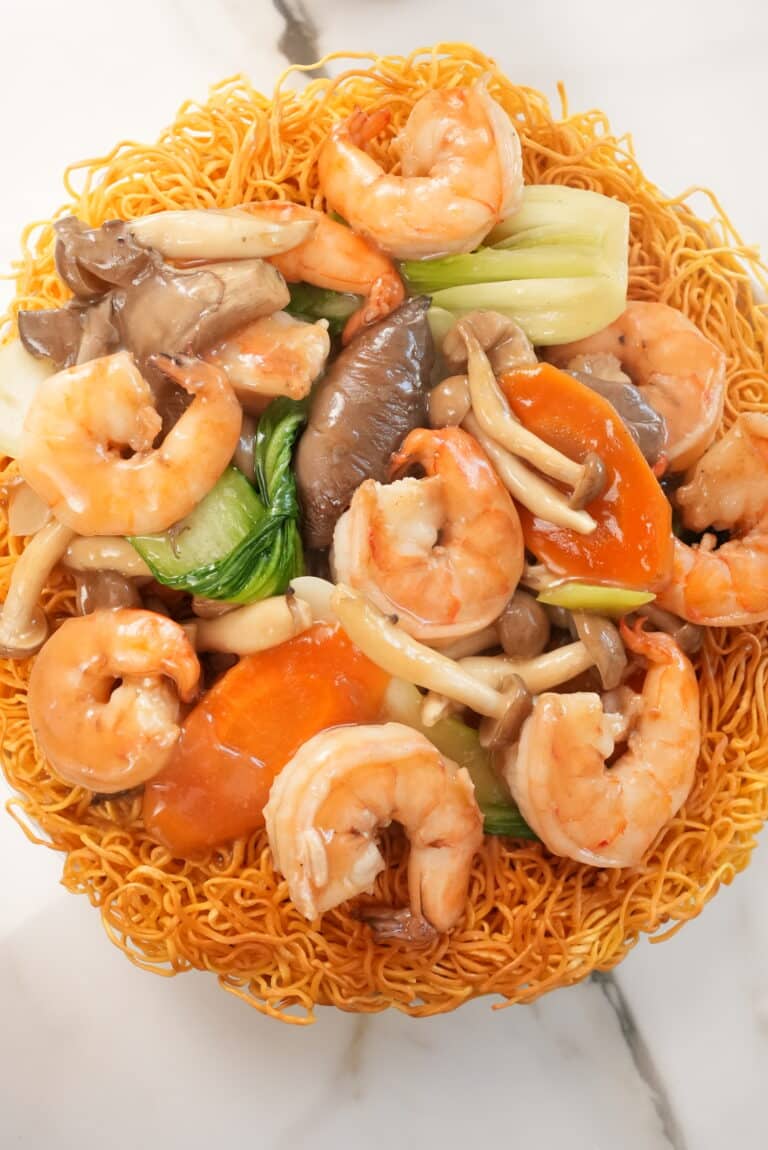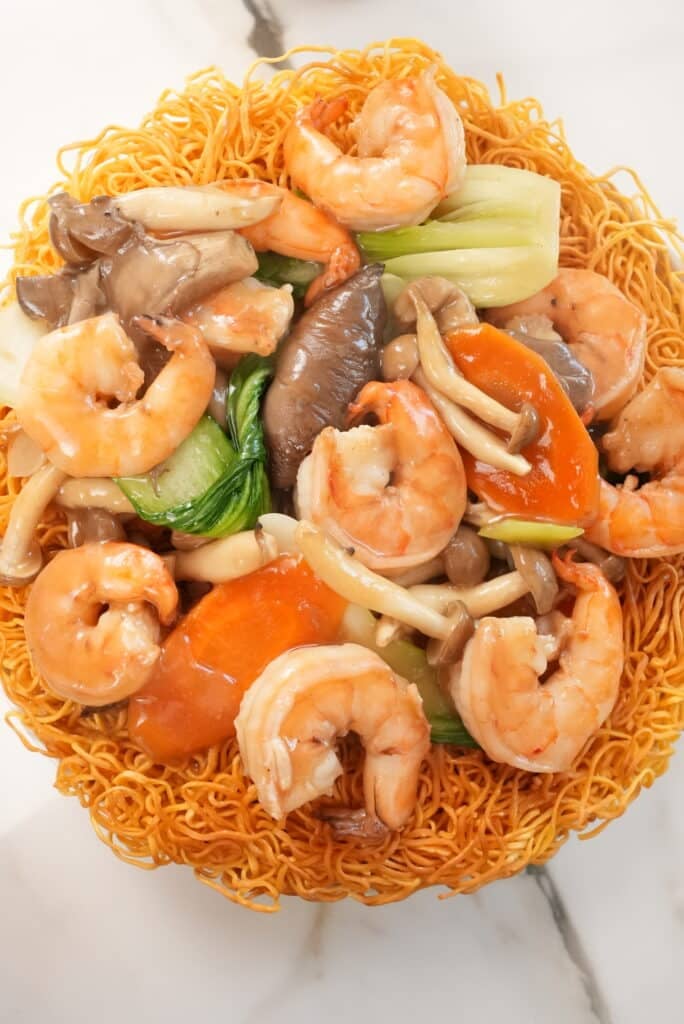 RECIPE TIPS
PREMIX YOUR SAUCE
The cooking process for the sauce is FAST so it's a great idea to premix your sauce together, then add it straight into the pan! The corn starch will help thicken the sauce into that velvety texture that Chinese restaurants made so famous.
SUCCESS IS IN THE PREP
For a recipe that comes together extremely quickly, the key to pulling this recipe off successfully is having your ingredients prepped and in bowls right next to your wok or pan! Have your premixed sauce, chicken, and vegetables ready and easily accessible during the cooking process.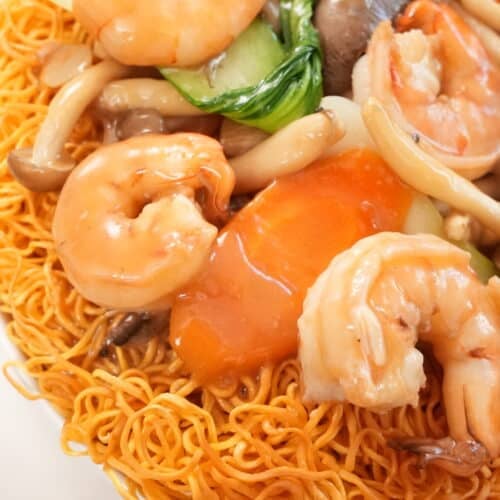 Hong Kong Style Shrimp Chow Mein Noodles
This crispy Hong Kong Chow Mein is just as good as the Chinese restaurants! Crispy pan fried noodles are smothered with a rich, luxurious gravy and fresh vegetables!
Ingredients
Protein + Marinade
1

lb

shrimp

extra large shrimp such as U16 or U12 are best!

1/2

tsp

kosher salt

1

tbsp

soy sauce

low sodium

1/4

tsp

white pepper

1/4

tsp

baking soda
Remaining Ingredients
2

cups

baby bok choy

5

oz

mushrooms

I used oyster, seafood, and beech mushrooms

1/4

cup

onion

sliced

2

scallions

cut into 2" pieces

3

oz

carrot

cut into 1" discs

5

cloves

garlic

chopped

1

inch

ginger

sliced

1

lb

chow mein noodles

I used fresh
Sauce (Gravy)
2

cups

chicken stock

1

tbsp

oyster sauce

1

tbsp

soy sauce

1

tsp

sesame oil

1/2

tsp

white pepper

1/2

tsp

msg

optional

1

tsp

sugar

1

tbsp

shaoxing wine
Cornstarch Slurry
1/2

cup

water

1

tbsp

cornstarch
Instructions
Prepare and slice vegetables as directed. Separate garlic, ginger and scallion and set aside.

Place peeled and deveined shrimp in a mixing bowl and marinate with soy sauce, white pepper, salt, and baking soda. Set aside for 15 minutes.

Mix together 1 tbsp cornstarch + 1/2 cup water to create a cornstarch slurry. Set aside.

For the gravy, in a bowl mix together chicken stock, oyster sauce, soy sauce, sesame oil, white pepper, msg, sugar, and shaoxing wine.

Bring pot of water to a boil and blanch fresh chow mein noodles for 30 seconds. Immediately drain and dry on paper towel to remove excess moisture.

Take pan and heat 3 tbsp of neutral oil over medium high heat. Pan fry noodles until one side is crispy and takes on slight color (2-3 minutes). Flip and pan fry the other side, adding more oil if necessary and pan fry for another 2 minutes until both sides are crispy and the inside is soft.

To a hot wok or pan, add 1 tbsp of oil and saute garlic, ginger, and scallion for 30 seconds. Add marinated shrimp and cook over high heat until 75% cooked through and remove (about 2 minutes)

Add another tbsp of oil and sauté onion, carrot, bok choy and mushrooms for 2 minutes. Add the premixed sauce and bring to a simmer over medium high heat, then add back shrimp, garlic and scallions to the pan. Let simmer for 2 minutes.

Re-mix the cornstarch slurry (cornstarch may have sunk to the bottom), then add it to the gravy mixture. Turn the heat to high and stir throughout until the gravy has thickened, about 1 minute

Immediately top vegetables, shrimp, and sauce directly over pan fried noodles.