Soy Sauce Chow Mein
---
September 30, 2021
---
Soy Sauce Chow Mein is super simple, requires only a few ingredients, but tastes incredible! I love how the sauce gets absorbed into the chow mein noodles and crisp up in the hot wok (or pan). You can keep it simple and eat it as is or add a protein of your choice!
Watch the Soy Sauce Chow Mein recipe video below!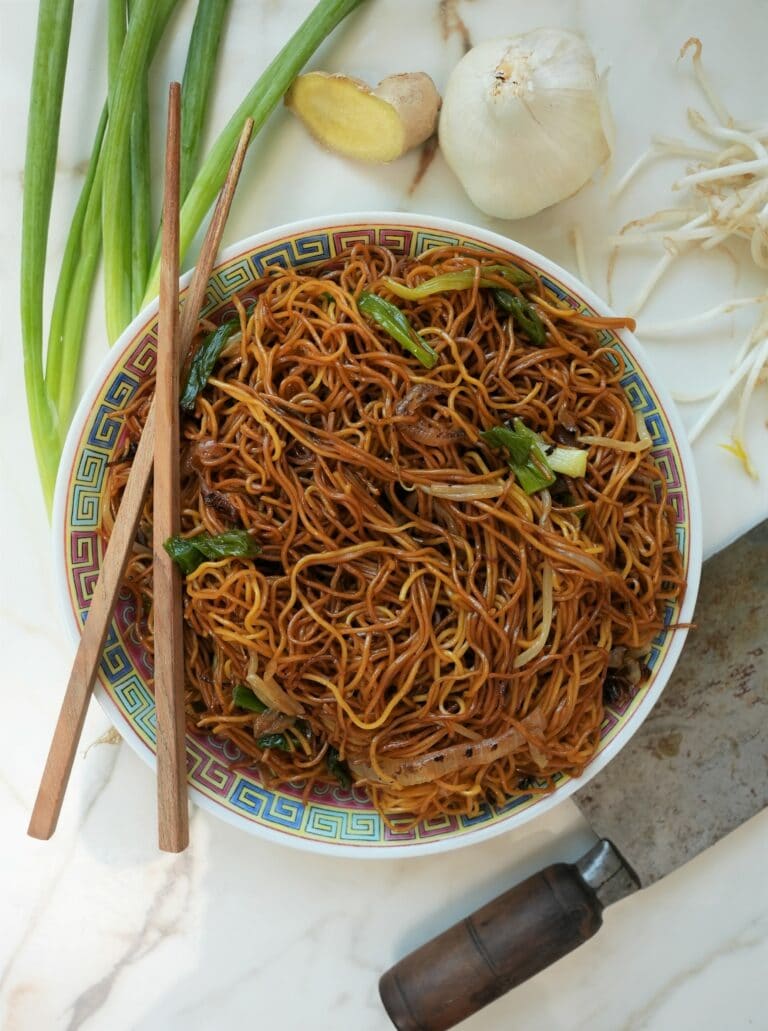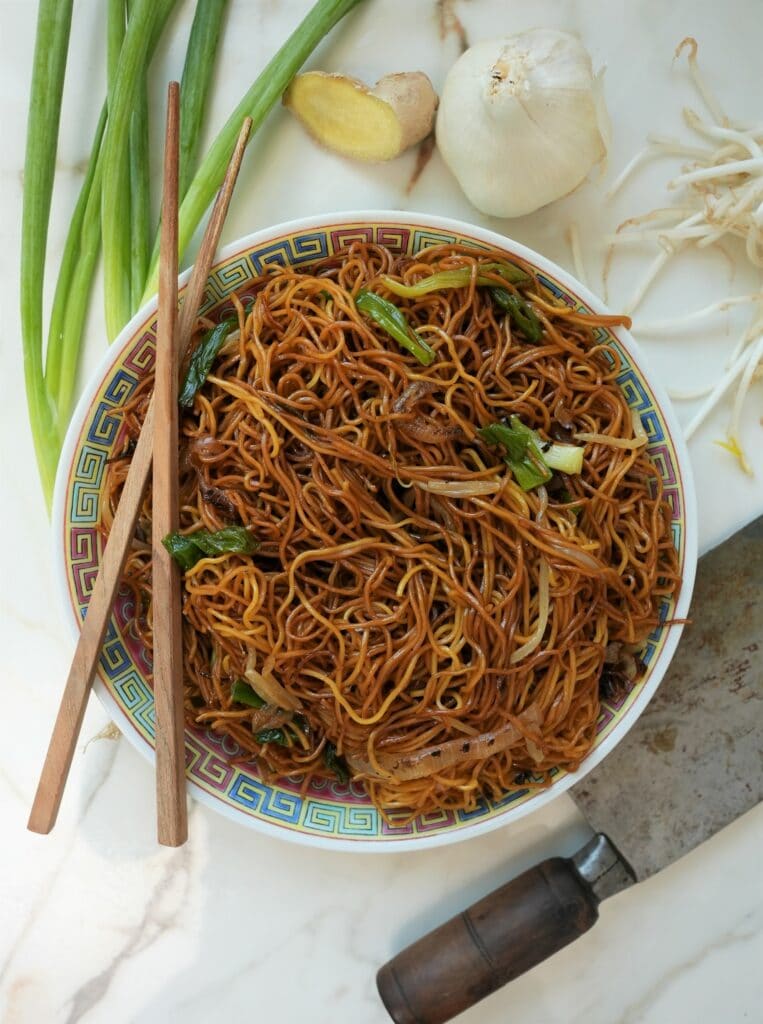 INGREDIENTS TIPS
NOODLES
I used steamed egg noodles for this dish, which I purchase from the refrigerated section of 99 Ranch! If you're not able to find egg noodles, you can sub in with any long noodle of your choice – keep in mind that you'll want the noodles to crisp up in the wok or pan, so thinner noodles will work better for this dish.
LIGHT vs. DARK SOY SAUCE
Yes, they're different! Dark soy sauce is thicker, darker, and sweeter (as well as has a higher sodium content) than regular soy sauce. If you do not have dark soy sauce on hand, I usually recommend substituting with oyster sauce. However, since this recipe has so few ingredients, I highly recommend using dark soy sauce.
MSG
As always, this is optional 🙂
NEUTRAL OIL
My favorite neutral oil is avocado oil, but you can also use canola or vegetable oil! I don't use olive oil when cooking Chinese food for two reasons: 1. It has a low burning point and 2. I find that the flavor profile does not usually go with the dish.
RECIPE TIPS
SUCCESS IS IN THE PREP!
For a recipe that comes together extremely quickly, the key to pulling this recipe off successfully is having your ingredients prepped and in bowls right next to your wok or pan! Have your premixed sauce, noodles, and vegetables ready and easily accessible during the cooking process.
PAT YOUR NOODLES DRY
Once you cook your noodles, make sure to pat them dry to avoid excess moisture – you want the noodles to crisp up slightly in the hot wok or pan!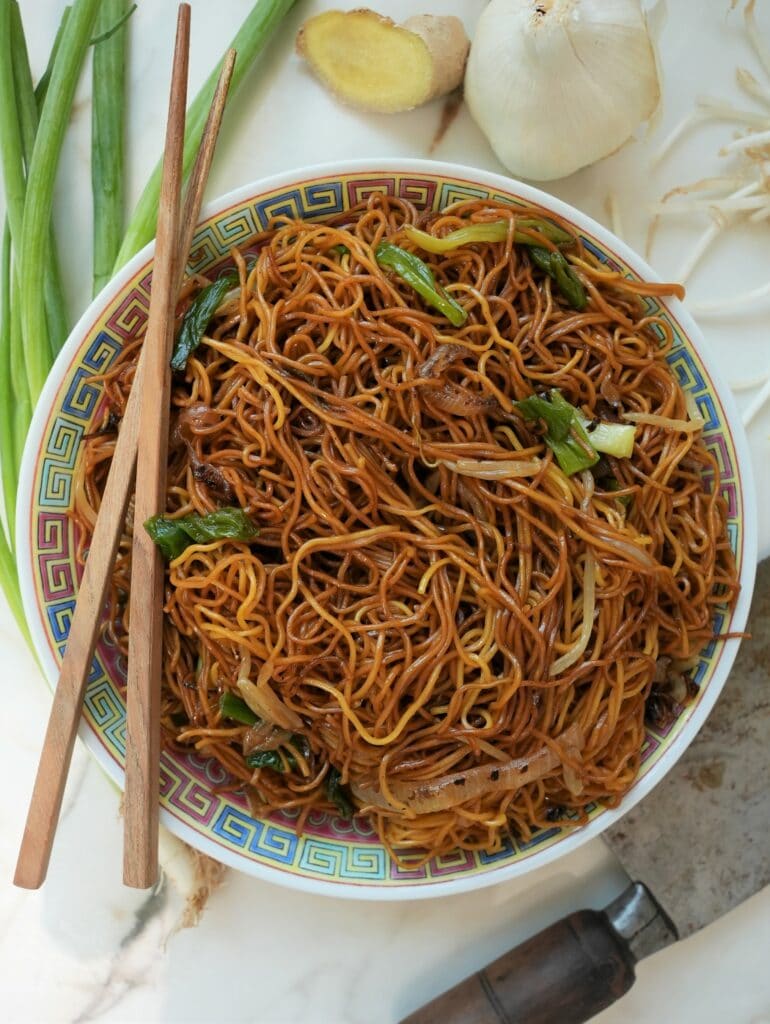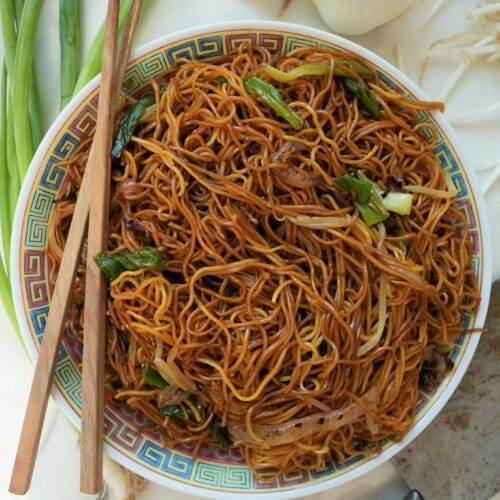 Soy Sauce Chow Mein
Ingredients
1

lb

fresh chow mein noodles

I used steamed egg noodles

8

stalks

green onions

cut into 2" pieces

6

oz

bean sprouts

1/2

yellow onion

sliced

4

tbsp

neutral oil

for frying; I used avocado oil
Sauce
2

tbsp

light soy sauce

1

tbsp

dark soy sauce

1

tbsp

oyster sauce

1

tbsp

sugar

1/4

tsp

msg

optional

1

tbsp

water
Instructions
Mix together your sauce by combining light soy sauce, dark soy sauce, oyster sauce, sugar, msg, and water.

Slice your green onions into 2" pieces and prepare your onions and bean sprouts. Separate your green onion whites and onions in a separate bowl from your scallion greens and bean sprouts.

Boil your fresh chow mein noodles for 1 minute or to package directions, then drain and rinse off excess starch. Pat dry any excess moisture from the noodles.

Add 2 tbsp of oil to your wok or pan, and saute your green onion whites and onions for 1 minute over high heat.

Add your chow mein noodles and work quickly to separate the noodles and combine with the onions. Add 2 additional tbsp of oil to properly coat the noodles if your pan is too dry. Cook for 2-3 minutes until your noodles are beginning to crisp up.

Add your premixed sauce and stir vigorously to combine. Continue cooking for 3-4 minutes until the sauce has fully absorbed into the noodles. Toss in the scallion greens and bean sprouts and stir fry for another minute. Plate and enjoy!