Pork Dumplings
---
January 26, 2022
---
Eating dumplings for Lunar New Year is a MUST and this Pork Dumplings recipe is perfect for the occasion. They're delicious steamed or pan fried (although I am partial to pan fried myself!) – I hope you're able to make these for lots of wealth and good fortune this year!
Watch the Pork Dumpling Recipe Video Below!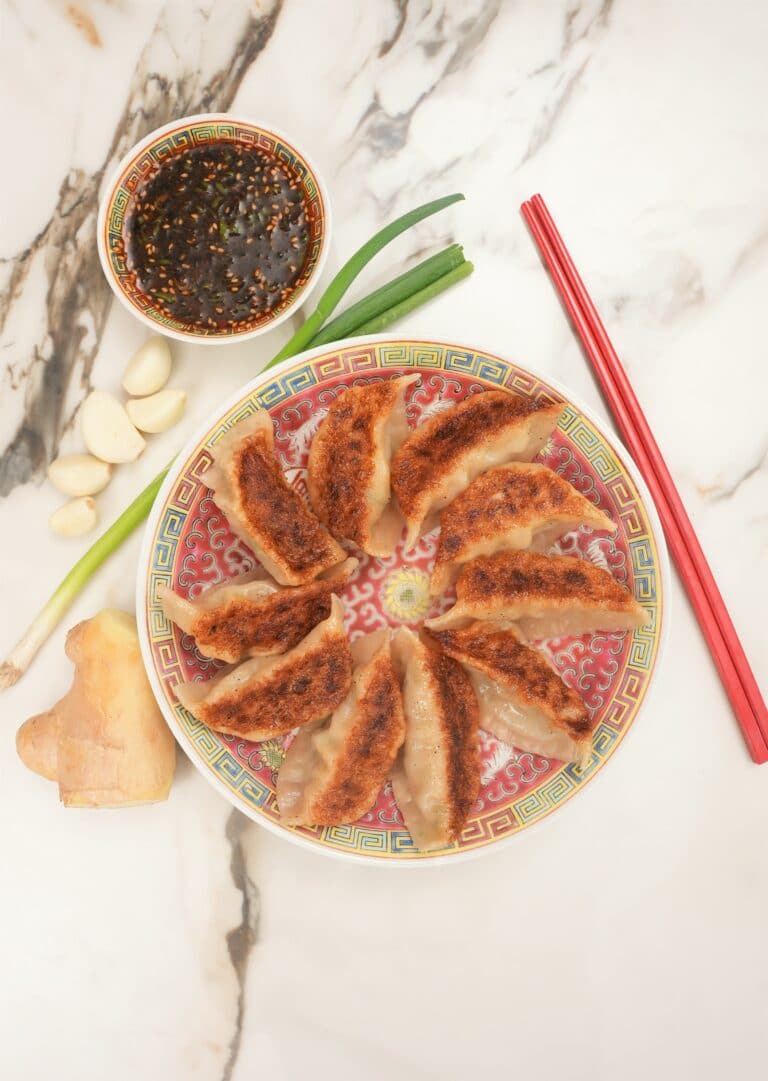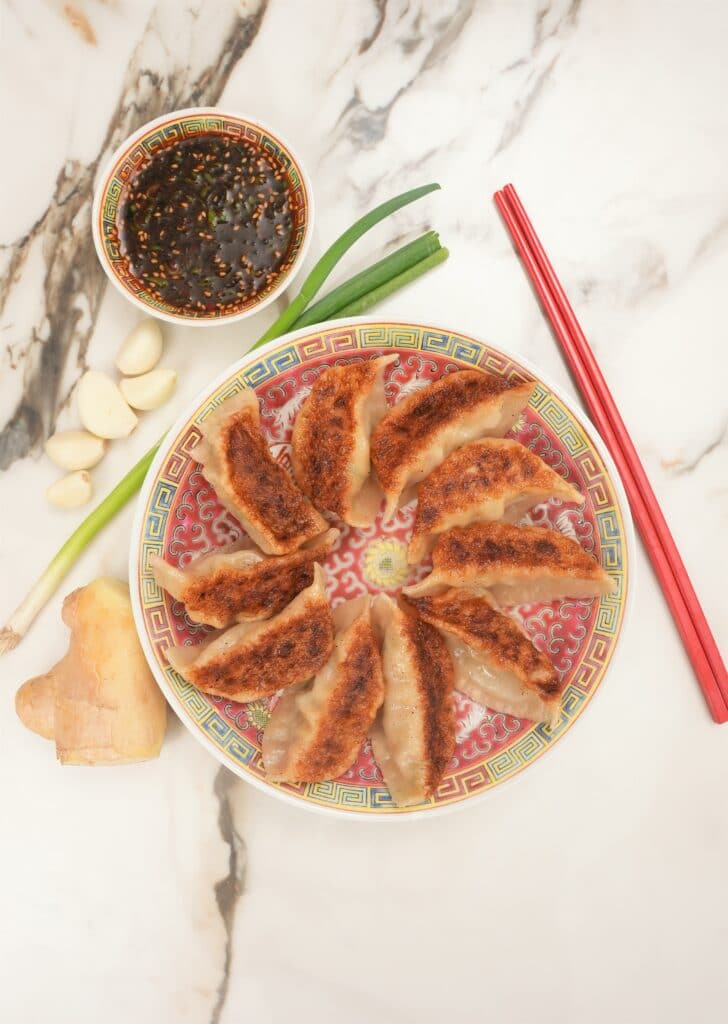 Ingredients for Pork Dumplings
These pork dumplings are incredibly easy to make and only require a few ingredients and seasonings! Here is what you'll need to make these amazing dumplings!
Ground Pork
Napa Cabbage
White Pepper
Salt
Scallions
Garlic
Ginger
Sugar
Light Soy Sauce
Shaoxing Wine
Sesame Oil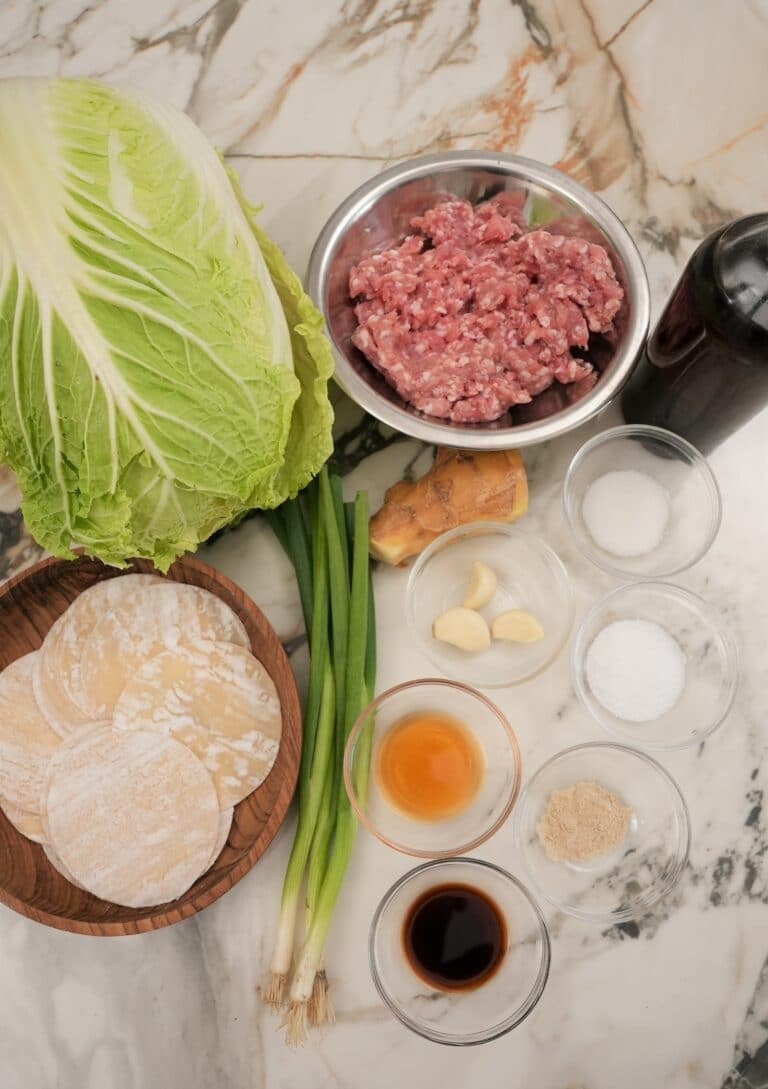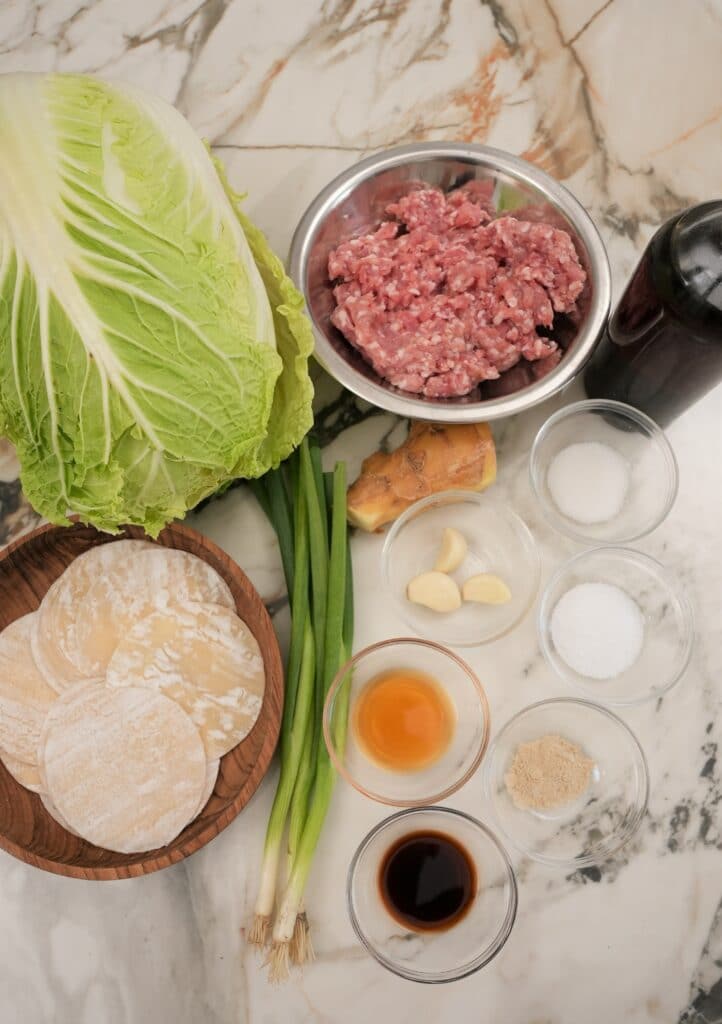 Selecting Your Dumpling Wrappers
Not all dumpling wrappers are created equal! I have tried many brands and Wyzen has been my favorite brand for dumpling wrappers. The wrappers are supple, moldable, and strong enough to hold the filling without breaking. I found these at my local Asian market in the refrigerated sections! If you can find this brand at your local market, Dynasty also makes great wrappers as well.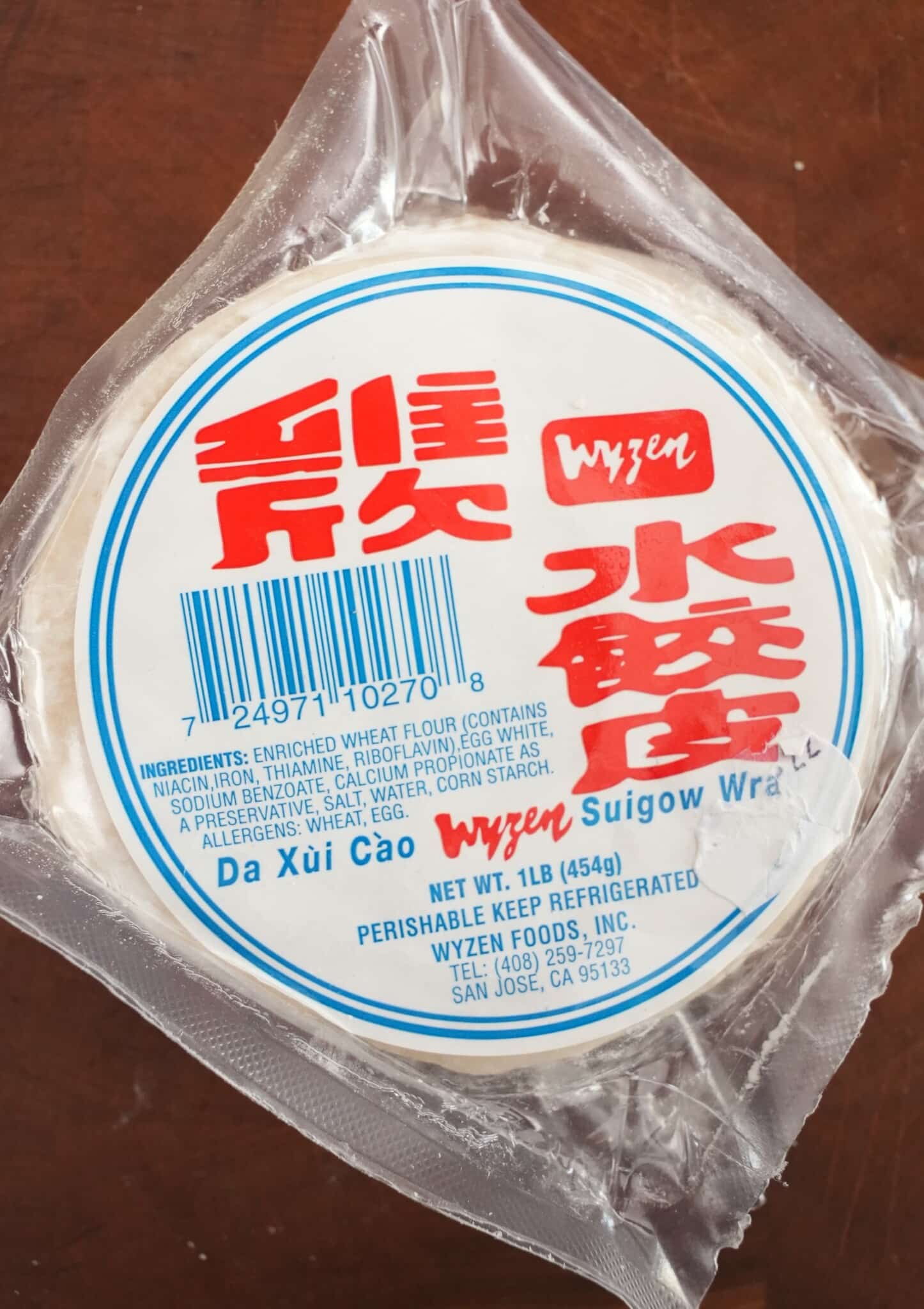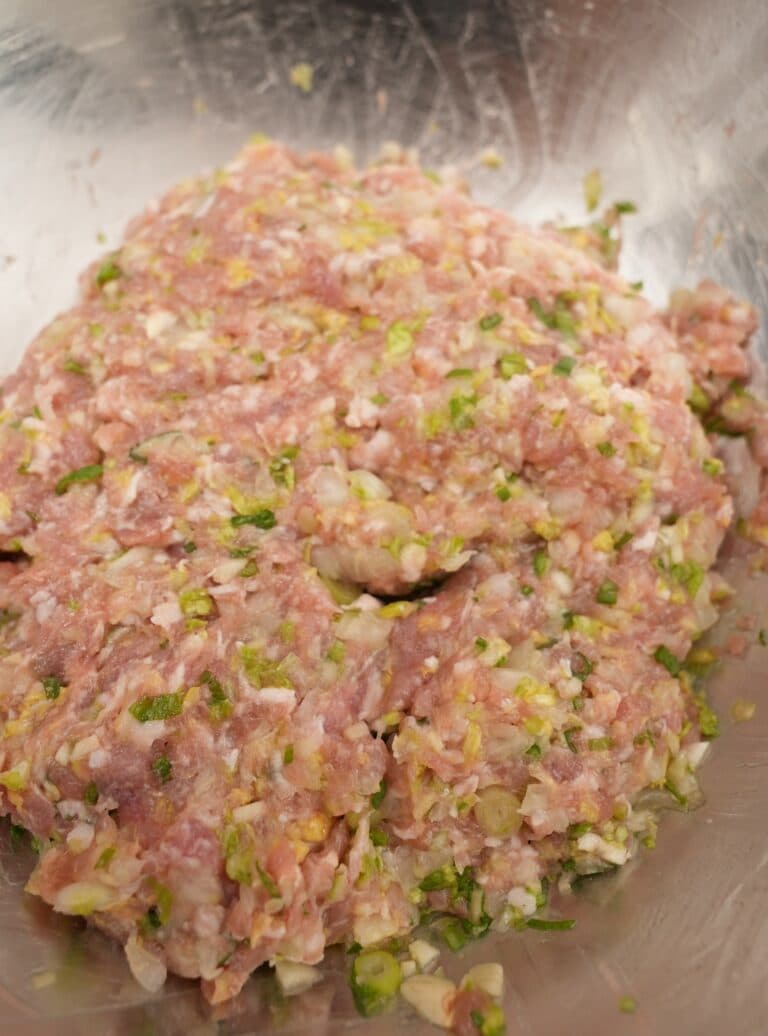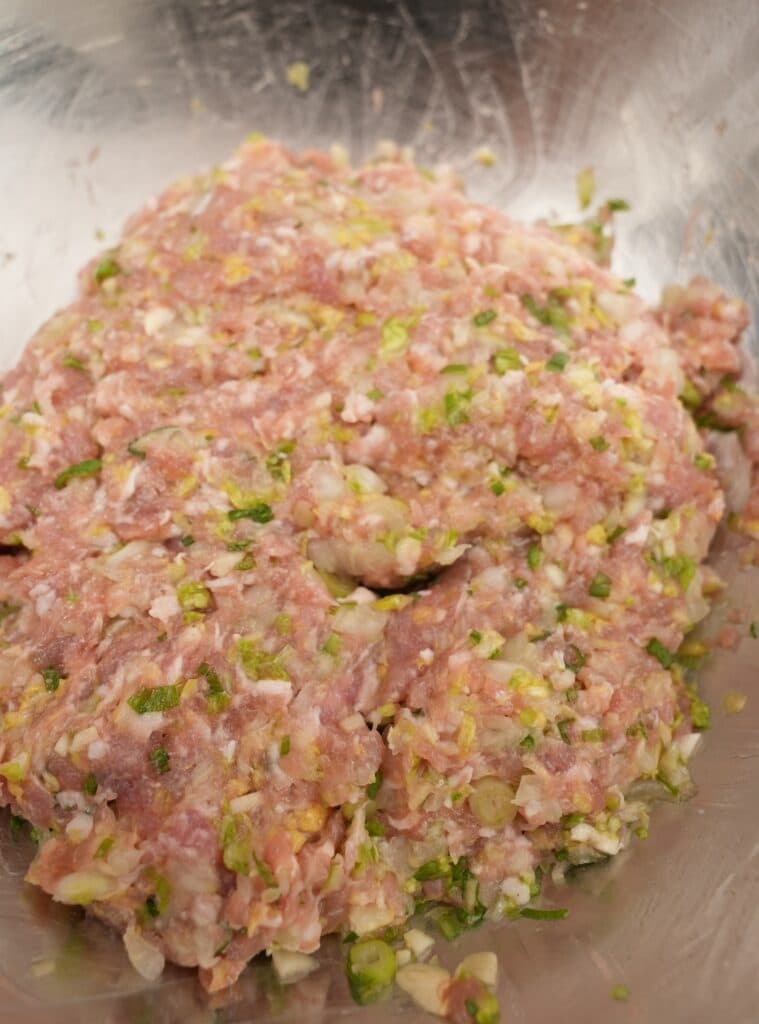 INGREDIENTS TIPS
DUMPLING WRAPPERS
I like to make dumplings in big batches (to freeze for later), so I usually use store bought wrappers. See picture above for the exact brand I used!
PORK
If you want to sub with a different protein, you can sub with ground chicken or ground turkey! While I have not personally tried these two subs, I've had followers confirm that both options tasted great!
NAPA CABBAGE
If you cannot find napa cabbage, you can try subbing with kale or swiss chard – I haven't tried either vegetable subs but google tells me it should work 🙂 If you do end up trying, please let me know how they turned out!
SHAOXING WINE
If you cannot or do not want to use wine, you can sub with sherry, mirin, or chicken stock!
WHITE PEPPER
I get asked all the time if you can sub black pepper for white pepper – and my answer is, it depends BUT you need to watch the ratio. White pepper has a milder flavor profile than black pepper, so it's a 1-1 substitute. I would start with less black pepper and add as you go. (But really, you should have white pepper in your pantry! It's a staple in mine!)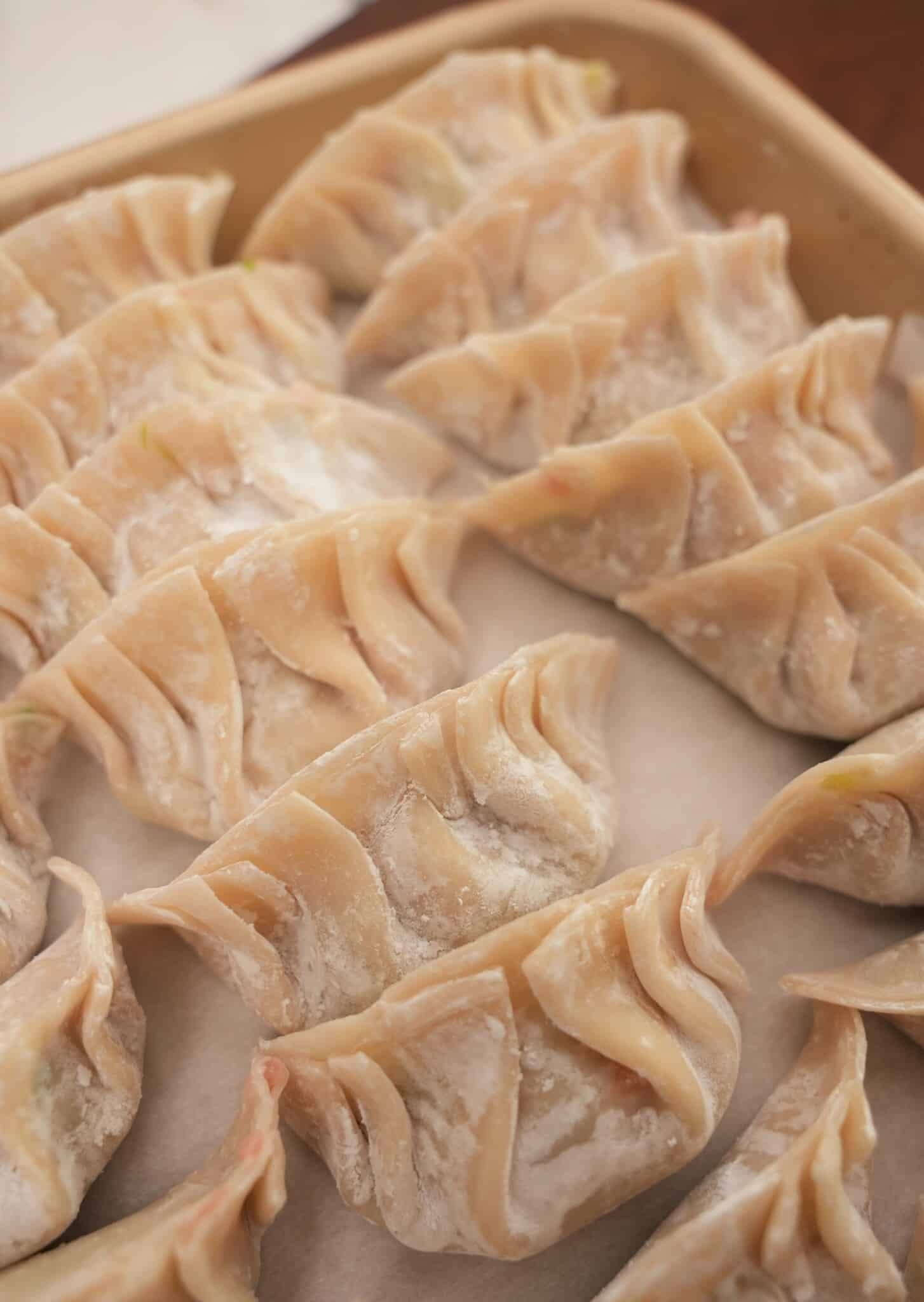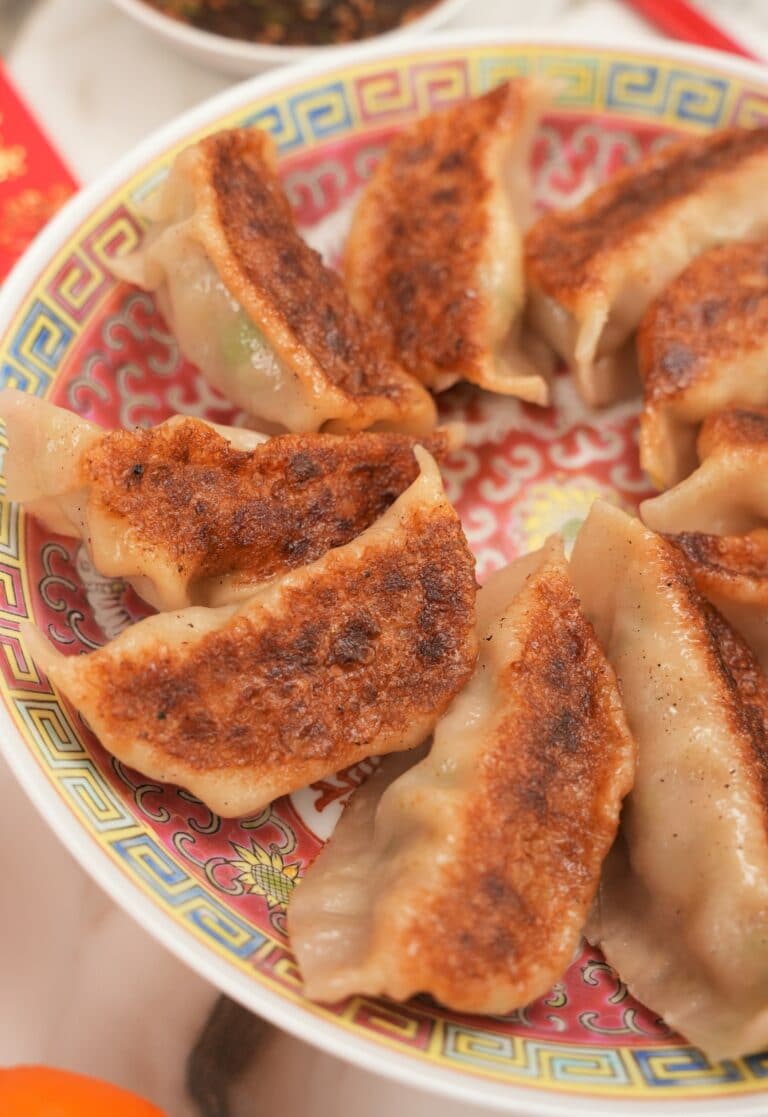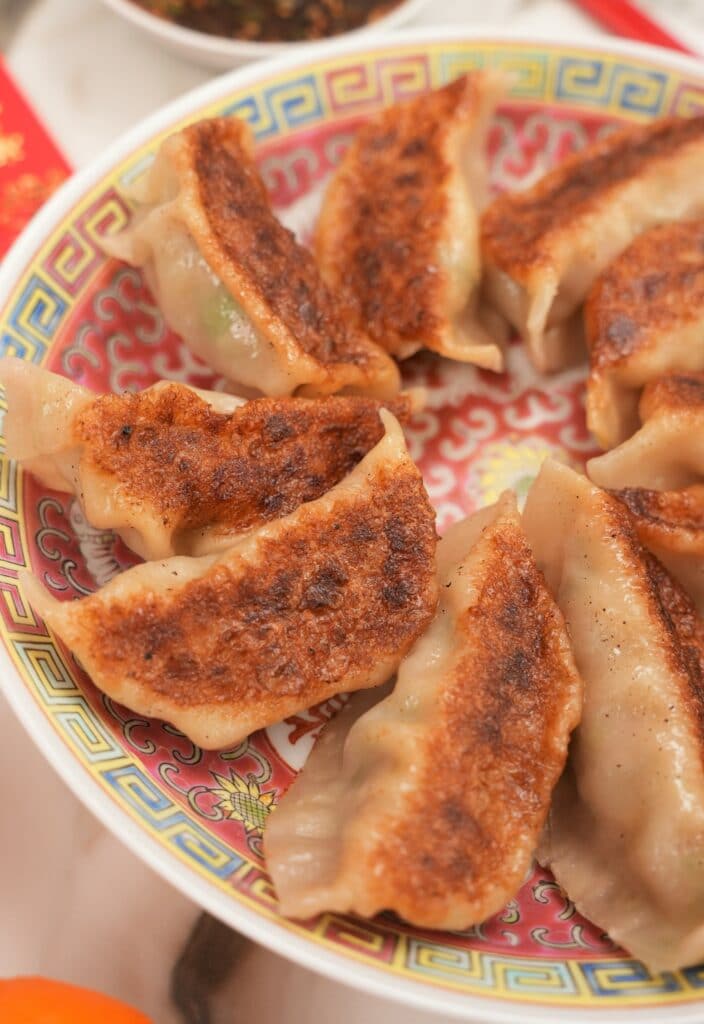 RECIPE TIPS
WHAT DO I DO WITH SO MANY DUMPLINGS?
You can freeze them! I always make extra to freeze for the future. I like to lay them flat without touching each other on a baking sheet and freeze for 30 min – 1 hour before moving them to a freezer friendly Ziploc bag. When cooking, I would add an extra 1-2 minutes if they are frozen.
HOW WILL I KNOW IF I WILL LIKE THE FILLING?
Once you've made the filling and PRIOR to folding your dumplings, take a tablespoon or so and either fry in a pan or microwave for 15 seconds to taste test. You can adjust the seasonings to your preference before you start folding your dumplings!
DO NOT OVERSTUFF YOUR DUMPLINGS!
Always underfill your dumplings – you want to make sure they are not overstuffed and can be sealed completely. If they are too full and not completely sealed, they will break when cooked and then we will be very sad 🙁
Pork Dumplings
Ingredients
Dumplings
1

lb

ground pork

80% lean or ground pork shoulder

1

lb

napa cabbage

finely minced

1

tsp

white pepper

1

tbsp

kosher salt

to draw out moisture from the cabbage

1

tsp

kosher salt

3

scallions

finely chopped

3

cloves

garlic

minced

1

tbsp

ginger

minced

1

tsp

sugar

1

tbsp

light soy sauce

1

tbsp

shaoxing wine

1

tsp

sesame oil
Dipping Sauce
1

tbsp

soy sauce

1

tbsp

Chinese black vinegar

1

tbsp

chili oil

1/2

tbsp

sesame seeds

1

scallion

finely chopped
Instructions
Finely mince napa cabbage and place in a large mixing bowl. Add 1 tbsp of kosher salt and mix with the cabbage and let sit for 15 minutes to draw out the moisture. Squeeze as much water out of the cabbage as possible and set aside.

In a separate bowl, mix together ground pork, your drained napa cabbage, scallions, white pepper, salt, minced garlic, minced ginger, sugar, light soy sauce, shaoxing wine, and sesame oil. Mix until thoroughly combined.

Take 1 tbsp of filling and place in the center of your round dumpling or gyoza wrapper. Wet the edges with water, then pinch together one end to end, then use your thumbs to pleat from the center to the edge of one side to seal the dumpling. Repeat on the other side from the center to create your crescent dumpling shape!

To pan fry, heat 1 tbsp of oil in a skillet over medium high heat and brown the dumplings for 2-3 minutes until browned. Add 1 cup of water and immediately cover and steam for 4-5 minutes until the water has mostly evaporated. Uncover and continue cooking until the water has evaporated and the remaining oil has crisped up the bottom of your dumplings.

Mix dipping sauce ingredients and enjoy!