Spicy Sichuan Green Beans
---
May 5, 2022
---
These Spicy Sichuan Green Beans are a wonderful way to make green beans at home, especially if you love a spicy kick. Typically in a Chinese restaurant, the green beans are deep fried in oil to create that wilted blistered texture (you can find that traditional recipe here), but if you have a wok and proper heat management, you can achieve the same effect with much less oil, but end up with a dish that's equally delicious!
Toss in some of my homemade chili oil and toasted Szechuan peppercorn to take these greens beans to the next level. If you know me, you know that I love spicy food, but the numbing spice that the Szechuan peppercorn brings is so delicious to my palate. I hope you enjoy these Spicy Sichuan Green Beans!
Watch the Spicy Sichuan Green Beans Recipe Video Below!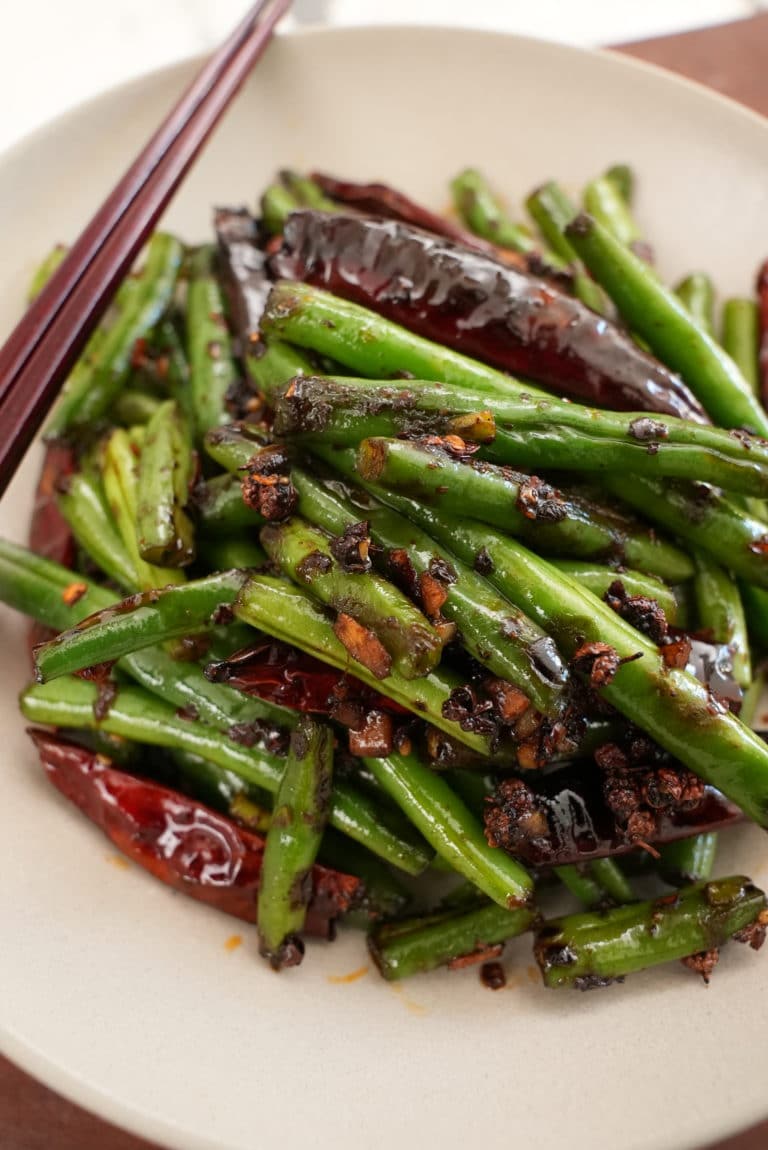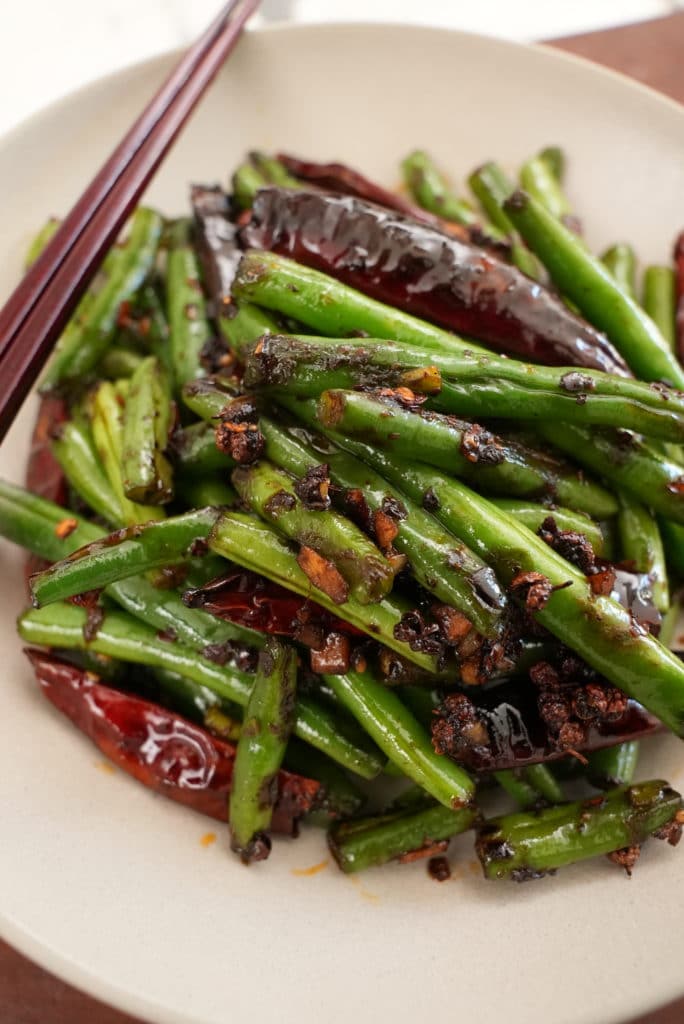 Ingredients for Spicy Sichuan Green Beans
The dish itself is relatively simple, and like many dishes cooked in the Wok, the success is in the prep, since the dish doesn't have a long cooking time:
Green Beans
Salt
Neutral Oil (I prefer Avocado oil, but Canola, Peanut, or Vegetable oil work as well)
Szechuan Peppercorn
Garlic
Ginger
Dried Red Chili Peppers
Soy Sauce
Chili Oil (Homemade Chili Oil is always preferred)
Sugar
Shaoxing Wine
MSG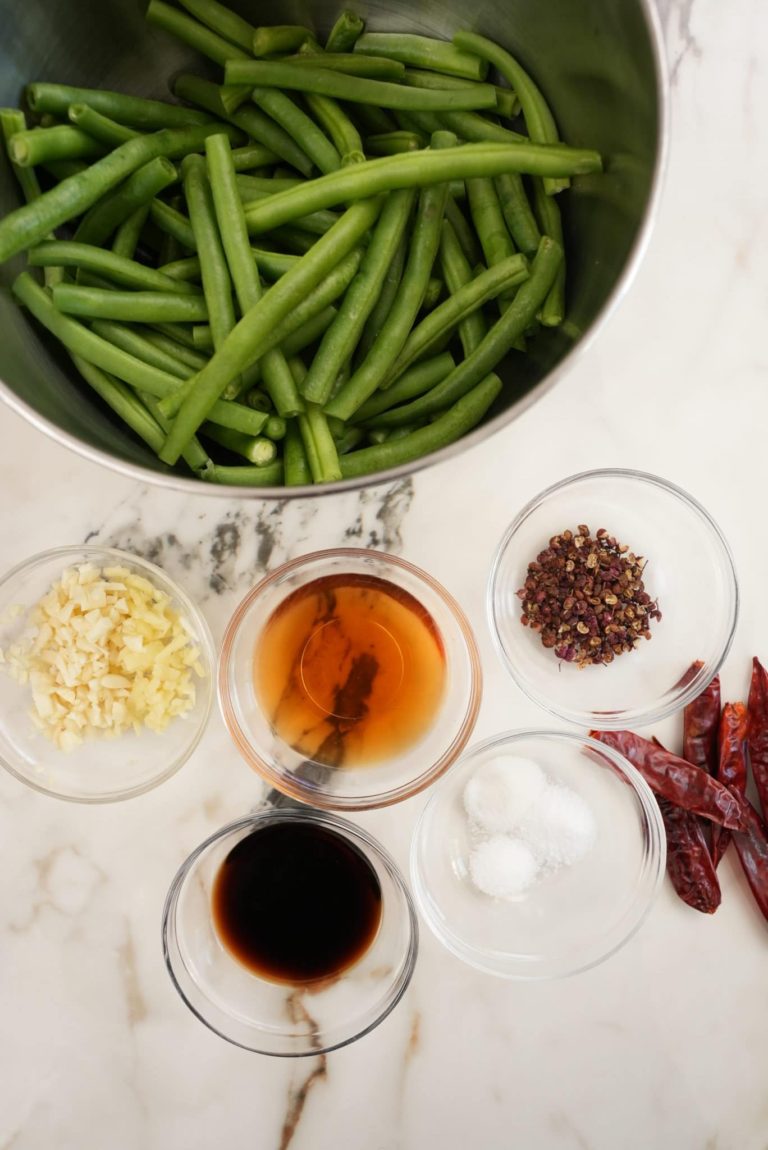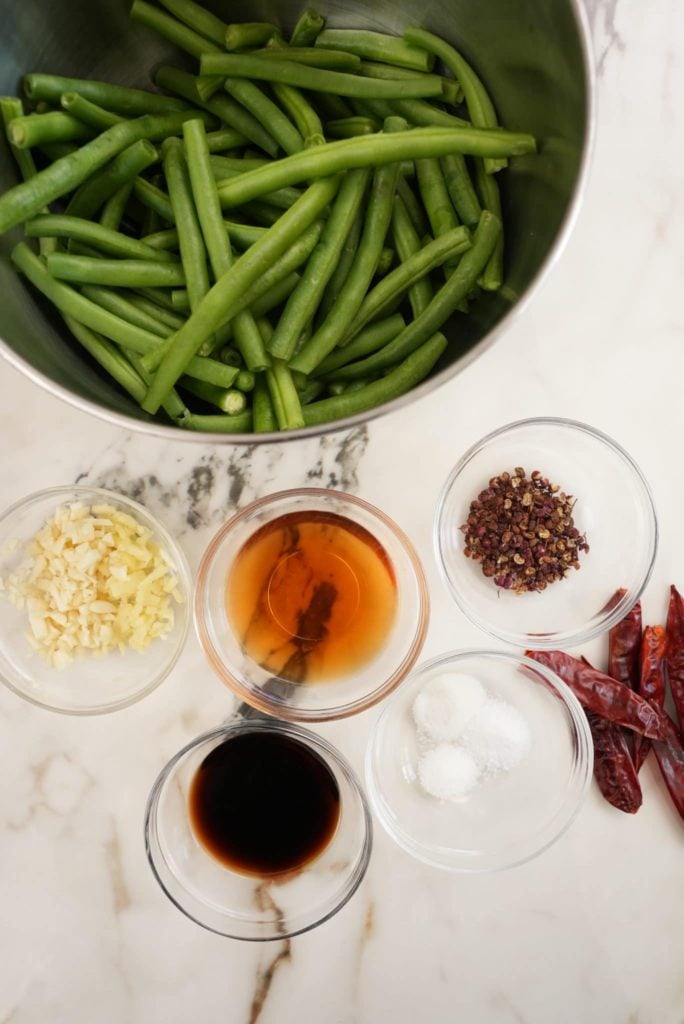 Top Ingredient Tips for Spicy Sichuan Green Beans
INGREDIENTS TIPS
NEUTRAL OIL
My favorite neutral oil is avocado oil, but you can also use canola or vegetable oil! I don't use olive oil when cooking Chinese food for two reasons: 1. It has a low burning point and 2. I find that the flavor profile does not usually go with the dish.
SHAOXING WINE
One of the most common questions I get is "what can I substitute for Shaoxing wine"! If you cannot or do not want to use wine, you can sub with sherry, mirin, or chicken stock!
MSG
As always, this is optional 🙂
DRIED RED CHILIS
I've most commonly seen these sold in my local markets as "Chiles Japones". I used 8 dried chilis for this recipe, but you can of course adjust to your spice preference. If you prefer the least amount of spice, de-seed your chilis before toasting them. If you prefer more spice, you can toast your chilis whole with the seeds and they will provide a nice level of heat to the dish. This is what I did!
Cook Your Green Beans in the Wok
To cook your green beans, heat your wok over medium high heat with a tablespoon of neutral oil, then add the green beans to the wok. Toss and sear the green beans in the small amount of oil until your start to see scorch marks and blistering on the green beans. This process only takes about 3-4 minutes, so watch the green beans carefully!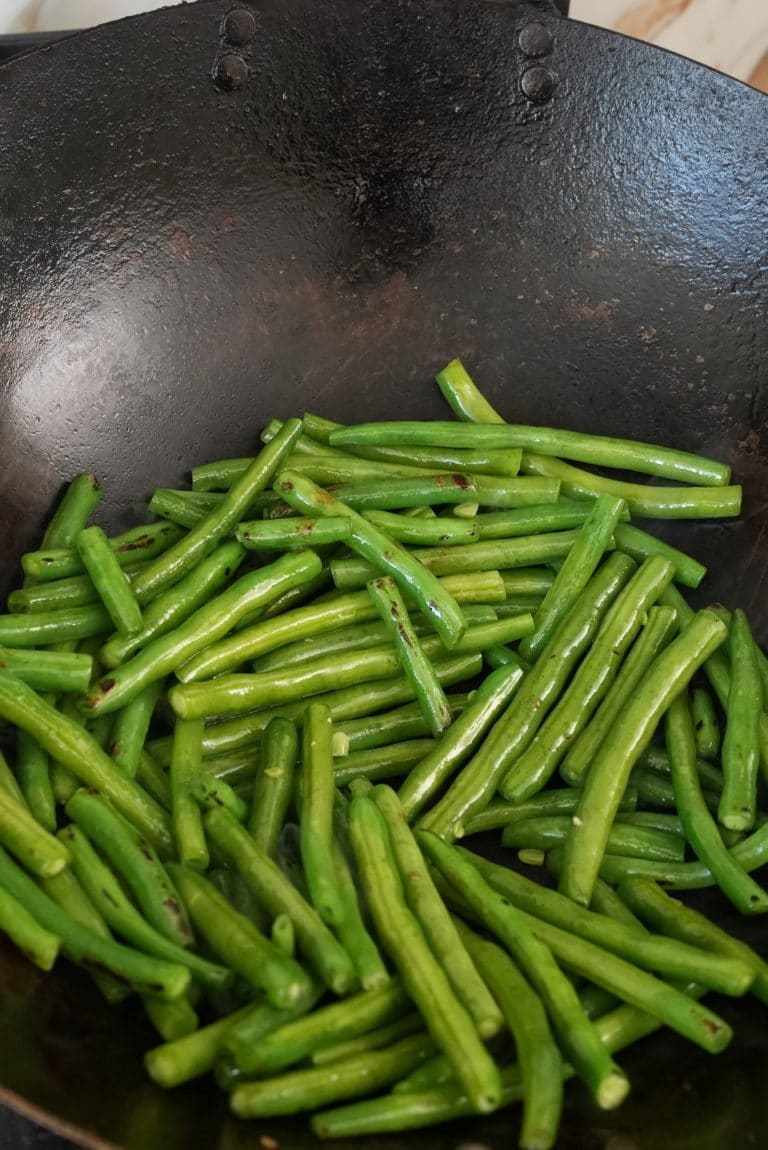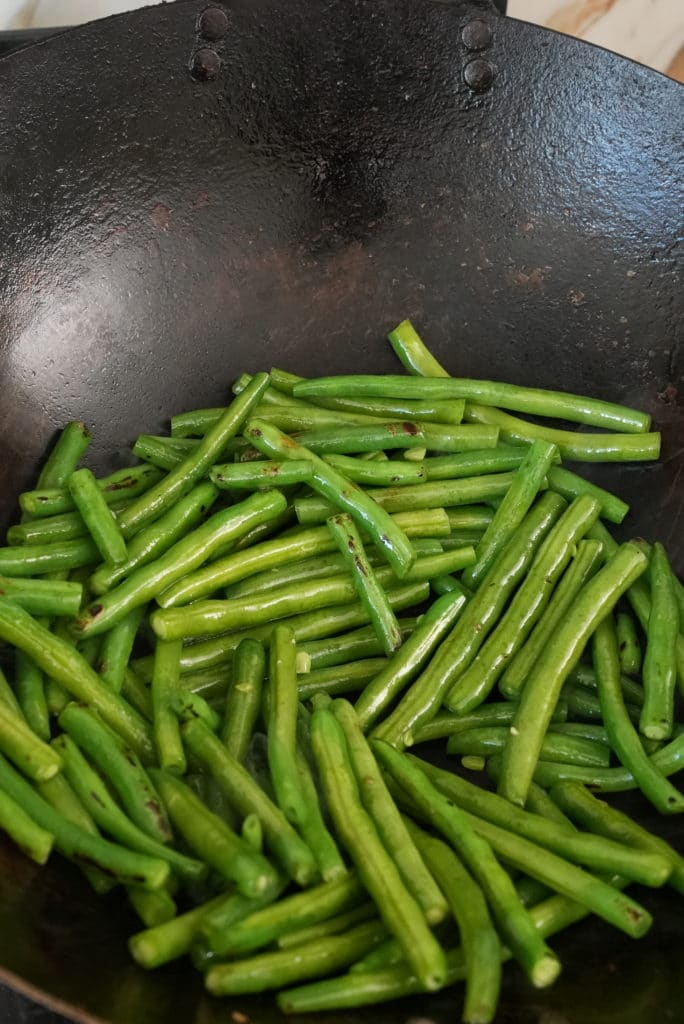 Fry the Aromatics and Chilis in the Wok
Once the green beans are nicely blistered but still crisp, remove them and set them aside in a bowl. Next, heat 1 tablespoon of oil over medium high heat, then add your garlic, ginger, Szechuan peppercorn, and dried red chilis. Stir fry them for 30 seconds to release the aromas and oils, then add in your seared green beans.
Add your soy sauce, Shaoxing wine, salt, sugar, msg, and a generous tablespoon of chili oil. Stir fry them all together for another minute in the wok and get ready to enjoy this spicy, mouth-thumbing dish!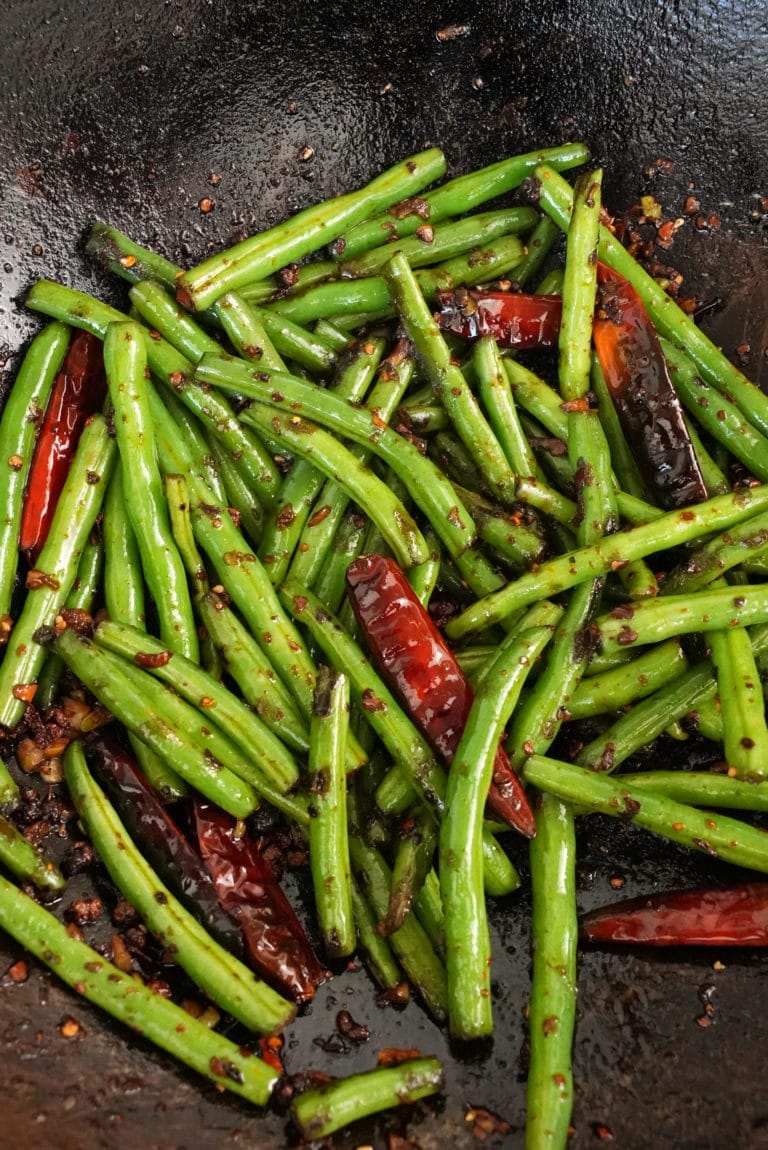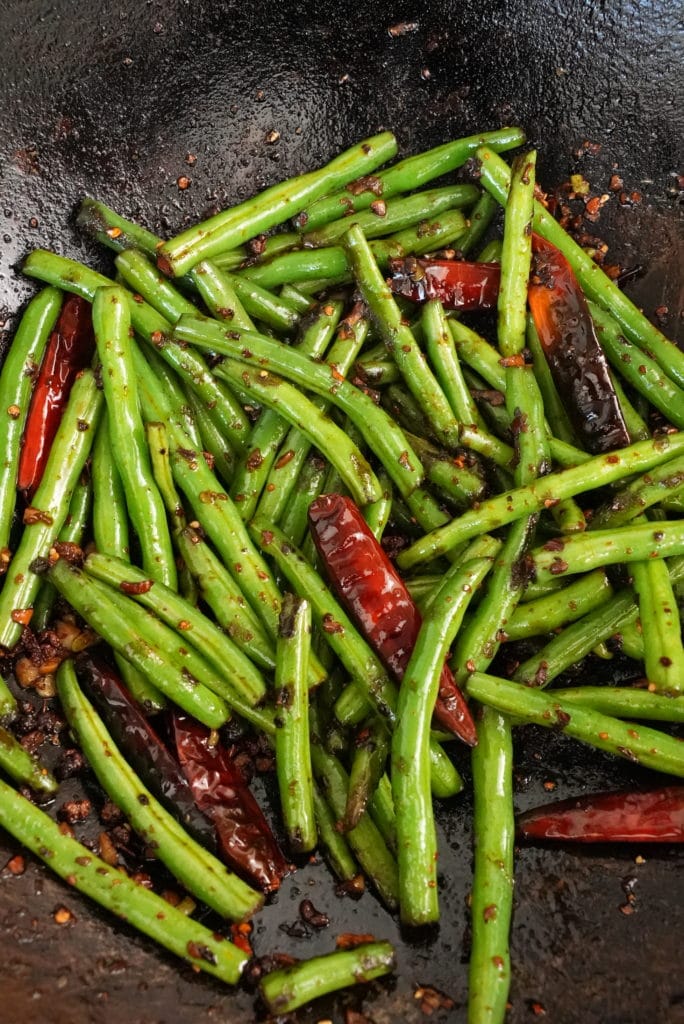 Key Recipe Tips for Spicy Sichuan Green Beans
RECIPE TIPS
WASH AND TRIM
Be sure to wash and trim your green beans, especially if the larger variety. You want the pieces to be bite size and not too big. About 1.5-2″ pieces is ideal.
SUCCESS IS IN THE PREP!
For a recipe that comes together extremely quickly, the key to pulling this recipe off successfully is having your ingredients prepped and in bowls right next to your wok or pan! Have your green beans, chilis, peppercorns and other spices ready and easily accessible during the cooking process.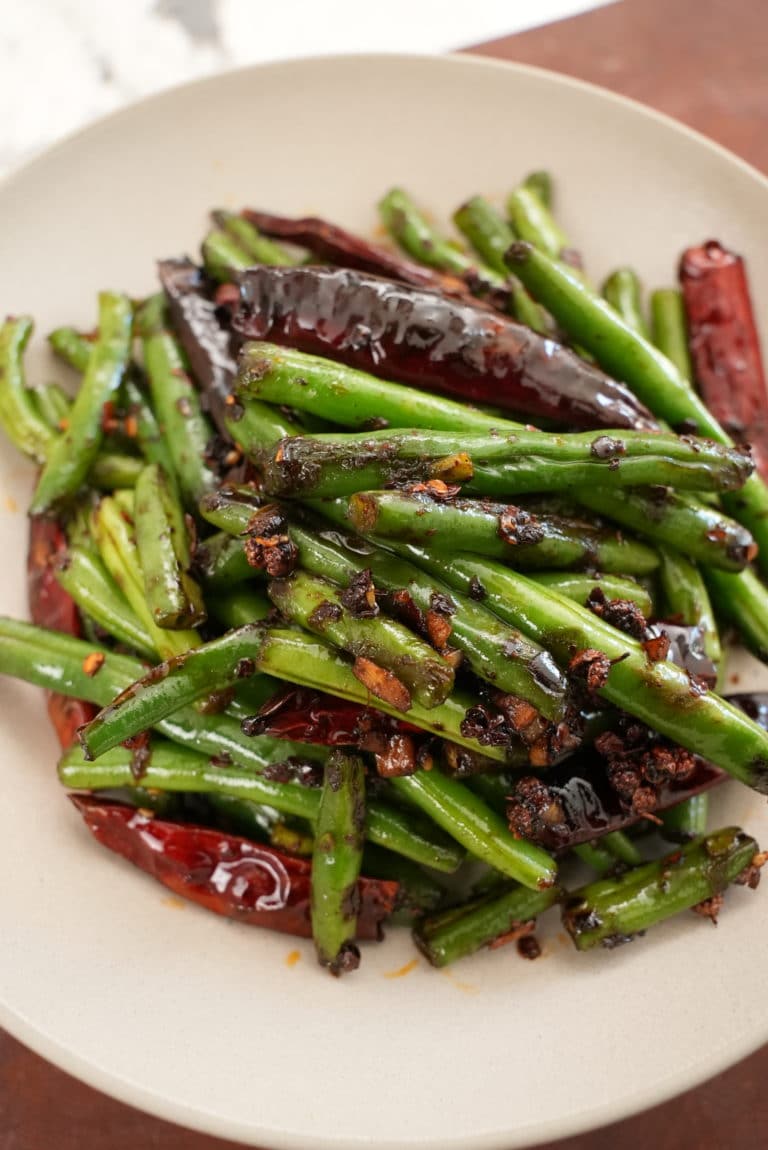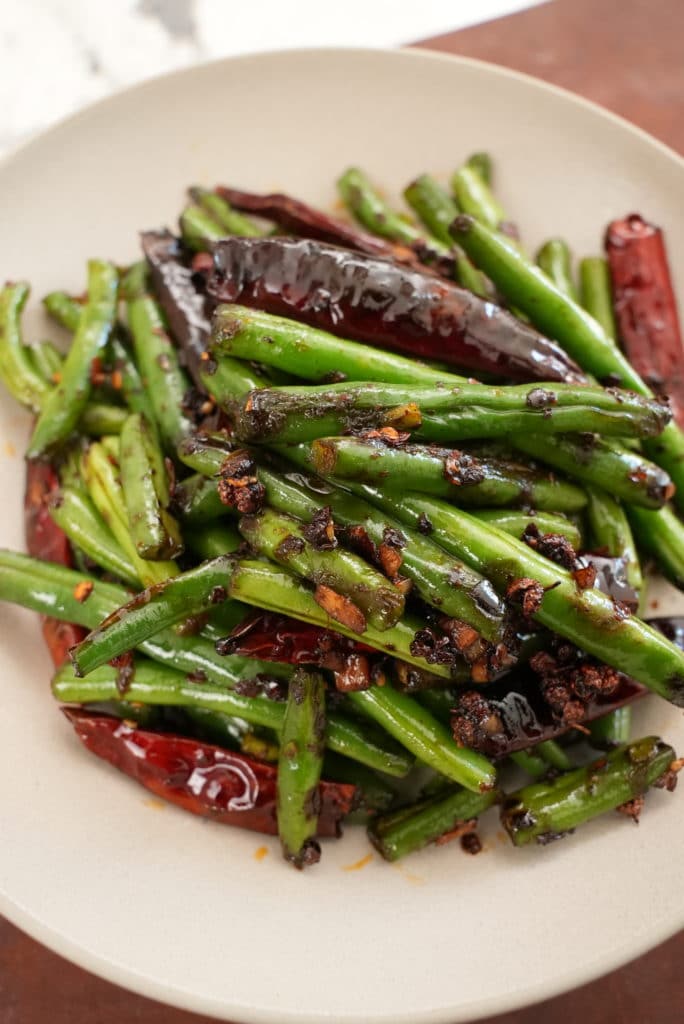 Spicy Sichuan Green Beans
Ingredients
Instructions
Dry fry green beans in 1 tbsp of neutral oil over medium high heat, coat in oil until blistered and dry. Remove from the pan and set aside.

In the same pan over medium high heat, add 1 tbsp of neutral oil. Add sichuan pepper, garlic, ginger, and dried red chilis. Stir fry for 30 seconds until fragrant.

Turn the heat to high and add green beans along with shaoxing wine, soy sauce, salt, sugar, chili oil, and msg. Stir fry for 1 minute and enjoy!